It seems like every day more and more travel options and experiences pop up just begging to be tried. In 2008, Airbnb made its way onto the scene and shook up how we travel in a major way by making it possible to rent a home just about anywhere in a convenient and affordable way. Since then, individuals and families across the world have open the doors to their homes and have provided us with a more personalized and local travel experience than ever before. Here, we've outlined our 10 favorite Airbnb rentals across the U.S. just waiting to be booked.
This charming little flat is walking distance to several of our favorite Austin bars, restaurants, and attractions making it perfect for a weekend trip. Furnished with some great pieces including a custom sofa, the decor is on point with a mix of vintage and modern. Other highlights include a rain shower, a well-stocked kitchen, and a very knowledgeable host happy to help you make the most of your time in Austin.
Cost: $133/night
Accommodates: 2 people
Palm Springs is home to a plethora of incredible, well designed spots to stay, but this flat stands out with its great amenities and beautiful decor all at a very affordable price point. Thirteen Palms actually consists of five separate flats that wrap around a courtyard and pool area so it's a great option if you're vacationing with several friends. The views are stunning and the pool is a welcomed respite in the hot desert sun.
Cost: $95/night
Accommodates: 2 people
If you're still feeling resentful about the fact that you didn't have a backyard tree house growing up, get ready for your childhood dreams to come true at this cozy Illinois rental. Home to many more amenities than you're childhood tree house may have housed, this property is air conditioned complete with a kitchenette, deck, and private outdoor shower. Best of all, this property is less than an hour away from downtown Chicago making it a perfect weekend getaway for all you windy city ladies.
Cost: $195/night
Accommodates: 2 people
This rental is perfect for those looking for a rustic, secluded, and altogether unique travel experience. This wagon will transport you back to the old west and, believe it or not, it was actually used by the host family before being restored in 2013. It's located on the family's 30,000 acre ranch that is available for you to explore and tour during your stay whether you choose to go hiking, biking, or riding on ATVs. Once you book, the host will share with you a suggested packing list to make sure you havet everything you need for your wagon adventure.
Cost: $125/night
Accommodates: 4 people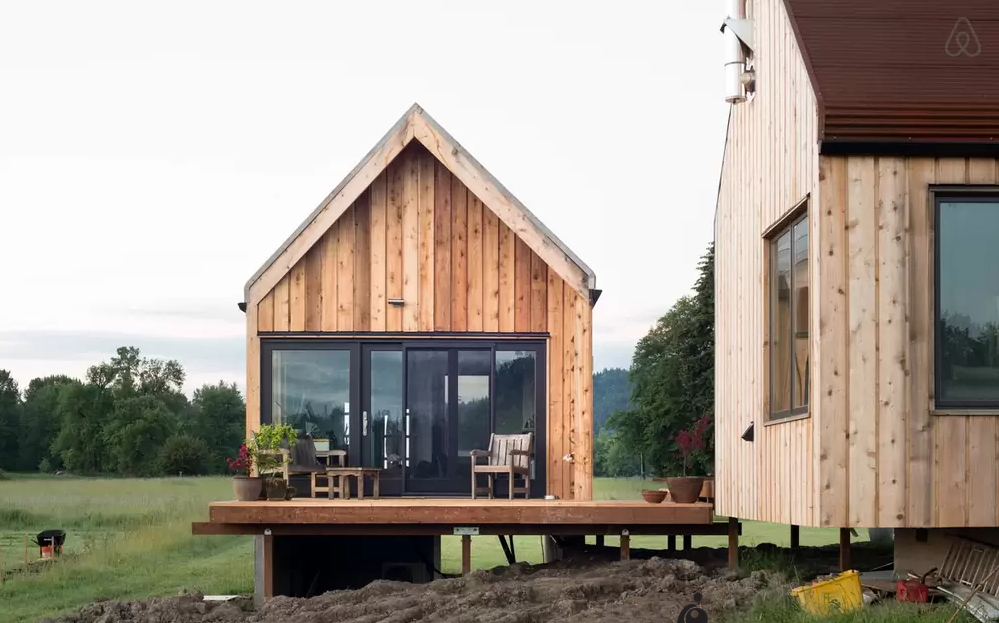 The island farm retreat is as close to camping in the wilderness you can get without having to pitch a tent. The gracious hosts will take care of all your needs including a breakfast with eggs straight from their farm chickens. You'll get spectacular views of the nearby farm through floor to ceiling windows and the exterior (complete with an outdoor sitting area) is undeniably gorgeous. Portland is a short 15 minute drive away allowing you to enjoy a perfect rural setting that's still a short hop from the downtown action.
Cost: $120/night
Accommodates: 2 people
This locale offers you a comfortable setting that's only a short walk or bike ride from some of Southern California's hotspots. Start your stay by relaxing out in the backyard garden (which also contains a fire pit for late nights!) with a an iced coffee before setting out for the day. The large French doors allow you to take full advantage of Venice Beach's great weather so we highly recommend keeping them open at all times. The small yet extremely functional kitchen offers a place to cook your favorite meal away from home. There's even a Whole Foods Market just around the corner if you need to grab fresh ingredients.
Cost: $138/night
Accommodates: 2 people
Rural? Check. Rustic? Check. Extreme value in a gorgeous setting? You better believe it. The historic huxley cabin is part of the Taos Goji Eco Retreat, an organic goji berry farm in the heart of the Sangre De Cristo mountains. The cabin is perfect for a couple, but can fit up to 3-4 people so it's still a nice pick for groups. The location offers fresh produce during the warmer months as well as apple picking when the cold sets in. You cannot beat this remote location, and it's a short drive away from the Taos Ski Valley for when you're ready to hit the slopes.
Cost: $99/night
Accommodates: 3-4 people
This is a sneaky, hidden gem of a property located in the notoriously expensive Miami area. The rental is actually located inside the lux Mayfair Hotel, but the hotel houses a few privately owned condos like this one—so if you snag this property, you can access all of the fantastic hotel amenities at a fraction of the actual price. There is a private balcony, a cozy bed and, best of all, the spa and hotel restaurants are just steps away. If you can't manage to give up hotel amenities but are ready to delve into the world of vacation rentals, this listing is a great option for you.
Cost: $139/night
Accommodates: 2 people (though there is no additional charge for extra guests)
This quiet, idyllic cottage can be found on a 30-acre horse farm just 45 minutes outside of bustling Dallas. We love this spot for a quiet weekend getaway with the girls (just add wine and lots of snacks, please!). Breakfast is included, and the screened porch makes for a perfect spot to enjoy a good cup of coffee. If you're looking for a spot to decompress and unplug for a bit, look no further.
Cost: $175/night
Accommodates: 6 people
Affordable and New York City aren't necessarily two words that typically go together, but this apartment located just 20 minutes from Manhattan is a great spot to turn to if you're looking to explore the Big Apple on a budget. This sunny rental is located in a beautiful renovated building and you'll find that you have a lot more room to stretch out here than you would in the typical New York hotel room. The hosts live in the same building so any questions or issues you run into are likely to be promptly resolved.
Cost: $110/night
Accommodates: 2 people