Concept designer and blogger Valerie Wildes has lived coast to coast. The former New Yorker has followed her career in fashion wherever it has led her. When she's not creating designs for a fashion company, she's busy writing and searching for inspiration and ideas for Mint + Varnish; her blog focuses on interiors, but often marries home and fashion.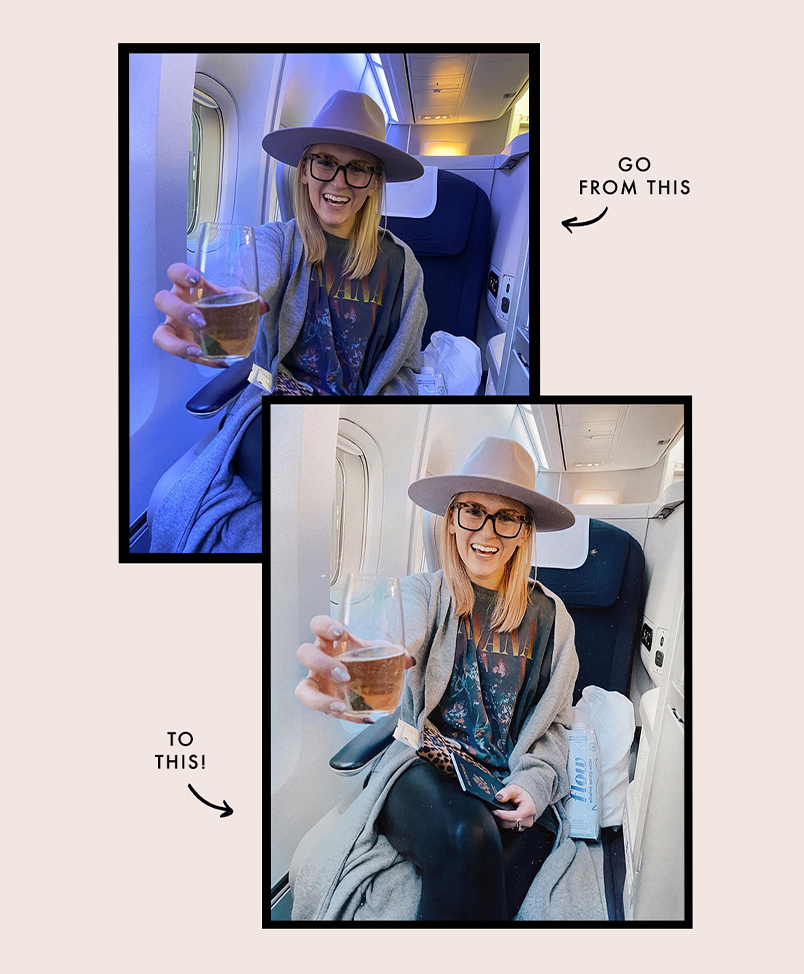 Want to style, shoot, and edit your photos perfectly every time?
We're sharing our secrets to photo editing in our all-new online course, Mastering Photo Editing On Your Phone. Enrollment closes on Thursday, so grab your spot now!
After moving to California, she fell in love with the city and someone who made it easy for her to decide to stay on the West Coast. Valerie shares studio loft with her husband Andy and their two cats. She has turned the 840 square foot studio loft into a roomy home that will turn anyone into a believer of small space living.
Keep reading to hear more about Valerie, studio living, and her beautiful home!
Name: Valerie Wildes
Age: 27
Current title/company: Blogger behind Mint + Varnish and Concept Designer at a fashion company
Education: Bachelor of Science in Apparel Design at Philadelphia University
What was your first job out of college and how did you land it? 
My first job out of college was an internship with the designer Abigail Lorick in New York City. I graduated at a time when it was really difficult to start a career and applied to what seemed like a million different jobs. I figured I should go out on a whim and Facebook message Abigail to see if she was hiring. Learning from her was super uplifting, and helped me narrow in on my strengths and weaknesses while making some long lasting friendships.
Then you decided to take a leap and move from New York City to Los Angeles! Why the coast-to-coast move? 
I moved across the country for a new job opportunity, and to be closer to my sister. I really expected to only be on the West Coast for a year or so, but I ended up meeting my husband within the first few months and began to fall in love with him and the city more and more.
What do you enjoy most about working in the fashion industry? What are the challenges? 
I love that I am getting paid to use my creativity every day! I work in concept, so part of my job is storytelling through color, fabric, and mood. It's really the best part. One of the biggest challenges I think every kind of designer faces is seeing ideas you really believe in be changed throughout the production and costing process.
Tell us about your blog, Mint + Varnish! What prompted you to start this creative outlet of "fresh inspiration on home decor, color palettes, gifts, and a bit of fashion?" 
One of my close friends started a fashion blog and was having a lot of fun with it. It sparked the idea for me to start one on what I'm most passionate about: interiors and home goods! I am incredibly happy to have Mint + Varnish. I mostly share home goods and interiors that I come across online or while shopping, and different pieces that I have in my beach loft. Also, every fashion month I do a Runway to Home post, which compares apparel textures and prints to affordable home items. I love that it's a clean way for me to gather my thoughts and home inspiration while providing a relaxing escape.
You are relatively new to the blogging scene—what has been your biggest challenge? How did you overcome it?
If I'm being honest, I'm still working on overcoming my biggest challenge: keeping up! Dreaming up fresh content, researching home products, editing photos, social media, and building relationships with other bloggers and brands is a lot of work on top of a full-time job. However, Mint + Varnish has totally enriched my life. I've made incredible discoveries and connections because of my blog, and I'm really excited to see what else will come from it.
What is your advice for women who want to start blogging but don't know how to make their dream a reality? 
My advice would be to properly invest the time and energy into designing the right layout and logo you are proud of. When you're confident about the blog design, you'll be way more inspired to post. Before putting anything on Mint + Varnish, I always ask myself if the content truly fits my aesthetic. Just because you like something doesn't mean that it's necessarily right for your blog. Take it slow. Be patient with yourself! It takes a lot of time to figure out your process.
We love your vision that it's possible to "surround yourself with beauty and interest each and every day." Where do you draw your inspiration? 
I find my inspiration in a lot of different ways. Living in this gem of a city makes it really easy for me to find beauty in nature. The colors of the sea are my favorite and I like to mix and match blue greens throughout the loft. Learning from other bloggers and designers is another great way to soak up information.
And now about your beautiful home! Do you rent or own? How long have you lived there? What made you fall in love with the space?
We have been renting our loft for almost a year now. I immediately fell in love with the place the moment I saw it advertised online. When the owner opened the front door to show us around, I knew it had to be ours! I was very drawn to its proximity to the ocean and its openness, wooden beams, and natural light.
Your home is 840 square feet and a studio loft. This must have posed a bit of a design challenge! How did you designate spaces to fit different needs?
I like that living in a loft keeps me connected to what's going on throughout the space. However, the design process has been interesting. I've managed to designate separate rooms by rearranging furniture and color. The bedroom area is mostly all white, while the living room and home office have bright pops of sea foam green and magenta. I've been able to avoid clutter by investing in furniture that also offers hidden storage. Any home, regardless of size, is a curated collection of memories and interests. I feel lucky that my home story is also shared on my blog.
Tell us about your home aesthetic. What are you drawn to in terms of home decor? 
I describe my aesthetic as clean, light, airy, and minimal. I keep my furniture, linens, and wall colors all neutral. I like to splash bright pops of color through interchangeable textiles and fresh flowers so the space can feel new whenever I need a change.
How did you decorate your home on a budget? What tips or tricks can you share with us so we can do the same? 
When Andy and I moved into the loft, we didn't have any furniture! I was extremely excited for the challenge to find quality items that could all sit nicely together while still meeting the requirements of our style and budget. I drove around LA hunting for pricey furniture stores with major sales, stalked classifies, and contacted local furniture makers for the best deals.
When I tell people that some of our pieces were custom made, they usually think they were more expensive. Not true! Working with local furniture makers can save you money (especially if you buy more than one piece at a time) and you're guaranteed to end up a personal and unique piece. When shopping around, never be to shy to bargain! Take your time, do your research and dig a little deeper. Save a little longer in order to end up with something you absolutely love. An immediate decorating tip: Buy lots of plants! They are affordable, gorgeous, and make for a healthier home.
Because your home is also Mint + Varnish "headquarters" do you feel pressure to always be on and working? How do you balance your personal and professional time? 
Sometimes! I have so many plans for Mint + Varnish and I wish I could do everything at once! My dreamer personality combined with the limited time I actually have definitely creates anxiety. Over time, I've learned how to incorporate the blog into my everyday lifestyle so it doesn't rule my free time and stays fun for me.
There have been times when I've felt pressured to post new content while feeling completely uninspired. During those times, I try to remind myself that breaks are a very important part of the creative process, and to pat myself on the back for the small victories I make along the way.
How can we best "create a nest anywhere" as you describe it? 
Believe it or not, I'm an advocate for having less stuff! Living in a studio loft has required me to give away possessions we don't use on a regular basis and that cleansing process taught me a huge lesson. On my blog, I always make sure to highlight home goods that aren't trendy, and that strike the right balance between beauty and function. Whatever you decide to purchase for you home should be considered an investment. A rule of mine is to always question how versatile an item is before buying. Can I take this with me to the beach or on a camping trip? Is this easy to clean or wash? Is it season-less? Will I still want this for years to come?
What is your favorite part about your home? 
I really love the bedroom! It's the corner in our loft that feels most relaxing.
Describe a day in the life of Valerie Wildes. 
I normally wake up at six. With coffee in hand, I work on Mint + Varnish for about an hour, sending emails or putting a blog post together. That first quiet hour each morning is the most precious of the day. Then I'm off to my day job. I have over an hour commute in the crazy LA traffic, so podcasts and audio books are an absolute must! Each workday varies greatly, but I'm able to find consistency in the evenings—hanging out with my husband and two cats. Some nights, I'll have dinner with family and friends. On weekends we love driving up the coast to places like Malibu and taking walks in our neighborhood or along Abbot Kinney in Venice Beach.
Where do you see yourself in five years? 
I imagine enjoying simple, everyday life treasures with Andy. I have lots of plans for Mint + Varnish with no end date in sight, so I'm excited for it to evolve alongside me. A dream situation would be for Mint + Varnish to inspire hundreds of thousands of people around the world!
What advice would you give to your 23-year-old self? 
I would tell myself not to worry because the things that aren't going as planned are working toward the greater good.
Valerie Wildes is The Everygirl…
Life motto?
Relationships first!
Dream vacation destination? 
I'd like to experience more of Africa. Kenya and Tunisia are at the very top of my list.
Signature piece of clothing? 
I wear my black leather jacket a lot. Maybe a little too often!
When and where are you happiest? 
I'm over the moon when surrounded by my family having really normal but special moments. Pretty much every summer since I was a baby, my entire mom's side of the family has vacationed together in Sea Isle City, NJ. I'm really excited for this summer trip because Andy will get to experience my childhood vacation for the first time.
If you could have lunch with one woman, who would it be and what would you order? 
I would choose to have lunch with my grandma. She passed away when I was young so we never got to know each other, but I've been told we're very similar. I would order ice cream because she had a major sweet tooth and so do I!
Product Sources
Living Room
Rug, Will Leather Goods
Mongolian lamb pillow, West Elm
Moroccan pillow, Pottery Barn
Metal basket, Ilan Dei Venice
Coffee table, Reclaim
Media console, West Elm
Office
Sheep skins, IKEA
Art prints, Goldpress Paper
Vase, Crate and Barrel
Rug, Etsy
Pencil holder, Anthropologie
Storage drawers, CB2
Kitchen
Plant holders, IKEA
Measuring cups, Anthropologie
Whale book ends, Anthropologie
Recipe box, Rifle Paper Co.
Rug, Tumbleweed & Dandelion
Glass milk carafe, Pottery Barn
Mugs, Crate and Barrel
Bedroom
Bed, Reclaim
Laundry hamper, Crate and Barrel
Art print, Art Unified
Marble lamps, West Elm
Comforter, IKEA
Throw blanket, Tumbleweed & Dandelion
Large shelving unit, Live Style