Emily Hahn's initial career dream was to become a lawyer. But as the story so often goes, Emily changed career aspirations entirely after realizing what her true passion was: to become a chef. As Emily says, "I wasn't raised by chefs. I wasn't always determined to become one—it was a career that found me. I have never been happier, nor would I choose any other career." From hostess to pastry chef to prep cook to chef, Emily has climbed the culinary ladder from the bottom up. She now boasts more than a decade of experience in the culinary field.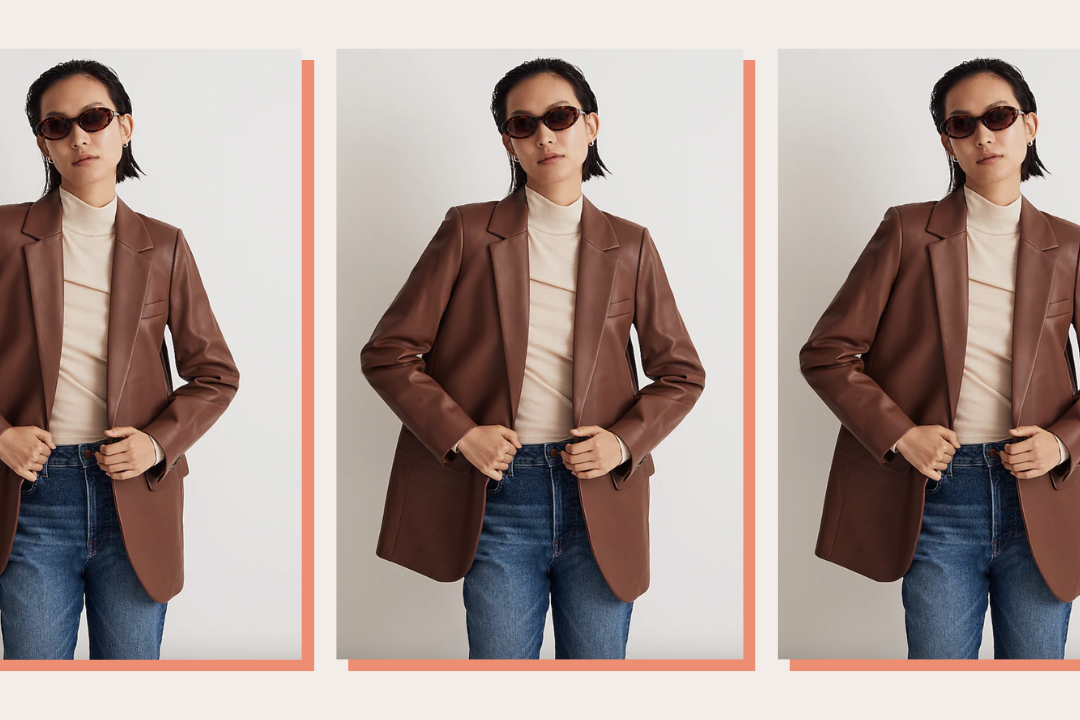 time for your fall wardrobe update!
Her current position? Chef at Warehouse Bar + Kitchen in Charleston, South Carolina. She brings Italian and South American roots into her kitchen, which culminates in a menu full of unique offerings, made with many seasonal and locally-sourced ingredients. Emily describes her team as a family, of which every member is "cross trained, and learns every recipe and task in the kitchen." This team mentality is undoubtedly a part of the success of Warehouse thus far.
Despite her already impressive list of accomplishments, Emily is determined to keep growing in her career and one day hopes to have her own business. With her drive and determination, we're quite confident she will achieve just that. Keep reading for more on Emily's life and culinary career, and her ideas on everything from the perfect meal to how to survive competing on Chopped on the Food Network.
Name: Emily Elizabeth Hahn
Age: 33
Current Title/Company: Chef at Warehouse Bar + Kitchen
Education: Graduate of New England Culinary Institute
You started your culinary career working as a hostess at a restaurant in college. Tell us about this experience and what you learned.
I moved to Richmond, Virginia to study creative writing and Spanish. Ever since I was old enough to babysit and have a paying job I have supported myself financially. When I moved to Richmond it wasn't long before I started to search for something to bring in the bucks. I was hired as a hostess at Bacchus, a Mediterranean restaurant in the heart of the Fan District. I fell in love with the guys behind the line—less for who they were and what they looked like, and more out of envy of the beautiful food they were putting out nightly. One lucky night (for me), the pastry chef decided to quit on the spot. I quickly spoke up and offered my assistance at a very low cost, simply to learn and be a part of it all. And there I was the next week, forgetting to split the vanilla bean in the vanilla bean ice cream base, getting screamed at by the hunky salt-and-pepper haired chef, and crying over spilled milk. Soon after I began to look for another job.
Your next position was at a restaurant called Mamma Zu in Richmond. How did you land this position?
I landed the job at Mamma Zu through a friend of a friend that made up a nice tall tale of how she 'had a very talented friend, Emily, who has plenty of kitchen experience, and would be a great asset in the kitchen.' Melanie, my roommate and best friend was happy to embellish for the sake of me getting in at the cult favorite Richmond Italian eatery. Two weeks later, I was sipping a juice glass of Cognac with my now mentor, Ed Vasaio, discussing my prep position turning more into a line cook position.
You obtained a degree from the New England Culinary Institute. What does an education at the culinary institute entail? 
I graduated from New England Culinary Institute after a two year program. The training involved one year total hands-on experience and education in Vermont at the school's establishments, and two six-month paid internships out in the field at approved restaurants of our choice.
What was your first job after graduating from the New England Culinary Institute? How did you land it?
I did my first internship in Charleston, South Carolina, at FIG restaurant. I drove all the way from Vermont to Charleston in two days and showed up with no time to spare to meet Mike Lata with resume in hand. He was intimidating, but then again, (I thought to myself) so was I. I was confident and pushy. I didn't have much time to get a job and get back to finish school. He wanted me to stage, but I promised that if he hired me in June, that he would not be disappointed. I told him I did not have time to stage, and that he had to just trust me. He did. I returned in June to start as a prep cook in one of the best spots in town. When I graduated, I had my mind made up I was going to New York, spoke on the phone with Gabrielle Hamilton of Prune restaurant, whom I admired so very much. I had possible plans to work with her at another now closed spot, Little Giant, owned and operated by two women. But my heart was still down in the Lowcountry, my heart was with FIG. I called Chef Lata and asked for another go in his kitchen. He said, "I can't wait, we will see you soon. You will be working meat station." (The hardest position, and one not yet held by a woman.)
You spent time working abroad in Patagonia, Chile as a chef at one of the top rate fly fishing lodges in the world. What was this experience like? How did being a chef in Patagonia differ from being a chef in Charleston?
Working as a chef in Chile, Patagonia, was unlike any other experience one chef could have. Cooking with a bounty of amazing produce and protein on a daily basis, and utilizing what comes right from the land that you live on is amazing. It was one of the most grueling jobs I've ever had—schedules included breakfast, lunch, and dinner, served daily, and prep work round the clock. Everything was run off generators and often we cooked on an open fire. There were out camps, miles across a lake with no contact with the outside world.  We had to pack food and supplies for the amount of days we would be gone, and there wasn't room on the tiny john boat to over pack. It was the most amazing experience I've ever had.
You currently work as the head chef at Warehouse Kitchen + Bar in Charleston. What does your current role entail?
I am currently the chef at Warehouse, where our kitchen family is small. Unlike the brigade of many kitchens in Charleston, we do not have a butcher, pastry chef, or saucier—our small kitchen handles all of it. Everyone is cross trained and learns every recipe and task in the kitchen. My job is to develop all the recipes. I am the butcher, the baker, the dishwasher, and good friend. There is no job in the kitchen that is too big or small for anyone. I like being part of a team that supports my thoughts on how to be a real kitchen family.
Tell us more about Warehouse. What type of food do you serve? How many people are on your team?
My menu at Warehouse tells the story of all of my travels,; we serve dishes that speak true to my heart, and things that I love to eat—and could eat every day of my life. My cooking style reflects my Italian and South American roots and travels. I get to be a little off the wall with twists on classics because it is a bar, and people like fun food at bars. I source a very large portion of my ingredients locally and change the menu often due to seasons changing and availability of certain items. It is full of unique food items.
When did you first realize you wanted to become a chef? Was this a goal you always wanted to pursue?
I initially wanted to be a lawyer. I wanted to go to Dartmouth Law in New Hampshire. I went to college to study creative writing and Spanish, with a minor in women's studies. I had three parents—my mom, my dad, and my stepmom. My mother made lots of lentil soup, rice pilaf, and boiled salmon. She gave me Fig Newtons in my lunch, while my father packed Little Debbie cream pies, and my stepmom made boxed mashed potatoes. I wasn't raised by chefs. I wasn't always determined to become one—it was a career that found me. I have never been happier, nor would I choose any other career.
What advice can you give women looking to work in the culinary field?
I never speak as if I am "a woman in a culinary field." What I mean to say is, it isn't about being a woman, we were born this way. I am a good chef because I work very hard every day—I live and breathe my work. I eat, sleep, and dream of food. I have an endless collection of cookbooks and I read about cooking all the time. It isn't about being a woman, it is about being a person who works hard, has heart and dedication, and never gives up.
I am a good chef because I work very hard every day—I live and breathe my work.
What is a typical workday like for you?
My typical work day is twelve hours long. I am the first to arrive. I love the sound of the kitchen when it is quiet and cold. The hood vent hasn't begun to speak, the grill is cold, and it is just me and my prep lists. I usually focus on daily specials and ordering. My staff consists of five other people and they are all very talented and get their own stations set for daily service. They get to "play" and talk to me about food and specials when everything is set up for service.
Best moment of your career so far?
I was recently on Chopped on the Food Network. I battled and lost to my ex-boyfriend. I decided to host a viewing party for all of our friends and family to see us on a large projection screen at Warehouse. Before the show aired, I stood on the bar, wearing my favorite wedge boots, and my faux fur vest—feeling like a rockstar—threw my hands in the air waving two peace signs and closed my eyes to hear the cheering. I also heard Ed's Vasaio's voice saying, "Have some humility, Emily." And here I was on this bar, wanting nothing more than to share the whole thing with everyone in the room. So, my best moment in my career so far? I finally realized in that moment, I was a chef. I have pushed hard for everything I have accomplished so far, with plenty more goals and dreams to follow. But in that moment, I realized I had not only become the person I wanted to be, humbled by my accomplishments, but the chef I wanted to be as well.
Where do you hope to see yourself in five years?
In five years I hope to have my own business. I love traveling and still have a few more places I would like to go before I plant my feet.
What advice would you give to your 23-year-old self?
If I could give my 23-year-old self some advice, I would have saved my mother some money and looked into community culinary school. My mother worked hard all of my life, gave everything she had to me, and made several sacrifices. We both wanted me to go to school, but I would pick something less expensive. Culinary school was important to me, and I think it gives kids like myself structure to begin—a foundation if you will. My mother and stepfather paid my entire education, and I thank them for that.
Emily Hahn is The Everygirl…
Morning or night?
I'm a night owl who can't stand to sleep the day away. But as my father likes to say, "Life does not start without coffee." Until I have finished my first cup, I have not officially started the day.
What is one of your favorite meals to whip up at home when you're short on time?
Carbonara. I live for spaghetti carbonara. Who doesn't love bacon, eggs, pecorino cheese, and spaghetti? Together in one amazing dish, I could eat it every day of my life.
Best advice you've ever received?
The best advice I ever received, and continue to work on every day was yelled at me by Ed Vasaio of Mamma Zu. He told me, "You know Emily, you just can't always act like a big shot. You're not. Have some humility." You don't forget words as strong as that coming from a large Al Pacino look-alike from the movie Serpico. They ring in my ears when standing on a bar welcoming guests to my party, and when cooking my favorite dish that I'm proud of.
Favorite part about living in Charleston?
I love living in Charleston as a chef because our community truly embraces our farms, our food, and our people—everyone involved in the whole culinary field. Also, the ocean is ten minutes from my house, and the smell of salt and sand is always in the air.
If you could have lunch with any woman, who would it be and what would you order?
Well, I once made pizza for Mary Stuart Masterson, but didn't have the chance to tell her how the movie Fried Green Tomatoes is my absolute favorite. And Tina Turner is one of the toughest broads I wish I knew. Can I have two? At the same luncheon? I want to sing 'What's Love Got to Do with It' while we eat fried green tomatoes that I cooked and pasta alla carbonara.