Ahh, summer. More daylight hours, warmer temperatures, and nothing but the open road and blue skies ahead! But no matter how many great tunes you've loaded onto your iPhone or how interesting your passengers are, anyone can experience boredom after a few hours cooped up in a car.
With that in mind, here are four easy ways to stay entertained on your next road trip.
Play a Game
Source: The Bus and Us
When my siblings and I traveled together as children, we didn't have smartphones or iPads to keep us busy and distract us from pinching each other. Instead, we played games—games we still play as adults! Some of our favorites include:
Ends With, Begins With
Pick a category and take turns naming items that begin with the last letter of the previous item. For example: If the category is animals, the game could go something like this: "Antelope." "Elephant." "Tiger." "Reticulated giraffe." Get creative! If you can't think of an item that hasn't already been used, you're out. You can also adjust the game and name items in alphabetical order. For example, continuing with the animal theme, it could go: "Antelope." "Bulldog." "Calico cat." "Dingo."
I'm Going on a Picnic
This is perhaps our favorite game, but also one of the most difficult. The first person begins by saying, "I'm going on a picnic, and I'm taking Item A and Item B." The two items should fit a pattern, and the rest of the passengers have to ask if they can also bring two items until they guess the pattern. For example, if I said, "I'm going on a picnic, and I'm taking a giraffe and a bubble blower," the pattern would be things with double letters in the words. If someone said, "I'm going on a picnic, and I'm taking a hippopotamus and a Pogo stick," I would answer, "You can bring the hippopotamus but not the Pogo stick." The first person to correctly name two items to bring and figure out the pattern wins and gets to start the next round. (Psst—the possibilities are endless.)
20 Questions
One person thinks of a person, place, or thing, and the other people in the car ask yes or no questions to try to guess the person, place, or thing. House rules apply here; if you only want to give your guessers 20 questions, that's fine, but we've been known to keep the game going until someone figures it out. The person who guesses correctly first gets to think of the next mystery item.
Listen to a Podcast
Source: Laysea Danielle
In addition to being great for your commute, podcasts are also an excellent way to pass the time during a long road trip. A personal favorite of mine is Ask Me Another, a trivia podcast from NPR. Think Wait, Wait…Don't Tell Me! but with less current events and more cover songs. Plus, because the podcast covers general trivia rather than contemporary events, you can listen to old episodes (all the way back to 2012) without getting bored or confused.
Tip: Many podcasts can be accessed for free through the Podcasts app. Just remember to download a few episodes to your phone before you leave so listening doesn't eat up your allotted data.
Get Lost in an Audiobook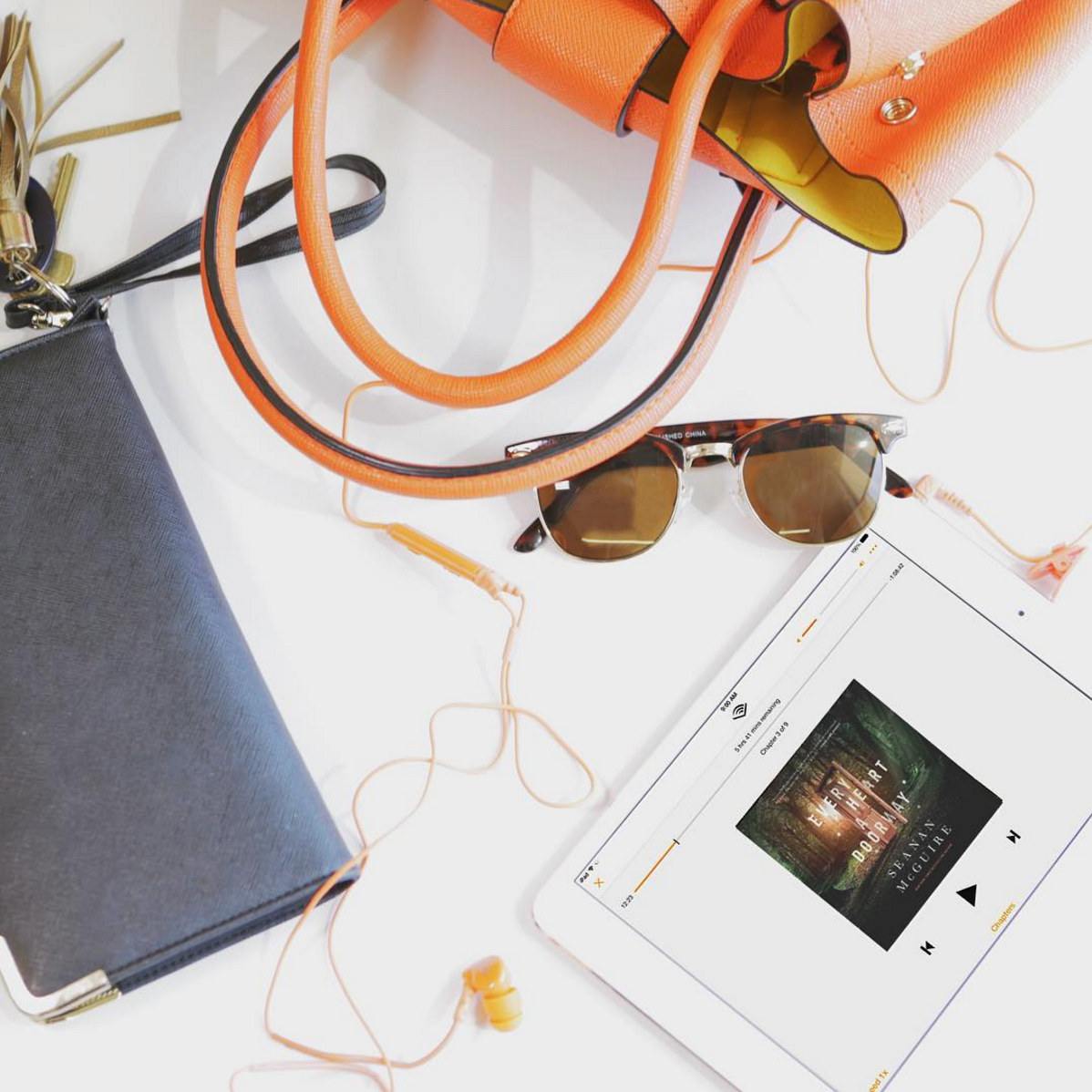 Source: Audible
In addition to podcasts, the right audiobook can be the perfect distraction for a long drive. Audiobooks with amazing accents are especially enjoyable, such as the Scottish characters in the Outlander series or the Aussie narration of Liane Moriarty's audiobooks. Mysteries and thrillers are also excellent road trip choices; they serve the dual purpose of entertaining you with a story and giving you something to talk about (a.k.a. speculate on) with your fellow passengers.
For an audiobook you won't want to turn off, try something written by Robert Galbraith (a.k.a. J.K. Rowling), Dan Brown, or Gillian Flynn. You can download audiobooks for free through your local library, or you can subscribe to a service such as Audible, which offers a free 30-day trial period for new subscribers.
Challenge Yourself
Source: Nicole Easterby
Dedicate those hours you have to spend in the car to learning something new. Maybe you've always wanted to learn the lyrics of Busta Rhyme's fast-talking contribution to Look at Me Now. Play, practice, repeat! Maybe you're rusty on naming a few U.S. state capitals. Have a friend quiz you!
Depending on your company, a road trip can also be an excellent opportunity to practice a second language, by conversing in the language and/or listening to foreign-language podcasts or radio stations. Or, challenge yourself while playing a game by bringing along Trivia Pursuit cards or downloading a trivia app to play out loud (I like QuizUp and Trivia Crack).
Make a Pit Stop
Source: Idle Theory Bus
When embarking on a long drive, the first priority is usually to get to the destination as quickly as possible. But with the right planning (and entertainment!), the journey can be just as fun. So if you see the perfect lookout to watch the sunset, or you know there is an infamous local ice cream shop just a few miles off your route, or you pass a sign for some wacky tourist spot that looks too promising to pass up, don't be afraid to stop for a few minutes or an hour. Regular, brief stops along the trip can help you feel refreshed and make the time spent sitting in the driver's (or passenger's) seat that much more comfortable.
What are some of your favorite ways to stay entertained on a road trip? Share in the comments below!