When you log onto Instagram and begin scrolling, it's easy to feel a couple of things — you might feel inspired, intimidated, overwhelmed, or entertained — or you might feel totally confused by the massive amount of products various accounts and influencers are promoting. When there are so many ~life-changing~ products out there, it's hard to know what actually works and what doesn't.
Fear not — we're here to take out some of the guesswork. We tried one of the most enticing products we've seen on Instagram: Flat Tummy Co.'s Shake It Baby meal replacement shake program — and we're here to tell you all about it.
A little background: Flat Tummy meal replacement shakes are made by Flat Tummy Co., a brand made famous for its craving-curbing detox tea. The Shake It Baby program takes the cleansing magic a step further — formulated with clinically-studied super Citrimax, each shake is to be utilized as a supplement to a healthy lifestyle. No drink can function as a substitute for healthy nutrition and exercise, but these shakes are the perfect addition to your lifestyle — an addition that will help you curve your cravings and keep you on track with your goals.
Here, three of our editors share their own personal experiences with Flat Tummy Co.'s Shake It Baby meal replacement shakes. For two weeks (five days a week, Monday through Friday, with an Extra Kick Monday shake each Monday), we drank one meal replacement shake instead of eating one of our usual meals. Here's how it went down.
If you want to try it for yourself, use the discount code: EVERYGIRL10 for 10% off. 
Current Lifestyle
As someone who considers a cup of coffee as breakfast and a Chipotle bowl (with extra guac, please) as happiness, I wouldn't necessarily call my lifestyle health-conscious. However, I also moved across the country and away from my mom's cooking recently, so I've been making the effort to meal-prep my lunches more (and buy $12 salads less). For the rest of my meals, I either order takeout or cook spaghetti. When it comes to working out, I walk around a lot due to using public transportation as a means of getting around and occasionally go to yoga classes. What I'm trying to say here? I'm a 20-something who is open to healthier day-to-day changes, but hasn't created an entire life around them.
Favorite Way to Drink It
Matcha is literally that drink that looks good (with any Instagram aesthetic) and tastes even better — so you can assume that I was really excited to have it as the flavor of my Flat Tummy shake. The process of making the shake was easy — before heading out the door every morning, I added six ounces of vanilla-flavored almond milk to the Flat Tummy Matcha powder and mixed it all together. On a side note, this was my first time trying vanilla-flavored almond milk and now I'm not even sure what I drank before it — seriously.
While I tried swapping the milk out with water on some of the days, I discovered that I preferred it with milk. Aside from the fact that my quality of life has significantly increased with my newfound passion for almond milk, I also enjoyed the thicker texture of the shake and overall love all things as sweet as possible (oops).
14 Day Program
I've never been a huge smoothie-drinker — blame it on my loyalty to fountain drinks or my habit of snacking, but smoothies aren't usually my immediate choice. During my first week of drinking a Flat Tummy shake daily, I was surprised by how fast it was to prepare. Regardless of how early (or late) I woke up, I always had less than a minute to spare — which was spent on making my shake and taking it on the go. The overall prep time fit my life conveniently and held me accountable to continue maintaining it.
Despite my strong start, old habits die hard — and there was a moment where I was drinking the shake in one hand and grabbing McDonald's fries in the other. Even with this being said, drinking the shake was filling and I quickly noticed I wasn't eating as many meals and overall eating less in one sitting. Along with this reduced appetite, I began to feel more energized throughout the day and didn't feel as strong of a need to drink (another) cup of coffee by mid-afternoon. From the eating habits I've shared, you can assume that feeling bloated has always been an issue of mine — yet by the end of the first week, I was feeling better after my meals and overall less tight around my abdomen.
Although I felt some changes to my body and mood throughout week one, the differences became more apparent by week two. By already being awake and full from the shake, I was skipping out on my morning coffee and barely snacking altogether. As the shakes began to replace my meals, I continued to feel energized and was extremely happy to experience less bloating.
The Result
When I initially began drinking the Flat Tummy shakes, the one situation I was hoping to improve was my bloating. Ever since I began drinking the shake, my bloating has become far less noticeable — which has made me feel more confident with my food choices and body. Another aspect I was looking for was to feel better as a whole. Through experiencing the minimal bloating and boosts of energy, I felt differently and loved how natural the process of getting to that point of satisfaction was.
In regards to losing weight, I'm personally not someone who focuses on weighing myself — but I do feel as though my stomach is flatter because of my reduced bloating and overall smaller appetite. Based off the positive changes I saw from my own experience, I would drink this shake again and believe that this is a great option for people who either want to feel lighter or are working on the goal to achieve a flatter tummy. Overall, the results from Flat Tummy shake provided me a glimpse of what my body could feel like and offered me proof that I could maintain a healthier version of it.
Favorite Thing
How a shake that takes so little time to prepare can reduce so much bloating.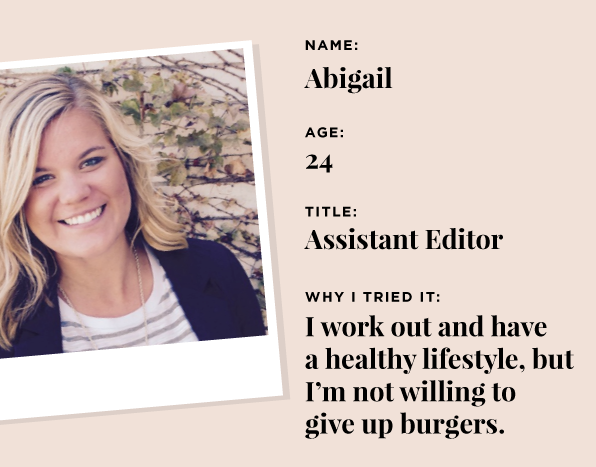 Current Lifestyle
At the risk of tooting my own horn, I'd like to say that I already take pretty good care of myself. While I do love burgers, beer, and mac & cheese (and try to keep those vices as occasional as possible), I do mostly have good habits — I meal prep my lunches and some dinners every week, and I work out every weekday morning before work. I also drink at least 100 oz. of water every day (and I try to keep my wine intake to a minimum — I swear!). While my habits are good and my intentions and goals are rock solid, I have one dirty secret — I'm a super snacker, and my penchant for staying up too late watching Netflix often causes me to fall victim to some serious nighttime cravings.
Favorite Way to Drink It
I am a huge fan of any kind of soy milk — while I don't have any sort of dairy intolerance, I try to avoid overloading on it. Shake ingredients aside, this experience was a great way for me to sneak in some extra protein in the form of my soy milk. Every morning after my workout (I do 45 minutes of cardio each day, then a quick arms/abs circuit three days a week #CardioKween), I put the Vanilla Pod shake powder and about 10 oz. of soy milk into a blender bottle. I shook it all up, then drank it while getting ready for the day and commuting to work. The soy milk plus vigorous shaking created a really thick consistency for the shake, which made it super filling and v satisfying.
14 Day Program
I was really excited to try these shakes — as my metabolism slows down with age, I've noticed that my stomach is getting significantly harder to tone and keep flat. I was definitely hoping that these shakes would help add that little extra boost I've been needing, and I definitely wasn't disappointed. Within a few days, I saw a noticeable decrease in bloat, and I was feeling a lot more confident in the state of my abdominals.
More exciting and more important, though, was my noticeable increase in energy. On day one of my shake experience, my Everygirl coworkers were all laughing at me and my mid-morning energy. I powered through my to-do list faster than normal, and I aaaalmost forgot about my tried-and-true daily 2pm iced Americano. As the days went on, this extra energy only became more pronounced. Instead of slowly counting down the hours til lunchtime, Americano time, and quitting time, I was productively filling my days with work — and the promise of a little post-work jog (not even exaggerating!).
And what's more? The shakes tasted SO. FREAKING. GOOD. They were seriously such a great motivator at the gym — a delicious but guilt-free reward at the end of a workout, and a refreshing and energizing treat at the beginning of a busy day.
The Result
I gotta be honest — I don't believe in weighing myself. While I understand the necessity of weighing in as a method of keeping track of progress, I personally try to focus on how I'm feeling and functioning. That being said, I have no idea if I lost weight during my two weeks on the shakes — but I do know that I gained some serious energy, confidence, and stamina in my workouts.
While on these shakes, I increased the weight of my arm workouts, and my warm-up jog felt significantly easier. My whole body felt lighter, leading me to move faster and more efficiently — thus creating a better workout all around.
In addition to my noticeably improved workouts, my snack cravings decreased significantly. If I couldn't say no to those salty temptations, though, I was able to talk myself into a handful of nuts instead of a handful of chips (baby steps!).
I would 1000% do this shake program again — my workout routine AND my body would thank me!!
Favorite Thing
The shakes tasted so good and gave me such a boost of confidence and energy — highly recommend drinking them in the morning to maximize those energizing benefits!
Current Lifestyle
I'm getting married in the fall, so I've kicked my usually healthy lifestyle into high gear. I do HIIT workouts at Orange Theory 4-5 times a week and try to meal prep and keep my diet pretty clean. That being said… I haven't completely given up my vices like popcorn and Milkduds at the movies and the occasional pizza and wine on Friday night. Balance, right? Losing weight has been a slow and steady process, but my physical strength and cardio endurance has been a much more rapid improvement.
Favorite Way to Drink It
I tested out a couple different ways to drink the Flat Tummy Shakes, but once I found the formula that worked best for me—I stuck with that. I prefer the Vanilla Pod flavor to the Matcha (just a personal preference) and I like to blend it with frozen blueberries (or raspberries), 10 ounces of almond milk, and a spoonful of almond butter (or PB2 powder).  It makes the perfect smoothie.
14 Day Program
I REALLY love food, so dieting is already difficult for me. It's like a piece of my soul dies when it starts to feel restricted, so I've never been a big smoothie/meal replacement girl… I prefer to sit and slowly chew my calories. That being said — I'm often rushing around in the morning, and if I don't have time to fix breakfast, you can inevitably find me crashed in the afternoon craving sugar. The best way for me to incorporate the shakes into my life was to consume one directly after working out in the morning. I'd blend the shake right before leaving for my workout, put it in an insulated container, and then it would be waiting for me after so I could drink it on the drive home. Not only was it INCREDIBLY convenient, but there's 20 grams of plant-based protein in them which means I'm helping my body repair and rebuild muscle. I also love that the shakes are individually packaged so if I needed to mix it up or run errands after working out, I could take my packet with me to the local smoothie bar.
I knew I would see a difference in my body from this change, but I had no idea how much of a difference I would physically feel. First of all, I felt a drastic change in my sugar cravings which has been a huge battle in my fight to get a hot body. Candy calls my name and at certain times of the month, I feel like if I don't have it, I'm going to climb the walls. Yes, my sweet tooth was still there, but I would say it was only 20% of what it was before. A MAJOR DIFFERENCE. I just didn't feel the cravings. Another thing I noticed is how full I felt. Drinking it around 9am meant that I didn't even feel hungry until between 2-3 in the afternoon. The routine made me much more motivated to accomplish my goals and eat healthier throughout the day.
The Result
After just a few days I started to notice my stomach appearing flatter and less bloated. I even saw some definition (that's never happened before) and started to wonder IS THAT AN AB?! DO I HAVE THOSE THERE?! I mean I'm no Kourtney but it's a start. I felt confident, proud of what I was accomplishing, and motivated to keep going. Anyone who has dieted or eaten healthy for an extended period of time knows that it's easy to get in a rut. Adding the shakes to my routine and subsequently feeling so much better invigorated and energized my efforts.
The results were so positive, I already ordered another round of shakes (with my own hard-earned money) so I could keep the results up leading into my engagement pictures, and will definitely order again a month or two before my bachelorette party. A few of my friends have also ordered so they can take them leading up to beach vacations this summer.
Favorite Thing
That something incredibly convenient could make such a huge difference in my confidence and cravings.
This post was in partnership with Flat Tummy Co., but all of the opinions within are those of The Everygirl editorial board.