Going on vacation used to be simple — no Snapchat, no Instagram, just a few disposable cameras, a small makeup bag with some sunscreen and lip balm, and a few mix-and-match items of weather-appropriate clothes. But now, us social media users feel the pressure of having to travel 8+ hours on a crowded plane while still looking #nofilter fabulous, and packing insta-worthy items, from sunglasses to shoes, for each day. Or maybe if you're like me, before your trip you scroll through celebrities' vacation pics (just for some harmless inspo) and then have (major unrealistic) visions of your feed resembling Emily Ratajkowski in Italy. Of course, celebrities and Instagram bloggers are not the most realistic inspiration, especially when it comes to packing for vacations. But we all deserve to have outfits we feel good in and pictures we can appreciate for years, whether it's on our Instagram feed or in a scrapbook.
Part of my problem when packing was that I would be traveling to Greece after a week in Tuscany. Totally different climate, totally different activities, and totally different clothes. In order to piece together so many different outfits that I felt good in (without packing so much that I went over the *very expensive* heavy bag charge), I opted for lightweight dresses that could be tightly folded, basic accessories I could recycle and re-wear, and a few simple skirts with a variety of tops that I could mix and match. Most importantly, I did not have to think too hard or try too hard on my outfits when I was enjoying vacation so I packed similar prints in different shapes to make similar styles look new. Here's how I managed to pack a small(ish) suitcase, enjoy my trip more than I worried about my outfits, and travel my way through Tuscany, Instagramming and all:
Monday: Exploring Siena
Siena is a city in Tuscany that's known for its gorgeous medieval buildings, huge Piazza with the best pizzerias and gelaterias around, and the incredible Siena Cathedral, or "duomo." Of course, I was more excited about seeing the sites, walking to the top of the medieval tower for the views, enjoying the amazing food, and taking in the culture of such an incredible city, but the fact that the stunning cathedral just so happened to match my outfit perfectly was certainly an insta-worthy perk. Black, white, and pale pink is SO my aesthetic.
To put together this easy outfit, I wore two of my favorite of-the-moment pieces with some closet basics. My favorite summer essentials are a round straw bag (I'm temporarily abandoning all purses that are not made out of straw…more on that later) and a one-shoulder top (especially in my go-to gingham), which make for an easy outfit paired with a black denim skirt and simple lace-up sandals.
Tuesday: Wine Tasting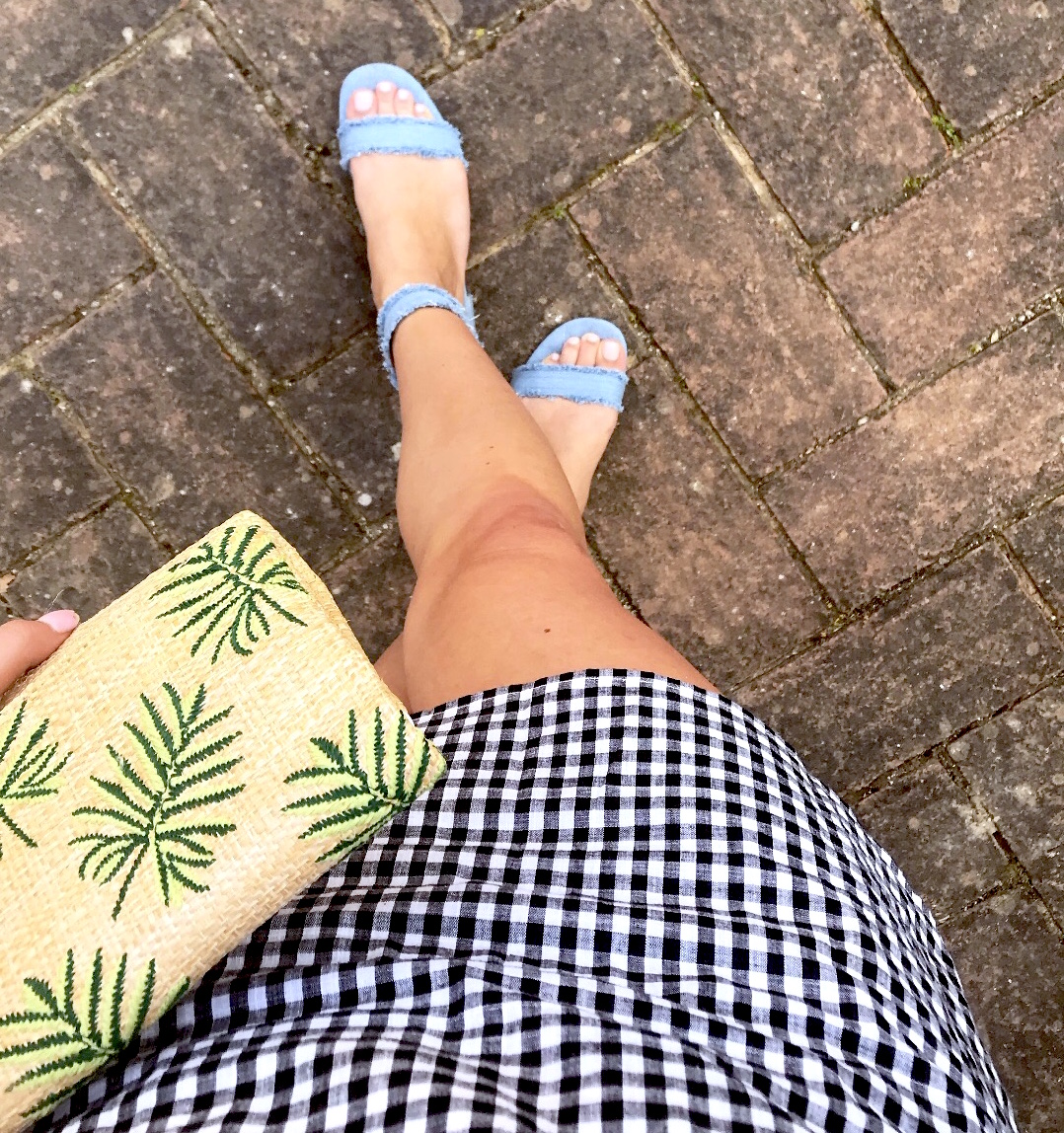 Doesn't gingham just scream, "Wine-Tasting-in-Tuscany," or is that just me? The 2018 revival of the 1940's print has had me decking out in picnic-inspired outfits all summer. To complete the outfit, I paired the dress with an embroidered clutch (yet another straw bag makes an appearance) and denim strap-y sandals with a low heel (because let me tell you, when you're "tasting" a lot of wine, you do not want to be in high heels).
Wednesday: Sightseeing
Around Tuscany, there are dozens of adorable little towns, each one more picturesque than the last. When you're sightseeing around small Tuscan towns, you just need a floral button up tied at your waist. Or maybe that's just me. Whether or not this is what locals actually wear, I certainly felt Italian.
I always go for skirt-and-top combos that are unique in style and print but simple in fit. This keeps packing extra easy since you can mix-and-match between tops and bottoms. Full disclosure: this top is meant to be pajamas, but that's what multi-wear is all about, right? Wear it to bed, and out sight-seeing — totally normal! Plus, haven't we all seen how pajama wear is just all the rage right now? If Gigi Hadid can do it, so can I! Simple strappy sandals make the look easy and elegant, and can be (and was) reworn with several different outfits.
Thursday: By the Pool
In Europe, "hanging by the pool" is not like hanging by the pool in the U.S. Just because you're in Europe, you automatically feel all-around chicer and cooler, like your old string bikini or college swim team one-piece just won't cut it. A simple white bathing suit with geometric details took me from Tuscany to the Greek Islands; the only dead giveaway that I was an American being my poor pale skin (but at least my swimsuit was cute!).
Yes, the round straw bag makes another appearance as not only my favorite hold-all purse, but my easy beach bag that fits all my pool-side essentials: retro sunglasses, festive mules (in place of flip-flops), and necessary reading material.
Friday: A Night Out in San Gimignano
Hello again to my favorite strappy, black block-heels (does that sound like a nursery rhyme to you, too?). A lightweight dress (and MORE gingham!) is easy to pack and easy to wear, with just a simple Western-inspired belt thrown over it to cinch the waist and add some extra style points. Worn with yet another clutch (I was not kidding about only using straw purses), it's perfectly paired with some rosé and a night out in the small, gorgeous medieval town of San Gimignano, overlooking the fields of Tuscany.
Saturday: Traveling to Greece
On our travel day leaving Tuscany and getting to Greece, I knew I had to go out with a bang. Same white skirt as Wednesday, and same palm leaf clutch as Tuesday, but this time paired with an easy strapless top (perfect transition into beachwear; I want to waste no time getting into the pool once we're in Greece), and some espadrilles that are a little are more greek-islands than tuscan-wine-country. Easy and light packing, weeks worth of outfits that I feel great in, and just maybe an Instagram or two along the way.
One Shoulder Top, Michael Lauren
Palm Top, Equipment
Striped Top, Free People
Denim Skirt, Urban Outfitters
Gingham Dress, by the way
White Denim Mini Skirt, Madewell
Tassel Mules, Target
Heels, Sam Edelman
Lace Up Sandals, Madewell
White One-Piece, Cupshe
Western Belt, Target
Woven Crossbody, Urban Outfitters
Sunglasses, Le Specs
Woven Clutch, Hat Attack
Espadrille Mule, Soludos