You know that scene in Harry Potter and the Sorcerer's Stone when Harry sees Diagon Alley for the first time and you can't help but think, "OH MY GOSH I WANT TO GO THERE!"
That's Quebec City. Only in the winter, it is glistening with falling snow and twinkling lights and mini Christmas trees lining the cobblestone streets, and it's the most magical place you never knew existed and you can't even believe it's real.
It's also anywhere from -20 to 30 degrees Fahrenheit, but that's why they invented hot chocolate. And whiskey.
With its rich history, charming architecture, and native French speakers, it's like taking a weekend jaunt to Europe without the eight hour flight.
Quebec City's tourism usually booms in the summer when temperatures reach a balmy 75 and visitors can enjoy the waterfront of the Saint Lawrence Seaway and surrounding outdoor activities. But I'm here to say: visit Quebec City in the winter!
It's truly magical! And if you dress properly (note: there is no fashion contest. Layer up. Snow pants are considered proper attire when out and about), you'll be fine taking breaks from the cold to pop into shops and cafes!
Here's the 411 on where to stay, where to eat, and what to do when you visit Quebec City this winter.
How to Get There:
Fly into Montreal and rent a car to drive the 2.5-3 hours to Quebec City OR take the train from Montreal to Quebec City. We've done the drive on both visits and it's really not bad. Open highways the whole way. I'd just recommend doing the drive during daylight hours.
Fly directly into Quebec City — this is probably a connecting flight but gets you right there!
What to Pack for Winter in Quebec City:
Your warmest coat. If you don't own a proper winter coat, don't go.
Your warmest sweaters
Jeans, leggings, "normal" pants to wear under….
…snow pants or ski pants if you have them — this is what everyone wears so they can enjoy being outside as long as possible. Of course you have layers of pants and long johns underneath.
Winter accessories: a hat (earmuffs are not enough to keep your head warm), scarf or something to cover your face, and two pairs of gloves to layer
Boots — there are a lot of stairs and hills in Quebec City and they're all covered in snow and ice. Everything is thoroughly salted but with fresh snow always falling, it's best you have warm shoes with great traction.
Where to Stay:
As if staying in a fairy tale city isn't enough, you can basically stay in a castle — er, château. The Fairmont Château Frontenac to be exact. It sits atop the hill overlooking the old city and the Saint Lawrence River. From the grand entrance and the ballroom that literally looks like it's out of Beauty and the Beast to the multiple restaurants and bar within the chateau (listed below!), the Fairmont is a destination even for those not staying as guests.
But for the guests… well, lucky you. The rooms are a treat! They have Le Labo products in the bathroom! Le Labo! The sheets are soft as can be, and the slippers are extra cozy, taking you from your marble shower to tuck into bed after a long day in the cold.
Bonus points for the Chateau's insane historical relevance: Winston Churchill, Franklin D. Roosevelt, and William Lyon Mackenzie King discussed World World II strategy AT THIS HOTEL in 1943. You can see the Rose room where they met! And there have been dozens of celebrities staying here and movies filmed on the property!
As part of the Relais & Chateau hotel group, you know you're getting a luxurious experience in this renovated former convent. The rooms are all very unique, the bathroom floors are heated, and the spiced wine in the lobby bar is not to be missed.
You are reading this correct — it's a hotel made of ice. I have never stayed, but you're given crazy warm sleeping bags and actually sleep in a room made of ice! All guests apparently have a "back-up room" to store their stuff and sleep if they can't handle the cold.
Definitely worth visiting for the fun cocktails and experiences the hotel offers even if you don't stay there.
A few favorite Quebec City AirBNB's let you save on lodging:
This one sleeps six, two stories, has fireplaces and a hot tub! $193/night
This one sleeps two, has an amazing location, and is quite affordable! $78/night
This unit in a Victorian house sleeps 2 and has amazing reviews. $77/night
Super cool studio loft for only $63/night
Great updated two bedroom home that sleeps 4 for $92/night
What to Do:
Walk around Old Quebec and hug all the Christmas trees
I could basically just walk around and take pictures the entire time I'm in Quebec City while picturing myself as a modern day Belle, about to break out into song (if it wasn't so cold)… as for hugging Christmas trees. Well, I was just so grateful for their magical flair and my brain was flooded with dopamine I couldn't help myself.
The Ice Slide
Located on the boardwalk, this ice slide has been there since 1884. You ride with others for emotional support since speeds can get up to 43mph!
Winter Carnival
The annual Winter Carnival takes place every year in late January to late February! It's a great time for families as the town is taken over by outdoor festivals, tours, and activities. It's definitely more crowded in the winter during the carnival, so if you're looking to take in the city's scenery sans snowman decorations and crowds of people, we recommend visiting in December or earlier January before it starts!
Valcartier Vacation Village
Named the largest winter playground in America, the Valcartier Vacation Village is exactly that — a winter wonderland destination to have fun! It has snow slides you go down in inner tubes, skating paths, snow rafting, and is home to the famous Hôtel de Glace — or Ice Hotel!
Visit the frozen waterfall
Simply put, the waterfall is amazing to see in the winter. It's mostly frozen, which is an impressive sight to behold considering it's over 270 feet tall! We recommend parking up near the top and hiking down to walk across the bridge and stand above the mostly frozen water. Bundle up!
Winter activities
When you are in Quebec, there is no "staying indoors because it's cold out." Otherwise you'd be stuck inside half the year! The city and surrounding areas have so much going on, it's easy to partake in things like snowshoeing, cross-country skiing, dog-sledding, and snowmobiling! Just look up companies in the area that offer them or ask your hotel concierge.
Where to Eat:
La Maison Smith (pictured above)
A weekend away wouldn't be complete without a perfectly cozy cafe. This delightful spot features an assortment of macarons and pastries along with piping hot fresh coffee. For a morning meal or midday pick-me-up that won't cost you an arm and a leg, this is the ideal spot.
Bistro Le Sam at the Chateau Frontenac (pictured above)
This scenic spot offers some of the freshest seafood and most creative cocktails around — and it's conveniently located inside one of the coolest hotels in the city. The interior is beautiful on its own, but the outdoor views of the boardwalk and icy river add even more to the ambiance.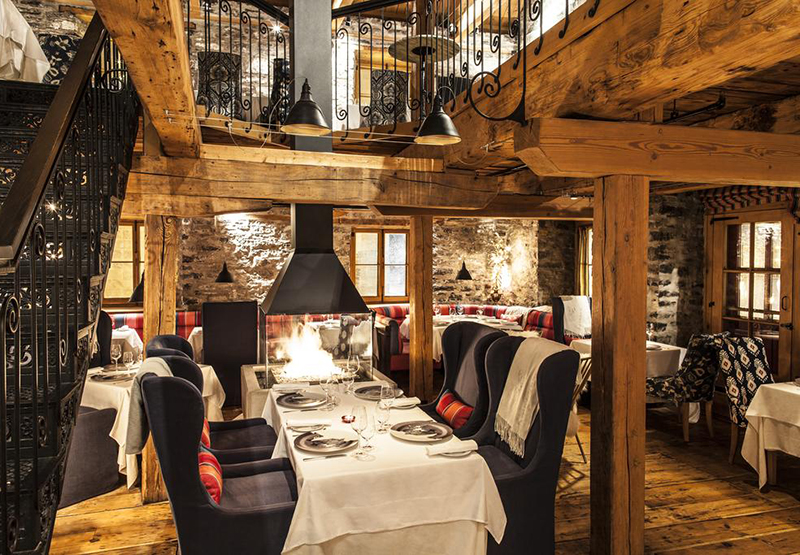 Chez Muffy at the Auberge Saint-Antoine (pictured above)
For a unique farm-to-table experience, check out Chez Muffy inside the Auberge Saint-Antoine hotel. The French-Canadian cuisine, paired with their extensive wine list, is a warm respite from the chilly streets outside.
L'Affair est Ketchup
This tiny little restaurant has been hailed as one of Quebec City's finest by the likes of Anthony Bourdain — but feels just as cozy and comfortable as your hometown favorite. The food is gourmet and delicious, but the space is small — get there in plenty of time to wait for a table.
Champlain at the Chateau Frontenac (pictured above)
While you can't go wrong with any meal at this luxe favorite (it's perfect for a super-special celebratory date night), our personal recommendation is to enjoy a brunch feast at Champlain. The buffet-style meal is packed with charcuterie, fresh bread, savory meats, a dessert table that would make Willie Wonka proud, and so much more. There's decadent champagne and delicious food — a perfect way to treat yourself on a special vacation!
Chez Jules
The foie gras, escargot, and shallots at this quaint French eatery can't be beat — but the atmosphere alone gives the food a run for its money! You'll find Chez Jules on a cozy side street of the city — and you'll want to stay all evening long.
Chic Shack (pictured above)
Unbelievably good burgers, a relaxed vibe, and a cheeky name — if you're looking for a meal that's a bit more casual (but no less tasty), head to Chic Shack inside the Place d'Armes hotel. Not into burgers? Stop in for a boozy milkshake!
Bistro Sous le Fort
Half a block down from the funicular (elevator) in the historic district, this quaint cafe serves delicious traditional french food. We recommend the French onion soup to warm you up from the cold!
Well, have I convinced you yet?! Is Quebec City on your bucket list?!