Our editors have a really good idea of their personal styles. While I'd probably never wear the cute sneakers Maddie has or the baseball cap Abigail lives in, I can tell you it's cute AF and fits their styles perfectly. So, when the Nordstrom sale comes around, we all know what's cute and the basics we'd love to have in our closets, but each of us like to pick up a few trending pieces that match the rest of our closets.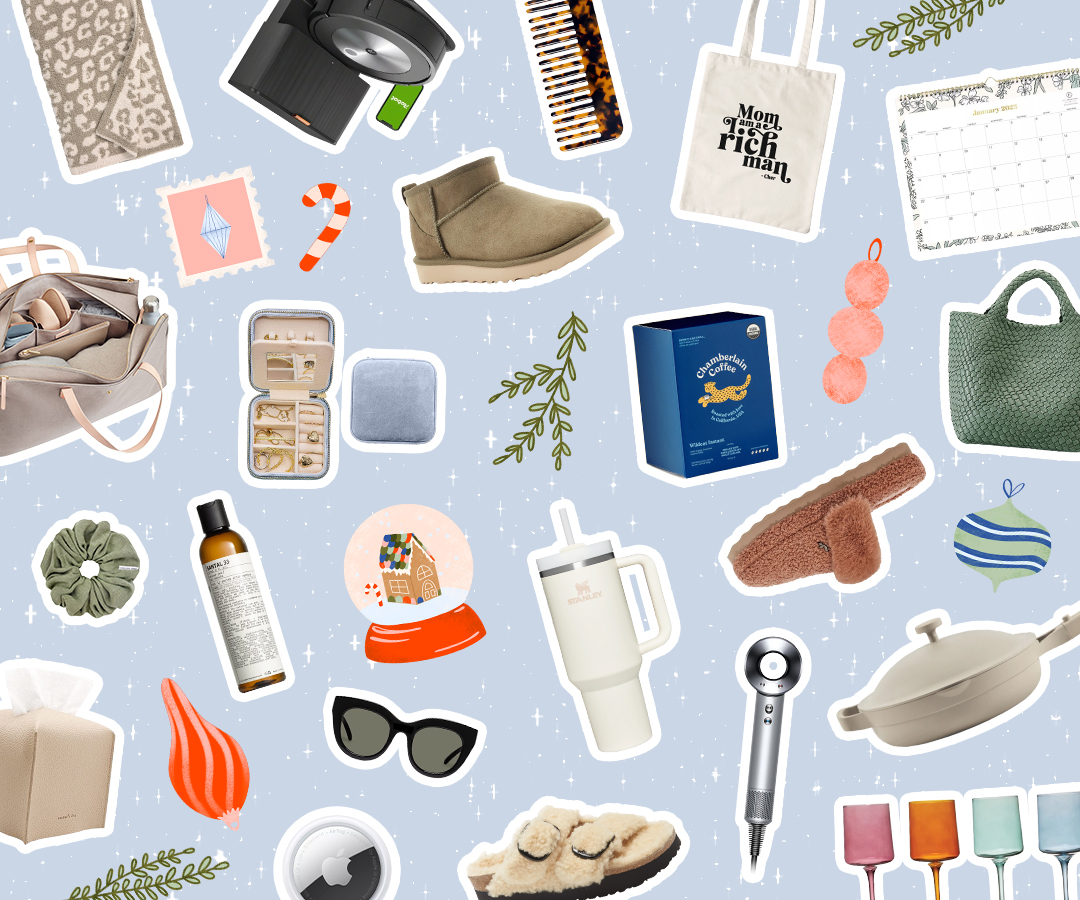 With hundreds of thoughtful gifts, you're sure to find something for everyone on your list!
Because our styles differ so much, it's fun to see what we all love and how it works for us. We're taking you through everything we ordered and what we're actually keeping versus what didn't make the cut. Plus, we're sharing some of the basic staples we had to grab this sale!
Maddie
I'm a total sucker for a statement jacket. I wore a black leather version of this jacket almost every day last winter (much more fashionable than my giant parka, and shockingly warm), so when I saw this I was completely sold. I love the color, it's INCREDIBLY soft, and I can't wait to wear it with jeans and a tee all fall for an easy, go-to outfit. It also makes me feel like an absolute baller, and can you really ask for more than that?
I recently have nixed all of my skinny jeans for straight-leg ones, so the Nordstrom Sale was the perfect opportunity to pick up a good pair at a discounted price. Levi's are tried and true, and these were a no-brainer for me. I love the extra black wash and the fit is seamless. These are my regular size and are a bit tighter than I'd personally want, so if you're between sizes, I'd definitely size up.
Kelly
I would like to preface all of these photos by saying that I have clearly never mastered the I'm-holding-my-phone-in-a-way-that-makes-my-fingers-look-slim-and-normal thing, so that is why my hands are all akimbo. Great, now that's done…
I have a distressing habit of buying my coats too small and then not being able to lift my arms above my shoulders, but I think I overcorrected here and went from chic-lady-in-the-city to Dectective-K-is-on-the-case. Which really fulfills my Harriet the Spy fantasy, but isn't the lewk I'm trying for on the daily. This coat runs very large, so I would size down — maybe even two sizes. It also has a little bell out thing happening at the bottom, which is a little Nick-Miller-wearing-the-woman's-coat thing. Not my favorite, but probably better with the right size. I do, however, support the slick material under the collar of this trench. Very easy for collar popping à la 2004.
You know ya girl loves a menswear moment. I'm deeply, deeply obsessed with this blazer. It's a great cut that's in between oversized and slim fit — so, just regular fit I guess lol — and feels like a dream. It has the subtlest pinstripe detail that feels very high-roller, big money, Rat Pack. I would wear this exact outfit every day of my life.
Well folks, we've reached it — "it" being my nirvana, my nirvana being this pajama set. God bless whoever made this, because it is literally the softest garment that has ever graced my body. I love imagining the me who would wake up in these pajamas every day. She arises at 5:15, brews a pot of velvety French roast, and cozily reads a paper copy of The New York Times while enjoying a plate of eggs Benedict.
Josie
I'm going to be real — sales are my time to shine. With all the trends and statement pieces I'm always bookmarking on Instagram and clicking "add to cart" with no intention of buying (because *oops* I already spent my paycheck), the Nordstrom Sale is where I like to score all of the latest trends and it-pieces of the season, since it's fashionable pieces at major discounted price. The mission for this year's sale: find trendy stand-out pieces that will totally transform all my basics and will have everyone asking, where did you get that!? for less $$ than I usually spend on office lunches for a week. Spoiler alert — mission accomplished.
OK, how freaking chic is this jacket? Not only is it the it-color of the year (give me blush or let me go nude!), in a stylish cropped style (moto is SO in for fall), but it's so cozy, I never want to take it off. It's like the updated, prettier version of the fuzzy teddy coat you wore everywhere last winter. I'm planning to wear it over my favorite fall dresses or paired with jeans and a tee for the easiest #OOTD ever. Bonus tip: usually with Topshop I size up, but I was swimming in this medium. If you're between sizes, select the smaller size because the fit is very oversized.
Let's talk booties — specifically red ones. We all wear absolutely nothing but booties from September through the first snow fall, so why not select a pair that will stand out in a sea of brown western-inspired shoes? The Nordstrom Sale was a great opportunity to save money on eye-catching statement shoes that go perfectly with all my fall outfits and will garner so many more compliments (and Instagram likes!) than my plain brown and black booties. This pair is the perfect heel height, super comfortable, and looks luxurious with the suede texture (without a luxurious price tag). My shoefies just got more interesting…
Beth
I bought a pair of inexpensive black booties last fall, and I wore them to death. I figured it was finally time to be a big girl and pick up a pair of black boots that would last me multiple seasons. I've been intrigued by the Blondo waterproof material for a while, and the snow and rain in Chicago would make them absolutely worth it. I liked these boots for the practicality and durability, but I wanted something with a little more style — so, I grabbed these Treasure and Bond black boots instead! I'm also wearing the Good American jeans I grabbed in the sale here too! Sadly, they're sold out, but I'd honestly pay full price for them. This is day four of wearing them, and they have yet to get baggy or loose anywhere, and they're black as ever.
Abigail
If I could only wear one outfit for the entire rest of my life, it would be an all-black workout ensemble. In this look, not only do I feel ready to climb a mountain, but I also feel like I could SEXILY climb a mountain. Ugh, there's just something so confidence-building about black exercise gear — and each of these pieces fits the bill. First of all, I had never tried Zella leggings before, and I kiiiiinda understand the hype now. They're high-quality material and will DEFINITELY stay up through a grueling workout. I don't love them as much as my beloved Align pants, but they're an amazing cost-effective option for high-quality workout gear.
Moving on to the two pieces that I LOVED — this jacket and sports bra. This Adidas jacket made me feel like part soccer coach/part fitness influencer/part Bridget Vreeland. It's a thinner material than I expected (think '90s tracksuit), and totally Sporty Spice.
AND FINALLY… I debated whether I should share this or not, but it's way too good to not. This sports bra SINGLE-HANDEDLY made me fall in love with my own boobs. It's not super supportive (good for yoga, bad for running/spinning), but DEAR LORD DID IT HELP THE GIRLS. My boobs are a casual B/C, but this sports bra perked them up like nothing else. I kid you not when I say I sent the following selfie to every. single. person. I. know. It's that good — whether you work out in this or not, all my mid-size-breasted friends need this sports bra.