Finding the right words for this has been challenging, because my goal as a writer is to always try to find a way to offer support and encouragement. However, I realize that this is a strange, difficult time for all of us, and I'm struggling too. The holidays typically bring happiness with a side of stress, but I still manage to enjoy them even if every moment isn't magical. This year I am having trouble getting into the holiday spirit because it feels like the world is broken.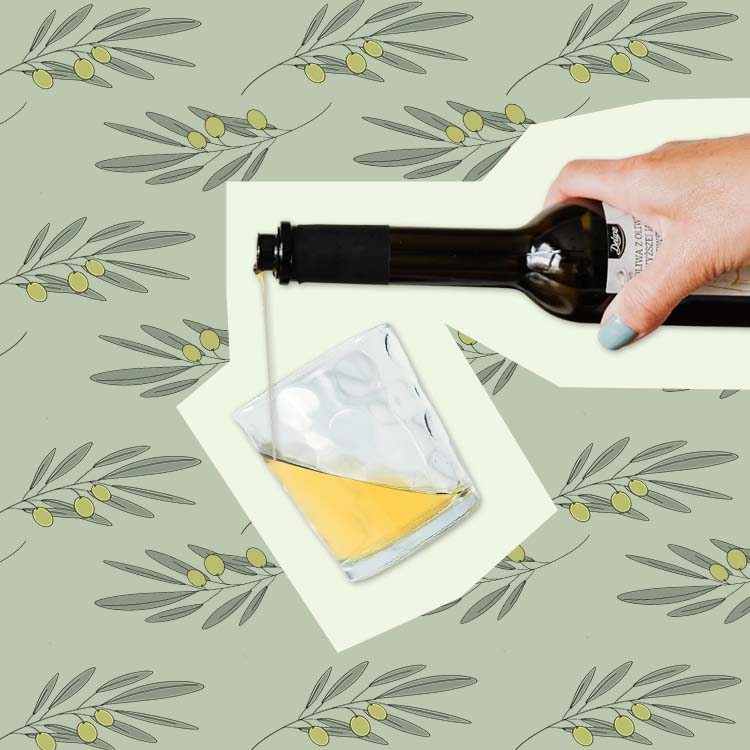 we love olive oil, but this seems a bit too far... or is it?
Working with my therapist weekly for the past four months has given me a lot to think about, and provided an emotional toolkit to help me cope thoughtfully. My therapist often reminds me that there is light even in darkness, and that it's important to openly deal with our feelings and make time to do things that bring us joy in the process. Even in a year filled with uncertainty and a holiday season that looks different, moments of happiness aren't out. Here's what I'm doing to keep my spirits this holiday season and hopefully one (or more) will help you as well.
1. Feel your emotions—even if they're negative
Emotional acceptance is something I am actively working on, and it's hard. Truthfully, I still try to avoid allowing myself to feel negative emotions, but accepting and feeling the pain helps get us to a place of what my therapist calls radical acceptance. If your holiday season looks different this year, or if this time of year simply brings negative memories, studies show that allowing yourself to feel whatever comes up for you can make the emotions easier to bear over time. When I do lean into thoughts that make me sad, I don't stay there for long. I give myself 10 minutes at the max and call a friend or someone I trust afterward to hear about their day.
2. Make something that brings you joy
It's pretty remarkable how food can bring comfort. For me lately, my edible security blanket has been Trader Joe's organic hot cocoa topped with marshmallows. I don't indulge in this sweet treat daily, but when I need a little cheering up, I have a cup of cocoa and watch my television besties: Dorothy, Blache, Sophia, and Rose. I tend to indulge in savory treats when I'm feeling emotional, so I'm not encouraging making emotional eating a habit, but having a treat that brings joy—and even a hint of nostalgia—in my opinion, isn't a bad idea.
If you enjoy cooking or learning something new, I highly recommend booking an online Airbnb cooking experience (I just took this one). If curling up with a good book brings you joy, try reading a book that takes you to a faraway place, even if it's just using your imagination. My current favorites are Royal Holiday by Jasmine Guillory and My Brilliant Friend by Elena Ferrante. If none of these suggestions tickle your fancy, think about something you love that you haven't done in a while—whether it's dancing, hiking, or even kicking back, turning off your phone, and watching your favorite movie. Whatever you do doesn't have to a big gesture. It's the little things that can make a significant impact.
3. Add something new to your space
I thought about decorating for Christmas this year, but I wasn't feeling it. Don't get me wrong, I love Christmas decorations. I grew up with a home filled with four Christmas trees, stockings, a porcelain holiday village with fake snow, and Black Santas lining the fireplace. But the thought of decorating for the holidays in my empty apartment makes me feel more lonely. Instead of decorating for the holidays, I made a travel gallery wall, bought palm leaf curtains, and had a tropical plant (a Bromeliad Aechmea) delivered to my door to surround myself with travel inspiration since traveling is out right now.
Every morning and night, I take a look at that wall. It reminds me of some of the most fun, inspiring moments in my life. The holidays don't invoke happy memories in everyone. If that's true for you, think about adding something to your space that brings you joy—a plant, new curtains, a painting— and brightens your space.
4. Volunteer (or donate)
With all of the madness in the world right now, I sometimes find myself feeling emotionally overwhelmed by it all. Since this holiday season is taxing us globally, donating to a cause or organization that helps people in need during the holidays and beyond can be an impactful way to acknowledge how different this holiday season is while helping those in need. Donating to your local food bank, the Center for Disaster Philanthropy Covid-19 Response Fund, and Toys for Tots are all great places to start. If there are other causes your care deeply about, do some research and find an organization that you want to support.
5. Journal
I am becoming that person that says, "My therapist says…" but bare with me because she gives great advice. During one of our sessions, she shared this resource with me: 83 Benefits of Journaling for Depression, Anxiety, and Stress. Journaling has scientifically proven benefits. If starting a blank page and pouring your feelings onto it isn't your thing, try a journal with prompts. I love Cleo Wade's Heart Talk Journal and 52 Lists for Happiness. The prompts help encourage me to write something even if I'm not quite sure what I'm feeling. Journaling helps me get anxious or sad thoughts on paper instead of ruminating and replaying them in my head for days. My journal entries also remind me of the moments that have brought me happiness when I take a look back, which always makes me smile.
6. Find a show to binge with someone you love
My best friend and I talk every day for hours about everything under the sun, including the state of the world from COVID-19. In true 2020 fashion, the nature of our daily conversations started to get too heavy. To lighten things up, we selected a show to watch together to discuss instead of spending hours discussing world events. I can't say our show choices are light, as we recently finished up Lovecraft Country, but we're discussing making The Crown our new show to binge together. Since 2009, I've seen her at least 2-3 times a year, but due to COVID-19, I likely won't get to see her IRL again until spring 2021. While we are miles apart, our daily talks are a glimmer of light and remind me that while things are different, I'm not alone.
7. Reach out to a professional
The holidays are difficult even without a pandemic, and sometimes talking to someone with the skills to help you can be beneficial. My therapist has armed me with the skills to cope when negative emotions or debilitating anxiety kick in. It's not lost on me that gaining access to therapy can be a challenge financially. If you're insured, check in with your healthcare provider to see if any of their practitioners offer services on a sliding scale. If you're uninsured, teletherapy can be an option—sites like BetterHelp offer financial assistance (this is how I found my therapist).
I know that these tips aren't a cure for how many of us are feeling right now, but I hope that you can find something here that adds some light to your world.