When planning to visit a city, my first order of business is ALWAYS where I am going to eat. I'll spend weeks researching and trying to find the best restaurants by pouring over Yelp photos, TripAdvisor reviews, frequent Instagram check-in spots, asking friends on Facebook…you name it, I've done it. But sometimes there are even things strangers on the Internet can't tell you. And for that, you want to go straight to the locals. Our last local guide to New Orleans was such a success, that now we are extending it to other cities, starting with my old home: Los Angeles.
I hand picked my most trusted culinary sources—and they have never failed me with their heavenly recommendations. Monica Wang is a well-known interiors photographer who has lived in LA for over 10 years. Her knowledge of the food scene is unparalelled. Rachel Rosenbloom of Polka Dot Media (one of the creative brains behind Lauren Conrad's gorgeous site) is always around town networking at the best spots and can recommend the most intoxicating cocktails. Valerie Chen is an editor at Travel Age West. From savory happy hour bites to the most sinful meals that will have you rolling home in search of your sweatpants, she has her finger on the pulse of anything new and exciting happening in Los Angeles.
They spilled their go-to spots all over LA with us—and I couldn't resist adding a few of my own!
Valerie: Due to its intimate size and limited seating, The Honor Bar in Beverly Hills is pretty much guaranteed to have a wait during peak hours. But its Ding's Crispy Chicken Sandwich — the holy grail of all chicken sandwiches — is worth every minute spent idling outside. Picture crispy buttermilk-coated chicken paired with Swiss cheese and a slightly spicy kale slaw, cozied up between a pillow-like bun—add a side of hand-cut fries and creatively prepared sushi to that already stunning vision and then wipe the drool off your face. I'm serious, people: You need this sandwich in your life. Like other Hillstone Restaurant Group establishments (Bandera, R+D Kitchen, Houston's), The Honor Bar has a fantastic ambiance and service, too.
122 S Beverly Dr, Beverly Hills
Source: @kathrynwmoore
Rachel: If you've never tried shabu shabu, now is the time. This place is extremely casual, no frills, just good food. Essentially you decide on a meat (or you can do fish or veggies), and you add your choice of veggies, noodles, a bowl of rice, and the most delicious sauces I've ever had. You cook your meat/seafood/veggies in water, dip them in sauces, and eat it all over rice. And at the end, you make a delicious noodle soup. Pretty much the best meal ever, and known by my friends as "best bite every bite." One thing to know: This isn't a great place for groups because you sit at a bar, in a row. If you go with more than one person, it's not easy to chat while you shabu, so I'd recommend going with a smaller group.
Monica: This is the spot you go to over a weeknight with girlfriends or a fun date night. Chef Tin has created a fresh take on Vietnamese food that is modern and inspiring!  I never go there without ordering the lime cooked beef salad, braised pork belly with leek fondue, and bo kho beef soup. It is also pretty convenient because they have two locations: DTLA and Manhattan Beach.
4. Pine & Crane
Source: @seeandsavour
Valerie: I've long lamented having to drive down to San Gabriel Valley for authentic and inexpensive Asian food. But in March 2014, Pine & Crane opened its doors and thus abbreviated the commute necessary for satisfying my cravings. Located in the Silver Lake neighborhood, the eatery features Instagram-worthy minimalist decor. And, more importantly, it actually does Taiwanese-Chinese culinary staples justice, including spicy shrimp wontons, ja ja mien noodles and beef rolls. I repeat: Do not neglect ordering beef rolls. Choose from an array of loose-leaf teas and ice teas to wash down all the tastiness.
1521 Griffith Park Blvd, Los Angeles
Source: @sazanhendrix
Allyson: This is my go-to brunch spot and the place I bring all my out-of-town friends. I've had almost everything on the menu and not one meal has disappointed. Grab your girlfriends (and even your pup!) and sit on the gorgeous patio for a long, leisurely meal. If you miss brunch, don't worry—the lunch and dinner selections are on par and the drinks are amazing. During the summer they even have movie night outside, but you'll want to arrive extra early for a seat. My favorites are the brioche french toast, breakfast quesadilla, smoked salmon plate, and classic cob salad that comes with a pretzel roll.
1929 Hillhurst Ave, Los Angeles
Monica: This Abbott Kinney gem is an extension of their NYC location. It just opened in January and they only take reservations for larger parties so plan accordingly. The menu is vegetarian and they make a great breakfast pizza, spicy kale Caesar salad, Ruben sandwich, and avocado toast. Bonus: The ambiance is lovely! When you walk in, you feel like you are in a boho jungle with all the hanging plants and macramé.
1205 Abbot Kinney Blvd, Venice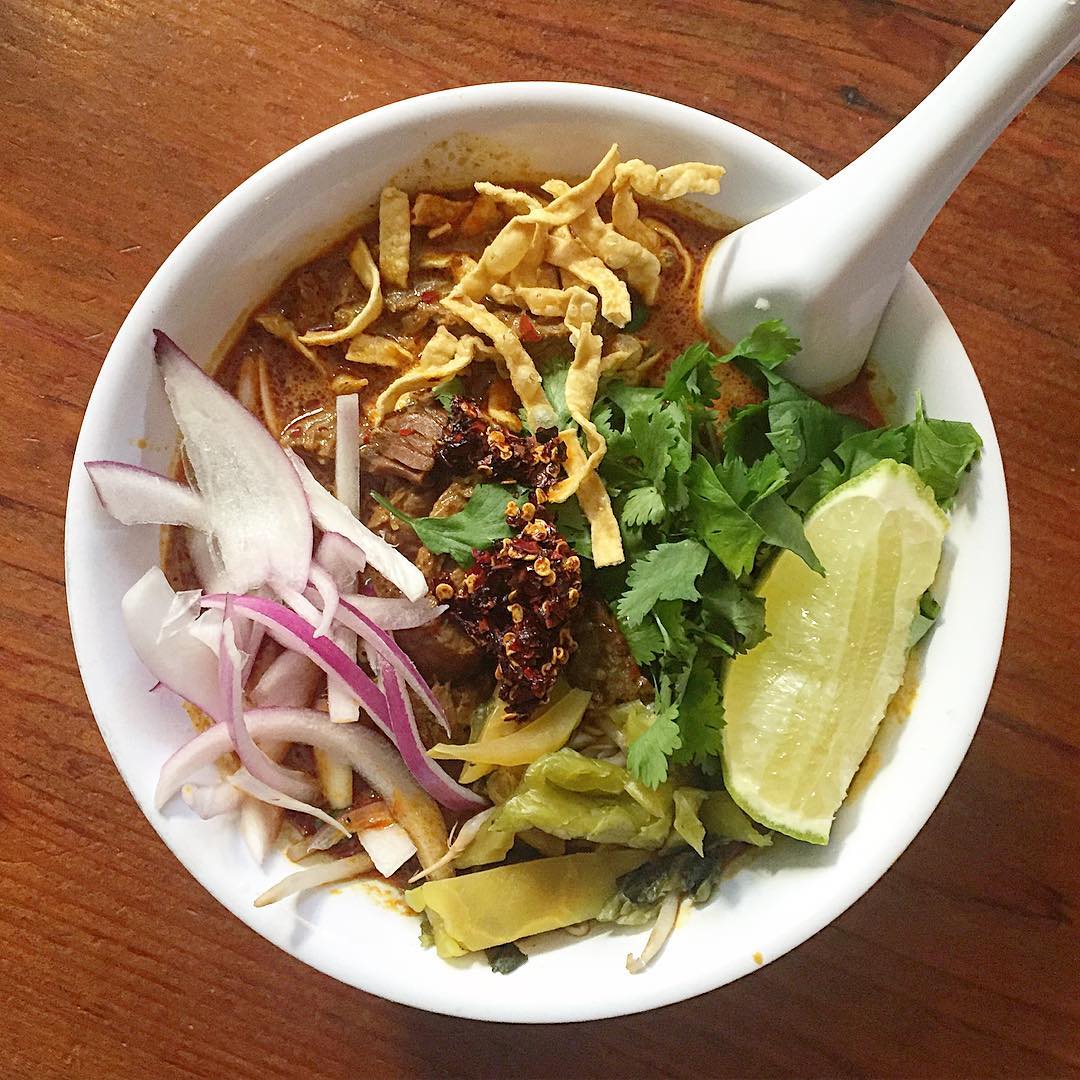 Source: @gourmetpanda
Rachel: Night + Market is a combo of 2 of my favorite things: Thai food and spicy food. It's a super casual setting, which I love, and is right in my neighborhood, which is also a plus. However, don't go here if you can't handle some serious spice (like really, really spicy). And as a sometimes vegetarian/vegan, I love that they can make most of their dishes without meat. My favorites are larb tofu, the crispy rice salad (the vegan version), and vegetarian Pad Thai. Also, their sticky rice is amazing.
9043 Sunset Blvd, West Hollywood
Allyson: Tucked away on a non-descript sidewalk between Little Tokyo and the Arts District, you might not even realize Daikokuya is a bustling hot spot if not for the hoard of people waiting outside. Daikokuya is the definition of a scratch kitchen, from the noodles to the pork broth there is a discernible difference in the quality of their ramen compared to…well anything, really. Don't be scared of making your "reservation" in person on a clip board on a rickety table at the front of the narrow restaurant, or the fact that it is a cash only establishment, this is easily one of the best meals in Downtown Los Angeles and a very cost effective one to boot. If you're going to be waiting a while, have a quick drink down the street at Far Bar or sing a little karaoke at Bar Nirvana.
Source: @thestrongmovement
Valerie: My go-to spot when I lived in Pasadena, the good people of rustic-meets-glam restaurant knows their way around a thin-crust pizza. Baked in wood-fired oven (fed with olive wood, no less), thin crust pizzas are made with a variety of market fresh, locally sourced ingredients. I always start with a chopped salad with salami and follow with The Gladiator (house-made Italian sausage and pepperoni), adding all the free toppings I can (vegan pesto, roasted garlic, basil, and egg). As for refreshments, the inexpensive cocktail carafe option keeps the party going! Try Ingo's Greyhound, made of gin and grapefruit. And don't forget to pick up a free salted chocolate chip cookie on your way out!
Rachel: Hands down one of the best sushi restaurants in LA, Izakaya is the perfect spot to bring out of town friends, celebrate birthdays or just have a girls' night out. There are so many must-haves, and it's fun to just get a bunch of dishes and share. Definitely try the baked crab hand roll (at least one for everyone at the table), spicy tuna on crispy rice, popcorn shrimp on spicy tuna roll, albacore with crispy onions, chili edamame, robert roll, and the honey hand roll. Their sake selection is pretty amazing too.
Source: Melting Butter
Rachel: Bestia is one of the only reasons I'll willingly drive downtown during rush hour. And while it's not always easy to get a reservation (I literally book mine three months in advance on OpenTable) it's always worth the wait. In my opinion, Bestia has the best pizza in LA and their pasta is incredible too. I'm on and off vegetarian/pescetarian, and they always have options for whatever my meat-eating status is. A few of my all-time favorite dishes are their little gem salad, uni and lobster pasta, cavatelli, and burrata pizza. Oh, and don't skip dessert.
Source: @sylviageatery
Allyson: I would never turn down a Dodger Dog, but Wurstküche is the true sausage king of LA. Anyone in your group can find something to love here, thanks to a variety of adventurous meat and vegetarian options. Add the toppings of your choice and don't leave without an order of the Belgian fries accompanied by at least two dipping sauces. My picks are bleu cheese walnut bacon and chipotle aioli. And since you are blowing your diet anyway, wash it all down with a beer.
Source: The Delicious Life
Monica: You can go here any time of any day and this place will be busy. It is a staple of LA and completes any trip to the west side. You honestly can't go wrong with anything you order. All their small plates and artisanal pizzas are wonderful. I personally love their mushroom toast, roasted cauliflower, and any of their fish dishes.
1429 Abbot Kinney Blvd, Venice
Valerie: Chef Bryant Ng and Kim Luu-Ng, along with Zoe Nathan and Josh Loeb (who also own and operate other great Santa Monica restaurants, including Huckleberry and Milo & Olive), bring incredible Southeast Asian flavors to Santa Monica by way of Cassia. The beautifully appointed restaurant features Singaporean and Vietnamese recipes with a modern French twist. You'd be remiss not to start your meal with an order of kaya toast, an appetizer of brioche prepared with coconut jam and butter, and then leisurely dipped into a slow-cooked egg. And if you can handle some slurping and lots of heat, Cassia's laksa is a deliciously memorable bowl of rice noodles swimming in spicy seafood soup.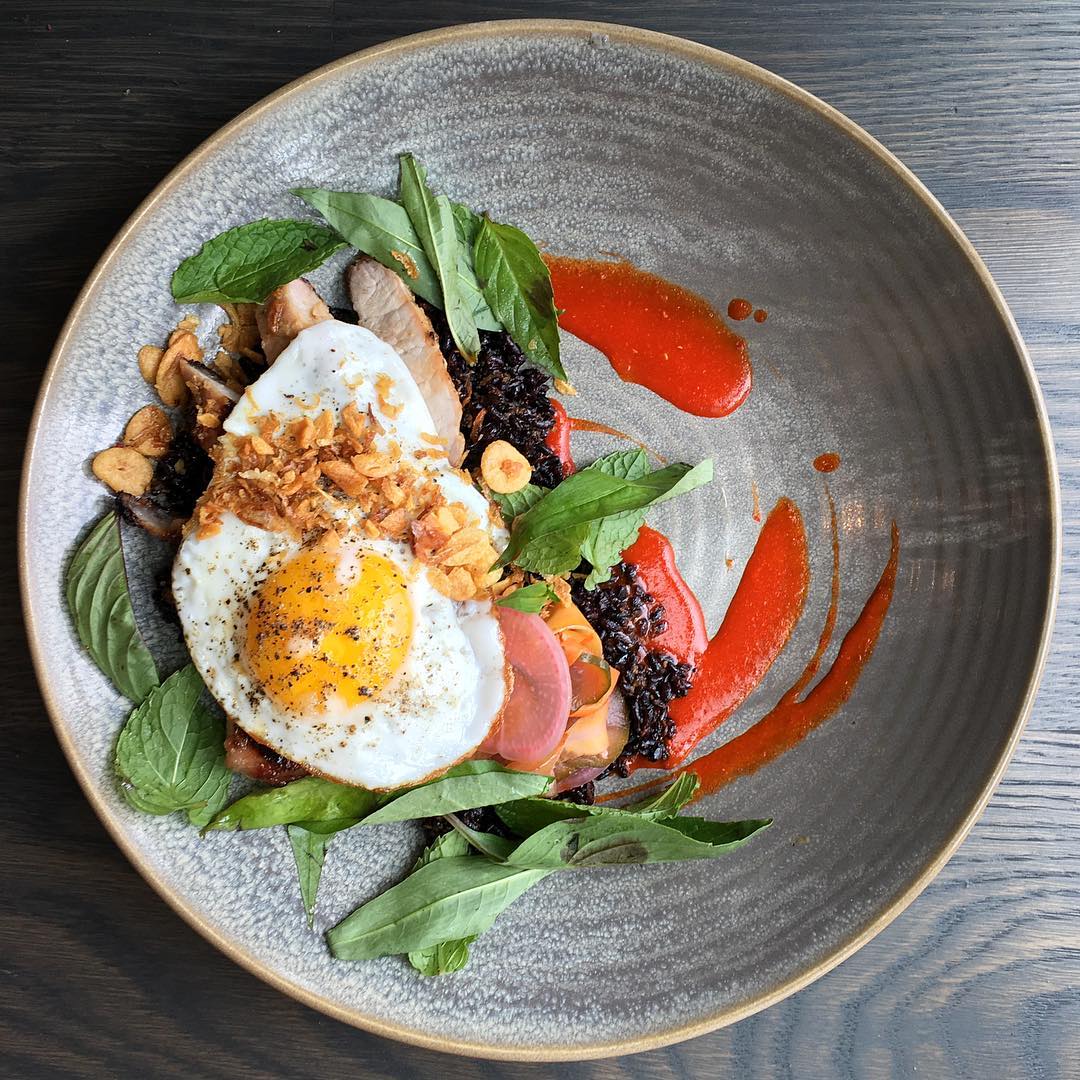 Source: @jenlikestoeat
Monica: Everything Chef Tim creates is the best of both worlds. His dishes are beautiful (you almost don't want to take a bite because it is so pretty!) but also harmoniously balanced in flavor and texture. My favorite thing to order is the funnel cake with fresh strawberries and foie gras mousse. It is the best thing on the menu so far. The ambiance is also very notable, and it all starts to make sense once you know the designers are House of Honey and Studio Ultd.
Source: LA Weekly
Rachel: Home to the best guacamole ever! I'm not sure why, but it is. Petty Cash is fun for group dinners, drinks and guacamole before a night out, or really anytime you want amazing Mexican food. Make sure you get the cauliflower nachos, the crispy brussel sprouts, and literally any of the quesadillas or tacos. My favorites are the dorados, the machaca, and the fish tacos. For drinks, the Petty Cash Margarita is great, as is the Agua Fresca con Booze. Yum.
7360 Beverly Blvd, Los Angeles
Source: @allysonfulcher
Allyson: In Los Angeles, the burger divide is between Father's Office and Umami. And while Father's Office may be gourmet, they don't allow any substitutions or changes and there is no ketchup. I repeat: No ketchup (not even for your fries). So look past the fact that Umami is a chain, and stare directly into its beautiful truffle ketchup and sunnyside yolk sitting on top of your perfectly portioned burger. You can't go wrong with the shoestring fries and I'm pretty sure my soulmate is the Manly Burger (house beer-cheddar cheese, bacon lardons, smoked-salt onion strings, Umami ketchup, and mustard spread).
4655 Hollywood Blvd, Los Angeles
Source: Bon Appetit
Valerie: Not everyone is thrilled about the rapidly changing face of Grand Central Market, but no one can deny that it has evolved into a gastronomic mecca. A Downtown Los Angeles landmark since opening in 1917, the some 30,000-square-foot space is home to a variety of food vendors. They serve up everything from imported cheese plates (DTLA Cheese + Kitchen) and sustainably sourced oysters (The Oyster Gourmet) to vegan ramen (Ramen Hood) and ice cream flavors such as churros con leche (McConnell's Fine Ice Creams). Thai eatery Sticky Rice and its delicious BBQ chicken, papaya salad, and rice combo has especially captured my heart, and Eggslut's dip-bread-in-coddled-egg dish and Tacos Tumbras a Tomas' colossal-sized tacos are close runner-ups.
Source: @missfoodieproblems
Monica: Agua fresca anyone? This is a new spot that opened up in Echo Park and is exactly what the neighborhood needed. The restaurant has a huge outdoor patio area perfect for brunch and large parties. The interior space is also notable and was created by the same folks who did Gracias Madre.
20. Milk Jar Cookies
Source: Studio DIY
Allyson: OK, so maybe this doesn't count since all the other recommendations are technically restaurants, but these cookies are too good to miss. The outside is crisp while the center is gooey without tasting under cooked. Oh and did I mention they weigh three pounds each? An exaggeration, but these cookies are dense, heavy, and sinful. My favorites are the chocolate chip and birthday, but you really can't go wrong with any of the flavors.