If 2020 did anything to our mentality when it comes to our wardrobes, it put what good clothes mean to us into perspective. When we're sitting at home for months on end dreaming about a life outside of sweatpants, it's easy to see how much our clothes do for our identity in a precedented world; our fashion choices are both an expression of ourselves and a part of who we are, whether we normally realize it or not.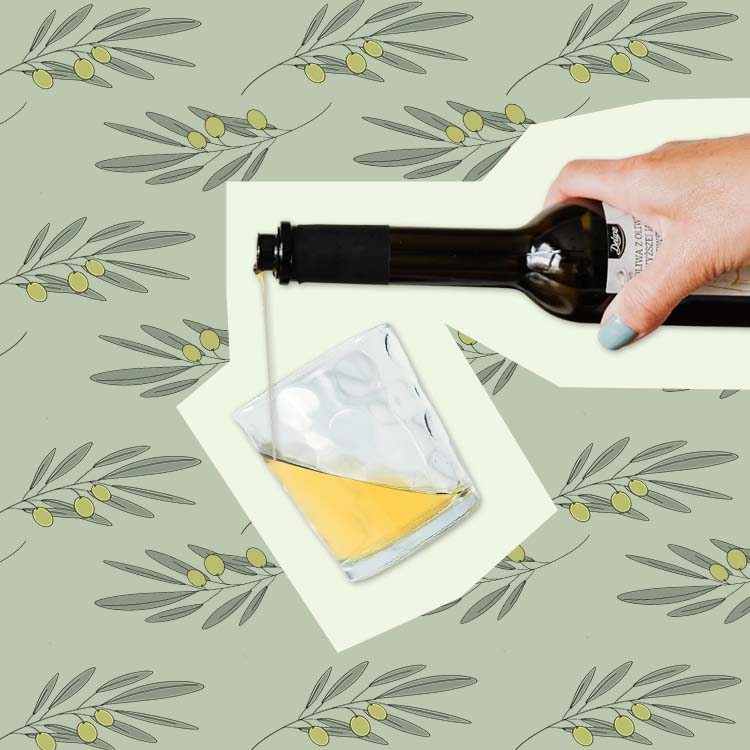 we love olive oil, but this seems a bit too far... or is it?
Whether or not you opted to wear any non-sweatpants this year, you probably felt an ache for a former version of you that strolled into the office in the morning in clothes that made you feel your best, rather than keeping a revolving door of sweatshirts at the ready. But regardless of whether or not fashion weeks are happening or we're leaving the house, fashion still exists, and a new season is here to show us what it has to offer. These are the trends we have our eyes on for winter 2020 (bonus: the majority of them are quarantine-approved).
'70s-Inspired
If you've been on any store's website over the past few months, you might've noticed some prints and colors that remind you of your grandma's old living room wallpaper, but the patterns and olive and deep orange tones are paying homage to the '70s, a trend that's more prevalent than ever this season. It might be time to dig through your mom's old clothes that she was never able to part with.
Oversized Puffers
Gone are the days that having a giant winter coat on is a fashion faux pas; this year, the bigger, the better. Make a statement with a puffer in an oversized fit, out-of-the-box color, or fun texture.
Leather pants
By now, you've probably gotten the gist that leather everything is in this year, with pants making it to the top of the list. This is a trend that you can get wear out of for years to come; there's hardly anything chicer than a good pair of leather pants in the winter. To feel more 2020 and less Sandy in Grease, opt for a trouser fit rather than a skinny one.
Chunky boots
In a shockingly practical twist, winter's biggest boot trend are a kind that can withstand any kind of weather. Just about every retailer is stocked with options in every color and variation you can imagine, so all that's left for you to do is pick which ones you like the most. Don't feel weary about your ability to rock them; paired with something even as simple as jeans and a sweater, they basically style themselves.
Cardigans
You've probably seen every fashion Instagrammer you know rock a cardigan or two this fall, and they aren't going anywhere come winter; from tiny, cropped options to slouchy, chunkier ones, the cardigan is the knitwear of the season.
Quilting
Quilting details on everything from sweaters to jackets to bags will be leaving us with a little extra detail to admire on our winter 2020 pieces, and given the homey, cozy feels it exudes, it feels all too appropriate for this year.
Sweater vests
If you told us we'd be excited about wearing sweater vests come 2020, well, it wouldn't be the most shocking part of the year, but it would be up there. Layer the preppy piece over a white button-up or patterned blouse to pull it off seamlessly.