Once in a blue moon you become fortunate enough to cross paths with someone as affecting and impassioned as Indie Lee. After conquering a life threatening brain tumor, likely caused by environmental toxins in her cosmetics, Indie Lee awoke on April 22, 2009 with a new perspective and a new calling: to create a high-end skincare and cosmetic line that was not only chic, but eco-friendly and toxin free.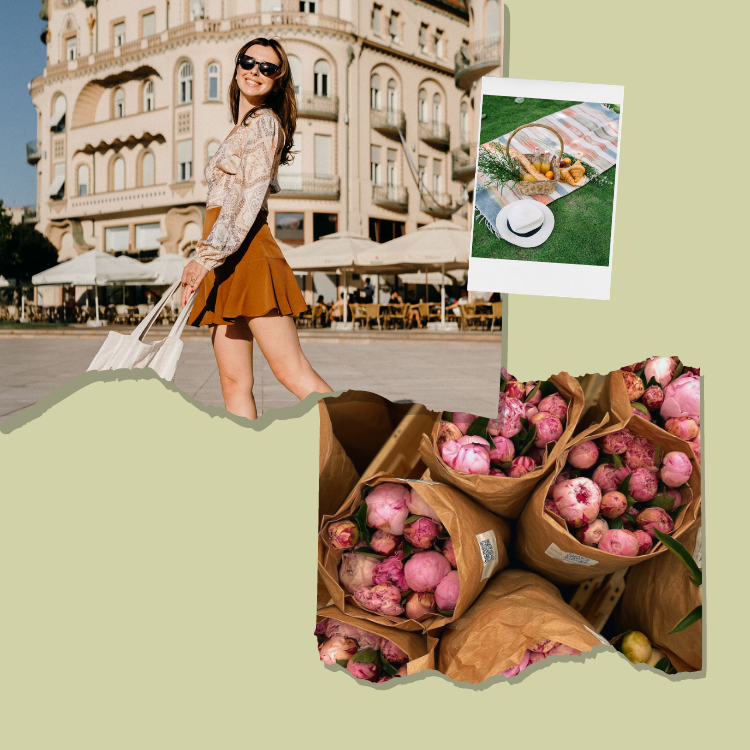 read this if you're in your saving era this summer
It wasn't long before Indie bid farewell to her former life as a CPA and sold all of her jewelry in order to finance her new business Indie Lee & Co. She explains, "It's amazing how something life threatening can change your outlook on material things. Fortunately, my background in finance and accounting really helped me understand what was needed to grow a business from the ground up." Even still, maybe the greatest guidance we can all take from Indie goes beyond good business advice: "I figured out who I was in my 30's, but I fell in love with myself in my 40's. What was I waiting for?"
These days, you'll find the Indie's skincare line sold in stores all over the country and applauded in highly-esteemed media outlets including Shape, Self, People Magazine, Southern Living, and countless more. Keep reading to hear more about Indie's process to formulate her products, how she built her team, and why she considers her once seemingly grim medical diagnosis to be one of her greatest gifts.
Name: Indie Lee
Age: 43
Location: South Salem, NY
Current Title: CEO & President of Indie Lee & Co.
Education: Bachelor of Science in Accounting, State University of New York College at Oswego
What was your first job out of college and how did you land it?  
I interned at Ernst & Young during the summer between my junior and senior year. After I graduated I was offered a full-time job as an auditor. Most people don't know that I'm also a Certified Public Accountant!
Tell us about life before the Indie Lee skincare line. What were you doing prior to launching your business?
I left the finance world to get back to basics and spend more time with my two young children (who are now 12 and 15 years old). The problem was that I'm not really good at being idle! So I found myself building a 750 square foot greenhouse in my backyard. I grew edible flowers, herbs, and vegetable starter plants. I got involved in bringing local school gardens to life, teaching students the importance of healthy diets and the farm-to-table movement. I also sold veggies and plants to the local Whole Foods and other small markets.
Then I was diagnosed with Rheumatoid Arthritis and I was forced to stop working in the greenhouse. And there I was with a ton of calendula and lavender flowers…so what's a type A personality to do? I decided to use the plants to create products for my sister's baby shower. I became obsessed with not putting toxic products on my soon-to-be-born nephews bum, which ignited a spark within me. Then I got the brain tumor diagnosis, which was the literal kick in the head to keep going with the skin care. I haven't stopped since the diagnosis!
How has your former career as a finance executive played a part in your journey as a business owner? 
Although I consider myself a recovering CPA (I wasn't passionate about finance and accounting), my previous experience continues to be invaluable. Looking at our finances daily and managing our growth is second nature to me. I was very fortunate to have such an incredible career both at Ernst & Young and HBO and I use those skills daily, whether it's understanding cost of goods and other financial terms, or strategic planning and overseeing the businesses both here in the U.S. and overseas.
The Indie Lee product line was inspired after you were diagnosed with a rare brain tumor that was likely caused by environmental toxins in your skincare and makeup products. Tell us about that time in your life. 
I was diagnosed In November of 2008 and I had surgery on April 22, 2009 (Earth Day, ironically). In between that time, I started working on formulations and began creating products. I really took the diagnosis as a sign that I needed to do something big—that this was my chance to really understand my life calling. I knew I would survive to create a legacy.
Rather than spending my days wondering what would happen with my health and falling down into the proverbial rabbit hole, I began reading everything possible on the natural beauty industry. I would talk to dermatologists, aromatherapists, homeopathic doctors, and beauty lovers to gain valuable insight. I really used my time to create a vision of what healthy beauty looked like. Then, I started creating products in my kitchen, using my friends and family as testers and gaining their valuable opinions and feedback (don't worry, we are now manufactured in a lab with the help of chemists).
Though you were given only six months to live, you survived a risky surgery in 2009 that gave you a renewed outlook on life. When was the "a-ha" moment that told you how to turn this experience into your calling?
It might be odd to hear, but I consider my diagnosis to be one of my greatest gifts. I didn't appreciate what I had and what I was capable of until that day. Yes, it brought about some tough days but my friends and family will attest: I maintained a very positive outlook on what was to come throughout it all. I truly believe we have the capacity to heal ourselves or at the very least condition our bodies to allow for healing.  
Planning for the future of Indie Lee and awakening my passion for healthy beauty and lifestyle gave me focus. Instead of looking at the glass half empty, I thought about what would be. That "would be" was to empower others to live healthier lifestyles. Learning that my beauty regime may have played a role in my autoimmune issues was truly an "a-ha" moment for me.
Up until then I was really focused on what I was putting in my body, not recognizing that what I put on it is just as important. We already know our skin is our largest organ and that up to 60% of what we put on it can be absorbed into the bloodstream. I never put the two together to realize the possible impact on my health. I realized that unlike the food we ingest (which is filtered through our internal organs), what we put on our skin goes straight into the bloodstream with the only filter being our skin.
After deciding to launch a product line, what were the logistics behind turning your dream into a reality? How did you begin to tackle the scary parts of launching a business? (i.e. branding, PR, marketing, financial backing, etc.)
My diagnosis and the new chance at life gave me the courage to take the leap and attack things head on (pardon the pun). I financed the company in 2009 by selling all of my jewelry. It's amazing how something life threatening can change your outlook on material things.
I financed the company in 2009 by selling all of my jewelry. It's amazing how something life threatening can change your outlook on material things.
Fortunately, my background in finance and accounting really helped me understand what was needed to grow a business from the ground up. However, I knew I didn't know anything about sales or marketing. I was introduced to Rebecca (Gordon) who has an incredible background in sales and marketing for Fortune 500 companies. She originally turned down my offer to come onboard to work as a marketing consultant. But then I got her to try some of the products and the next week she asked to meet me.
I'll never forget it, we were having breakfast and she said, "I don't want to be your marketing consultant, I want to be your business partner!" She was so impressed by the natural products I had given her—they cleared up the complexion issues that she had her entire life and she was amazed! That morning was a game changer. We incorporated in Jan 2010 and haven't looked back.
The truth is, when you have a great team, the "scary" parts aren't so scary. We continue to build the team that supports the brand as needed and we all bring different strengths to the company, like legs that hold up a table. I think what's interesting about us is that we aren't afraid to ask for help. I have a great network of other beauty brand founders and I'm always asking them how they worked through specific issues. In turn, I'm available for advice when needed!
What was the process like of getting your brand sold in stores? How did you first approach retailers when you were just starting out? 
My business partner Rebecca and I put a "vision board" of retailers we dreamt of being in and one by one she started to network and get in touch. The response has been phenomenal. Our launch at Henri Bendels in April 2013 was a big turning point for us. We rebranded and launched on counter at their flagship store and also started getting great press support. From that point, it all started to snowball. Now we're sold in 50+ retailers nationally, as well as in many other countries.
What does your team look like now? Tell us a bit about the structure behind the brand.
I honestly have the best team. We are a family, we care about one another—and not just on a business level. That said, we also recognize that sometimes it's business and not personal. We have roughly 10 members on the Indie Lee team and four of us work on Indie Lee full-time. Additionally, we have four core freelancers who have become brand experts/ambassadors.
Walk us through a typical day as CEO of Indie Lee. Give us a glimpse into your day-to-day life!
The greatest part of my job is that there is no typical day. Everyday is new and an opportunity to forge a new path. We have a saying here: Monday > Friday. Monday's are my favorite day of the week (don't hate me for saying that!). I love the beginning of a new week and the endless opportunity that comes with it.
I'm really a jack-of-all-trades right now! One day I can be going over the finances and overseeing our growth as a business, the next I could be researching a new DIY or writing content for Refinery 29. Right now we are working on a number of new products so I'm deep into product development (which is so exciting and fun for me). But everyday is completely different.
What personal characteristics have contributed to your success thus far?
I would say my authenticity and optimism have helped contributed to our success. I'm not telling everyone to go natural or "green" because it's on trend right now – I'm sharing my personal journey and real proof that you are what you apply. My other theory is that if surround yourself with like-minded people, it's easy to be optimistic yourself.
What advice would you give women who want to pursue a career in the beauty industry?
Follow your heart and gut, always. If you are really passionate about something and you know in every fiber of your body that is the right path…then go with it.
If you are really passionate about something and you know in every fiber of your body that is the right path…then go with it.
Also, be honest about what you know and what you don't know, then surround yourself with the best people who are strong in the areas that you aren't.
What has been the most memorable moment of your career thus far? Why?
Lately, I feel like every week has one of those memorable moments. We have such great fans and retailers. Their social media comments, emails, and notes really mean the world to me. I am constantly in awe of the community I've created and I'm truly humbled and honored by it. If I had to pick a lately moment, it would be the call that we would be launching in Saks 5th Avenue's new apothecaries. Talk about a total pinch me moment.
What advice would you give your 23-year-old self?
Relax and stop being so serious, life is to be lived fully.
Indie Lee is The Everygirl…
If you could have lunch with any woman, who would it be and why?
My younger self. I'd like to tell her to have fun, soak it all in. I'd tell her to take more risks, stop playing it so safe, and for goodness sake listen to what your gut is telling you—it will guide you to the right place.
I figured out who I was in my 30's, but I fell in love with myself in my 40's. What was I waiting for?
Morning routine?
I wake up, check email and social media from bed (yes I know, terrible habit), text my bestie GMS (short for Good Morning Sunshine), then I do 20 minutes of transcendental meditation. After that it's a quick smoothie, sort out the kids and I'm start the day. I try to get in a hike when possible, but lately I've moved that to the early evenings.
Aidan or Big? 
Aidan—I love his independent nature (and his old furniture shop). Man after my own heart.
Dream splurge? 
A week in the Maldives or Bali. While I might not be great at sitting still, I am spiritual…I would love to spend a week at a spa retreat, getting my zen on.
Happy hour or brunch? 
100% brunch (I consider it a very early form of happy hour!)