I love having an organized, stocked pantry. Honestly, the best part of having a stocked pantry is when you find yourself researching recipes to make for the week, and then you discover you already have most of the ingredients on hand (aside from fresh or specific ingredients). In the end, having most of these ingredients readily available at home saves you time and money at the grocery store (especially if you buy most of your pantry basics in bulk).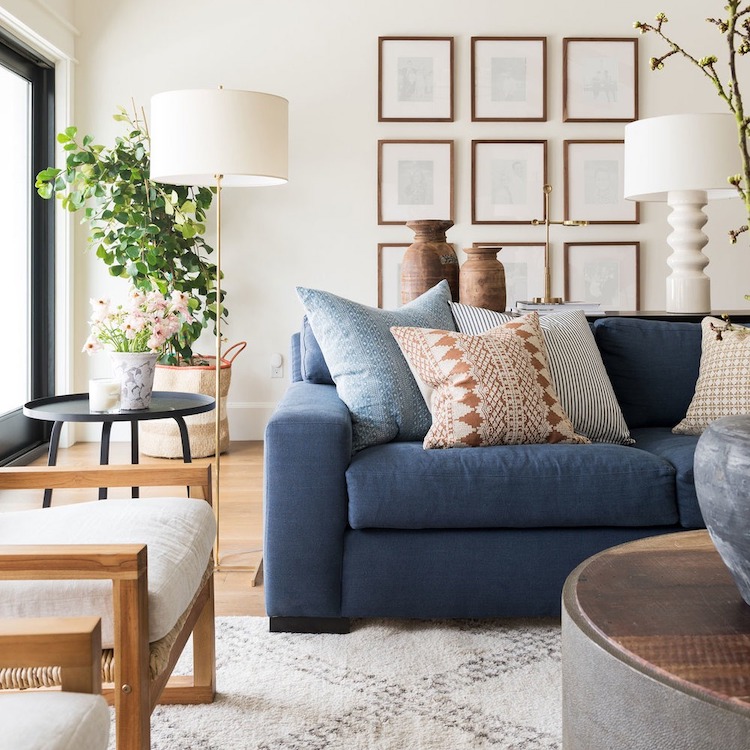 don't make the same mistakes I did
I've compiled a list of ingredients that I always keep on hand, or try to restock as soon as possible, and most of which I use weekly. But remember, these are items I personally use often and I think would benefit you—but of course, if you have certain dietary restrictions or other preferences your pantry ingredient list may look a little different.
Source: Design Love Fest
1. Baking Staples
I always keep the following basic baking ingredients on hand and restock as needed:
flour / whole wheat flour / active yeast
granulated sugar / brown sugar / powdered sugar / honey
baking powder / baking soda / salt
pure vanilla extract / cocoa powder
dark chocolate chips / shredded coconut / nuts / chia seeds
Recipes to try:
Banana Chocolate Bread
Banana Bread Bites
2. Preferred Spices
Spices are the key to making meals flavorful and kicking them up a notch. Although there are many meals that require specific spices, you can't go wrong with filling your pantry with these basics:
salt / pepper
oregano / basil / bay leaves / thyme / dried parsley
crushed red pepper / cayenne pepper / paprika / chili powder / cumin
nutmeg / allspice / ground cloves / cinnamon
garlic powder / garlic salt / onion powder / ground ginger

Source: Diethood
3. Necessary Oils
I keep a variety of oils on hand because a lot of recipes require different oils. I primarily cook with olive oil but there are times when I love adding coconut oil to smoothies or using vegetable oil for baking. These are just ones I personally keep on hand—depending on your dietary needs or restrictions, you may keep different ones stocked.
olive oil / coconut oil / vegetable oil / canola oil 
4. Canned Goods / Stock and Broths
Canned vegetables and broths are the best ingredients to have on hand for quick dinners. They're great for soups, casseroles, and other hearty meat based dinners.
chicken, beef or vegetable stock or broth
canned veggies of your choice (diced tomatoes, corn, and black beans are always in my rotation)
tomato juice, sauce or paste
*Technically not canned, but I also keep potatoes and onions in my pantry since these last a while—I use them in a lot of recipes.
Recipes to try:
Skillet Baked Gluten Free Pasta with Ground Turkey and Tomatoes
Creamy Chicken Tortellini Soup
5. Grains, Pasta, and Legumes
Grains and pastas are the easiest and quickest main dish ingredient (or side dish) to make and the easiest to store in your pantry. Grains, pastas, and legumes can be combined with most of the spices and canned vegetables above to make a hearty dish on a whim.
Grains like rice, quinoa, couscous, freekah, rolled and steel cut oats, granola, pre-mixed meusli (and traditional types of breakfast cereal)
Pastas like spaghetti, fettuccini, bowtie, and shells
Legumes like dried beans, split peas, and lentils 
Recipes to try:
Winter Minestrone
Black Bean Lentil Soup
6. Healthy Snacks
I am the queen of snacks. Lately, I've been on the go a lot more than usual so I like to mix some of these ingredients together in pre-packaged baggies to take with me.
Snacks like popcorn, dried fruit, a variety of nuts, granola bars, and pretzels are all great options.
The following ingredient categories are technically refrigerated or frozen, but I wanted to include them because a lot of basic baking and general recipes use these staple ingredients:

Source: Little Spice Jar
7. Meat and Seafood
I am a meat hoarder. I know that sounds funny, but if I'm grocery shopping and spy a deal on chicken breasts, pork, or beef, I'll buy extra and freeze it for a later day. Believe me, it can come in handy for whipping up a quick dinner or, honestly, after paying bills and not having much change to spare (we've all been there). Thanks to a fully stocked pantry, an extra trip to the grocery store isn't always necessary.
Buy meats in bulk and individually store them in your freezer (so you don't need to thaw out more than you need). To store most meat, wrap in freezer paper then wrap tightly in aluminum foil or plastic freezer bags. (Meat should be good in the freezer for about three months.)
Recipes to try:
One Pot Easy Teriyaki Chicken
Creamy Chicken Piccata
8. Refrigerated Basics
These are basic refrigerated products you use every day (or can use in recipes)—all good to have on hand.
eggs / milk (includes soy, almond, cashew, and rice milk)
butter / jar of minced garlic / sauces and condiments / orange juice 
9. Frozen Fruits and Vegetables
Frozen fruits and vegetables are great to buy in bulk and are a great option if you want to make produce last a little longer. The fruits could easily be tossed in a smoothie or used for a baking recipe; the vegetables can make great additions to any meal you're cooking up.
Recipes to try:
Coconut, Banana and Berry Smoothies with Chia Seeds
Green Goddess Smoothie Bowl
Source: The Pioneer Woman
10. Wine
Wine is great for cooking with (and drinking!) and is always stocked in my pantry—always!
Organizing Your Pantry
I'm a huge sucker for an organized pantry. If you were to take a peek inside mine, you'd see clear glass jars and plastic containers for bulkier items. Not only does the organized look appeal to me, it also helps me spot what I'm low on so I know when to restock. Some of my favorite pantry organization staples are mason jars, these plastic containers (I keep my cereal, oatmeal, and cat food in these), and these glass jars for countertop storage of flour and sugar. Related: 5 Ideas for Organized Kitchen Storage
Source: Practicing Simplicity
What are the pantry ingredients you swear by?