California-based interior designer Lauren Christine Henno is a master at maximizing space. Her 250 square-foot beach bungalow is located in Santa Barbara and proves you don't have to sacrifice design when working with limited square footage.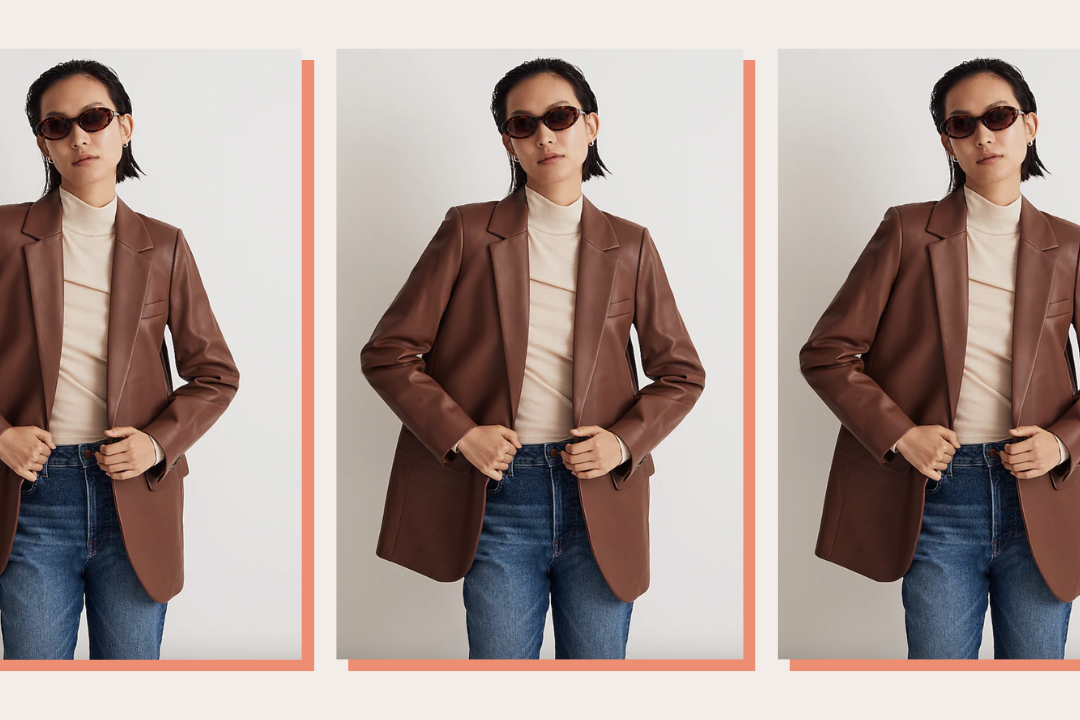 time for your fall wardrobe update!
Drawing inspiration from her travels abroad and Santa Barbara's Mediterranean coast, Lauren redesigned her bungalow to feel light, bright, and, consequently, bigger. Here, Lauren shares her design tricks for small spaces, lessons learned as a business owner, and how she combines timeless, traditional pieces with her eclectic, evolving taste.
Name: Lauren Christine Henno
Age: 27
Current job/company: Interior Designer, Lauren Christine Henno
Education: University of San Diego and Florence University of the Arts, Business and Marketing
What was your first job out of college? 
I hopped into design the moment I graduated by interning for Timothy Corrigan. Tim and his staff were the best mentors I could have asked for. His work is world-renowned, and yet he is the definition of down-to-earth. He was always wearing a huge smile and had a happy go-lucky attitude. As for the internship responsibilities, it was very hands-on. It entailed contacting vendors, visiting showrooms, sourcing fabrics, etc.
The office was the perfect mix of friendly and professional, which taught me that it's important to make clients and people on a job feel comfortable, yet remain professional and business-like in the process. I took so much with me from the internship that I will forever be grateful for. My time there was truly miraculous!
What path did you pursue following your internship?
I dove into all realms of design. I worked as a sales rep, traveling to architecture and design firms selling reclaimed teak from Indonesia.
Design is a lifetime education, you learn something new each day.
I began a fashion and design blog with a friend, freelanced as a designer for a design company, then branched off and began my own boutique interior design firm.
When did you decide to take the plunge and start your own company? How did you know it was the right time?
I began my design business in 2014. I knew in my heart it was time to step out on my own. I had completed two projects working as an independent contractor for a company, and when I finished my work, I had them photographed by an amazing photographer. I began pounding the pavement, showing architects and real estate agents my photos. One thing lead to another, and through determination and a lot of prayer, I was blessed with amazing opportunities and clients.
What have you learned about yourself and your design style through launching your own business?
When it comes to design, I have come to love mixing different styles together to create a more eclectic look and feel. Design is a lifetime education, and you truly learn something new each day. From furniture that is custom made, to floors that are newly refinished… each project varies from the last, which keeps things enjoyable and ever changing. I could write an entire novel explaining how my design sense has grown from when I began…and it's definitely still evolving.
In terms of what I've learned about myself through design…there is so much. I've learned that anything is possible if you believe in yourself. You should always treat others the way you want to be treated, stay positive, and trust that everything will always work out.
What does a regular workday look like for you?
It's funny, I get asked this question a lot! No two days are a like; everyday is so different! One morning I'll wake up and meet a contractor on site, another day I'll be on an expedition to find the perfect dining table, and sometimes I'm spending the day catching up on computer work.
You also studied design in Italy at Florence University of the Arts. How did spending time abroad affect your creative pursuits? Did it also influence your design aesthetic?
I knew after coming home that the interior design world was one I wanted to be a part of. It is one that encompasses the use of art, furniture, textiles, space planning, global inspiration, and HISTORY (which I love)! My eyes were opened to so many new ideas and possibilities. It inspired me to always mix in pieces with a story, whether it's a textile, a reclaimed wood bench, or an antique rug—a timeless piece always gives a space unique character.
Tell us about the hunt for your personal bungalow located in Santa Barbara. What was on your wish list?
I had been looking for the longest time—around seven months. I wanted a place that was affordable (not easy to find in Santa Barbara), had great natural light, hardwood floors, felt fresh and clean, and was within walking distance to downtown. When I drive up to it, I knew I had to have it! And it was my favorite color: ALL WHITE.
Let's talk specifics about the bungalow. It's 250 square-feet, which means you had to maximize space while maintaining your personal style. How did you do both? 
I kept things simple yet unique. Mixing in pieces that were one of a kind gave the space personality, and having fewer items allowed it to remain spacious. Also, I used a neutral palette which makes the space appear larger. In terms of making things functional, I had to come up with a way to do so, while still making the space look magical. For instance, the large basket next to my desk is actually my dirty clothes hamper (since I don't have space in my closet).
What was the design process like? What was one of the most difficult obstacles you encountered in the process?
Truthfully, the entire process was a blast! There is nothing like seeing an original vision come to life. The most "difficult" obstacle was trying to put the bed together. Though the challenge came with great memories of my mom and I sitting on the floor of my empty bungalow, cracking up as we tried to screw it together. We should have waited for my dad to get off work…but we were determined to finish it, which we eventually did!
Are there any DIY projects in your space?
I painted the art piece above my desk. I love all-things art, and when I couldn't find that just right piece, I decided to make my own. My dresser was covered in blue paint before it was re-stained in the same tone as my bed frame; I also had a lucite planter box custom made, placed my tree in, and filled it with white sand!
What are some of your favorite places to shop for affordable home decor? 
I love consignment stores! There are so many great pre-existing pieces of furniture that can easily be refinished or reupholstered. I actually found my dresser at a consignment store—covered in blue paint.
Is there a piece in your bungalow that holds special value to you? Why? 
My bed pillow is made of a silk scarf I purchased from Thailand. I ordered tassels made of Icelandic wool from Iceland (I'm Icelandic), and had a seamstress sew it all together.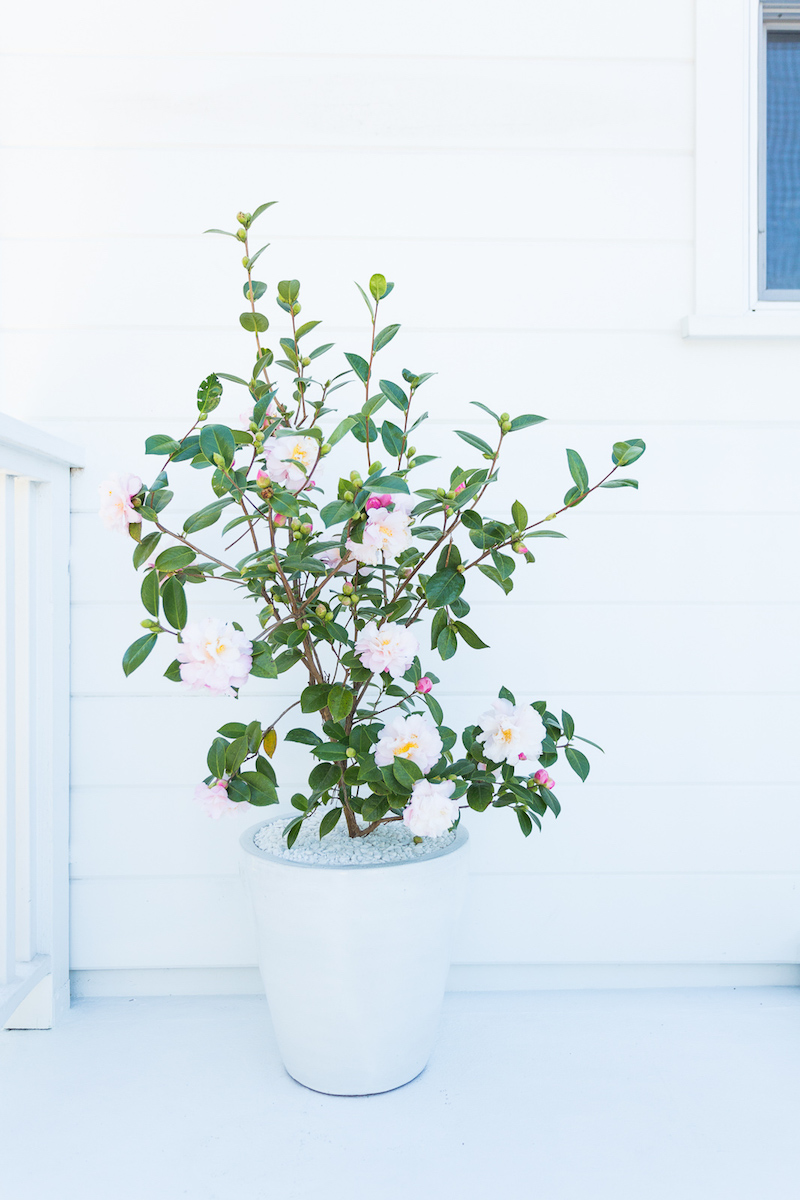 How is it different designing for yourself as opposed to clients? Does the approach to your process vary? 
I put my heart and soul into every project, and treat my clients' homes as my own. The difference with my personal projects versus a client? There is no timeline, and I can create whatever my heart desires.
What advice do you have for a designer looking to branch out and start her own business?
Only create what you love, and just go for it!
What advice would you give your 23-year-old self?
Worry is a waste of time.
Lauren Henno is The Everygirl…

Perfect day off in Santa Barbara?
A sunny day that begins with a hike, leads to a day well spent visiting boutique consignment stores, and ends with tacos on the beach.
Guilty pleasure?
There's a coffee shop in town called The French Press, and oh my god, the iced chai is my weakness! It's like Christmas in a cup, all year round!
Dream purchase for your home?
I don't have one particular purchase in mind, but my someday home will mix in unique finds from around the world and sourced while traveling. I find it so important to have pieces that tell a story and hold value in a great memory!
If you could have lunch with any woman, who would it be and what would you order?
My great-great-grandma, and I'd ask if we could make her favorite recipe.
Product Sources
Dresser, Thrifted
Desk, West Elm
Bed, Urban Outfitters
Headboard, Custom
Bedside lamp, Andrew Neyer
Bedside table, Pottery Barn
Painting, DIY: Acrylic by Lauren Henno
Indoor planter, Custom: Made of acrylic, and filled with white sand.
Bed Pillow, Custom made: The face of the pillow is a Thai silk scarf from Thailand. The tassels were handmade from natural un-dyed wool in Iceland.
Pouf, West Elm (Similar here)
Mirrors, Custom
White woven basket, Etsy
Lucite chair, Amazon
Fur pelt, Icelandic sheep pelt
Cowhide rug, World Market
Sisal rug, West Elm
Hanging shell piece and antlers, Santa Ynez Valley Home Design & Consign
Coverlets, Pottery Barn
Shams, Hale Mercantile
Desk vase, Judy Jackson
Geometric vase (kitchen), Dwell Studio
Elephant (bath), Dwell Studio
Lanterns (dresser), Dwell Studio
Shower curtain, Urban Outfitters