Ashley Kane's San Francisco apartment gives all who enter a warm welcome. This blogger has created a space that blends styles effortlessly: Her romantic style is grounded in neutrals and topped off with eclectic finds and you'll find no shortage of pillows throughout!
Having always kept busy as a creative, Ashley knew her career path would look no different. She started blogging in high school and once out of college, she worked as a stylist—but soon realized her love of blogging translated more easily into working in the digital space. She's worked for well-known agencies like Collectively and Federated Media, where she got a well-rounded look at blogging from behind the scenes. Along the way, she launched Brunch on Chestnut and now, almost four years later, she's decided to focus on blogging full-time.
Keep reading to hear more about Ashley's approach to design, life in San Francisco, and transition into a full-time blogger!
Name: Ashley Kane
Age: 27
Current job/company: Founder & Lifestyle Blogger, Brunch on Chestnut
Education: Fashion Institute of Design & Merchandising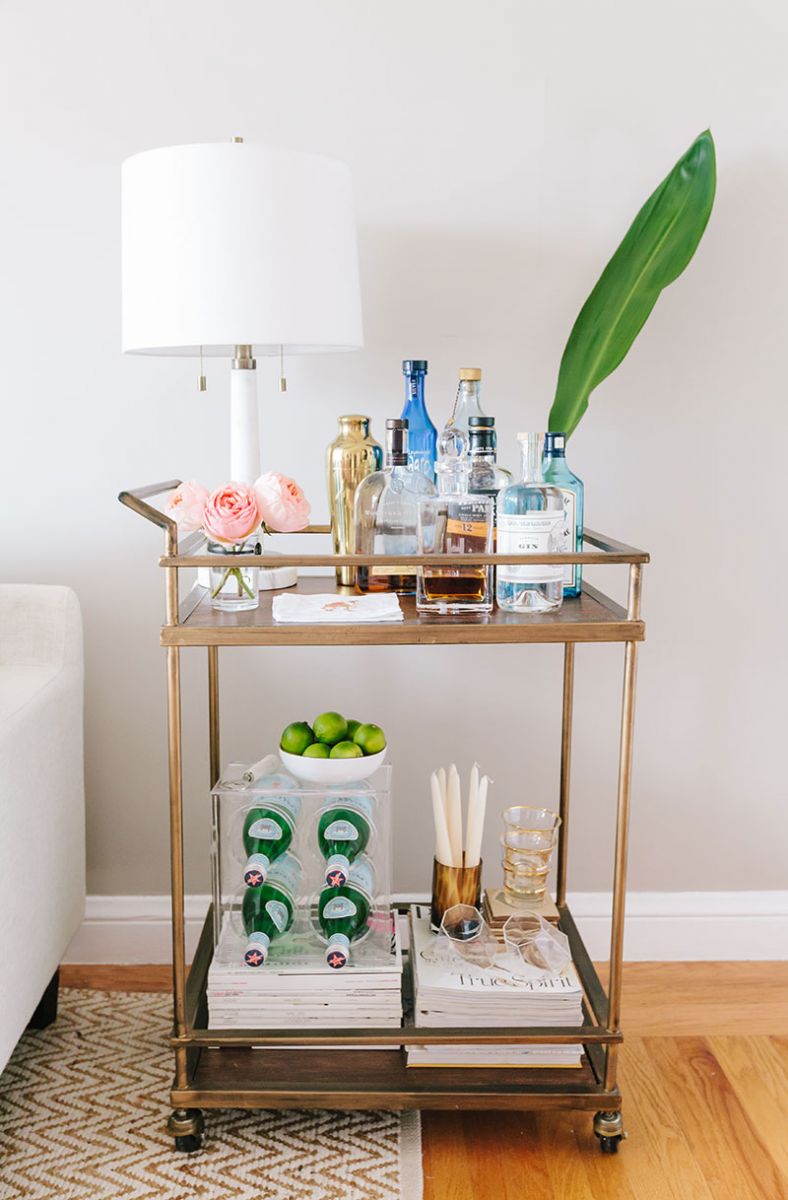 What was your first job out of college and how did you land it? 
My first job out of college was working for Google for their website Boutiques.com as a style curator. I had a friend who worked there that referred me, and it was then that I realized I was meant to work in the digital space.
I don't think there's a perfect time to make the jump, but I have to say that the moment I decided to do what I love, things fell into place and I couldn't be more confident and happy with my decision.
You very recently decided to work on your blog Brunch on Chestnut full-time. Take us through a timeline of your blog. How did you know when it was time to make this your sole project?
Yes, I'm a few weeks into focusing on Brunch on Chestnut full-time and it's been so liberating! What started as a creative outlet in 2012 has become so much more. I've always loved website design, photography and photo editing and writing. Blogging has been an on-going hobby of mine since I was in high school—one of my favorite things to do.
Specifically the past two years is when I started thinking more granularly about what my site could become. This past fall while working as a digital brand manager and leading all social media channels and strategy, I had an "a-ha" moment: I wanted to be putting that effort and energy into Brunch on Chestnut. I don't think there's a perfect time to make the jump, but I have to say the moment I decided to do what I love, things fell into place and I couldn't be more confident and happy with my decision.
What does a typical day look like for you right now? 
I'm still getting into the swing of things, but I'm thinking no day will be the same! On a regular basis, my days will be filled with scheduling an editorial calendar and brainstorming new content, staying on top of emails, photo shoots and photo editing, a lot of writing, coffee, lunch, drinks with agencies I work closely with and attending industry events.
A friend of mine, who also blogs full-time, made a great point, saying however she's feeling that day will dictate what kind of work will be done. When I'm in a creative mood, I will knock out those aspects of my blog. When I'm feeling less creative, I'll focus on organization, administrative tasks, and fueling up on inspiration to try and get back into the mindset I love most.
What was the apartment hunt like? What were you looking for in a place (any specific wish list items)? How did you know this was the one?  
Matt and I decided to move in together last spring, and because we had heard daunting stories about finding a great apartment in San Francisco and how competitive it was, we decided to keep an eye out to get a feel for what we both liked. We ended up finding our apartment within a couple days of looking, which was earlier than we initially planned. We just couldn't pass this place up! While in San Francisco, I believe that quintessential San Francisco charm is the only way to go. Our checklist was: hardwood floors, high ceilings, and most importantly, lots of natural light.
Tell us a little bit about your neighborhood. What do you love most?
There's a lot to love about our neighborhood. We are in the heart of the Marina and live two blocks walking distance to an overlook of the Golden Gate Bridge and our roof has a sweeping view of the city. Most importantly, we live just a few minute walk to Chestnut Street—clearly a favorite of mine! Not only do I love the quaint atmosphere of our street, but I also appreciate the convenience of being in a walking distance friendly side of town.
You live with your boyfriend Matt. Did you decorate on a budget? How did you go about creating your space together?
Since I can remember, I've been obsessed with decorating and am constantly changing things around and re-styling. I feel like I've cultivated an eye for pieces that are high quality, yet affordable—so most of our apartment is budget friendly!
We invested in a few pieces when we moved in, but most of our decor collection is from our travels, trips to the flea market, and favorite home stores. Matt has been such a good sport—he knows how much I love making a house a home, so he likes to be a part of the process, but lets me take the lead for the most part. He has a really great eye and I'm always impressed with his interior visions. He likes things a bit more modern, which totally grounds my love for neutrals and more feminine pieces. I think our styles align nicely!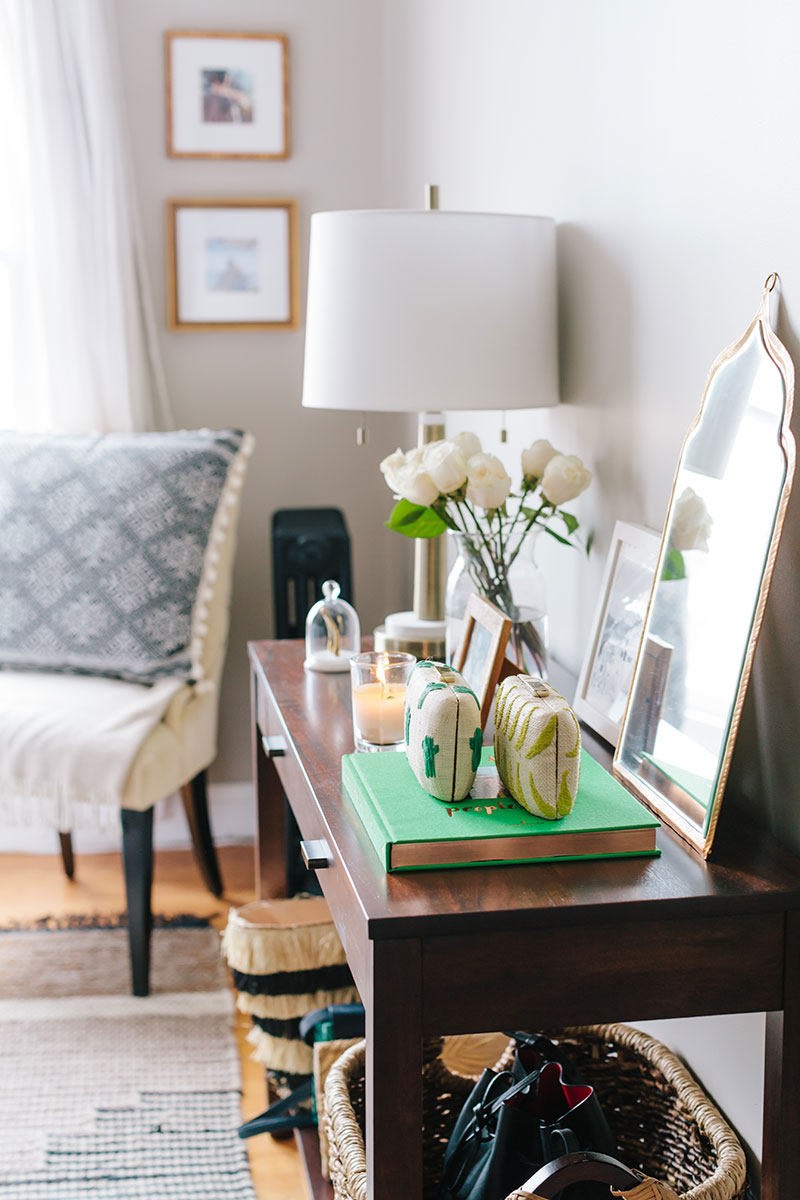 Fresh cut flowers, plants, and candles are always a great idea.
How would you describe your decor style? 
Our apartment gives off a warm welcome. I gravitate toward neutrals, white, and black, and then I like to add pops of personality and eclectic flare. I am a sucker for anything brass, gold, and marble and like to mix those elements with warm rustic wood pieces. I find that they cohesively create a cozy atmosphere. Fresh cut flowers, plants, and candles are always a great idea.
Do you have a favorite piece or area in your home that you're particularly proud of?
When we first settled in, our bedroom was the only room that needed some attention. We focused on the living and dining rooms first, so when I got around to our bedroom and it felt complete, I realized it was my new favorite!
I love its simplicity, character, and the way our rug, bed, and kilim pillows compliment each other. Saved the best for last! Each room in our apartment tells a different story and I love it.
What advice would you give your 23-year-old self?
Live in the moment. Trust your gut. Everything falls into place, as it should.
Where do you see yourself in five years?
Ah, this is a tough one! I'm not quite sure, but I'm OK with it. I am still on a little high from the freedom I now have, and will continue to pour my heart into Brunch on Chestnut and nurture my creativity and see where it takes me!
Ashley Kane is The Everygirl…
Coffee, tea, or juice? 
I live for soy chai lattes or hazelnut lattes.
Best way to start the morning?
Record player on, coffee in hand, and feeling inspired about the day and work ahead is my perfect morning.
Guilty pleasure? 
Three come to mind: Nutella, nightly glass of cabernet, The Bachelor
Dream purchase for your home?
Now: A dreamy Persian rug for our living room! I've been keeping an eye out because I'm so picky—it has to speak to you! I also really want a white beaded chandelier, but Matt won't let me because it's "too fancy." Future: herringbone hardwood floors, Carrara marble kitchen, brass accents everywhere.
Perfect weekend in San Francisco?
My perfect San Francisco weekend entails the sunshine out, brunch or a park picnic, and warm enough weather for less layers (yes, it happens sometimes here!). This city is a dream when it isn't foggy, so the weekends with fewer plans and more time spent relaxing and exploring are my favorite.
Product Sources
Living Room
Coffee Table, CB2
Sofa, Interior Define
Rug, West Elm
Accent Chair, Interior Define
Bar Cart, Target
Console Table, Target
Vogue Living Block, Barnes and Noble 
Palm Beach Entertaining, Amazon
Gold Ashtray, High Street Market
Lamps, Target
Mirrored Tray, West Elm
Dining Room + Kitchen
Dining Table, World Market
Benches, Rejuvenation
Wishbone Chairs, Amazon
Marble Tray, Williams-Sonoma
Marble Cutting Board, Williams-Sonoma
Gold Mirror, Urban Outfitters
Bamboo Frame, Frame Bridge
Gold Silverware, Target
Cake Stand, Minted
Bedoom
Headboard, ZGallerie
Nightstand, similar here
Lamps on Nightstand, Rejuvenation
Camel Prints, Minted
Venice Prints, Minted
Kate Spade Book, Kate Spade
Console Table, Target
Lamp on Console, Target
Kilim Pillows, Loom and Kiln
Gold Mirror, Urban Outfitters