For as long as I can remember, my go-to for jeans has been my old middle-school favorite, Abercrombie. (Which is honestly shady of me considering, if you must know, I worked at Hollister.)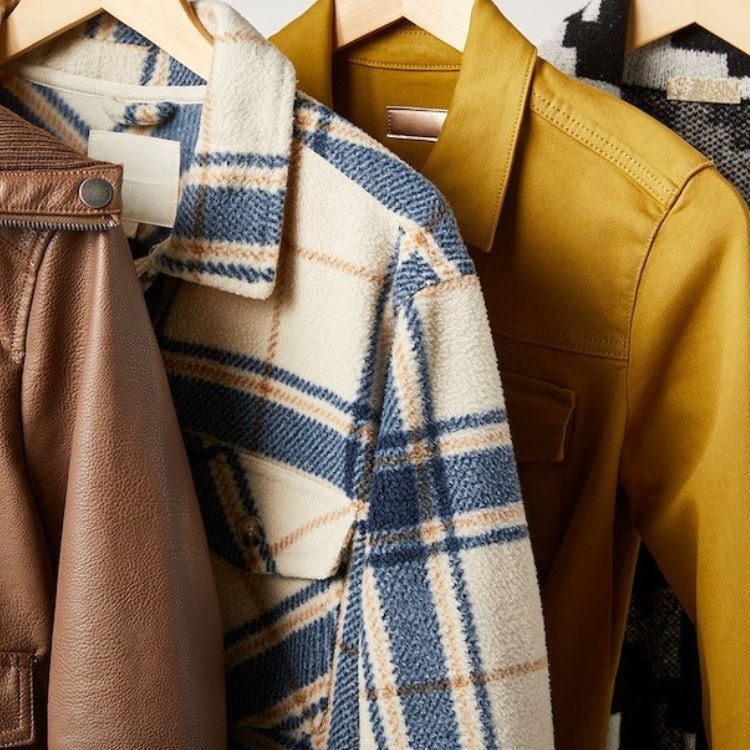 ...and it's wallet-friendly
In 2021, they're a far cry from what they were back in the late aughts. They removed the moose logo, and have high-quality clothes that are relatively affordable. To me, their denim compares to pairs that are double in price, so I've been singing the praises of their denim for all of my years at The Everygirl. But, there was a huge, glaring problem: their size range was abysmal.
In a long-overdue choice, they've finally (finally!) extended their denim size range up to a size 37. Since they've been a longtime favorite of mine, three of our editors of all different body types tested them out to see how they work across all body types, and how the sizing compared throughout their entire range. We tried the same three pairs of jeans in our respective sizes, and well, our takes were pretty unanimous. If 2021 is giving us anything, it's denim that we won't mind changing into once we leave the house again.
Maya
As a curvy girl, it's hard to find jeans that fit my thighs, belly, and waist, and it's even harder to find the perfect jeans when I'm shopping from major retailers. I used to hate when my skinny friends wanted to go jean shopping at Hollister, Abercrombie, or American Eagle because there was nothing for me there. However, if we're already friends, you know how I feel about American Eagle jeans these days (I love them). Now, Abercrombie is also offering inclusive sizing, and listen, I'm here for it.
Gen-Z has been telling me that skinny jeans and side parts are out and straight jeans and middle parts are in, and while I don't whole-heartedly agree (I love a good side part), I have to say that I'm in love with these straight jeans. I'm wearing a 36W Regular and I usually size between 14 and 18, depending on the brand. In this style, that size was way too big for me in the waist and zipper areas, and only a bit big around the butt and thighs. I'd recommend taking your measurements and then sizing down if you're in between sizes. I'll likely size down about two sizes to achieve the perfect fit. Even though these jeans don't fit the best right now, can we just agree on how cute they are?!
Maddie
Full disclosure: This wasn't exactly a try-on for me because I've owned these for a couple of months, and they've become my most-worn jeans by a landslide.
After years of gravitating toward cropped jeans, these full-length ones not only feel super flattering, but just feel cool. They're a little more rigid of a fit for me, but I find that they're still extremely comfortable and I love that they don't stretch throughout the day. I'm usually between a size 27 and 28, and got a 28 in these and they fit perfectly.
If I had to get rid of all of my other jeans, this is the pair I would keep. I love how they make whatever I style with them look better, and they're going to be the gift that keeps on giving for me throughout 2021.
Jess
I have been dying to try these jeans since the moment they blew up on TikTok and Instagram. I'm short (5'3"), so I was a little bit worried that my lack of model-like long legs would make them look less than ideal on me. But, to my surprise, they not only work on my body type, but they look cute AF.
I am constantly searching for straight-leg jeans that are actually straight AND fit my waist, and these hit the mark—this '90s silhouette is everything I've been searching for. I usually wear a 30 or 31 in jeans (10 or 12), and I got these in a 31, which fit great.
I love the black wash (I think it looks so chic), and I can't wait to try a lighter wash for spring and summer. I would also be interested to try the short length, because without a bootie on they are a little bit long. Also, this is the perfect time for me to take a moment to praise Abercrombie for their new inclusive sizing—I am so excited about this!
Maya
Quick question, how do moms feel about "mom jeans"?
Moving past my corny joke: I love a good high-waisted mom jean, and these were no exception. I ordered a size 35W Regular and they were a bit bigger than I would have imagined (I'm totally not used to saying that about jeans), but I really liked the way that they laid on my waist without squeezing it. When I sat down, I was comfortable and forgot I had jeans on. I may choose to size down by one size, but I have to say how pleasant this jean shopping experience has been. I'm usually devastated because the largest size doesn't fit me, and instead I feel optimistic that I can size up or down to find my perfect size.
Another thing I love about these jeans is the cutoff edge. These provide a perfect texture change so I don't have to do anything but find a super cute pair of heels or sneakers to add to my look.
Maddie
Despite my love for looser, straight-fit jeans, I can't say I own a single pair that is actually marketed as a "mom jean," but these made me a convert.
This is the curve love version of the mom jean, and I cannot sing the praises of Abercrombie's curve love jeans enough. I have really muscular thighs that prevent most jeans from fitting straight through my leg, but these have an extra two inches in the thigh that's literally exactly what I need for jeans to fit how I want.
Despite the amazing wash and fun patch detail on these, I love the fit too. I found that they give me an almost-camel-toe situation, but I actually feel like it's how they're made to fit and look like what my mom actually wore back in the day. These are a super soft, comfortable jean, and I could see myself actually working from home in them and never dreading putting them on. These are a big win, and I'd even consider ordering them in another wash.
Jess
I have to admit that I was looking forward to trying the '90s jeans so much that I didn't really think much of these Mom Jeans, but as soon as I put them on they were an instant fave. I was so impressed by how well these jeans fit me—they are roomy and comfortable throughout the legs and thighs, but perfectly fitted around the butt and waist—which is something so rare for me that I want to buy these jeans in every color.
This is my first time trying a pair of jeans made specifically for curves, and now I can say that Abercrombie really nailed it with this Curve Love line. I often struggle to find jeans that fit me correctly because I have a smaller waist and curvier hips and thighs, but these hug in all the right places without being too tight anywhere.
I also got this pair in a size 31, and although I probably could wear a 30, I like how comfortable they are so I would not size down. They are also super stretchy, so I truly feel like I could wear these for an entire day of sitting at my desk and not get uncomfortable at all.
Maya
When skinny jeans became popular, I gave up jean shopping like the plague. I don't know what it was, but I could not find jeans that I liked even if it had been my job. They always squeezed my waist and thighs in ways that I didn't love, or they'd bunch up around my calves and make for an uncomfortable look and feel. That was around the time of my middle school years and, if I'm honest, I don't think I owned another pair of proper jeans until my junior year in college.
I can't say I've fully gotten over my disdain for skinny jeans, but I do own three pairs, and now that I've tried these, we might have to make it four. I'm always looking for high-waisted jeans that I can wear crop tops with, and this pair is a perfect example of that. I ordered a 35W Regular and they were the perfect blend of tight and loose. I'd definitely feel comfortable wearing these with my favorite cropped tees without feeling like I was sporting an unwelcome muffin top.
Maddie
Even typing the words "skinny jeans" sends a chill down my spine right now because of all the debate on the internet, but let me just say that—removed from Gen-Z or online arguments—I haven't bought new skinny jeans in a few years.
Most of my old skinny jeans are skin-tight and in a thinner material, and to me, that feels dating and not super flattering. But if I were to invest in a new pair of skinnys, these would be them. They aren't too tight, and if you're opting to keep skinny jeans in your life, this is an amazing option.
I got these in a size 28, and they fit snuggly but with a smidgen of room throughout the leg that makes them feel modern and flattering.
Jess
Much like everyone else mentioned, I am really NOT a fan of skinny jeans, and I honestly can not remember the last time I bought a pair. I really thought my skinny jeans days were behind me (mostly for comfort reasons), but I changed my mind when I put these on. Although they are the least stretchy and comfortable of the three, I just can't ignore how flattering they are.
I also really love the length of them and how they look at the ankle; the looser fit at the bottom (compared to other skinny jeans I've tried) makes them still look super cute with a pair of chunky boots like I'm wearing them here. I am wearing a size 31 in these as well—at first I thought maybe I needed one size up, but once I put them on I realized the denim would probably stretch a little with wear, so I would not size up.
Millennials: one point here for your beloved skinny jeans.