While working a full-time job, blogger Alisa Bovino started her side hustle, "A Glass of Bovino," where she discusses all things design, thrifting, and DIYing with the competency of an Emily Henderson. Picking up virtually everything she knew from YouTube and trial and error, Alisa tackled an ambitious bathroom remodel in her New Jersey home with incredible results and some significant lessons learned. And if that's not impressive enough, the DIYer also signed up for a competition and completed her project under an incredibly tight timeline.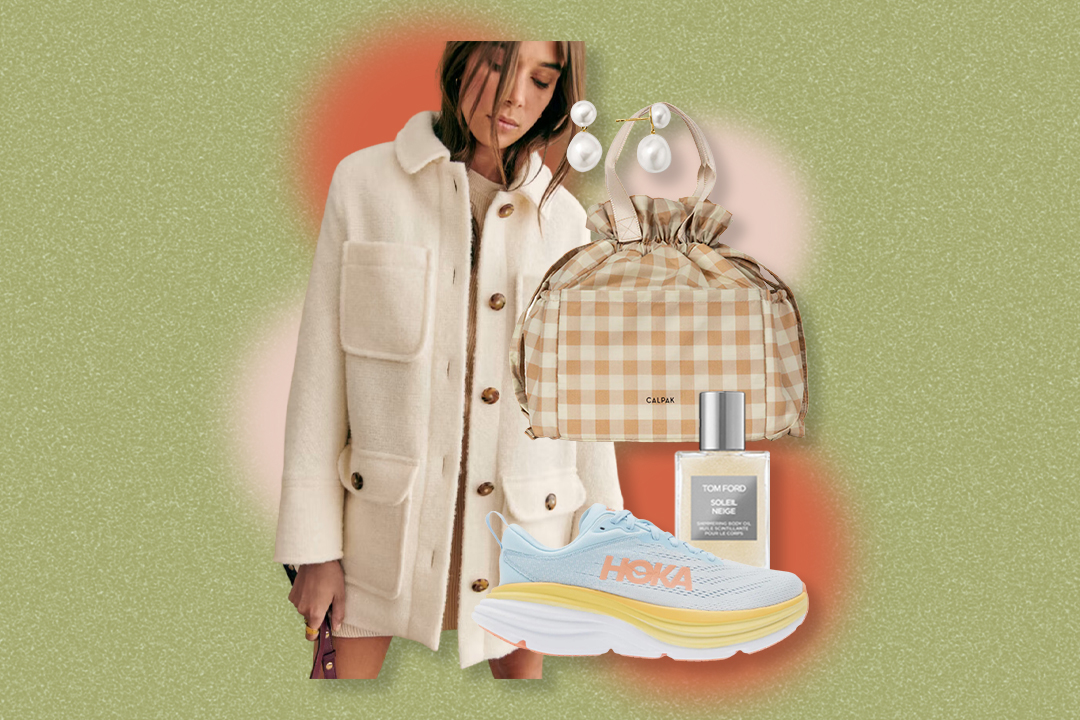 If you want to see an impressive redesign with an inspiring story of tenacity, look no further than this incredible bathroom remodel. Read on to learn some truly helpful design tips and tricks for tackling your next project and bringing your DIY ambitions to reality.
Name: Alisa Bovino, Home and Interior Design Blogger
Location: Succasunna, NJ
Sq. Ft.: 2,300 (entire home)
Years Lived In: 1.5
Rent or Own: Own
What was your first job, and how did you land it?
Inflation Station — I can't believe those are my first words to this interview. When I was 14 my parents encouraged me to get a job, and Inflation Station was hiring. Let me clarify because you're probably wondering — it was a warehouse filled with bounce-houses for birthday parties. I'd sit in the inflatable houses and jump around with the kids all day. If they got lucky I'd do a backflip. Now I work in marketing. I know that wasn't part of the question, but I just want to clarify that I no longer work in bounce houses — although part of me wishes that I do.
How did you initially get into interior design?
It started a few years ago when we purchased our house and had absolutely no furniture or decor since we both lived with our parents (my parents are old-fashioned Italians so we couldn't move in until the day after the wedding). I started looking at the house like a blank canvas and would run to Home Goods every other day to buy random stuff to fill the empty rooms, which I now realize was a big mistake.
Our house wasn't looking or feeling the way I imagined, and I soon became obsessed with educating myself on interior design and decorating styles, which fueled the creation of my interior design blog A Glass of Bovino. I haven't looked back since!
Before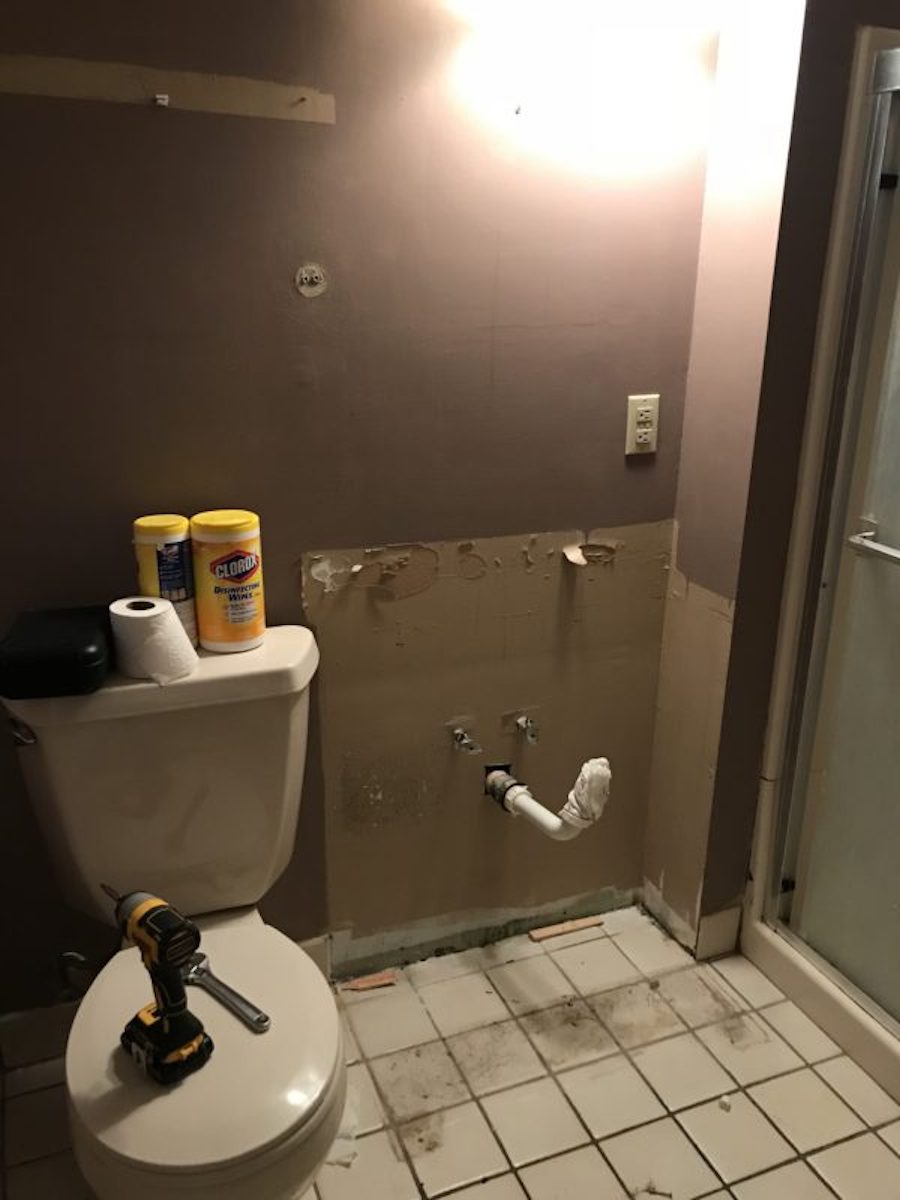 You moved into your current home in 2017, how did you find the home? When you saw it for the first time, how did you know it was the right one?
We were looking at houses for a few months, and there weren't many for sale in the area we were looking at the time. This house wasn't our dream home, but it's perfect for this stage in our lives. I remember that after looking at 40-something houses, this one was our favorite. It has an in-ground pool (that we didn't exactly want, but now we enjoy entertaining during the summer), and miles of woods behind our fence, which I love —  especially during autumn. It's nothing special, just a basic bi-level nestled in the suburbs of northern N.J. But Instead of focusing on the lack of character that a bi-level has, I've been trying to focus on infusing personality throughout our home to make up for that lack of character.
Which rooms did you remodel first after you moved in?
Does painting every room twice count as remodeling? Ha! The first actual remodel was our master bathroom. Luckily when we moved in, the rooms weren't grossly outdated and we found that just some paint could get the job done. One of the biggest things we did was knock down the wall between the kitchen and dining room, which really opened up the space. I also spent weeks painting our brown cabinets white. That made a huge impact.
Were there any quirks in the space you had to design around? If so, tell us about them.
Do the studs count? LOL. I knew I wanted the shower niche on the middle shower wall, but when we ripped out the original shower, studs and a huge pipe were right where the niche would have gone. The niche ended up going on the right wall, opposite of the brass valve and shower head. It all worked out, though!
How would you describe your style?
Traditional glam. I love mixing modern and vintage elements and I'm an absolute sucker for the combination of forest green, aged brass, a bold leopard print, and antique oil portraits.
After
You have an amazing eye for texture and color combinations. What guided your color scheme and overall design approach to this project?
Thank you! When I first started designing the room, I was playing it safe — gray vanity, gray marble, white walls. My favorite color is dark green, and the idea of a green vanity popped into my head, but I kept suppressing the thought because it didn't feel safe.
I think I was in a mood one day and I thought "I am literal a slave to this room and I will not allow it to look like just another bathroom." So I decided to paint the vanity with semi-gloss Benjamin Moore "Salamander." It was an audacious move, because the vanity was brand new and beautiful in the color it came in, but painting it was the best decision I made for the space.
Marble was also a mandatory element I had in my mind when I initially thought of the design. I was hesitant to lay the herringbone tiles because I'm so bad with measuring and angle cutting, but I'm so glad I just went for it. I'm also happy with how the floor-to-ceiling honed carrara marble shower turned out. Every time I walk into the bathroom, I forget for a split second that I laid all 105 sq. ft. of the tiles myself. I'm so happy I did it, because I know the bathroom wouldn't have the luxe feeling that it does if it weren't for all the marble.
Not only do you have an amazing eye, you also an incredibly ambitious DIYer. Tell us about the
Fall 2018 One Room Challenge.
Oh God where do I start?! It was kind of like a rollercoaster ride. I wasn't sure which loop I'd be going through next, and at times I was petrified. But at other times it felt exhilarating. Every week from September through November consisted of stress, frustration, and excitement. I really neglected everything else in my life except my full-time job, cooking dinner, cleaning the house, and washing my hair (half joking), so I could dedicate all of my time and attention to making over this room.
A typical week during the One Room Challenge would go something like this…
During the week I'd come home from work and look at my task list to see what I needed to do next. If it was continuing to lay tile in the shower, I'd go to the garage, grab the mortar, mixer, and bucket and eyeball approximately how much mortar I'd need to get through tiling for the next few hours. I'd work on the bathroom from 7:30pm to 11pm (towards the end it was 2am), shower, go to bed, wake up, go to work, and do it again the next night. On Saturday and Sunday, I'd wake up at 7am to start working, take a break here or there, but I'd only stop when I physically couldn't do anything else, which was usually around 5pm.
When I wasn't physically working on the bathroom, I was watching YouTube videos. I'm telling you — I had no life. I remember the last few weeks of the challenge I'd be sitting in meetings at work and would notice people looking at my hands. They were horrifying — I had mortar embedded into my cuticles and deep gashes everywhere. I was an absolute mess.
You may be wondering where my husband was during all of this. In the beginning of September, we demoed the bathroom together down to the studs, and I knew that the bathroom would have to be completed by the ORC deadline (the first week of November). He wasn't crazy about the timeline, as he had so much work to do around the house (yardwork, closing the pool, etc.), so I convinced him that I could just do everything on my own and pull him in as needed. He was against it at first as he wanted to help, but I slowly started working on the next task, then the next, and he would check in to see if I needed help with anything. Before I knew it, I was halfway done and just kept going until the end.
One week before the challenge deadline, my father-in-law passed away. It was absolutely devastating. The last thing I could think about was finishing the bathroom, but I took a few days off of work and pushed myself harder than I ever have before, asking for his help when I thought I couldn't do it anymore. It was a really emotional week. My husband said his dad would have been so proud to see that I renovated that bathroom with my own two hands. That's honestly what really pushed me through the last few days.
What would you consider was the biggest challenge of your bathroom remodel?
Second guessing what I was actually capable of and my decisions. Whether they were design choices, taking measurements (measure twice, cut once), or what-the-heck-am-I-supposed-to-do-next decisions, I second guessed it. I have no patience, so I rushed through a lot of stuff and would become extremely frustrated when I had to go back and fix it, even though it was my own fault.
I think some are skeptical that I actually was physically capable of renovating a bathroom from the studs on my own. Everyone close to me knows that I take pride in my physical strength — I was a competitive gymnast for 13 years. I grew up as a tomboy and would watch my dad as he worked on our house. The physical part of renovating the bathroom was hard, yes, but nothing compared to the learning curve and the mental toll it took on me. I definitely feel like I came out mentally stronger in the end because of the challenges I overcame.
Were there any sources you regularly used as a reference or guide when you experienced hurdles in your project?
Yes! There are so many helpful bathroom remodeling videos on YouTube but there was one guy I kept referring back to because he had so many videos and great feedback. His instructions were clear and he really pays careful attention to every detail when remodeling his client's bathrooms. No matter how many videos I watched, I ultimately kept referring back to his tutorials. So if you ever happen to remodel your own bathroom, go to Sal Diblasi on YouTube — thanks, Sal!
This remodel was unique in that you were under a very tight timeline and you taught yourself things like marble installation, waterproofing, hanging drywall — all on your own! How did you stay motivated and keep yourself going?
Honestly, I started the project knowing that I did not have a choice but to get it done. The thought of not finishing did not cross my mind… ever. I found motivation in little things like the supportive messages I received on Instagram, celebrating completed tasks, drinking way too much coffee, and screaming into a pillow when things got hard!
As someone who is officially on the other side of a successful —
and might we add,
beautiful
 — remodel, what advice would you give someone that is about to approach their own remodeling project in their home?
OK, I've thought about this before so I'm excited to answer this question! I would give them a few pieces of advice:
Do your research before starting. You may realize that you can complete some of the tasks on your own, while others you may feel more comfortable hiring out for (I hired out for the toilet and glass shower door installation and am glad I did).
Plan, plan, and plan some more. While I was planning each step, I wrote how much time I thought I needed to complete it and 90 percent of the time, it took way longer than expected. Unfortunately when you're remodeling, step B is usually contingent upon completing step A, and nothing ruins a timeline like being held up in step A for whatever reason. Nothing really ever goes according to plan. So prepare yourself with that upfront. With that said…
I wouldn't recommend remodeling on a tight timeline — especially a bathroom. I think I got very lucky. There could have been so many issues that could have derailed my timeline completely. Take your time, be patient with yourself, and give yourself a break (and a glass of wine) when things get tough.  
I think the most important advice I want to share is this: you are physically and mentally capable of more than you know. I think some women feel like this is a job that a man is supposed to do, but it's amazing what you're capable of with some patience, strength, a willingness to learn, and the right tools. You don't have to do the entire thing on your own, but don't ever underestimate yourself and your ability to get sh*t done.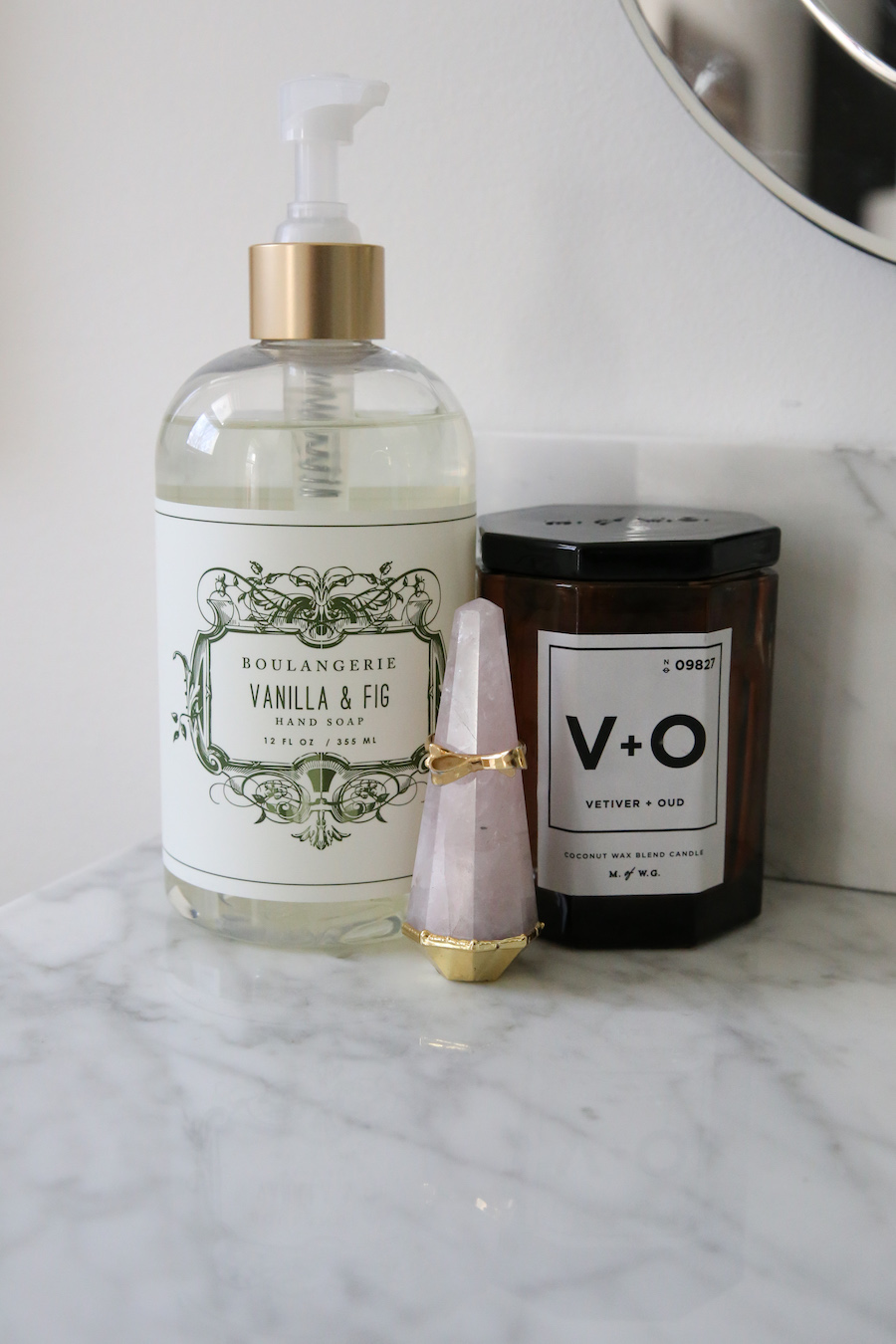 You clearly have an eye for design and enviable organizational skills, but what else did you learn about yourself during this project?
I realized that I really need to work on developing patience with myself and not become frustrated when I can't figure out something right away. I also realized that I'm capable of more than I know. Once I pushed through each step, I became more confident in myself. I now joke that if I can remodel a bathroom, I can do anything.
What is your favorite element of the bathroom?
Hmm… can it be elements? The marble shower, marble herringbone floor, and painted vanity. I spent countless hours making sure those details were perfect and I think it definitely paid off.
What's the next project you're excited to tackle?
We have our main bathroom that's currently in terrible shape, and the plan is to renovate that within the next few months. I've already stocked up on band-aids.
And finally, what advice would you give to your 22-year-old self?
Ugh, I'm going to sound like my parents, but I'd tell myself to save more money.
Alisa Bovino is The Everygirl…
Ideal Sunday activity? Thrifting…and procrastinating cleaning the house
Go-to restaurant order? Medium-rare flank steak over arugula
Favorite exercise? Tabata. I've been doing it for years. It's quick and gets the job done
Next vacation you plan to take? Our honeymoon to Italy. I really need to prioritize it — I'm just so bad at making travel plans
If you could have lunch with any woman, who would it be?
Ellen Degeneres