Amanda Kessel and her husband found their house while taking a walk through a St. Paul, Minnesota neighborhood. It was a true fixer-upper in just about every sense of the word. To turn it into a home they love, they turned to Bria Hammel of Bria Hammel Interiors. Together, they lovingly renovated the historic home, playing up the charming elements the house already had and making it appear lighter and brighter, without painting over all of the dark wood accents.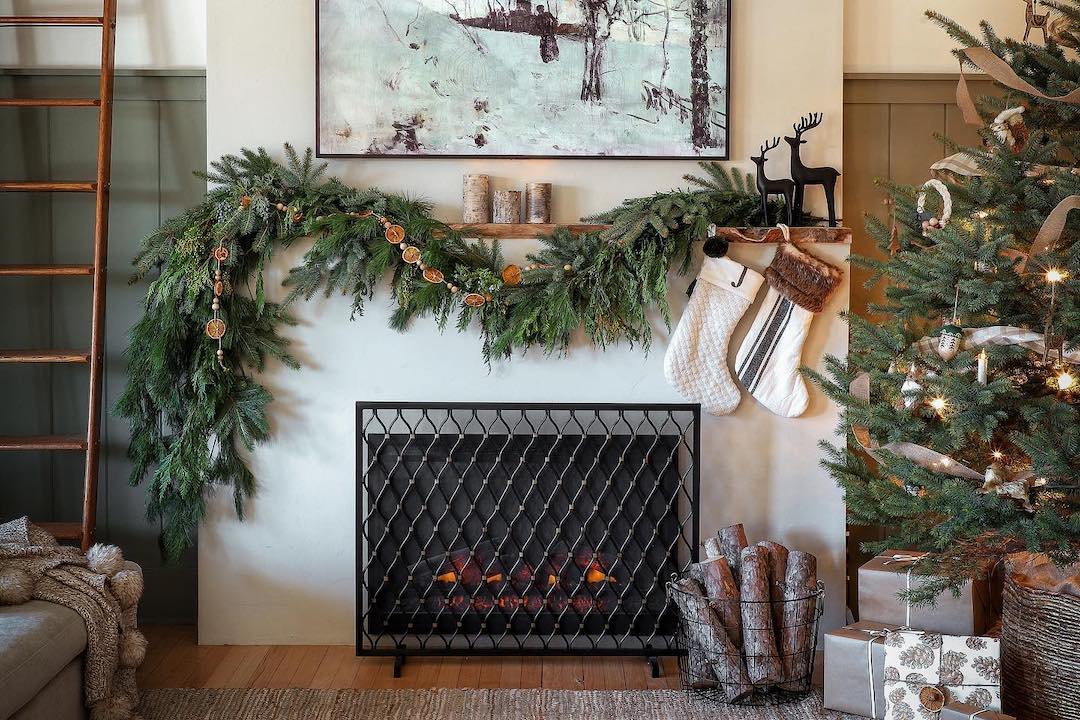 there's still time to deck your halls
Working with a designer can be a truly collaborative experience. You need to both trust the designer you're working with and trust yourself. Striking out on your own to start a business (or two, or three) likewise requires a whole bunch of trust. Navigating a home renovation project and navigating the early days of a new business can be sort of similar. There can be unexpected challenges, miscommunications, shifting budgets, and more. But, if all goes well, you end up with that picture-perfect home, that growing, thriving business.
Both Kessel and Hammel have been through that process. Here's what they have to say about finding and designing the home, building a business, and more.
How did you get into interior design?
Bria: I grew up going to wallpaper stores and furniture showrooms with my mother. She loved to flip homes in her spare time and we jumped around house to house for the better part of my childhood. When I went to college, it was mentioned many times how I seemed to have a passion for interior design — my junior year I decided to switch majors and pursue this crazy business that I had come to love.
When did you decide to set up shop on your own?
Bria: I was blessed to work for some pretty incredible women early in my career. Between two amazing designers who ran very different firms and managing some retail furniture stores in between, I decided to go on my own with the birth of my first child, Louie. I wanted to be able to create my own schedule and be as present as possible in my children's lives. Now I bring that same mentality into my business for my team.
You're also behind home decor brand Brooke & Lou. Tell us a bit about the lead up to and launch of the line.
Bria: For a while while designing, we kept finding holes in the marketplace. We were recreating pieces to meet the needs of our clients, and knew there had to be an easier more accessible way. One of our driving products were our wipeable fabrics. There are many family friendly fabrics out there, but in some applications it still wasn't good enough. We figured out a way to make fabric completely wipeable, so no matter the spill, messy hands, or accidents that happen, our clients wouldn't have to worry. That's when we knew we had to share this with the rest of the world.
What's your favorite thing about living in St. Paul?
Amanda: St. Paul manages to feel like a small town in many ways and we love that. When I became obsessed with this neighborhood, we would walk our dog and little baby up and down the tall, tree-lined streets and my husband was convinced I had set him up. He was sure I had staged it all, like in the Jim Carey movie The Truman Show. People called greetings from their porches and crossed streets to pet the pup and admire the baby. The friendliness bordered on oppressive.
How did you know your house was the one? How did you find it?
Amanda: We found our house on one of our Truman Show strolls. It was in rough shape — old storm-pocked hail damage on aluminum siding with dark brown trim. When you walk in the entryway, there's this feeling like you've taken a big gulp of air and your shoulders slide an inch further down along your back — you just feel the relaxed expanse of it. The ceilings are high, the first doorway is arched, and the whole place sort of groans with history. If we had come in the back door, we would have walked right back out.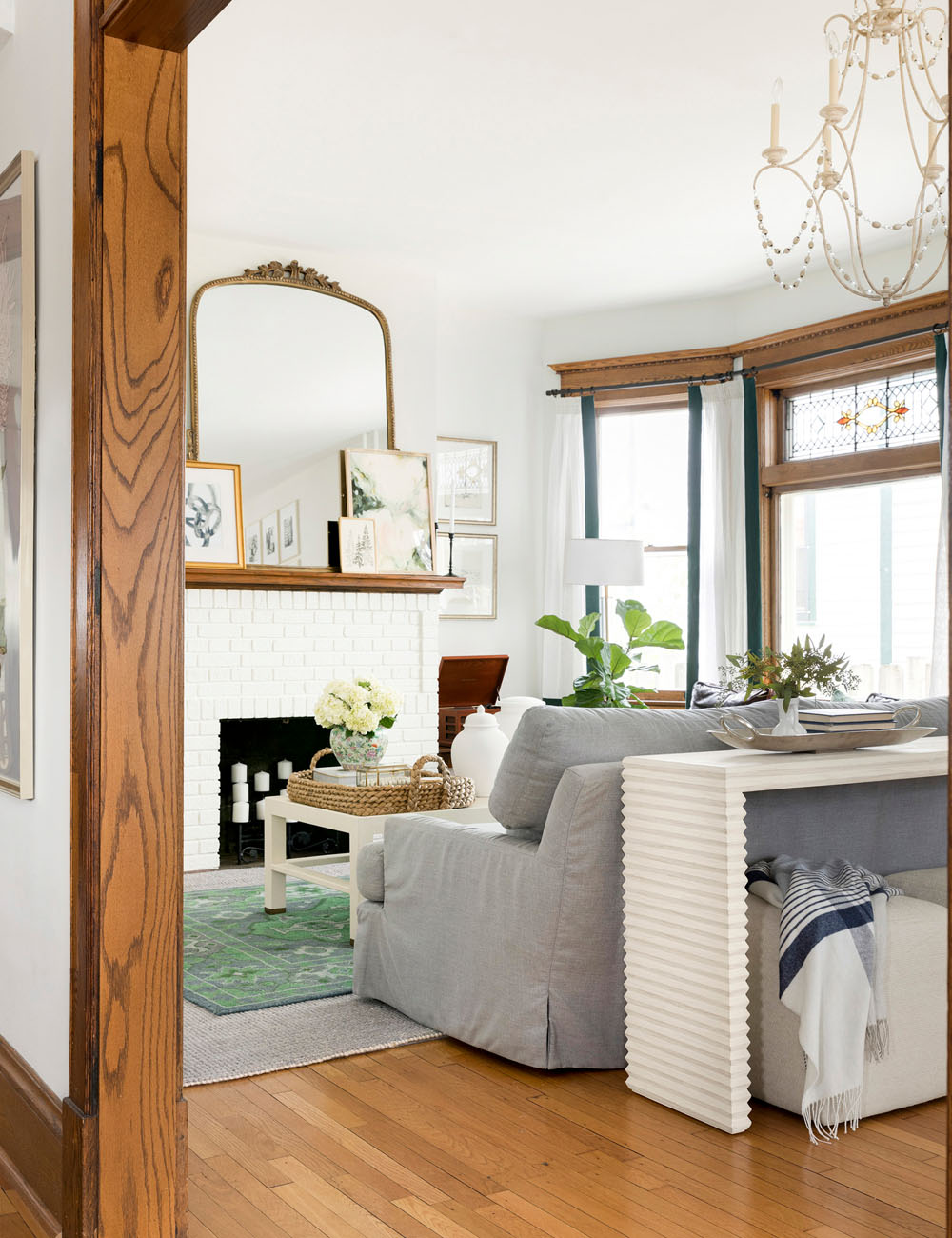 How do you help others find and implement their individual personal style?
Bria: It is so important to us to get a true understanding of the needs and dreams of our clients. We spend a lot of time in the beginning stages of each project getting to know our clients and their vision for the home. It's true that we have a certain aesthetic to our design. But this comes in many forms of style and we make it a priority to truly bring our clients vision to life.
How would you describe your design style?
Amanda: My design style is basically traditional, but hopefully a clean and bright interpretation. I like things that feel classic and enduring. It's one of the reasons I love our house. You get to a certain age, as a house or a person, and no one expects you to be trendy. No one is going to tell a victorian or a grandpa he needs to cuff his jeans better. I like that — it feels less stressful.
What inspired your design?
Bria: We are so lucky when we get to work on a home that has so much history. This home is in a historical neighborhood in St. Paul, and had so much charm that we wanted to make sure we preserved. Our clients are a young family who wanted to have the convenience of modern amenities and design. We worked carefully to embrace some of the architectural features in the home while freshening up other areas.
What was it like working with a designer to make your vision for the house come to life?
Amanda: It was magical. Bria and her team took a handful of adjectives and transformed this space into something that fully fit my vision while somehow simultaneously exceeding my expectations. The wallpaper in the girls' bathroom is a great example. I wanted that space to feel fresh and feminine without being fussy. I would have walked right by that wallpaper, assuming it would be too bold or overwhelming. It makes the space, of course, so I'm grateful Bria was walking with me! Working with a designer can stretch your aesthetic in a way that surprises and delights. It definitely kept me from being too safe.
What were the first changes you made to your home when you moved in? How did you prioritize the changes?
Amanda: We took down decades worth of wallpaper and installed a floor in the office, as it was just subfloor at the time. A lot of the changes early on were things like that — insulation would be nice, right? Because winter? We really had a lot of have-to's on our list vs. get-to's.  
How did you and the client decide to embrace/play up the history of the house? Was that simply never in question?
Bria: I don't think there was ever a question of preserving the history of the home. For a minute our clients wondered if they should paint all the beautiful oversized millwork. Before we started, the home felt very dark and heavy. It was important for our clients to have a home that felt light and inviting, and they worried that keeping the dark stained oak trim it would be impossible to achieve.
White walls and wood features are hallmarks of this house. How/why did you decide to carry that throughout?
Bria: This was the way we could bring the lightness our clients desired to the home. By preserving the original millwork, we decided that painting the walls white was a must in order to brighten up the home. The kitchen was an addition on the back of the home, so it allowed us to add a more modern space that really checked all the boxes for our clients needs.
There's so much light in this house. How did that affect the choices you and your client made?
Bria: Ironically, the natural light was really filtered before we started. Opening up the windows, lightening the walls, and adding contrast in the spaces made all of that glorious light shine in.
Where do you like to shop for items for your home?
Amanda: Ballard Designs, Pottery Barn, Brooke and Lou.
What are your favorite pieces in your home?
Amanda: I love the blue chest of drawers in the entry. I like that it feels weathered and the color is unexpected. The juxtaposition with the brass lamp feels perfect. It's the first thing I see when I open the door, so it feels especially infused with the warm fuzzies of home.
Did you have any challenges along the way?
Bria: There are always challenges when working on an old house. Floors not being level, overly small spaces like the powder bathroom — all called for extra attention to detail to make sure we were sourcing the best products to fit the constraints of the home.
What's your favorite spot in the house, from a design standpoint?
Bria: I really love the living room. It's not often we get to design rooms without TVs anymore — and our clients were completely open to using this room as a gathering space for fellowship and family time. The family has a beautiful record collection, and loves to entertain. Creating a space for them to come together and be present was such an honor for us and truly makes our work all worth it.
Do you have a favorite space in your home?
Amanda: I love our kitchen. It feels classic but fresh. I love the way the stools bring warmth to the brightness of the cabinetry. The marble on the island was a splurge but so worth it to me. The grays and hints of beige pull everything together. More so, I love how the space draws everyone in. Kitchens are the modern day heart, aren't they? It's where we launch and land our day. We work like a pit crew combing hair and packing lunches in the morning and it's sweetly chaotic. After school the energy shifts and we're hearing funny stories and the highs and lows of the day. We do a lot of living in there. This project was a big decision and to see the way the space functions to enhance our togetherness makes it all worthwhile.
What advice would you have for your younger self?
Amanda: Oh gosh. How much time do you have? Be more daring. In fact, be audacious. Worry less about being liked, and worry zero about being liked by people you don't even care for. While we're on the subject, worry less in general. If your current rumination never comes to pass, you've tortured yourself for nothing. If it does, you've punished yourself doubly. Honestly, just stop.
Amanda and Bria are The Everygirl…
The best concert you've ever been to? Amanda: Ben Harper
Favorite design element? Bria: This is a tough one. I would say it's a tie between millwork and tile. Two details that can really transform a home.
Current favorite interior design trend? Bria: Traditional decor! I've always loved traditional design and am so happy to see a shift in interior design. In with stripes and florals and out with mid-century furniture.
Item you can't leave the house without? Amanda: My phone and a book
Coffee order? Bria: Skinny Iced Vanilla Latte with Almond Milk
Ideal Friday night? Amanda: Date night with my husband, which usually means walking to dinner and drinks at a few different places and splitting plates as we go. When we get home I like to watch the girls sleeping and kiss their sweet cheeks.