For some, Christmas decor looks like a cozy little cottage packed overflowing with red and green. But others look for a different vibe. After all, a stunning, classic, black and white home needs decor that complements it—not overpowers it. The key? Focus on intentional accent colors. And that's exactly what Amanda Witte created in her suburban Chicago home.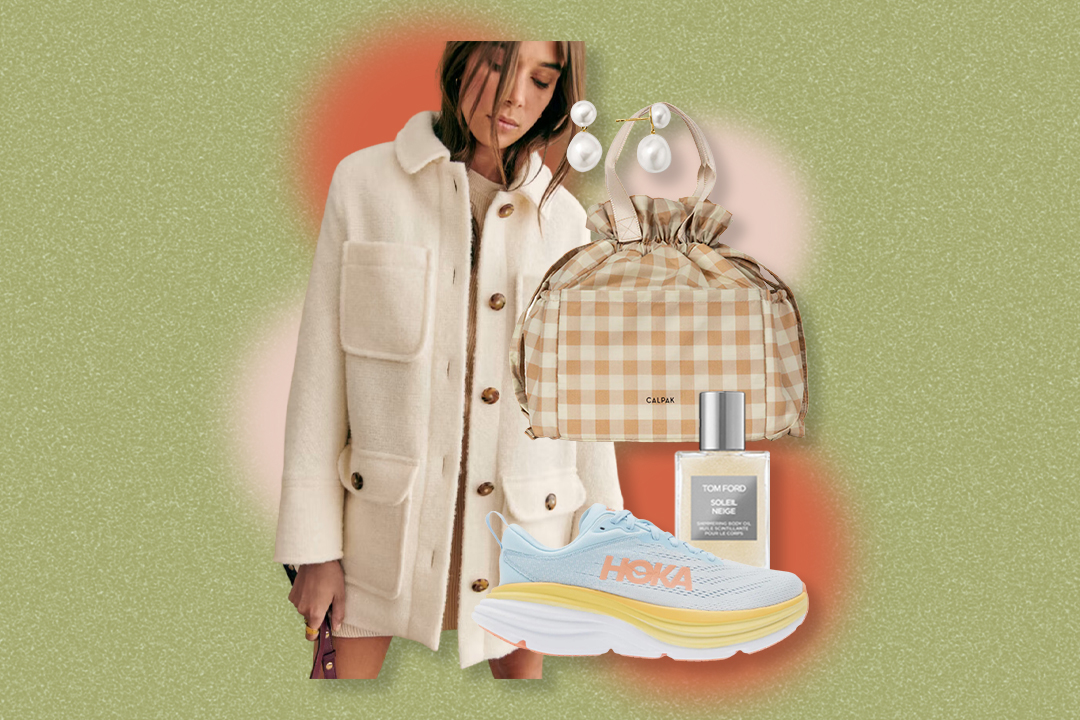 For advice on where to find the best budget holiday decor that still looks oh so chic and how to make even the smallest spaces look merry and bright, look no further. Amanda has you covered.
Name: Amanda Witte, Interior Designer
Location: Western Chicago suburbs
Sq. Ft: 2,500 SF
When do you start decorating for the holidays?
I typically start right after Thanksgiving, but this year I started about a week prior to that since I am working from home and wanted to enjoy the holiday cheer a little bit longer.
Tell us about your holiday decorating process.
I store all my seasonal items in bins together, so I start by getting those out each year and taking inventory of what I already own. I try to incorporate a few new pieces or DIY items into my decor and find new ways of displaying what I already own. I love to set a tablescape for the holidays and create personalized items such as place cards or hand-painted champagne bottles to complete the table. I tried to enhance the interior design of each room by adding holiday decorations that complemented the space or made a statement. The feather wreath above the fireplace adds a wintry vibe, while the black and white striped ornaments on the pink-themed tree ties in with the entry striped wallpaper. Hints of pink throughout the home are repeated through ornaments, my dining room tablescape, and sunroom wreath ribbons. I feel like there is a small surprise in each room that reminds me of the Christmas season.
How do you budget when it comes to decorating seasonally? (Things can get expensive for such a short time of the year!)
After Christmas clearance! I knew I was getting an extra tree from a friend after 2019, so I planned ahead for my pink and black-and-white-themed tree. This came in handy as I scouted end-of-season sales last year and made this year exciting to use everything that I waited for. My husband and I have a tradition of doing annual Christmas cards, which we budget for throughout the year to cover photography, printing, and stamps. Each year I add a few things to my collection of decor and am selective on pieces that I love or have sentimental value.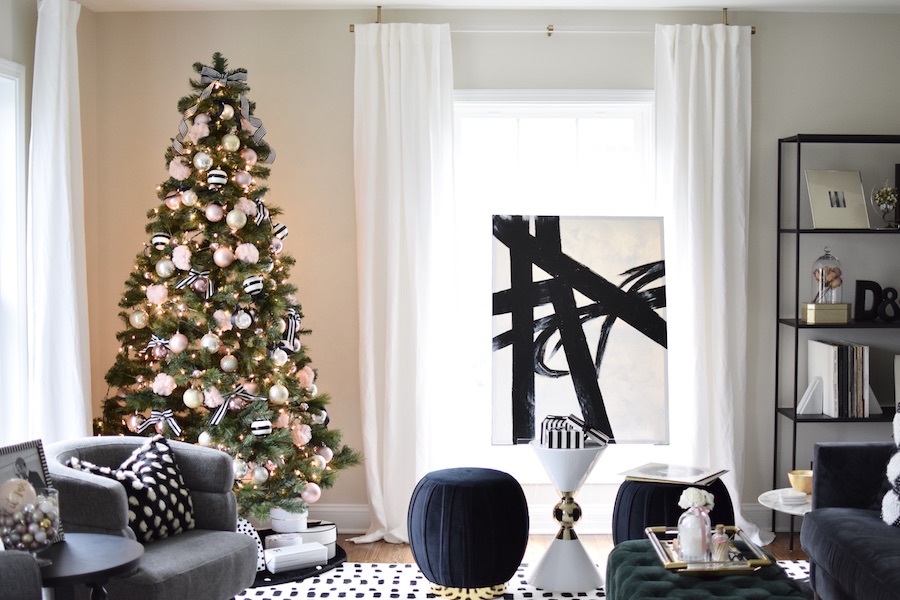 Where do you shop for holiday decor?
My go-tos are HomeGoods, CB2, and Hobby Lobby for budget decor. Target is also great! I like to DIY a lot of items myself, so craft stores like Michaels or Hobby Lobby are great for ornaments and supplies.
One of my favorites is the pink Cotton Candy machine. I love glass ornaments and this one represented my second wedding anniversary, which has a theme of cotton.
Do you have any holiday traditions that are special to you?
Every year, my husband and I have what we call "Christmas Dinner." This tradition started in high school—yes, high school sweethearts!—as a date night where we exchanged gifts. We have continued this tradition for over 15 years and while we don't really exchange many gifts anymore, it is a great date night in where we cook a fun meal and have a great bottle of wine. I also collect an ornament when I go to a new place as a memento. I have one Christmas tree that is all sentimental ornaments and it is fun to trim that tree every year and reminisce on where and why I got that specific ornament.
Do you have any tips for readers who may live in smaller apartments (and who are on a budget) who might not be able to decorate to their heart's desire?
I lived in studio apartments for eight years, so a little holiday cheer goes a long way. Twinkle lights create a big impact when draped over windows or headboards, and a small, skinny tree is a great way to display ornaments. Bowls or vases filled with ornaments or small decorations and wreaths on kitchen cabinets or your front door also can pack a punch with your personality. Switch out decorative pillows for something festive and use a new scented soap for the seasons.
Do you have a favorite ornament on your tree?
One of my favorites is the pink cotton candy machine. I love glass ornaments and this one represented my second wedding anniversary, which has a theme of "cotton."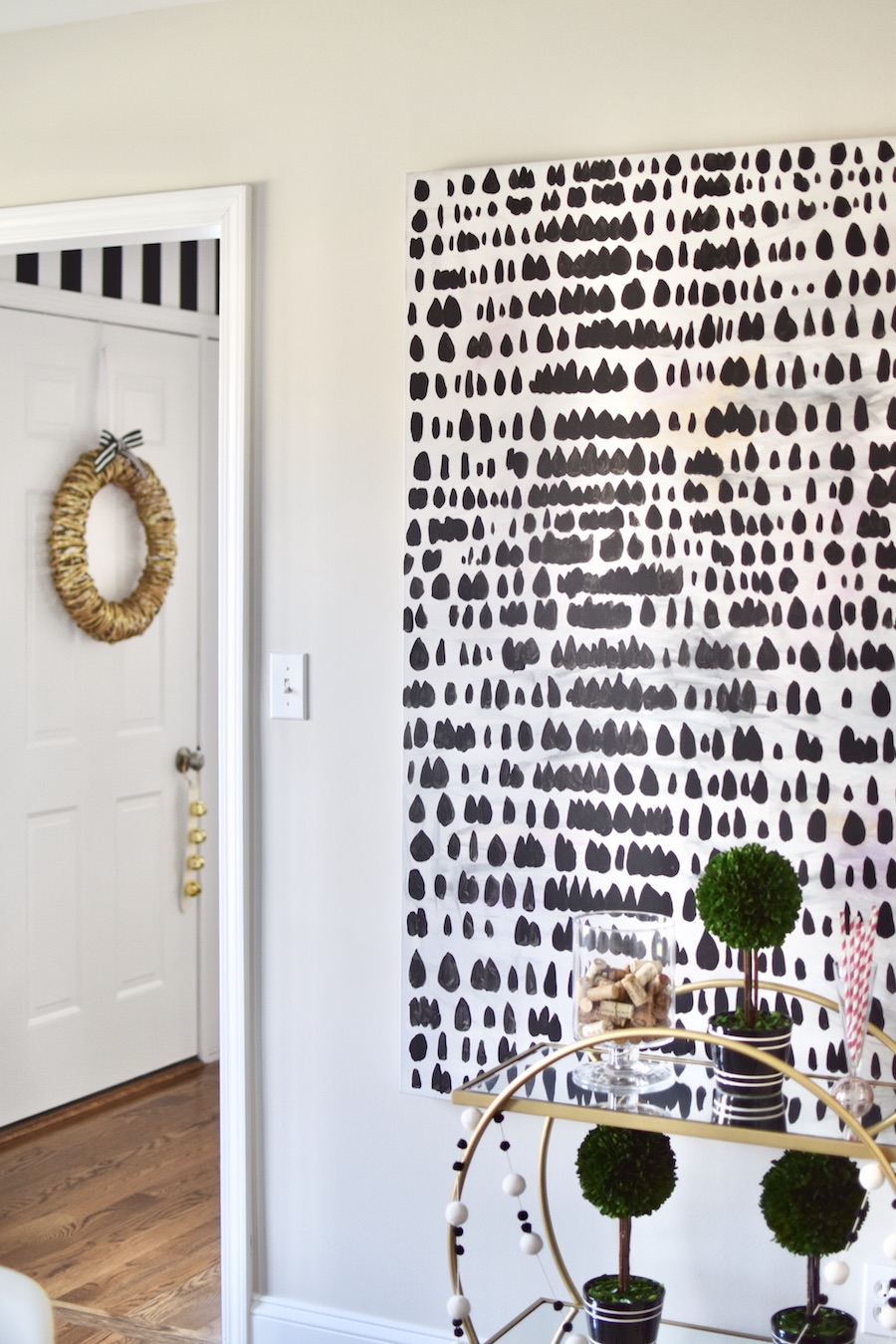 What's your favorite piece of holiday decor that you own?
I love the wreaths with the ribbons in the kitchen and sunroom. When we bought this house, that was one of the first things I thought of when I saw those windows and was so excited to hang wreaths on them. It is such a simple way to add an element of design that is not around all year.
How are you adjusting your celebrations this year?
We are looking forward to a virtual Zoom get-together with my parents and siblings. We will keep our family bingo game tradition by playing virtually! It will be sad not waking up at my parents on Christmas morning, but it will be fun to make a big breakfast and start a new tradition at home with my husband!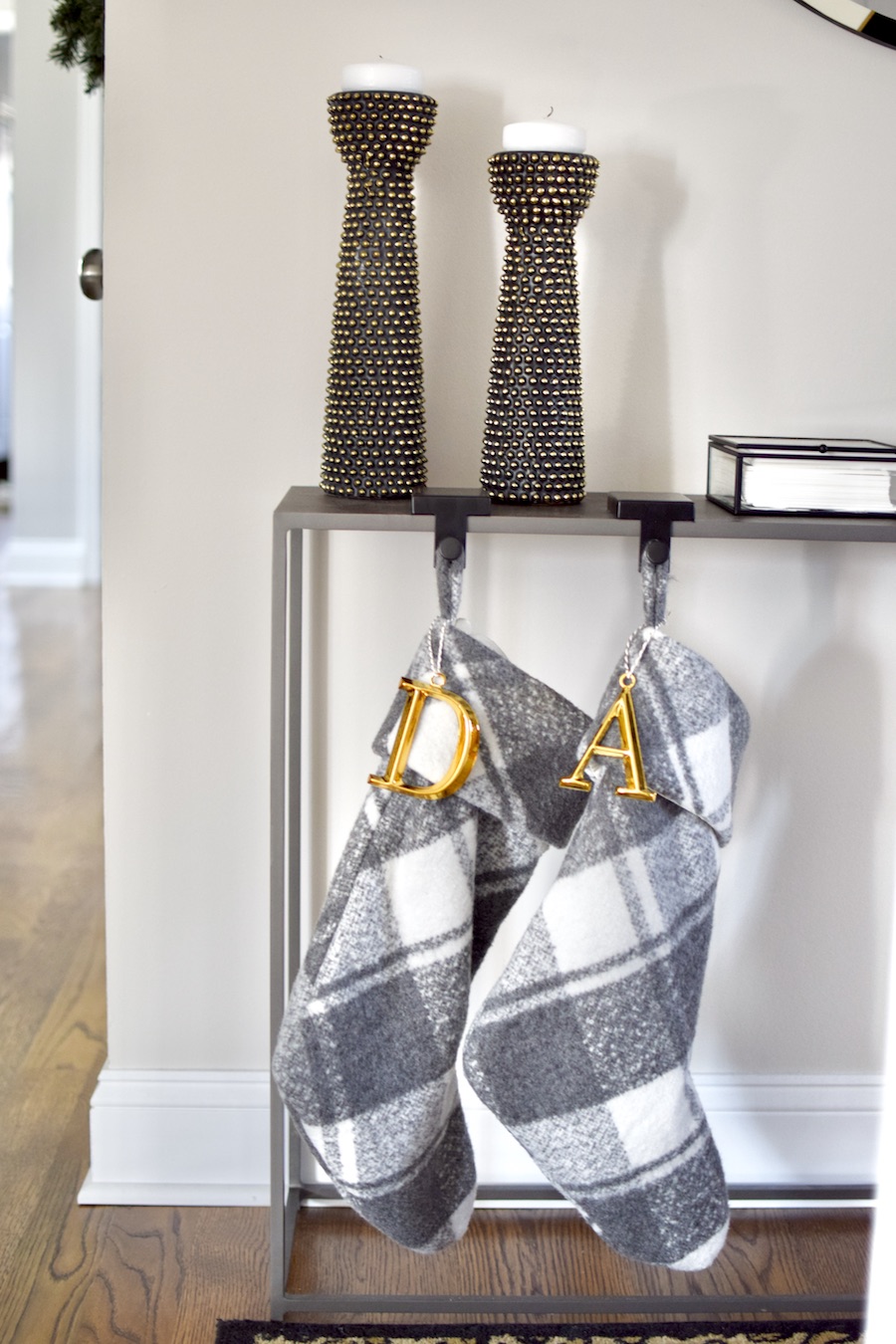 Amanda Witte is The Everygirl…
Hot chocolate or hot cider? Hot chocolate, preferably white chocolate!
Favorite Christmas song? Classic: "Silent Night" Pop: "Mistletoe" by Justin Bieber
Favorite Christmas movie? The 1994 version of Miracle on 34th Street
Favorite holiday treat? Pumpkin pie or sugar cut-out Christmas Cookies
A small business you love: Smitten Boutique in the West Loop of Chicago for small gifts and greeting cards, Graham's Fine Chocolate and Ice Cream in Geneva, IL for the best cookie dough ice cream
The best gift you've ever given? I usually gift what someone asked for, but I like giving printed photos, as I love a tangible photo memory since most photos are digital nowadays. I also like to give something that I've made that is personal to the recipient.
What's at the top of your Christmas list this year? More time with friends and family in the new year, and a cute little fluffy puppy!