When One Kings Lane wants to feature your home, you know you've done something right! The story of Kristin Cadwallader's home is a sweet one. This self-taught designer bought her childhood home and turned it into her dream home.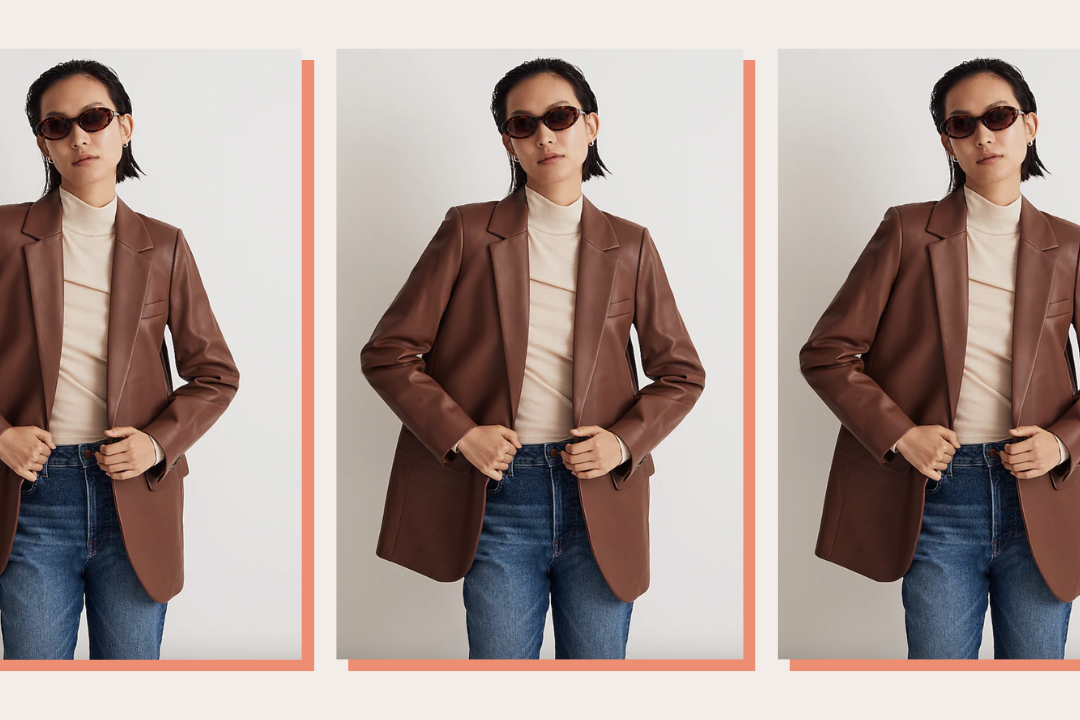 time for your fall wardrobe update!
During college, Kristin took an interior design class as an elective and immediately knew it was something she loved. After getting engaged to her now husband, she moved back to her hometown to plan her wedding. After getting married and starting a family, Kristin started Bliss at Home to showcase her design work. Fast forward to today: Her blog has gained traction, her business has taken on clients, and she has won awards.
Keep reading to find out more about Kristin's beautiful home, how she hunts for bargains, and her unique journey as a blogger and designer.
Name: Kristin Cadwallader
Age: 36
Current job/company: Founder and editor, Bliss at Home; shoot and interior stylist; aspiring designer
 It also taught me to embrace aspects of essentialism. Focus on what has to be done (what is a priority) and do the rest at my own pace.
You met your husband while pursuing design, and then moved back home to plan your wedding. Did you ever return to school? If not, how did you educate yourself in the field? 
I was young and unsure of what I wanted to pursue. I was torn between teaching, keeping my art major, or further exploring interior design. I took two semesters of interior design courses before we moved back to our hometown, and once we got married I never returned to school. Basically, I worked my day job and always had design on the brain. Instead of fashion mags like most of my friends, I read Domino and Architectural Digest. Once I started the blog, I embraced that passion full force and took the fundamentals I learned from school and mixed it with my style and design preferences. I am always learning and always experimenting with design in my own home. I've taken on clients, worked with homebuilders, styled shoots, assisted photographers…I jump at the chance to experience anything design-oriented. I keep up on the industry, network with designers and design bloggers, and sponge up any publication or design book I can. I have great respect for interior designers, and their training is priceless. There is so much to the technical side of design. I am definitely a blogger-turned-designer.
You're a wife, mom, blogger, and creator. How do you balance it all? What does a typical day look like for you?
The truth is, I don't balance it all well on my own. Last year, I had a health scare and it taught me to slow down a bit. It also taught me to embrace aspects of essentialism. I focus on what has to be done (what is a priority) and do the rest at my own pace. Oh, and I learned to say "no" when I have to. It really helped me focus on the important things in life and order my day. Every day is different. I don't think I have had too many days that feel like repeats. It changes with my kids' schedules and activities. My husband and I both work from home, so we do a pretty amazing balancing act. He takes over with the kids when I have to work or want to fit a workout in, and I take over when he has to be on a call or in a meeting. We have a good home team which really helps with trying to keep a balance. Any given day, I could be on a conference call, styling a shoot, sourcing decor, be covered in paint, taking photos or meeting with a potential client. It really is a new adventure every day. I try to reserve a couple of hours in the evening for editing photos or writing up posts.
I've had moments in the past when I thought, "What am I doing all this for?" and then something good would happen to keep me working at it.
Your blog Bliss at Home has really taken off. Take us through that journey. 
Bliss at Home began as an idea to focus and grow my design aesthetic and connect with other creatives. My early posts were bad. I shared some paper art and a lamp makeover for a couple of my first posts. I didn't even have a good camera when I started. It was definitely a learn as you go approach! Once I shared my first room design (our first bedroom makeover), my pins started going viral, and I started to get a following. That first year was a lot of learning. The second year, I really saw some good growth and brands started to reach out more and more for work. I made some great connections at my first blog conference. I had a couple of lucky breaks and had my first two magazine features: USA Today Home and Better Homes and Gardens magazine. Once the BHG feature was out, I had a big surge in page views and I started focusing more on photography and styling.
Over the next two years, I focused intently on producing great content and really honing in on my design style. The last two years, I had some amazing breaks: getting to travel for blogger brand events, another magazine feature in HGTV magazine, and working on some dream design collaborations like our Kohler bathroom design. During this time, I started taking on clients behind the scenes, doing some styled shoots, and assisting photographers locally. I've been able to transition my blog from mostly DIY to designing. I still do some DIY projects, but my focus is more on design these days because it really is what I love doing most.
This year has been a really great one so far. I've been sharing some bigger renovation projects and working with designer and bespoke brands, and I have a couple of bigger magazine features coming out later this year. Winning the Taylor Burke Home Style It Challenge was exciting and my design will be recreated in their Atlanta Decorative Arts Center (ADAC) showroom soon. Just recently, Domino named me one of their "10 Up-And-Coming Designers to Follow," which was such a "pinch me" moment.
I've had my frustrated moments, growing pains, and missteps along the way. I've had instances in the past when I thought, "What am I doing this for?" and then something good would happen to keep me working at it. I think all passionate people go through this—especialy with blogs and growing your brand.
Where do you see Bliss at Home in five years?
There is a lot on that list! Our family is relocating to New England this summer, and I will be in a much better market for design. I've had so many offers for design work this past year, but a lot of it involved travel and I wasn't able to pursue it. My kids will both be in school full-time this fall, so I am going to work on growing the design business side of Bliss at Home. I love the client/designer relationship. I am so humbled when someone entrusts me with the design of their room or home. Now, I'll have the time to focus on pursuing those opportunities. Bliss at Home is my baby and I don't ever want to walk away from it. Whatever additional work I do, I hope it's part of the Bliss at Home brand and featured on the blog. Our blogs are really our portfolios. There's a lot more on that list, but growing my portfolio and client work is really the focus.
I love the story of your home! It's sweet and unique. What was your thought process when making the decision to purchase and renovate your childhood home?
Thank you! The truth is, I never thought I would buy my childhood home. My dad, on a whim, found a house he wanted to buy and renovate, so my husband and I decided to buy it—not because I really wanted to or it was my dream house (far from it!); I just wanted more space and to have more kids and it was priced right. It is pretty cool to think about memories here as a kid, and now I get to share that with my kids. This house honestly looks nothing like it did before. We've pretty much transformed every inch of it! It has been an adventure remodeling this home together. Now we are relocating to Connecticut, where we'll start a new adventure.
How would you describe your approach to designing a home? 
I love a home with a good flow. I think you should have unifying elements in each part of your home. My approach is pretty simple. I focus on my "loves" in design. I love traditional foundations: hardwood floors, wall moldings, marble, classic tile, built-ins—all good things! Black-and-white spaces are what I lean toward when it comes to paint and surfaces. In my mind, I think about the house as a whole—What elements will carry well throughout each space? Once I decide on the foundations, I look to the decor, which I blame on design class. I loved studying furniture design. I have a running list of iconic furniture pieces and lighting I want to collect. I buy what I love. The fun comes in the mix for me. I love to mix Midcentury, Hollywood Regency, Art Deco, Modern, and Transitional pieces into my home. I also have an obsession with Parisian apartments and Chinoiserie spaces, so those influences pop up in my home, too. I tend to keep spaces neutral in my home because I love to change out my pops of color on a whim. Right now I am into the gold and blush accents.
The shop owners know me and ask me what I'm looking for. When they go to auctions to buy, they can usually find the things I want to purchase. Having a good relationship with your shop owners is a good route if you are on the hunt!
Tell us about the remodel! That is such a dream for so many.
It was like a big experiment. Our first home was so cute and we hardly had to remodel a thing because it was already full of character. With this ranch, I knew there were things I loved: the original hardwood floors, the plastered moldings in the living room, and the wood burning fireplaces were all keepers. The rest was…far from my dream home! Everything was '90s golden oak: the baseboards, doors, and cabinets. The first thing we did was banish the '90s oak. Everything became white. Then, we worked room by room. I knew the color story and the surfaces I wanted. Black, white, and gray walls and Carrara marble. As we tackled each room, I implemented those colors and surfaces. It gives our home a great unified flow. Our kitchen and bathroom were complete renovations. We stuck to a budget, and doing what I do for a living really helped with that budget, too. If it weren't for the great sponsors I had, things probably wouldn't have gotten done as fast as they did. Renovating is not cheap and I didn't want to go cheap on the surfaces, tile, etc. We DIY'd what we felt we could handle and hired out for the things we didn't want to tackle or didn't have time to tackle.
Many pieces throughout your home have either been DIY'd or thrifted. How do you manage to find just the right thing while you're on the hunt?
Like I said, I have that running list in my head of furniture and pieces I want to collect. When it comes to vintage furniture, I have shops and thrift stores that I frequent. The shop owners know me and ask me what I'm looking for. When they go to auctions to buy, they can usually find the things I want to purchase. Having a good relationship with your shop owners is a good route if you are on the hunt! I also don't mind digging through junk in an antique mall or flea market. My husband and I both enjoy the hunt, so it's a perfect date if we go out to search for treasure together. Sometimes we come home empty-handed.
You have incredible taste! Where do you draw inspiration from? 
Travel is a huge source of inspiration for me. Anytime we're in a new city, I find so much inspiration. It can be an old building, a restaurant, or a hotel. I also love stately colonials from the early 1900s. I'll look at old home plans, floor tile layouts, and magazines from that time. I gained a lot of my aesthetic from my studies. Studying the history of design is such a resource if you don't know what you want. I find eras that I love and I'll refer to them. I am also a big fan of magazines like Domino, Architectural Digest, ELLE Decor, House Beautiful, etc. I've been known to tear out a page and keep it for inspiration.
Obviously everything is a little "perfected" when you're photographing a space, but how does that work out with kids in your daily life? Do they have specific rules in regards to the house?
Ha! No. We live in our home…we definitely LIVE in our home. I'm a clean freak so I guess that helps, but we eat most of our meals at the table because I love to dine and I love to have that time with people without distraction, but snacks in front of the TV happen. We have toys everywhere on any given day. Life happens here and yes, in a photo it's perfected and styled because that's part of the job, but our home is lived in and lived in well.
What is your number one tip for furnishing and decorating a home?
Make it personal and comfortable. Beautiful spaces are great, but your home should incorporate your personality. Fill it with what you find beautiful. Surround yourself with pieces that make you think of happy memories. Make it comfortable for how you live.
What advice would you give your 21-year-old self? 
Don't worry about not knowing what you want to do for the rest of your life. You will figure it out, it will be a beautiful journey, and you will learn so much along the way.
Kristin is The Everygirl…
Perfect date night? 
Definitely dinner out at a favorite spot with good wine. Or just wine and apps… it doesn't have to be dinner. We love the whole dining experience and food. No phones; just good conversation. 
Ideal weekend?
My mind's on summer so a beach weekend! Cape Cod or Maine are our favorites. A New England Beach weekend is perfection.
Coffee order? 
Strong coffee with almond milk creamer.
Dream project?
I have a couple. Up on the list is a 1910-1920s home. A classic colonial.
If you could have lunch with any woman, who would it be and what would you order?
I would have to say my mom. I don't get to see her that often because we live far from each other. When I do see her, it's never really one-on-one time, so a lunch with just the two of us would be great. I don't even care what we order.
Product Sources
Entryway
Gallery wall, Artfully Walls
Stencil on wall, Royal Design Stencils
Living Room
Sofa, Scout & Nimble
Coffee table, Home Depot
Billy bookcases, IKEA
Gray tufted ottoman, Taylor Burke Home
Ghost chairs, Lexmod
Marble tulip accent table, Lexmod
Black 3-arm ceiling light fixture, Lexmod
Bar cart, thrifted
Bamboo credenza, thrifted
Pair of Midcentury chairs, thrifted
Arrow table, thrifted
Brass pharmacy lamp, thrifted
Leopard pillows, Stuck on Hue
Cream/black fret trimmed pillows, Lacefield
Zebra rug, Rugs USA
Pineapple tumblers, Mintwood Home
Brass moonstone box, Addison Week
Abstract art behind TV, Painted by Kristin
Zebra art on mantle, Mitchell Black
Black vine art on mantle, Artfully Walls
Kitchen
Banquette, Ballard Designs
Tulip table, Lexmod
Chairs, Thrifted
Bar stools, Target
Cone pendant, Rejuvenation
Brass shelf brackets, Rejuvenation
Gold cabinet hardware, Lew's Hardware
Brass pendants, Shades of Light
Gold faucet, Delta faucet at Home Depot
Studded Roman shades, Loom Decor
Light over window, Cedar & Moss
Hallway
Bamboo lantern, Shades of Light
Animal print runner, Rugs USA
Office Space
Desk, World Market
Chair, Sleek Modern Furniture
Agate bookends, Shop Candelabra
Ottomans, DIY
Bathroom
Gold faucets, Kohler
Sinks, Kohler
Vanity, Kohler
Mirrors, Kohler
Sconces, Kohler
Python tray, Furbish Studio
Hand soap and lotion, Murchison-Hume
Bedroom
Black and white bedding, Crane & Canopy
Palm print pillows, Stuck on Hue
Gold hand vase, Shop Candelabra
Rug, Rugs USA
Boy's Room
Teepee, Wayfair
Gold banner, Minted
Rug, Rugs USA