After a winter filled with red wine, hot cocoa, and lots and lots of coffee, my teeth needed a refresh. I had whitened my teeth in the past, both professionally at the dentist and at home using strips. I absolutely loved my results but hated the inconvenience and price that came along with teeth whitening. On one of my oh-too frequent Target runs, I grabbed the Arc Precision Applicator Teeth Whitening Pen and decided to put it to the test. The product is $20 and promises whiter teeth in just two weeks. And after years of attempting to use strips that slide off or hurt my teeth, I was interested in trying something new.
Hate grocery shopping? Same. These hacks make them 100x easier.
About My Teeth:
I must start by saying I am obsessed with teeth. I have had braces and Invisalign, I've had my teeth professionally whitened, I've had my little gaps filled in, I've had them filed down so they line up evenly, I brush and floss and use mouthwash, and I have never missed a cleaning. That being said, adding a daily whitening pen to my routine was the next obvious step! I have a few tiny spots of discoloration from braces and Invisalign that I was hoping this pen could aid.
About the Product:
The $20.49, 4 mL pen claims to whiten teeth and help remove stains. The packaging and website info says it uses the same ingredients dentists use to whiten patients' teeth. Specifically, the ingredient list includes hydrogen peroxide, which is often used as a whitening agent. The brand also has a whole line including strips and toothpastes for all of your whitening needs. They recommend using the teeth whitening pen twice a day for 14 days for best results.
Application:
Every day for a little over a week, I brushed on the solution from the whitening pen after brushing and flossing morning and night. The clear gel is a sticky consistency and easily latches onto the surface of the teeth. This product, much like other whitening pens or strips, takes a minute to dry. The brand recommends waiting a full 60 seconds after application to dry. When I apply it, I put on my biggest smile and fan the product in an attempt to make it dry faster. Whether this works, I am unsure, but I still do it every time. Although I applied this morning and night, this pen can be taken on the go and applied anytime throughout the day. Unlike whitening strips, this product can be used in a matter of minutes, and you're done. No more waiting around or constantly having to readjust the strips. Just apply and go!
Ease of Use:
Besides the drying time, this product is incredibly convenient and easy to use. Just twist the pen one full turn and apply the product directly to your teeth. The twist on the package has two lines you match up so that you are getting the full recommended amount each time you apply. I love the brush applicator because you can really get into all the nooks and crannies of your teeth that strips can't. Since the clear gel pumps out of the white bristles, you can easily see where you are applying the product to make sure each tooth is evenly coated.
Side-Effects:
My favorite part about this product is that it's pain-free—but seriously! I have tried many brands of whitening strips in the past and they always hurt my teeth, especially my bottom ones. Oftentimes after using strips, my teeth are sensitive to any cold drinks and have a slight throbbing sensation. With this pen, I didn't feel any sort of discomfort during or after the whole time I was using it. When I first applied it, it just feels like putting toothpaste on my teeth. Once you close your mouth, you may have a slight aftertaste from the gel, but nothing to worry about.
My Results: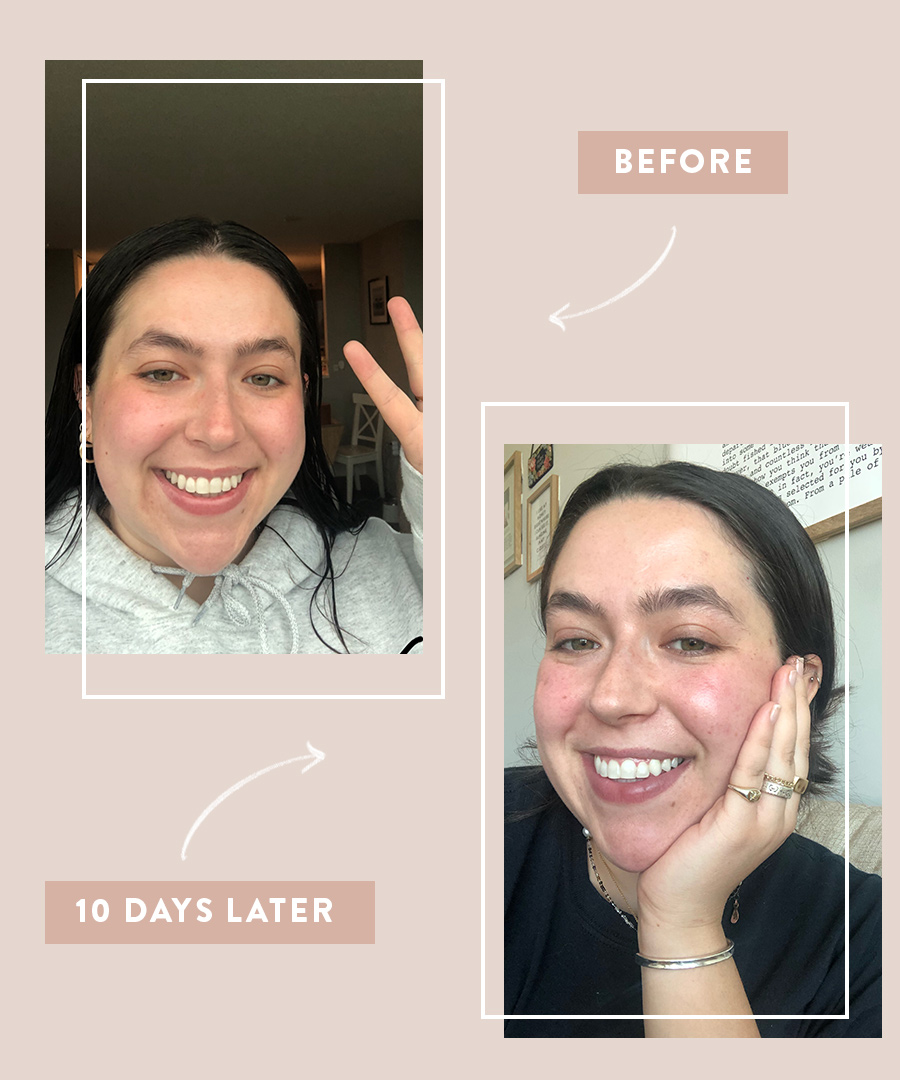 Reader, I'm not going to lie to you: the whole time I was thinking, "This is doing absolutely nothing. My teeth will look exactly the same." I am happy to say I was surprisingly wrong. I hadn't looked at my before picture during the process, and today looking at my before and after, I am shocked by the results. My teeth are definitely whiter, and my stains have diminished a bit. My top teeth especially shine like diamonds now. This product is so easy to use, doesn't make my teeth hurt, AND I saw major results! Arc, I am sold. Thank you for your work!