However inconsistent the weather may be these days, the first glimmer of warm sun and longer days prompts our desire for all things spring and summer related. Chief among the list? An inviting outdoor space to call our own! While we all may fantasize about an oversized backyard or luxurious rooftop deck, the truth is even a postage stamp sized patio or porch can feel like an inviting oasis with just a few simple decorating tricks.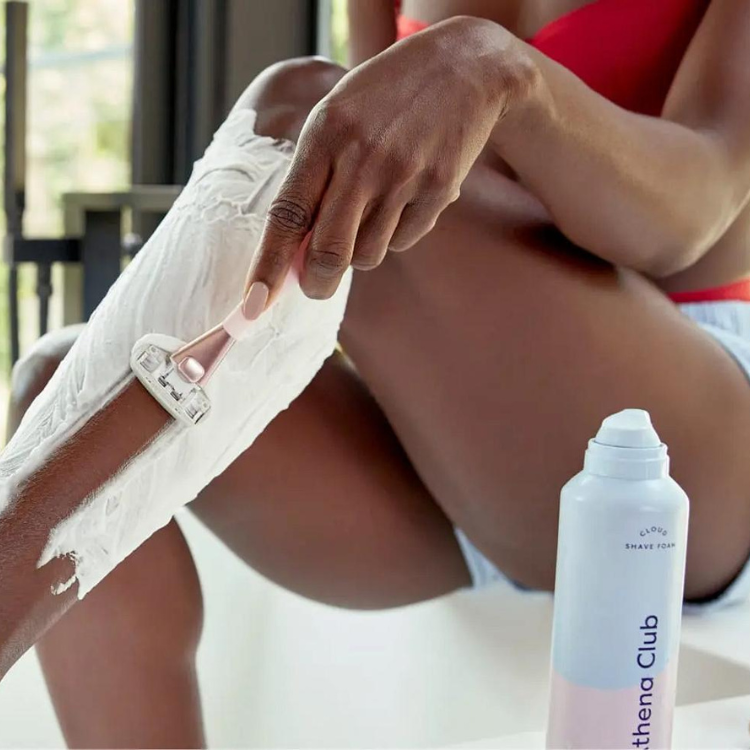 "This razor gave me the silkiest, smoothest shave I've ever had! I never get any cuts or scrapes, even on those hard-to-shave places."
With the official start of summer knocking on our door, we partnered with Target Style to share a bit of inspiration and advice to help you tackle your own outdoor area, regardless of square footage. In our case, we decided to makeover a neglected porch that lacked seating, ambiance, and, well, just about everything. Still, it was nothing a few revamped hand-me-downs, plants, and (multiple) trips to Target couldn't fix.
BEFORE:
AFTER:
Quite the upgrade! Luckily, these results are easy for you to achieve too, just by incorporating a few key elements.
1. Comfortable Seating
Because I was on a serious budget for this project, I didn't have the extra cash to splurge on all new furniture. Instead, I used (what else?) a can of white spray paint to freshen up an old wicker loveseat I received as a hand-me-down last year. Whether you currently own patio furniture that can be revived or you have to peruse Craigslist for something inexpensive and readily assembled, there are plenty of budget-friendly options for you to explore.
The cushions that came with my loveseat were in bad shape, so I relied on new Target pillows to make the whole piece feel both comfortable and updated. These oversized cushions were made for lounging, and I love the way the coral and navy pillows are reversible. The injection of color made the entire space come to life!
2. A Playful Rug
I know it can feel unnecessary or excessive to purchase an outdoor rug, but just trust me on this one! You don't want to skip this step. A rug provides much needed warmth and definition to any space—even outdoors.
I chose this one because it ties in perfectly with the navy and coral pillows and I love how playful it is. Since I went with the smaller 3×5 size, I only spent an extra $20 (completely worth it!). In an ideal world I probably would have opted for the larger 5×7, but if you're on a budget any type of floor covering can be impactful.
3. Ambiance
Let me tell you, if a space feels cold or unfinished, nine out of ten times you can solve the problem with plants and great lighting. Not only do plants add color and texture, but they help areas feel more intimate. This adorable coral side table doubles as a plant stand for my new pepper plant, and my freshly potted herbs fit perfectly in these mini galvanized buckets.
When it came to lighting, I knew without a shadow of a doubt that I wanted string lights because, well, I'm only human. I chose these because they're classic, simple, and would look great in multiple settings—especially should I choose to use them elsewhere down the line. They cast the most perfect glow over the whole porch, making it feel like a true escape.
4. Pretty Details
The best outdoor spaces feel like an extension of your home, so just because you're outside doesn't mean you should skimp on accessories! All of the pieces I used serve a purpose, so nothing feels over the top or excessive.
I wanted to highlight my new herb garden, so I picked up this adorable watering can—it tied in with the garden tools I put on display. I also brought out some of my favorite design books (that can be easily tucked away in case it rains), colorful coasters for entertaining, and candles for those dusk nights I find myself curled up with a book on my "new" porch.
SHOP THE PORCH: 
White Side Tables | Rug | Galvanized Mini Planters | Coral Side Table | String Lights | Coasters | Gold Candle Holder (similar) | Watering Can | Gardening Tools | Navy & Coral Pillows | Striped Pillow | Oversized Khaki Cushions | Lemonade Carafe
Have you tackled your outdoor space for the new season yet? Tell us in the comments! Any other advice you can offer on how to spruce up an outdoor space?

This post is brought to you by TargetStyle. Shop the new Home collection in stores and online.