As many of us do, I love a good thrill. I like when a book, show, or movie can truly shock me. But I rarely experience it anymore. There have been thrillers and dramas I've loved (The Undoing, Home Before Dark by Riley Sager, I'm Thinking of Ending Things—the book… not that wretched film—The Haunting of Hill House, to name a few), but I haven't experienced the shock factor of googling every hidden message and theory since I saw Us in theaters. And before that, it wasn't since my favorite thriller of all time, Get Out. Have I seen too much? Am I somehow too in-tune with the tricks of the trade? Somehow, I find everything predictable, and once it's predictable, it's downgraded immediately to a 5/10. But last night, I binge-watched the most shocking piece of media I've consumed in my life… and I feel like no one else is talking about it.
Behind Her Eyes is a Netflix-original thriller limited series based on a book with the same name by Sarah Pinborough that was released in February. It follows a secretary and mom, Louise, after she begins a relationship with her psychiatrist boss while simultaneously striking a friendship with his mysterious wife. It sounds predictable, so I admittedly had very low stake in the show. There are few things I despise in a thriller: "wife kills cheating husband," "cheating husband kills mistress," "husband kills wife because she finds out he's cheating," and yada yada. It's old, boring, and personally not something I find horrifying anymore; we get it—men aren't to be trusted. So when I saw this show revolved around cheating quite a bit, I paused. However, I did love The Undoing which involved infidelity quite a bit, so I gave this show a chance too. And wow, am I glad I did.
Last night, I binge-watched the most shocking piece of media I've consumed in my life… and I feel like no one else is talking about it.
About halfway through the series, I started texting a few people I knew. "Hey, I'm watching this new show on Netflix, Behind Her Eyes, I think you'd like it." Although we had the cheating plot that I hate, there were aspects that I was enjoying: the multiple POVs of different characters, seeing some characters in the past, the sex, etc.
Around the halfway mark of the final episode, I thought to myself (I live alone, so likely aloud), "This has a pretty predictable ending, but it's a little different and has been pretty good, so I'm giving it a solid 7/10." But then, we arrived at the last 25 minutes… which changed everything. I sent a text to about every single person I knew that looked a little something like this: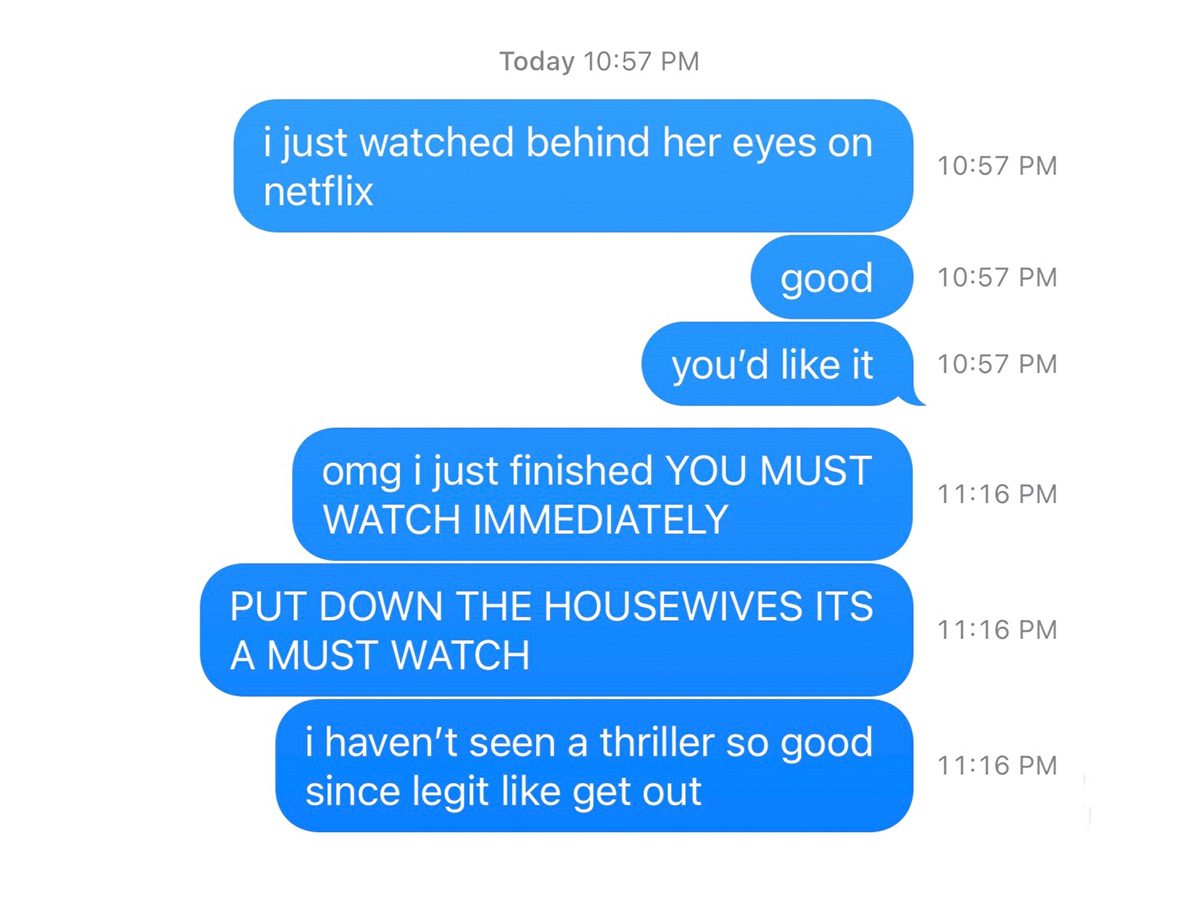 I'm not including spoilers in this solely because I need every single person to watch it including our editors who will have to read this. That's how important it is to me that everyone watches this show. Don't wait to watch; it's the perfect thing to pull up for an evening, grab some good local takeout, and relax. Is it the best show you'll ever lay your eyes on? Probably not—as with most horror/thriller things, there are always some "why did no one call 911?" moments, but the shock-factor alone made it a 10/10 for me.
If you need a few more reasons to convince you, here is just a shortlist of why you should watch, aside from that absolute rave review above:
#1. It has the makings of an incredible drama. So many secrets. So little communication. Lots of tension for seemingly no reason.
#2. Hot Scottish guy with a beautiful accent and even more beautiful you-know-what (AKA beware of slight nudity, so don't watch with kids)
#3. It's a wee-bit supernatural. Not in a ghost way, but in a "all events come back to this very strange phenomenon" way that I, personally, found riveting.
#4. Simona Brown, who plays Louise, is a knockout actress and this was her first big role!
#5. The other main actress, who plays Adele, is Bono's daughter. More importantly, I discovered her real name is: Memphis Eve Sunny Day Iris Hewson. What a name. What. A. Name. (She goes by Eve Hewson if you're looking her up like I did.)
#6. The "what just happened" feeling right after the finale when you just stare at a wall wondering what on Earth you just watched.
#7. You'll end your binge-watch by googling every theory and Easter egg you missed throughout watching the show—which is A LOT.
Did we convince you to watch? Want to discuss spoilers? Leave a comment below to chat with our editors!