Hannah and Chayce Wilson flip houses, but don't prefer to be called "house flippers;" instead, they refer to themselves as "home renovators." The husband-and-wife team is buying outdated houses in Dallas, Texas, and is turning them into dreamy homes that anyone would love to live in (us included!).
As the owners of Blank Slate Renovations, Hannah and Chayce are masters at creating beautiful spaces without spending a fortune, and they use Hannah's interior design background to decorate each and every space to perfection.
Find out what they've learned through renovating homes, what their top interior design tips are, and how you can do the same to your home on a budget.
Name: Hannah + Chayce Wilson, Owners at Blank Slate Renovations
Location: Dallas, TX
Sq. Ft.: 1,300
We previously featured you and your company, and you told us all about the first house you renovated for your company, Blank Slate Renovations. Tell us about how things have changed since we last spoke, both personally and professionally.
Well per the norm, A LOT has happened since we last talked. We've completely renovated and sold two more homes since then, both of which we lived in during the remodeling process. I graduated design school this past summer and am now pursuing a degree in architecture. The hubby enrolled in an MBA program full time — that's required a bit of adjusting since he's now, literally, never home. Because of his absence, I'm attempting to learn the ropes of running a business!
Due to this crazy, inflated market, finding another flip home has been a challenge. But today, we were able to put an offer on a property — we'll find out if it'll become project No. 15 in a couple of hours! Until then, I have a number of design clients, both local and out of state, and I've also revamped our website and tried to up my social media game. It's been fun and encouraging to hear from a lot of companies wanting to partner and collaborate with us as we grow!
Before
After
What have you learned over the past year in terms of renovating homes?
Don't get into a hurry, ever. Things always end up working out, just not always on your time frame. Also, sometimes waiting for the right project is worth the risk of turning down others. With this past project in particular, Chayce and I were forced to get especially creative with a significantly smaller budget (due to a much smaller purchase price relative to our other projects), but in the end it turned out great! You don't always have to spend the big bucks to get that fabulous finish.  
Before
After
The before and after pictures of your latest project are absolutely incredible! When you're renovating a space, where do you begin?
Aww, thanks so much! To be honest, it's kind of a fluid process that takes more and more shape as we move forward, turning and shifting as we go. We do, however, try to find a theme from the very beginning in terms of colors and a few major statement pieces (like our black kitchen cabinets). Of course, this can be challenging at times, since we go for the most run-down, dated house on the block — but that's part of the fun!
We do our best to see past the cramped, dank interiors ('70s wallpaper and pink bathroom tile) and immediately start brainstorming creative solutions for the space!
Before
After
You mentioned that over the course of this project, you spent less than you have during previous ones you've done. How did you accomplish this? What's your advice for creating an awesome space without spending a fortune?
So this space took us a total of three months to complete (compared to the eight and 10 months of the previous two projects) and that was due to a variety of reasons. Firstly, the condo is decently smaller than the previous projects, and therefore required quite a bit less work. Also due to its price point, there was only so much money we could put into it without overbuilding the neighborhood and not building a snug profit margin. When your budget is smaller, you obviously can't tear out every wall and replace every counter with marble. Here's a list of just a few ways we saved big:
Reused leftover tile from the previous project on both fireplaces

Installed hardwood look-alike vinyl flooring throughout the entire space, which we were able to install without a contractor

Used Ikea (which we

love

) for all kitchen and bathroom cabinets, countertops, shelving, and vanities (and put them together ourselves!)

Kept the original wall/ceiling texture, doors, and trim work 

Painted all the original tile and tubs in the bathrooms with an epoxy white paint instead of replacing them

Used leftover chop block counter top (from our Ikea kitchen countertops) as a floating vanity in the half bath, as well as mantel for upstairs fireplace

Since we used Ikea, we built and installed our entire kitchen along with all our bathrooms 

Used inexpensive, faux brick tiles over the fireplace and whitewashed them
Advice for future renovators: think outside the box and never throw leftover materials away! You never know when they'll come in handy.
What's your favorite part of this home?
Hmm, that's a tough one. I spend the most time in the living room, where my home office is located, so I guess if I have to choose, that will do. We have a long row of floor-to-ceiling windows that allow a ton of natural lighting into the room. Also, this room contains our DIY Shou Sugi wall (a traditional Japanese method of wood preservation which involves charring wood) which I'm absolutely obsessed with. Plus, this room has a spiral staircase and wood burning fireplace, so how could it not be my favorite?!
Before
After
In this space's kitchen and bathroom, you used Ikea cabinetry and countertops. How do you decide where to spend and where to splurge when renovating a space?
So when it comes to splurging, for us, we like our kitchens and master bathrooms to make statements when at all possible. The nice thing about Ikea is you can achieve that clean, modern look without having to spend a fortune. This is the second house we've used Ikea cabinetry in, and we couldn't be more pleased with the outcome! It's a common myth that the quality won't hold up and Ikea is only for lower-budget flips. But, we love their warranty, and the ease of getting replacement parts (which we've rarely had to do). Our last project, where we used Ikea for the kitchen cabinets, sold for over $500,000 — not a low-budget flip at all! I will say splurging on nice countertops can make a huge difference as well. The last flip we did had Ikea cabinetry topped with a gorgeous, veiny marble. It turned out amazing.
Before
After
Did you face any challenges with it?
Thankfully (and for a nice change), there weren't any big issues that we encountered, other than having to be a little more creative with how far we stretched budget. It's nice to get a breather every now and then!
The last time we spoke, you described your style as somewhere in the Mid-Century, Modern, and Contemporary range. How would you describe it now? Do you feel your style has evolved at all?
Since everything else in life seems to always be evolving, I assume my style will as well. I'm still hanging out in the Mid-Century range, but I've definitely gravitated more toward the less-is-more Scandinavian mentality with a touch of bohemian patterns and textures. I think my style will always be in flux, and I'm pretty okay with that.
Before
After
Where are some of your favorite places to buy items for your renovations?
West Elm, Target, World Market, Anthropologie, Urban Outfitters, Etsy, and the Instagram community!
Before
After
What's your favorite part about your career? The most challenging part?
The best part of my career is absolutely loving what I do and being able to do it all the time! If you would've told me five years ago that I would one day be paid to be creative, I would've rolled my eyes and said, "Sure, and why not a million bucks richer too." But thanks to my patient, encouraging cheerleader (the hubs), I have the privilege of pursuing and perfecting that reality. But just like everything else in life, every rose has its thorns, and there are certainly a number of thorns poking my butt. Yes, the flexibility is amazing, but the "feast or famine" mentality of this industry isn't cool — especially in the early years of starting a business. The key is to plan for things to not go according to plan, so when the plans come off the rails, you can at least say with a smile, "It's all a part of the plan" (and then go cry yourself to sleep).
Last year, when we asked what your plans are for the next five years, you mentioned eventually having a home renovation company with multiple crews doing 10-20 homes a year. Has the past year changed your goals at all?
So our goals have changed just a bit — life's good like that, right? — since we last talked. We hope to move back to California within the next two years (after Chayce finishes his MBA) to pursue real estate and design up there. Because of this, we've not focused too heavily on establishing a booming "flip" business here in Texas. While it would be great to be doing 10-20 homes a year, we think a focus on building a rental portfolio (as opposed to primarily flipping) is a better strategy for residual income over the long haul, and a safer hedge as the market seems to cool off a bit. If we hit another recession, people may have a harder time getting a loan, and home rentals will be the safer bet during those times. We currently have a reliable crew that we are happy with, but I think we are still within reach of hitting those goals within the next five years.
Before
After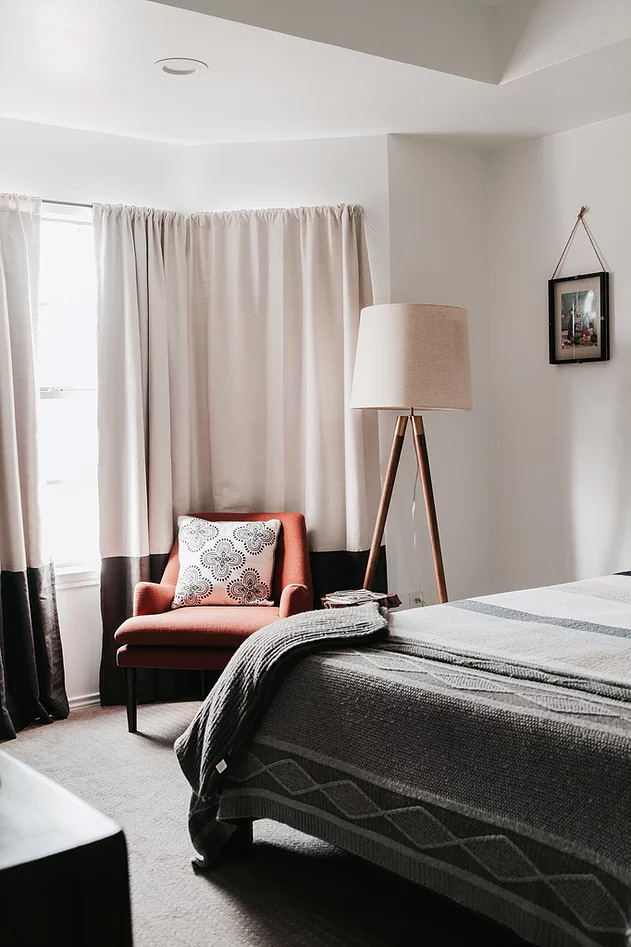 What advice would you give anyone who is about to undergo a renovation?
Take your budget and double it, and take your time allotment and triple it! Don't get into too big of a hurry and be prepared to adapt. Also, don't be afraid to go big when it comes to statements. Who cares if it's a trend that everyone's doing or some obscure concept that no one has ever heard of! At the end of the day, this is YOUR home, and you alone get to live life in it. I know how much blood, sweat, and tears go into these things, so put your own stamp on it.