If you live in the Northern Hemisphere, Christmas likely conjures up a snowy winter wonderland (or, at least, the potential for one). But for those in the Southern Hemisphere, Christmas is a summer holiday—not so much a snow-covered situation there. So, how would someone used to snowy and cold Christmases decorate for a summertime holiday instead? Glad you asked. Enter Caitlin Brown, a freelance writer and digital marketer who lives in New Zealand with her partner and their dog. Her gorgeous home proves that Christmas decor can elicit the coziest of vibes, even when it's a warm and sunny summer day outside.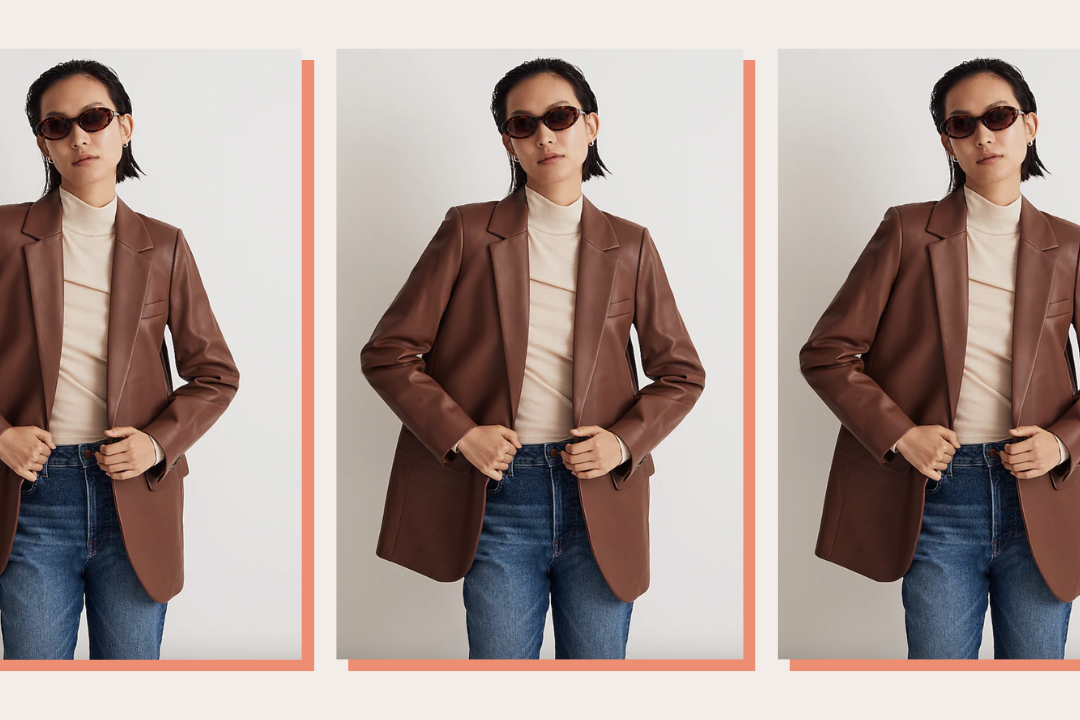 time for your fall wardrobe update!
From starting new traditions to the benefits of decorating a small space, read on to hear more about how Caitlin approaches holiday decorating and how things will change for her celebrations this year.
Name: Caitlin Brown, Freelance Writer and Digital Marketer
Location: Christchurch. NZ
Sq. Ft: 1,180
When do you start decorating for the holidays?
I start "pre-gaming" right after Halloween, but I get seriously down to business immediately after Thanksgiving.
Tell us about your holiday decorating process.
I've always been very loyal to traditional holiday decor. Red, green, gold, plaid, needlepoint… you name it. However, Christmas takes place in summer here in NZ, and when I moved here a year and a half ago, I really had no idea how to approach creating a cozy holiday vibe alongside the warmer temperatures and long, sunny days. I've found a good balance of adding in cozy elements (like the clip-on candle stick Christmas lights) but keep the color palette lighter and use more natural textures in place of heavy knits or faux furs.
How do you budget when it comes to decorating seasonally? (Things can get expensive for such a short time of the year!).
It's definitely an area where I have to practice restraint! I try to either buy second-hand, or invest in high-quality pieces that I will reuse every single year—that way I'm not spending a ton on new decor each season. I also try to find ways to make regular decor that I can use all year round feel appropriate for the season. Tapered candlesticks, for example, immediately feel festive but can be used any time of year.
Where do you shop for holiday decor?
Thrift stores for ornaments and decor, and local florists or garden centers for greenery.
Do you have any holiday traditions that are special to you?
My partner and I started a new tradition last year of exchanging books as our Christmas gifts to each other, and I'm really excited to continue that. Back in Chicago I used to love going on evening walks with a hot coffee to admire all of the Christmas lights, and I really miss that tradition.

Do you have any tips for readers who may live in smaller apartments (and who are on a budget) who might not be able to decorate to their heart's desire?
Living in a small space is truly such a gift when it comes to decorating. A modest budget can go so far in a small space, so don't feel discouraged! A tabletop tree, tapered candles, and a little greenery (frame doorways or windows if you don't have a mantle) will transform your space.
Do you have a favorite ornament on your tree?
I've only just started collecting ornaments this past year since I moved to NZ with just a suitcase of clothes, so I haven't really forged a connection with any of them just yet, though I'm on the hunt for some great novelty ornaments to commemorate some exciting moments over the last year. I do really love the clip on candle lights I added this year though—they make me feel like I'm in Hogwarts.
What's your favorite piece of holiday decor that you own?
I just bought this beautiful mini eucalyptus tree that I've styled on the coffee table and I absolutely love it. I couldn't find any fresh flowers that felt right for the season, but I thought this was perfect. One day I'll own a beautiful Christmas village and I'm sure that will be my favorite holiday decor.
How are you adjusting your celebrations this year?
I am very lucky to be living in New Zealand, a country that has done remarkably well during the pandemic. While our day-to-day lives remain relatively unaffected right now, my partner and I are not able to travel home to see our families, which is hard. We're really excited to be spending Christmas Day with two of our closest friends here in NZ and their families—it will be our first, true Kiwi Christmas!
Caitlin Brown is The Everygirl…
Hot chocolate or hot cider? Hot Chocolate
Favorite Christmas song? Have Yourself a Merry Little Christmas—Judy Garland
Favorite Christmas movie? Miracle on 34th St (the remake) and The Family Stone
Favorite holiday treat? Fruit Mince Pie—something that I never had before coming to NZ!
A small business you love: Coast to Costa, a travel service that creates magical, curated travel experiences to Cuba, Peru, Mexico and Spain. I highly recommend booking with them when travel is possible again.
The best gift you've ever received? I asked for an overhead projector for years as a kid so that I could play "school," and Santa got me one when I turned 9. It was the best Christmas ever.
What's at the top of your Christmas list this year? My partner and I just bought a van to convert to a self-contained camper, so I'm hoping for a belated Christmas vacation around the South Island once the conversion is complete.