When scrolling through design blogs, magazines, or Instagram accounts, I come across a LOT of beautiful homes, offices, and spaces. And while I can often appreciate when a space is beautifully decorated, it's rare for me to look at photos and feel genuinely connected to a space — I LOVE that feeling, though, when I see a home that I truly resonate with — a home that makes me go, "Wait, I want to live there!!"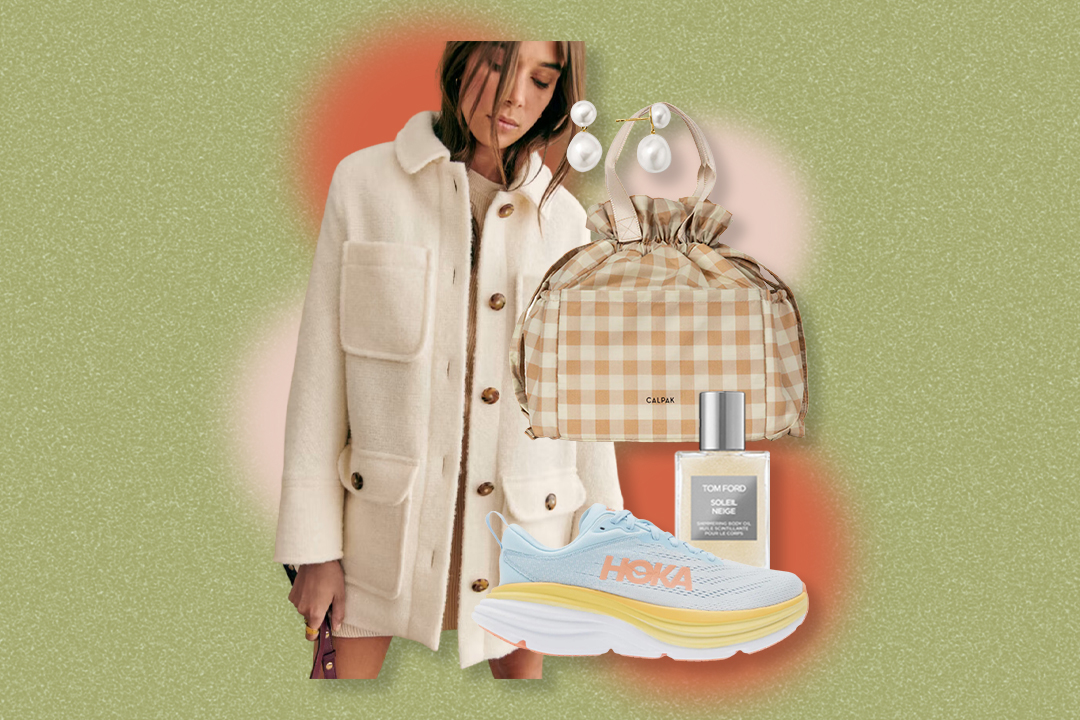 For me, Cara Irwin's home was THAT. When I first saw pictures of the home owned and designed by the blogger behind goldalamode, I fell in love. Was it her appreciation for unique art, her use of layers and textures, or her penchant for using blush as a neutral? If I'm being totally honest, it's all three — and more. Read on to learn more about this home I can't stop obsessing over — and to feel just as impressed with the woman behind it.
Name: Cara Irwin, Blogger behind goldalamode
Age: 27
Current Location: Brick, New Jersey
Rent or Own: Own
Sq. Ft.: 1,720
Years Lived In: 5 years
What was your first job, and how did you land it?
My first job or partnership as a blogger was with Home Goods. I honestly thought it was a joke when they first reached out to me because I didn't have many followers at the time. I expressed a love for their brand for a long time and tagged them in everything until the noticed me! I engaged with their posts a lot too.
Your design and lifestyle blog, Goldalamode, is one of our absolute favorites — what got you started in the blogging community?
When we first bought our house in 2013, I started re-doing everything! I started shopping at thrift stores and antique stores to save money. We started doing everything ourselves and I realized there is a lot to be learned about saving money, decorating and DIYing. I started a separate Instagram account because I just loved doing it and, I guess you could say I wanted to keep an online journal. After a little while strangers were interested and asking me for more info. That's when I realized I needed a larger platform to write and give more information— such as a blog.
You blog about interiors, DIY, and other lifestyle elements. Tell us about your passion for these subjects — from where did it stem?
I think my love for interiors stems from just wanting a happy home. Not to bring the vibe down or anything, but I didn't have the best childhood or home life. When I got old enough I realized I could make my own, happy home, and I truly just love doing it. The best part of it is I get to help others have a home they're happy to come home to as well.
You've worked with a variety of super impressive companies, and you recently appeared on HGTV's Flea Market Flip — so cool! What (if anything) sticks out as an absolute highlight of your career thus far?
Being on Flea Market Flip definitely has to be one of the highlights of my blogging career— I hope there's more TV opportunities in the future! I also think seeing my home in print for the first time was really cool. I'll also be speaking at an HGTV event in August, which I'm extremely nervous for, but it will be amazing!
Something fun about Flea Market Flip was that you appeared on it with your now-husband, Mike. Do the two of you have similar taste in design styles? How was your experience combining your tastes into your home together?
I think the easiest way to describe Mike's style is….whatever I come up with. Ha! I can honestly say he truly loves everything I do (at least he says he does). He comes up with a lot of the cosmetic ideas like putting windows in, taking walls down, etc. We pretty much just appreciate what each other brings to the table. Between you and I though, it's usually whatever I want. LOL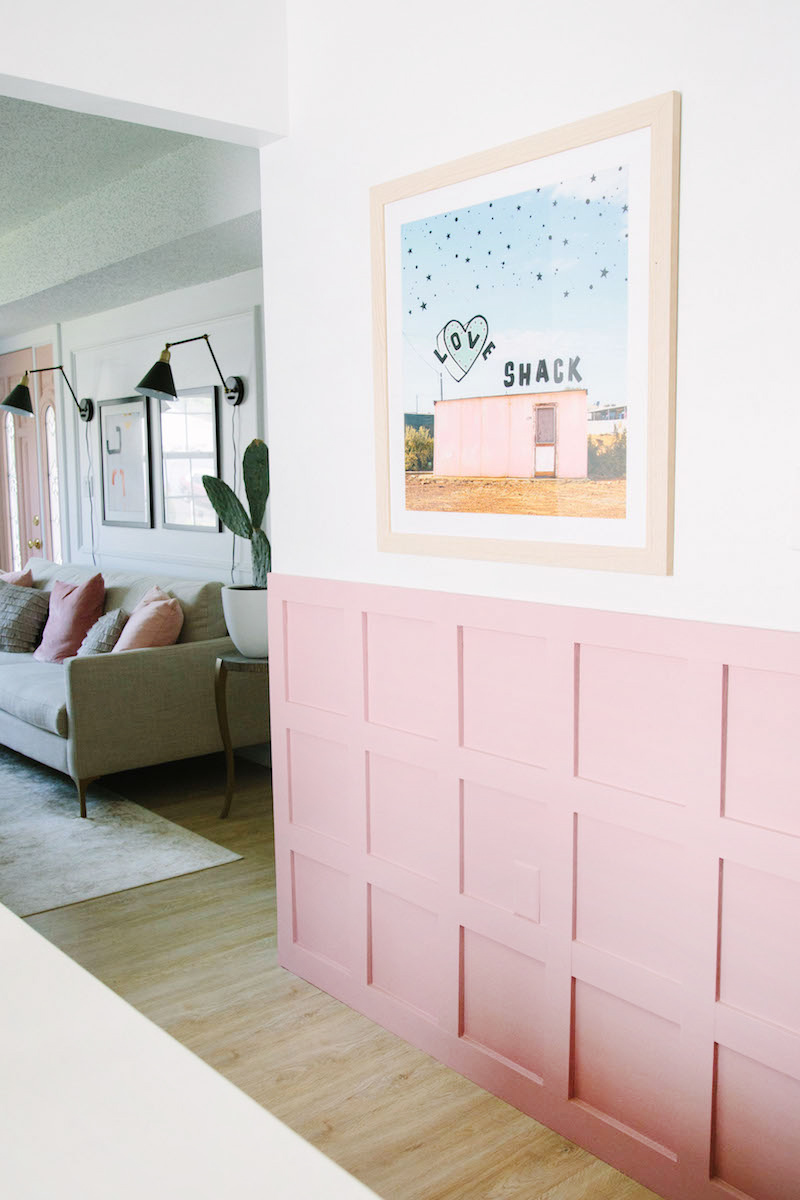 Your current home, which you share with your husband and three dogs, is so light, airy, and welcoming. How did you begin the design process?
First of all, thank you! I knew I had to start with white walls because everything goes with white walls. After I found furniture I started to add some color and detail with molding and wallpaper. I like for rooms to flow and make you feel good. I think that's why I stay away from anything that stands out TOO much. If I walk through a room and say to myself "What the heck is that?" I'm probably going to change it.
How would you describe your interior design style?
I think my style is a mix of a couple things. For the most part I try to just keep it fresh and fun. I mix a lot of mid-century and traditional, and even boho sometimes.
You have a lot of light-colored furniture (which we love!). What are your best tips for keeping it clean (especially with pets!)?
I get this question from readers a lot. I love love love light colored furniture and bedding which doesn't always work well with pets but I definitely try my best. It's one of those "beauty is pain" things. Keeping the lights clean involves a lot of doggy baths, sheet washing and covers on the chairs and sofas. The cover on the sofa really only comes off to wash and for photos, (Shhh. Don't tell Instagram).
Your home has several statement-making elements — like your pink door, bold living room light fixture, and several large pieces of art. What's your best advice for achieving this look — adding a statement-maker while still sticking to a common theme?
I have a couple things I like to make statements with and those are some of them. Doors, lighting, art, rugs, texture on the walls. (wallpaper or molding). I like to keep the other things in the decor a little more neutral so that I can switch up the statement pieces when I get bored of them. Lighting, art, and paint are things that can be changed without much inconvenience.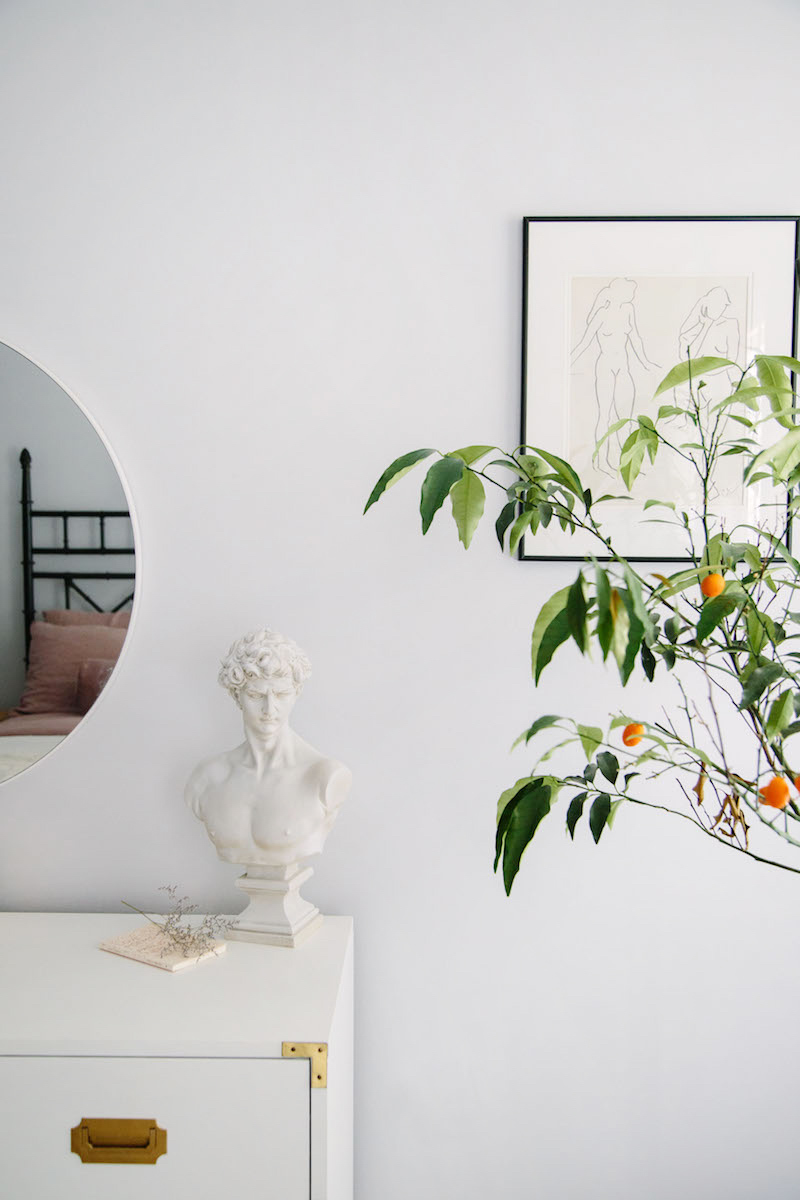 Where do you shop for furniture and decor? Additionally, which pieces in your home are your favorites?
I love shopping at thrift stores and flea markets, but those can be hit or miss, of course. I spend many late nights on Craiglist and other sale apps. I find a ton of vintage items on there. If I need something specific and on the fly I like to shop at Home Goods, Target and World Market. One of my favorite pieces I own is my burlwood credenza that I found on Facebook Marketplace.
Which room do you spend the most time in? Which room is your current favorite?
I definitely spend most of my time in the living room. I have a separate office space but somehow I always end up working from the sofa, (probably because I can catch up on Housewives). I really love our dining room though. We just added pink board and batten to the walls and I'm kind of obsessed.
What's next for you, your blog, and your home? Any exciting renovations/redecorations coming up?
We always have something going on at our house! I think we're going to renovate our kitchen and our upstairs bathroom next. I'm also adding a shop section to my blog. I'm going to be selling my mom's art and sketches to help her get back on her feet. I hang a lot of her art and I want other people to be able to enjoy it. It's going to be a bunch of cool sketches from her college days in the '70s. VERY COOL!
What advice would you give your younger self?
I would tell myself not to listen to others opinions. Listening to what others thought was best for me really hurt my self esteem and stopped me from learning who I was early on. I like to say don't listen to the opinions of others because they are basing it off of their own inabilities, not yours.
Cara Irwin is The Everygirl…
Favorite way to work out?
Outdoor activities (hiking, swimming)
Go-to workday lunch?
Mediterranean salad
Last show you binged on Netflix?
Stranger Things
Current favorite song?
Anything Post Malone 🙂
If you could have lunch with any woman, who would it be and why?
Sophia Amoruso! I think she's fearless, authentic, and hilarious!
Product Sources
Living Room
frames, Art to Frame
chandelier, Troy Ace
credenza, vintage (similar)
rug, Safavieh
sofa, Bassett 
chairs, Bassett 
flowers, Flower Child Floral
floor lamp, Amazon
coffee table, vintage
prints above sofa, Jenny's Print Shop
sconces, Lamps Plus
pink door color, Pink Quartz by Behr
Dining Room
chandelier, Allmodern
table, Allmodern
chairs, Allmodern
bench, IKEA (amazon)
yellow vase, Target
art, @artbycac (my mom lol)
love shack print, Lauren Webster
Master Bedroom
headboard, World Market
rug, Overstock
bench, Allmodern
campaign nightstands, vintage (similar)
chandelier, Amazon
sconces, Amazon
art above makeup vanity, Angela Allen
portrait art w/ paint slash, Josh Young
tv credenza, vintage
art above television, @artbycac (my mom lol)
Guest Room
linens, Magic Linen
light, IKEA (spray painted white)
headboard, vintage from Craigslist
rug, Target
burl nightstands, vintage
bamboo desk in closet, vintage
pink bench in closet, Target
campaign dresser, vintage (similar)
mirror, Target
statue bust art, Josh Young
photos above bed and in closet, Ciara Perrone
mirrors above nightstands, Target