In my most recent shower-thought analysis of Friends, I came to the realization that although it's a situational comedy that's meant to be lighthearted and not involve too much dissection, we can honestly still learn a few pieces of wisdom and life lessons from these characters we've grown so fond of over the past 25 years. The whole show is essentially centered around the highs and lows that these people in their 20s and 30s experience both personally and professionally, from the first episode when Monica tells Rachel, "Welcome to the real world! It sucks. You're gonna love it." Here's what I think each friend has to offer in the way of career lessons:
Chandler: It's never too late to start again
If you're a fan of the series, you know this scene all too well: Chandler was off to Tulsa again—this time, having to work over the holidays—and was dreading every bit of it. Monica said, "It's so unfair. You don't even like your job," to which Chandler replied, "So? Who does?"
And then came the synchronized responses by the others.
Phoebe: "I like my job."
Joey: "I love my job."
Rachel: "I can't wait to go back to work."
Ross: "I can't get enough of dinosaurs!"
If you've ever felt like Chandler in this situation and thought that hating your job was normal, there are definitely ways to overcome that notion to find purpose and passion in your professional life. Chandler showed us that many people struggling to keep spirits up in a soul-sucking job that they have no interest in (unless they truly are passionate about statistical analysis and data reconfiguration) can take the step to realize that there is more to life than just keeping a job for the pure sake of it. It's never too late to take the time to find your passion or calling.
Monica: Embrace your core set of skills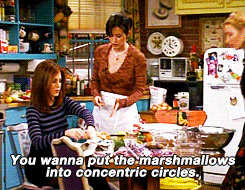 Monica can be categorized as one of those rare people who knows her calling early on in life and makes it a point to live out that career and be the best at it (since she genuinely enjoyed the happiness cooking brought to others and herself). While she might get on her friends' nerves a bit with her specificity and attention to detail, professionally, these traits are truly distinctive and beneficial to her success as a head chef.
A great example of Monica's professional aptness was showcased in the episode where she unintentionally had half the staff fired at Allesandro's due to a negative restaurant review. She became the victim of bullying and harassment by the rest of the staff—something played off as comedic, even though it was definitely problematic and quite unsettling to watch—and decided to stand her ground and make people see her for the leader and hard worker she is. She always strived to do better and be the best version of herself she could be, and kept reaching for new opportunities that could showcase her skills and talents in the best light possible.
Rachel: Aim high and keep working towards your goals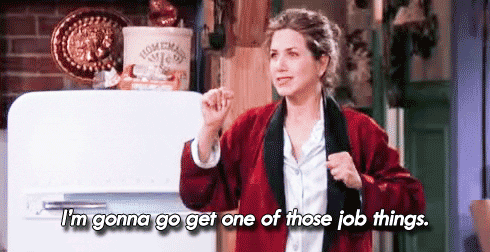 Without a doubt, Rachel's career evolved the most on this show, and we can definitely consider her our career heroine. Starting off as a trust fund kid who had never worked a day in her life, she was cut off from her parents after leaving her fiancé at the altar and got a job as a waitress at Central Perk. Though she hated that job, she quickly learned the value of hard work and money and decided that she wouldn't accept this for herself and had bigger dreams that she wanted to achieve.
She took every opportunity that she could to grow her career in fashion, and was not shy when people like Joey or Mark offered to land her interviews for roles within the industry. Rachel knew the importance of taking advantage of any opportunity that opened up and fighting for herself, such as when she advocated for herself to score the role as assistant buyer. Though that didn't work out (RIP Joanna) and instead she ended up in an even lower role due to her entire department being shut down, she didn't give up hope and kept pushing to get something better.
Phoebe: Life isn't all about what you do for a living
Phoebe's career was generally the least talked about on the show, but we can see how she lived day-to-day life relishing in all the activities that gave her joy and let her express herself. She worked as a massage therapist at a few different spas at various points, tried out freelancing, and also dabbled in launching a short-lived catering business with Monica. These likely made her an adequate living while still being able to use the rest of her time to play her guitar and sing all her lyrically genius (yes, genius in my eyes) songs at the coffee shop.
No matter her professional standing with her job as a masseuse, Phoebe never stopped exercising her passion for playing music. She spent a lot of time trying to get closer to her family (such as tracking down her father, bonding with her birth mother, and being a surrogate for her brother) and always made the time for her friends. She taught us that there's more to life than just thinking about your career, and being a good friend, partner, sister, daughter, and aunt was what gave her more fulfillment than anything else.
Ross: Be careful when mixing work life with your private life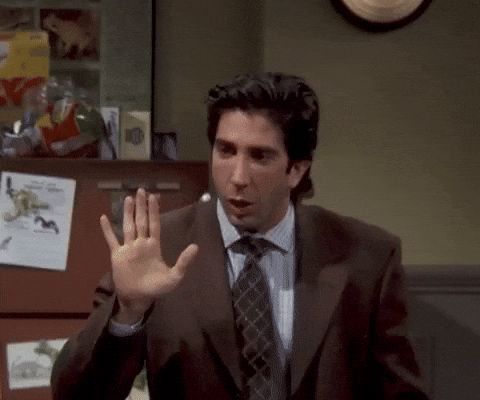 Ross definitely also fell in the same category as his sister when it came to knowing your interests early on in life and building a stable career around them. He always had a fondness for dinosaurs, fossils, science, and academia, and truly knew his place in the professional world. There's no doubt that Ross was satisfactory at his job and was always eager to learn and gain more skills in his area, as he always took advantage of new opportunities. Where his weakness lied, however, was when he sometimes let the lines blur between his work life and private life.
Ross showed that you should always be careful when you might be crossing a boundary (or do the safe thing and just not cross it at all!), and be cautious when getting yourself into situations that could negatively affect your professional track.
Joey: Don't let failure keep you from chasing your dream job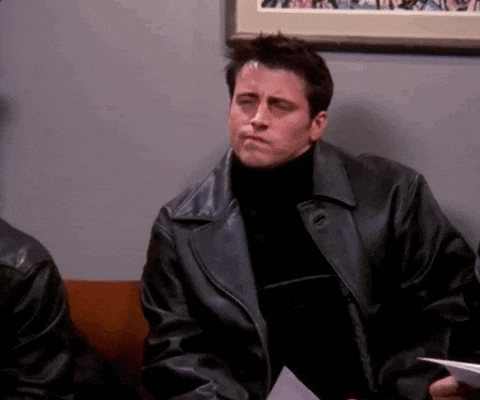 Joey's career was a bit of a roller coaster ride throughout the series. The show started with him really struggling to find success in roles and auditions, with several negatively reviewed theater performances and failed castings. After being signed by his agent, Estelle, he landed a guest role as Dr. Drake Ramoray on Days of Our Lives, and even went on to do well enough to become a recurring character. Joey definitely had the passion for this job and wanted to keep taking on as much as he could to help out in the grand scheme of things (whether it may have been auditioning to be Al Pacino's butt double, starring in commercials for a milk spout and lipstick for men, or "being" in an episode of Law & Order where his scene was cut entirely).
Joey kept trying for his dream even after failures and not-so-ideal jobs, and that's something we can all take away from him.
Honorable Mentions
Mike: Follow your passion
In the episode we first met Mike Hannigan, we learned that he used to be a successful lawyer who is now a pianist (which he so artfully proved to Phoebe). It's definitely inspirational to hear of someone who had a stable, high-level job, and decided that following his passion, which was playing and performing music, was what would give him more joy.
David (the scientist): Put yourself first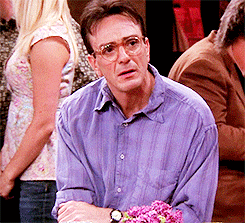 Die-hard fans will remember David the Scientist quite well. First seen talking loudly with his friend/coworker at Central Perk while Phoebe was performing, causing her to call him out and then quickly forming a romantic connection with him, David only appeared in a couple episodes, but was one of the most memorable guest characters. He was extremely passionate about his job as a physicist, and soon after meeting Phoebe, got offered a grant to study in Minsk for three years. When you're truly passionate about your career and have a clear vision of what you wish to achieve, it's so important to make yourself a priority. David doing just that set a great example for us all.