Jessica McClendon never thought she would run her own company—especially one that opened during a recession. But life had other plans for her. After working as a sales associate, a visual manager, and a freelance designer, a series of seemingly fateful events led Jessica to start her interior design business Glamour Nest, which has been bringing "casual glamour" into clients' homes for seven years and counting.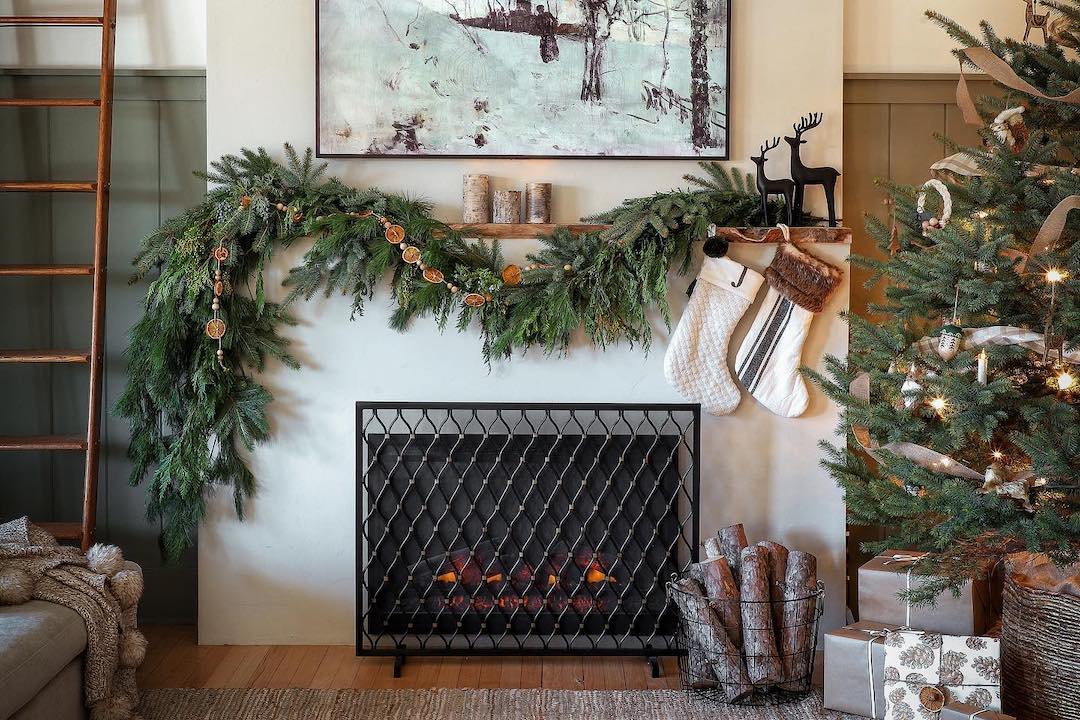 there's still time to deck your halls
Keep reading to learn more about Jessica's path to entrepreneurship, her tips for making a space fabulous but still inviting, and how she designs her own custom furniture!
Name: Jessica McClendon
Age: 33
Current job/company: Owner/Interior Designer at Glamour Nest
Education: Texas Christian University
What was your first job out of college and how did you land it?
My first job out of college was at a boot shop in downtown Fort Worth, Texas, called Leddy's Ranch. Even though I was a sales associate, they also bought jewelry I designed and let me play around with designing various store displays. It was just a close-knit, family-oriented kind of place that, at the time, I didn't even really know I needed before moving to the big city! I think that little incubator of love and encouragement sustained me after I moved. Los Angeles is a great city, but it's a hard to find your footing.
My time at Leddy's also helped me because once I moved, I ended up having a nice portfolio of retail display designs and was able to get a job as the visual manager for J. Crew on the Third Street Promenade (along with one of my closest friends from college putting in a good word for me). Once there, I started getting freelance work with other interior designers.


When did you start your company Glamour Nest? What was the catalyst behind that decision?
Oh man! This has many facets. I started Glamour Nest in June 2009. I actually had zero plans of starting my own interior design company, but it seemed like everything in my life was pushing me toward this leap. I was working as a freelance designer for another firm that I actually really enjoyed working for, but one day, the owner decided that all freelance designers were also responsible for bringing in clients (but that we wouldn't necessarily be designing for the clients we brought in). For me, it seemed like if I was going to spend my time marketing for free and trying to get clients, it should be for my own company.
No decisions were made at that point, but the idea was planted. I also had various friends encouraging me to go out on my own. To complicate things, I had just gotten married and my husband was finishing his graduate degree and our country was in major economic downturn—remember that whole thing?! So starting a business did not seem like a responsible thing to do at the time. I even talked to the bank about a small business loan and they said they weren't approving them! But then a friend/mentor offered me an interest-free loan to get started. I felt like it was confirmation that no matter what was happening, this was the path I was supposed to take. I was scared, but I did it anyway, and now I am seven years in!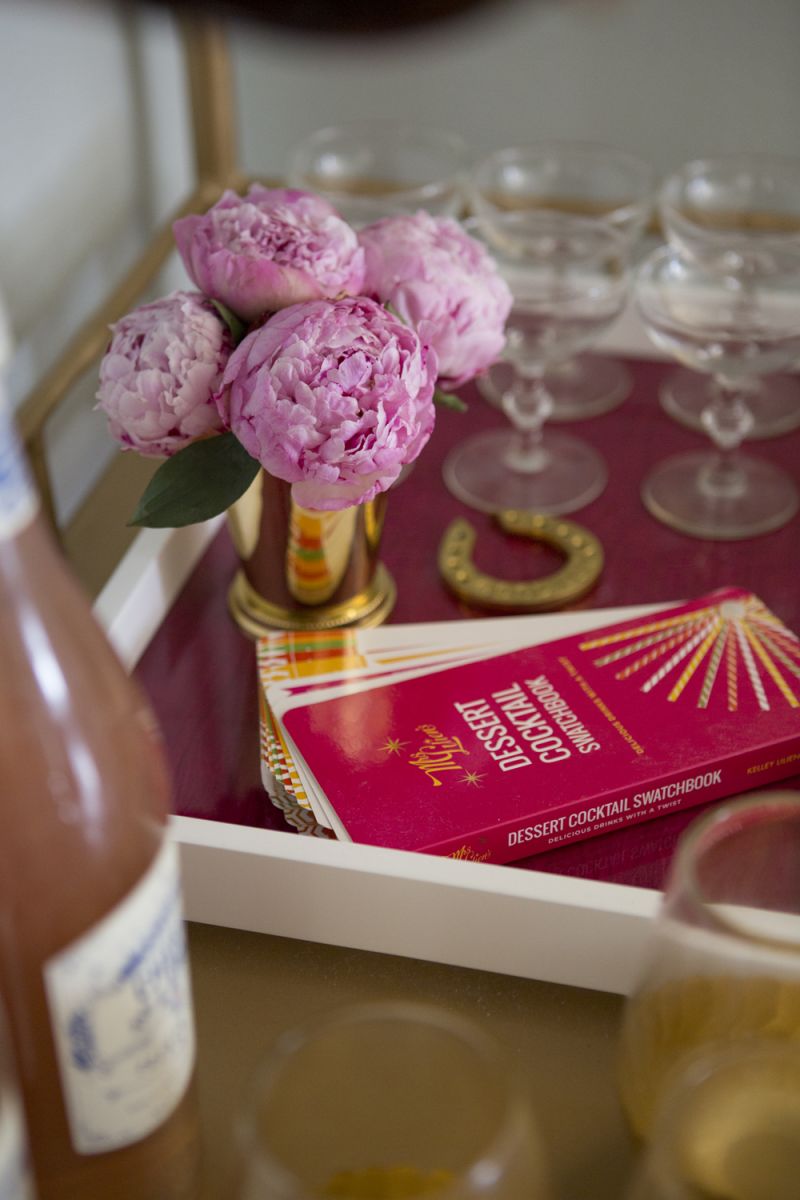 What does an average day look like for you?
Part of the reason I love this job is that I get so much variation from day to day! My average day starts with me waking up at 5:30 a.m.—yep, it's early, but I'm an early bird, and that's when I'm most creative. I always start with prayer, meditation, and some reading. Then I get to work.
When you have a space that's both beautiful and inviting, you are showing the people in your life that they are loved, valued, and welcome to be themselves.
I usually spend the first hours working on designs or creative tasks having to do with Glamour Nest, such as newsletter content or, currently, I'm creating an online business course on how to implement systems for other entrepreneurs.
Next, it's client and vendor meetings from mid-morning to mid-afternoon. I am usually brain-dead by 3 p.m., so I try to finish up any meetings by then. I get my afternoon cold brew and most likely pop into one or two showrooms or my favorite vintage places to shop and research for clients before getting home to send follow-up emails.
I have an early dinner around 6 p.m. because I like to eat at old lady hours. Then it's time to relax with the hubs and binge-watch some TV—"Orange is the New Black," "Penny Dreadful," "Amazing Race," "Survivor." We have a problem.
In addition to your interior design business, you also volunteer with and serve on the board for The Book Truck—what has that experience been like?
It's an amazing organization, and I think my experience with it has given me far more than I give it. For people who haven't heard of it, it's a Los Angeles–based modern "bookmobile"/pop-up book store that provides free books to underserved teens. Free, no strings attached!
The Book Truck is the result of a deep belief that reading makes people better: Better listeners, better at sharing, and better at understanding. We spend one-on-one time with the teens to help find them find a "gateway book" that will inspire them to become lifelong readers. Everyone I know who loves reading as an adult had a special book that they read the cover off, but not all kids are introduced to books in a way that inspires them to keep reading. The Book Truck volunteers are all super well-read and help match teens with books they'll love. I grew up in a similar situation as many of the teens we work with, so it's a great opportunity to give back, share encouragement, and further my own passion for reading.
On your website, you describe your design style as "casual glamour"—what does that mean to you?
A lot of people only associate the word "glamour" with high-end, expensive things that are supposed to be looked at and not touched. Where's the fun in that? Casual glamour is the idea that beautiful design can be approachable and attainable. I want to create spaces that are special—not stuffy or superficial.
Casual glamour is also about making people feel welcome and comfortable. When you have a space that's both beautiful and inviting, you are showing the people in your life that they are loved, valued, and welcome to be themselves.

I feel like my home directly reflects what I've got going on inside: I am feminine and love crystal necklaces, but I'll wear them with a t-shirt and jeans—and drop an F-bomb now and again.
There are a lot of bold colors and patterns in your home. How do you make them all work together without the space feeling overwhelming?
I try to be very strategic with how I mix colors and patterns. For example, in my living room, the only colors are on my drapes and couch. They are bold, but since they are surrounded by white, gray, black, and gold, it doesn't feel overwhelming. For patterns, it's all about balancing large- and small-scale patterns to keep it from being a three-ring circus.
I feel like my home directly reflects what I've got going on inside: I am feminine and love crystal necklaces, but I'll wear them with a t-shirt and jeans—and drop an F-bomb now and again.
What's your favorite part of your house?
It's so hard to choose! As a designer, my tastes are always evolving and I'm always discovering my new favorite thing. My house is usually a revolving door of interesting pieces, but there are certain fixtures that have a special story attached to them. I guess that's actually my favorite part of my house: Everywhere I look, there's something new, exciting, and beautiful, but also things that remind of funny memories, blessings, and the many adventures I've been on. My space really reflects who I am as a person and where I've been and that's what I love about it.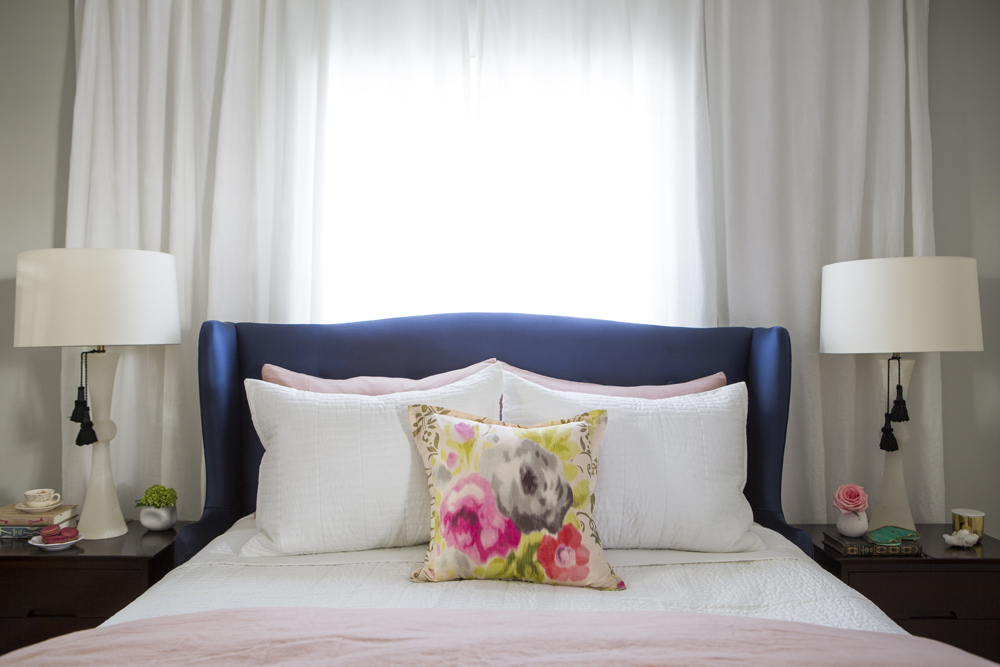 What are some of your favorite places to shop for decor?
Vintage shops and flea markets always. I especially love hitting flea markets when I'm traveling. A few of my other go-tos are:
Spend less time comparing yourself to others—looks, brains, achievements, career—and more time embracing and celebrating my journey and encouraging others on theirs.
It's so cool that you design some of your furniture! How did you get started with that, and what's process of designing a piece?
I started designing custom pieces for two reasons. First, sometimes you just can't find the exact perfect item you are looking for. You might find your perfect look or style, but the size or color is off. When you're investing in a piece anyway, making a custom piece is a good option. It's surprisingly not as expensive as you might think when you compare it to the prices of quality ready-made furniture lines.
Second, I am so inspired by vintage pieces that sometimes the newer stuff just doesn't have the same feel. When you find a photo of an old desk and are inspired by it, no other desk will do! So I end up trying to recreate the feel and put a modern spin on it.
The process is both organic and structured. It starts with a lot of research and looking around to see what speaks to me. Then I hone in on choosing finishes. If it needs fabric, I'll shop for that, and if it's wood or metal, I'll let my furniture maker know what I'm thinking and he creates samples for me to approve. Sometimes to get it just right I have to go through a few rounds of samples. Finally, I create a drawing with all of the information, and my furniture maker gets to work!
If you could give your 23-year-old self one piece of advice, what would it be?
I would tell my 23-year-old self to spend less time comparing yourself to others—looks, brains, achievements, career—and more time embracing and celebrating my journey and encouraging others on theirs. I would tell myself to appreciate and give thanks more often for the unique path that God has designed specifically for me. I think back on that path and can't help but be so grateful, even for the times that were hard and lean, because that's where I really grew and became a better version of myself. In the end that's what it's about.
Jessica McClendon is The Everygirl…
Source: Laure Joliet
What's your favorite color?
Turquoise
Who is your dream interior design client?
Amy Poehler, mostly because I want to be her best friend and redoing her house might give me an "in."
What's your favorite way to spend a Sunday?
Coffee, farmer's market, and church, followed by a delicious picnic of salty meats—prosciutto, mostly—and cheese!
If you could have lunch with one woman, who would you choose and why?
Josephine Baker. Most people only associate her with being a risqué dancer, but she was so much more! Yes, she was a physically beautiful and extremely talented showgirl, but she also lived a life of adventure and passion. She even used her fame to act as a spy for France during World War II. She didn't have to do that but she chose to put herself in danger for her country. She was also a huge civil rights activist and a loving mother of adopted children from many different ethnicities. She had a lot of talent passion and so much love. Plus, she was super comfortable in her body—so comfortable that she danced in a skirt made of bananas! I think she would be a pretty exciting lunch date.
Products
Couch, Custom design
Coffee table, Lex Mod
Curtains, Designers Guild
Skull print, Jenna Snyder-Phillips
TV stand, Vintage
TV stand lamps, Ro Sham Beaux
Bar cart, Society Social
Bar cart accessories, Etsy, Target, CB2
Mounted deer head, Vintage from Germany
Dining room table, Vintage
Peace sign hand on mantle, Nior
Gold pineapple, Bed, Bath and Beyond (similar here)
Flower mirror, From Mexico
Rocking chair, Vintage
Floor lamp, West Elm
Ottoman, West Elm
Work desk, Custom design
Work chair, Lex Mod
Bed/headboard, Custom design
Bedroom side tables, Vintage
Shag rug, Rugs USA (They have great sales!)
Lamps, Rejuvenation
Bedroom mirror, Hide and Seek Vintage
Bunny ears art, Miyuki Ohashi