Welcome to The Everygirl Podcast. Whether you're looking for insider secrets from successful women that have your dream job, are interested in expert advice to transform your health and feel your best, or just want to be entertained and laugh along with us on your commute, we've got you covered.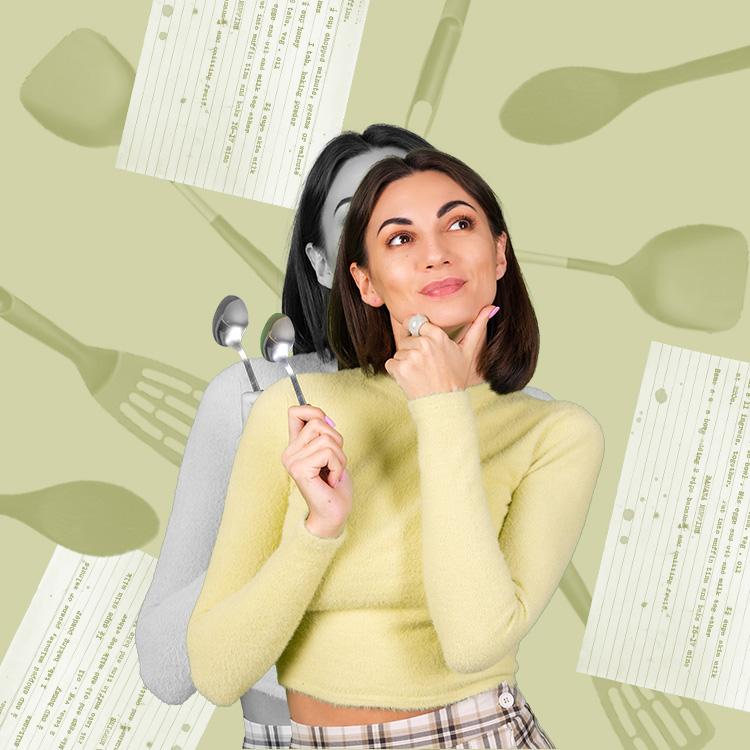 high in protein, good for gut health, and anti-inflammatory? yes, please!
During most of the year, I'd consider myself to be a tough movie critic. Trust me, I don't mean to be a film snob—the truth is, I'm just a tired person. A movie has to be pretty damn good to keep my attention or else I'll inevitably "rest my eyes" and fall into a deep, accidental slumber. If a film is mundane, predictable, or boasts some bad acting, sleep will always take precedence.
I'm not sure what it is about the holiday season, but when it comes to cheesy clichés and foreseen plots, all of my previously true statements fly out the window. Give me mediocre acting! Give me happy endings! Give me a "will they/won't they" storyline where they most definitely "will!" It's the kind of nostalgia that I live for and is a sure way to launch myself into the holiday spirit. On this week's episode of The Everygirl Podcast, the team is sharing all of their favorite holiday movies to add to your hibernation season roster. If you too, find yourself welcoming all of the cheesy holiday movies, grab your favorite mug, fill it with hot cocoa, and snuggle up. These 30 holiday films are sure to get you in your holiday feels, and check out this week's episode of The Everygirl Podcast for more.
Where to stream: Netflix
If there's one thing that Sloane and Jackson have in common, it's their hatred for the holiday season. After a chance meeting and bonding over the shared experience of dodging holiday relationship pressures, they form a pact to be each other's holiday plus ones. It's simple, fun, and easy, but just how long can they keep it up? This one is perfectly raw and downright hilarious.
Where to stream: Netflix
This Netflix holiday film will give you all of the feels. Meet Rush Williams—widowed father of four and radio DJ who unexpectedly loses his job right before the holidays. He and his family subsequently have to forfeit a life of luxury, return to their previous home, and pull together to build back up over the holiday season. It's a story about overcoming obstacles, leaning on your loved ones, and remembering that it's not what you have but who you have that counts.
Where to stream: Amazon Prime
This movie is an unexpected holiday masterpiece. A year after Kate receives a heart transplant, she finds herself in a messy downward spiral. She's dangerously close to losing her job, can't find a sure place to live, and is detaching from friends and family. Around Christmas, Kate meets Tom, an optimistic, charming stranger who helps her turn her life around. This film left me feeling so many emotions and is truly one of my new Christmas favorites. Grab your Kleenex because, in between the fun and Christmas cheer, this one's a real tear-jerker.
Where to stream: Netflix
I don't know about you, but with all the stress of the holiday season, I could definitely use a little magic in my life, and this Christmas romantic comedy is here to help. When Abby, a talented but struggling photographer, inherits an advent calendar from her grandmother, her bad luck begins to change. Soon, she finds that the calendar seems to predict the future and might just be pointing her in the direction of love. It's a refreshing take on holiday cheer and, of course, serves up a love triangle that'll keep you on your toes.
Where to stream: Netflix
Alright, I'll be the first to admit: When I think of the holiday season, the absolute last things that I subsequently think of are elephants, divorce, Rob Lowe, or Kristin Davis. And that's exactly what makes Holiday in the Wild such an unexpected treat. After Kate finds herself abruptly divorced, she takes her pre-planned second honeymoon trip to Zambia alone where she rediscovers herself, regains purpose, and finds potential romance.
Where to stream: Netflix
A Bad Moms Christmas is the ultimate 2022 holiday mood. After three modern-day moms bond over the stress of creating a perfect holiday season, dealing with visiting mothers, and "doing it right," they make the executive decision to take back Christmas and bring fun back into the holiday season. It's messy, it's comedic, it's heartfelt, and in my book, it's pure gold.
Where to stream: Netflix
If you're someone who goes crazy for Hallmark holiday movies, this Netflix film was made just for you (a gift from Santa himself). Ellen Langford, a head-in-the-clouds socialite, is in the process of being primed to take over her father's company. But after a messy holiday appearance, her father requests that she visit his hometown to explore the roots of the company. There's humor, there's romance, drama, and even an unexpected snowstorm—what more could a cheesy holiday movie lover ask for?
Where to stream: Netflix
Disclaimer: This is most definitely one of those trailers where they expose the entire movie. If you think I'm mad about this, I assure you, I am not. I live for a nonproblematic, predictable plot, especially during the holiday season. What can I say? I'm a sucker for a happy ending. Not sure if anyone else noticed, but Mason from Wizards of Waverly Place is in this, which is gifting me all of the Disney Channel Original Movie vibes.
Where to stream: Netflix
I never thought I'd say this, but nowadays, when I see Vanessa Hudgens, I automatically think of the holidays. I blame this movie. This is the ultimate Christmas film cliché that I live for—think Parent Trap, but sprinkle some holiday cheer on it. When Stacy discovers a lookalike with royal connections, the two trade places—giving each other exactly what they've been missing. If you like this one, be sure to check out The Princess Switch: Switched Again.
Where to stream: Netflix
Royal-obsessed people, unite! When a dedicated pediatrician agrees to care for a high-profile, overindulged prince while he recovers from a ski accident, she finds that he has a mature side that makes him less of a royal pain—and a tad bit lovable. The love story of my dream exists and this is it.
Where to stream: Netflix
Well, well, well, look who we have here. Vanessa Hudgens, back at it again to make all of our holiday dreams come true. This time, Hudgens plays Brooke, a science teacher who doesn't believe in love. She befriends medieval knight Sir Cole, who was transported to present-day Ohio by a sorceress, and the two work together to help him return home (but not without finding love along the way, of course).
Where to stream: Netflix
I think this is the closest mix of true crime and holiday that I ever want to get. In this holiday film, an undercover cop goes on a sting date with a suspected diamond thief. After getting to know him, she develops feelings and the suspicion that he's being framed for a crime he didn't commit. It's quirky, it's feel-good, and it should be at the top of your holiday watch list.
Where to stream: Netflix
I absolutely loved this holiday movie. A Christmas cliché, above-average acting, and a bit of wanderlust? Sign me up. A young, aspiring journalist gets the opportunity of a lifetime and is assigned to get the tea on a scandalous prince poised to be king. To her surprise, Christmas comes early, as she learns that he's more than meets the eye. If you like what you watch, you're in luck because there are two more in the series. Enter A Christmas Prince: The Royal Wedding and A Christmas Prince: The Royal Baby.
Where to stream: Netflix
Speaking of wanderlust, let's take a trip to Guam, shall we? In this film, a by-the-book congressional aide is sent to investigate a tropical military base known for using military cargo planes to drop gifts and supplies to remote islands on Christmas. She goes with the intention of finding a reason to shut it down, but Andrew (an easy-on-the-eyes Air Force captain) works to convince her otherwise.
Where to stream: Netflix
Longtime friends and radio hosts Maggie and Jack fake a public relationship over the holidays in hopes of building their brand and growing their show to a national level. Will they stay in the friendzone, ruin their friendship, or cross lines into the beyond? It's the ultimate "will they or won't they" storyline and is one of Netflix's great new holiday features.
Where to stream: Hulu
John Tucker Must Die, say "hello" to the holiday season. In this film, Livvy gets unexpectedly dumped right before the holidays. She teams up with two of her ex's past girlfriends to serve up the ultimate Christmas payback. But just how far will they go? Operation "Rudolph's Revenge" is a go.
Where to stream: Hulu
PSA: If you're going to make a Christmas wish this year, be specific. When Addie makes a wish for her neighbor to fall in love with her, it comes true—but not in the way she expects. Enter Pete, a guy from her past and her brand-spankin' new next-door neighbor, who seems to be under a Christmas spell, head-over-heels in love with her. During the film, Addie attempts to make him fall out of love so she can keep her eyes on her OG prospect.
Where to watch: Netflix
A not-so-cliché teen romance, a strong female lead, quirky fashion, and a holiday meets To All The Boys vibe. What more could we ask for in a holiday feature? Meet the eight-episode series our team is obsessed with. Though it's not technically a movie, we consider it one because most of us blew through the entire series in one sitting. A Christmas miracle, if you will.
Where to stream: Netflix
Though This Christmas will look a lot different than this actual Christmas, it's the family reunion that we'll be watching on repeat. For this particular holiday season, matriarch Ma'Dere Whitfield brings her entire family together to celebrate the holidays for the first time in four years. When individual secrets and unspoken feelings are uncovered, family dynamics are stressed—and isn't that what the holiday season is all about? It's funny, it's heartfelt, and it'll leave you feeling all of the warm and fuzzies.
Where to stream: Hulu
POV: You're in love with your girlfriend, decide to spend the holidays with her family, and plan to propose—but when you arrive, you learn that she hasn't quite come out to her conservative parents yet. Happiest Season is Hulu's newest holiday addition that stars Kristen Stewart, Daniel Levy, Aubrey Plaza, and more. It's the queer, modern-day holiday rom-com your holiday movie rotation was missing.
Where to stream: Amazon Prime
It's Jolie's first time returning home for the holidays since her Earth-shattering breakup with an ex she's bound to run in to. In an effort to help, Jolie's best friend (and distinguished lawyer) Naomi offers up her brother as a stand-in boyfriend and buffer for all of the inevitable hometown ex-boyfriend encounters. Naomi creates a non-romantic Christmas contract that is mutually beneficial to both parties, and in return, Jolie is legally bound to help Jack launch his dead-end career as a novelist. It's all fun and games until the contract proves to be a bit more than they bargained for.
Where to stream: Amazon Prime
When Holly returns to her hometown for Christmas, she finds herself volunteering to help resurrect her town's traditional light show—only to find out that her high school sweetheart and ex-boyfriend is in charge of the whole shebang. While most would rather wither away and die at the thought of working on a project with their ex, Holly sticks it out and begins to fall in love all over again. If you're desperately trying to avoid texting your ex this holiday season, probably skip this one. Or don't, we can't tell you what to do (hehe).
Where to stream: Rent on Amazon Prime
OK, I think I've said this about 72 times now, but I mean it when I say that this is the ultimate feel-good holiday movie. It's sassy, messy, and downright hilarious. Almost Christmas is a comedy-drama film and a gift that keeps on giving. Retired engineer Walter Meyers brings his family together to celebrate the holiday season just 10 months after his wife passes. With his dysfunctional family all under one roof, he realizes that a perfect family holiday might just be easier said than done.
Where to stream: Hulu
Raise your hand if you've ever been ghosted! You can't see me RN, but my hand is high up in the sky. You know the drill: Things are going well with someone new, you're having some great conversations, you pick up on some palpable chemistry, daydream about a future with them, and boom. Crickets. After Jess and Ben go on the best first date of their lives, Jess gets into a fatal car accident. She wakes up as a ghost to settle unfinished business in this hilarious, bittersweet holiday adventure. You'll laugh, cry, and think twice about ever ghosting anyone again.
Where to stream: Amazon Prime
A firm theory that I have: There is no such thing as too many holiday romantic comedies. In this one, a single mom/wedding planner joins forces with a single father/co-owner of a family-run Christmas decoration and house-lighting company. Their goal? To pull off the ultimate Christmas Eve wedding for one of their clients. On the project front, things are going smoothly. On a personal front, things are going even smoother—that is, until an unexpected snowstorm threatens their work. If there's one thing that I've learned from all of these holiday rom coms, it's to always expect the unexpected snowstorm. Another thing I've learned: Sometimes, a little love and some holiday magic are all you really need to get by.
Where to stream: Disney+
In this Disney+ comedy, Kris Kringle's daughter Noelle loves the holidays but wishes that she had a purpose like her brother Nick. When Nick cracks under pressure at the prospect of taking over Christmas duties for his father, he disappears. Noelle jumps into action to find her brother and save Christmas—because that's what we women do. We get shit done.
Where to stream: Tubi
My tolerance for the classic Cinderella story plot is so unbelievably high during this time of year, and if you shame me for that, I simply don't care! In this version, we meet Angie, an event planner who is dedicated to running her uncle's business. We also meet her cousin Candace, who, to no one's surprise, is the human version of a credit-stealing, stale piece of bread. Angie finds herself in the Christmasquerade Ball, where she catches the eye of a wealthy local bachelor. When she leaves the ball before revealing her identity, the bachelor begins his search for the masked woman so that he can profess his love and they can live happily ever after. Just the way we like it.
Where to stream: Amazon Prime
Year after year, Mr. Landis, defense attorney Sarah Wright's neighbor, places a lit Christmas tree on his roof—and no one knows why. And year after year, Mr. Landis finds himself in a courtroom at risk for jail time for violating the town's penal code. When Sarah agrees to represent Mr. Landis, she is forced to work with a rather irritating (but wildly handsome) prosecutor to rectify the case for good. This heartfelt film is based on a true story and is more of a mystery than meets the eye.
Where to stream: Amazon Prime
I've had deadline pressure before, but I'll happily admit that I've never had "close on the sale of a historic inn in 12 days, but in the meantime, meet a ghost who haunts it annually at Christmas and help him solve his murder mystery so he can move on" pressure. And that is something to be thankful for this holiday season! This holiday film serves up all of the drama, comedy, romance, and suspense and is the Christmas love story you never saw coming.
Where to stream: Netflix
This musical holiday adventure is an absolute work of art. The film follows legendary toymaker Jeronicus Jangle decades after his trusted apprentice betrays him. When his curious and kind granddaughter learns of his past world and falls in love with it, she helps him restore hope and find new inspiration. It's a movie about wonder, family, and Christmas magic that is best enjoyed with your favorite holiday jammies and the faint twinkle of your Christmas tree.