Ever wondered what it would be like to spend a year at the South Pole or conduct research at fisheries? Cherisa Friedlander knows well. As a member of the NOAA Corps, Friedlander serves in a branch of uniformed service about which you may not know much. Needless to say, she's had a number of work experiences that might be, well, just a tad different than your weekly team meetings, business trips to New York, or hour-long commute. We connected with Friedlander to hear more about her very cool job, her advice for others looking to explore the NOAA Corps or uniformed service in general, and what she'd tell her 22-year-old self.
If you're looking to save money, time, AND a headache this holiday season, we've got you covered.
Name: Cherisa Friedlander, NOAA Officer
Age: 32
Location: Newport, RI (originally from Attleboro, MA)
Education: B.S Marine Biology, University of Rhode Island
M.S Applied Marine and Watershed Science, California State University Monterey Bay
How did you decide to go into uniformed service?
My family is a big service family. My father is retired Navy, so my younger brother (Navy) and I were both pretty influenced by the example he made.
Tell us a bit about how you chose the NOAA Corps. Was that always the branch of uniformed service that most interested you?
Good question! It wasn't actually. Right out of college, I was actually trying to do the Coast Guard. I had a degree in Marine Biology and wanted to do some sort of environmental work with a uniformed service. My dad had heard of The National Oceanic and Atmospheric Administration (NOAA) Commissioned Corps (of course I had no idea what it was at the time) and encouraged me to apply due to its scientific mission. Long story short, I am thrilled with the opportunities NOAA Corps has provided me with and don't think I would have been as happy in the Coast Guard.
What has your experience been like as a young woman in NOAA?
NOAA Corps is the smallest of all seven uniformed branches (Army, Navy, Coast Guard, Air Force, Marine Corps, U.S. Public Health Service, and NOAA Corps). We are only comprised of about 320 officers total with no enlisted side. On top of that, it can be a challenging career for women due to how much time we spend underway, out to sea, and away from home. However, since I haven't settled down or had kids yet, I have had the flexibility to have some pretty amazing opportunities. I have been through the Panama Canal, gone to graduate school and had it paid for with my GI Bill earned as a service member, and most recently spent a year at the South Pole!
You were part of the first all-women winter South Pole research team. That is so cool! Tell us about how it felt when you were selected for that job and your experience while you were there.
This is one of the coolest assignments a NOAA Corps officer can have in my opinion, but also one of the most challenging. You literally spend a year in Antarctica without your friends, family, or significant other. I was stationed there from November 2017 through November 2018, and wintered at South Pole with 39 other people (33 men and six other females). Myself and Sabrina Shemet were the first two-woman team to run NOAA's Atmospheric Research Observatory there. I remember being really nervous when I made the decision to go, but it ended up being one of the most unique experiences of my life. I got to experience six months of darkness, the Southern Lights (auroras), and a temperature low of -103F!
What sorts of challenges have you faced in your career thus far? How have you dealt with them?
The biggest challenge for me in this career is balancing my personal life alongside the interesting assignments I have done. I love what I do, but right now I am on a sea assignment that requires me to sail almost 130 days a year. It doesn't leave much time for being home with my boyfriend, family, or friends. I just need to make sure I make time for those I love when I can and truly appreciate that time with them.
What does a typical day look like for you?
Right now I am stationed on a 208-foot research vessel based out of Newport, RI. We go out to sea 15 to 18 days at a time to conduct oceanographic and fisheries research with scientists. I am the Operations Officer on board, so my role is to be the liaison between the ship's crew and the scientific party, making sure that all the projects go smoothly. Our main role as NOAA Corps officers is to navigate the ship. We stand two four-hour watches each day and are controlling the speed and heading of the ship for various research operations. I am also the primary medical officer and environmental compliance officer, so a lot of the time I am doing side work that pertains to those roles. Think sanitary inspections, hazmat inventories, etc.
What's your absolute favorite part of your job?
Being out to sea all the time is hard, but it is also the best part. We get to see amazing sunsets/sunrises, pods of whales and dolphins, and we host some pretty amazing research projects. We just completed a deep sea coral cruise with a ROV (remotely operated vehicle).
What advice do you have for other young women who might want to enter uniformed service in general or dream of joining NOAA/NOAA Corps?
I try to tell as many people as I can about my job and what I do since I love it so much. It has been such a great balance of science and service and has really allowed me to stay connected to my interests and what I went to school for. NOAA Corps is still pretty unknown, so I encourage women to take the time to learn about what all the branches have to offer before choosing one. Spend a little time thinking about the challenges of a service lifestyle. It isn't the right choice for everyone, but it is an amazing experience to serve our country!
What's something you wish that more people knew or understood about uniformed service or the NOAA Corps?
We are active duty too! We wear uniforms and serve, we just don't fall under Department of Defense or Department of Homeland Security because our mission is different. We fall under the Department of Commerce and specifically support the National Oceanic and Atmospheric Administration (NOAA, the agency). We have assignments all over the United States with NOAA Fisheries, the National Weather Service, the National Ocean Service, etc.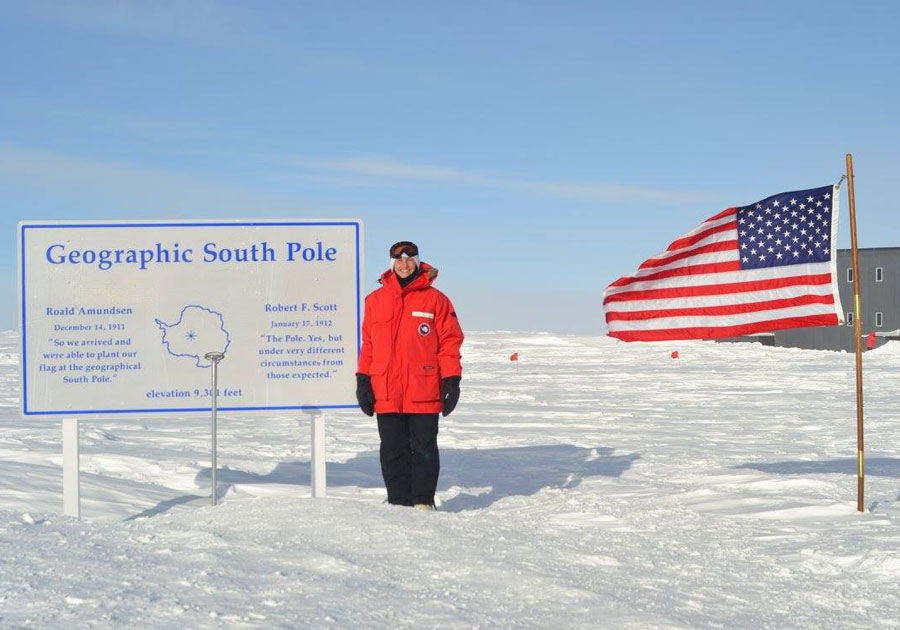 What advice would you give your 22-year-old self?
When I was 22, I was busting my butt working for a nonprofit and teaching marine science, but I was happy as a clam doing work I loved. I would tell her to trust that what she was doing was right for that time in her life, and that everything would fall into place. I remember comparing myself to friends who were starting to think about getting married and feeling like I was so "off track." Now I am 32 and still not any closer to marriage and couldn't be happier. Everyone's path is different.