At their core, flowers are so much more than a beautiful addition to a home or an event — flowers speak a universal language, representing love, excitement, thoughts, regards, and happiness. No matter what kind of event or situation they're surrounding, the gift of flowers is pretty much always seen as positive — and crazy beautiful.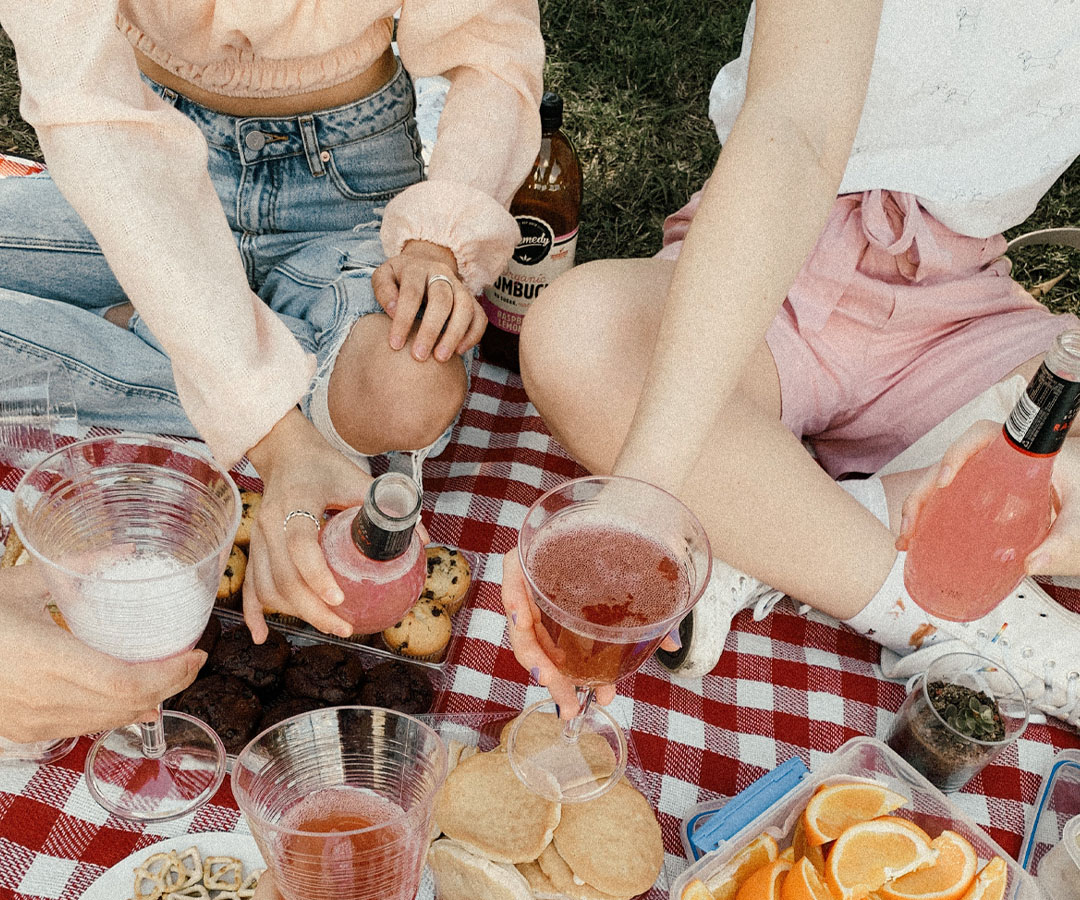 CURRENTLY TRENDING IN /
LIVING
your complete summer shopping guide
Imagine spending your entire life allowing others to experience that kind of positivity — for Christina Stembel, CEO and founder of Farmgirl Flowers, that kind of dream is a reality. As a self-proclaimed farmgirl, Christina is an absolute expert when it comes to the florals surrounding some of the biggest moments of your life. Whether you're looking to celebrate, declare, sympathize, or decorate, Christina's got just the arrangement — as well as some kickass business sense, an inspiring mantra, and the perfect blend of city savvy mixed with farmgirl flourish.
Name: Christina Stembel
Current Title/Company: CEO + Founder, Farmgirl Flowers
Age: 40
Location: San Francisco, California
Education: High School
What was your first job, and how did you land it? What did you learn from it?
I had lots of jobs during my teenage years. I think I was born hustling! Besides babysitting, my first real job was detasseling corn during the summer when I was 14 years old. I learned a lot from all of my early jobs, whether it be this one or as tour guide at Amish Acres, or as a fast food worker at Burger King, McDonalds, or Arby's (yep, worked at all three!), I learned how to work hard and give my all no matter what the task.
When you were younger, what did you want to be when you grew up? Did you always know you wanted to own your own business and work for yourself?
I wanted to be an actress. I thought I was going to be the next Meryl Streep, but alas, I found out that I was much better behind the scenes than in the limelight.
You grew up on a farm but now call San Francisco home. What do you love about living in the city, and what, if anything, do you miss about a more rural lifestyle?
While I am incredibly grateful to have grown up in rural Indiana and for the foundation it provided, I always knew it wasn't where I'd end up. I love a lot of things about it, but I really never fit in. It wasn't until I moved to a larger city (NYC first and then San Francisco with a few others in between) that I felt like I was home. I now have the best of both worlds — where I get the peacefulness of the country in the tiny beach town where I live, but I work in the city, where I get the hustle and bustle and high energy. Pretty much a win/win!
As a self-proclaimed farmgirl, are there any lessons from growing up on a farm that you took with you into the business world?
The biggest attributes I've taken from the farm to business are the importance of working hard, thinking critically, and keeping it real. That's pretty much the triple threat in my book.
You say often that you believe in the importance of always doing the right thing. Tell us more about that and how that looks on such a large scale.
The bottom line is that I want to be proud of what I do in all areas of my life, and somehow it seems that when we put things in the business bucket, moral standards turn gray real quick. I've made mistakes in life (haven't we all?), but this is so important to me that I want to do it right. I may only get one shot at building a company, so I don't want to look back on how I did it and wish I'd done it better. The best companies to me are the ones that aren't just ones I'd want to buy from, but ones I'd want to work at or sell to — so that's what I'm trying to build. I do that by simply looking at business decisions through that lens — no matter our size — and it usually makes the answer crystal clear.
The best companies to me are the ones that aren't just ones I'd want to buy from, but ones I'd want to work at or sell to — so that's what I'm trying to build.
What initially inspired the concept of Farmgirl Flowers?
Initially I worked in an event planning role where we purchased a lot of flowers, and I couldn't figure out why they were so expensive. That curiosity sparked a rabbit hole of research where I found the eComm flower space to maybe be one of the last undisrupted spaces in silicon valley. It was also an industry with very little innovation, so there was ample room for an improved model. I knew I wanted to start a company, but I didn't want to simply replicate someone else's idea and make it a tiny bit better.
I knew if I had one shot to go for the gold and build my own business, I wanted to hit out of the park and create something truly unique. After researching the space, seeing the potential, and devising an innovative model, I truly thought this was my aha moment and went for it!
Tell us about the early stages of growing your company and brand. What roadblocks and challenges did you face early on?
Starting a business is tough, but that's not news. Everyone prepares you with the first two years being the hardest. I have to say I'm less on that train than the "more money, more problems" one, but the early years are tough from the standpoint of being in a constant state of fear in not knowing if the business is going to succeed or fail while juggling about 50 balls and trying not to drop a single one while being severely sleep deprived. That's essentially the early years in a nutshell. There were more roadblocks and challenges than I can explain in less than a few chapters of a book.
The most profound were: my inability to raise capital as a solo female founder, while needing to compete with new, funded, strikingly similar companies, being able to source enough domestic flowers to scale, launching national shipping while needing to subsidize a large amount of the cost, creating a positive team culture while doubling our head count each year, having enough time to get it all done, and not running out of money scaling a manufacturing business in the most expensive city in the US. Just to name a few though…
How did you expand your company? Tell us about hiring your first employees and the subsequent expansion process.
I scaled as quickly as I could by reinvesting every penny I could into growing the company. I hired my first full-time employee about two years in, which was the same time I moved the operation out of my teeny-tiny apartment. I added delivery areas as quickly as I could afford to subsidize them. I naively thought I would be able to launch national delivery within the first 24 months, but it took me five and a half years to get be able to afford the shipping subsidies needed to actually do it. We added smaller delivery areas sooner, which helped us be able to continue to double our revenue each year without doubling our marketing spend.
You now ship all over the country — how did you expand on such a large level, and where do you go from here?
We still own a tiny portion of the overall market share nationally, so now our goal is to grow that and compete on a much bigger scale. My goal has always been to grow Farmgirl to a billion dollar company, and I'm so grateful that we're on our way there!
What professional accomplishment are you most proud of?
I'm more grateful than proud. I know that many people go through several failed companies before one succeeds, and I'm extremely grateful that I'm able to experience success (so far) with my first attempt. If I had to pick something I'm proud of, it would be how much I'm learning and the resilience and grit I have to get up and keep going no matter what.
I grew up in a tiny town in Indiana and didn't go to college, and honestly, most people in my life didn't expect me to do much. Building Farmgirl has taught me more than any degree or pedigree could have, and I've had to push through more than I ever could have imagined possible — and I'm both grateful and proud of that.
What's next for you and for your company?
Massive scaling! We're going to get to a billion dollars, so we've got a ways to go. And we're going to build a great company that we would all want to buy from, sell to, and work for.
I grew up in a tiny town in Indiana and didn't go to college, and honestly, most people in my life didn't expect me to do much. Building Farmgirl has taught me more than any degree or pedigree could have, and I've had to push through more than I ever could have imagined possible.
What's the best career advice you've ever received?
Oprah has said several times, and in several iterations, that every good decision she's ever made in life was from trusting her instincts. She gathers information, listens to others, and then goes with her gut. That's what I try to do, because if it's good enough for Oprah, it's most definitely good enough for me. I've always found that my gut is usually right, and the times I make the biggest mistakes are when I'm not listening to my intuition, which I regret later.
What advice would you give to your own younger self?
Two things — 1) stop being scared and just go for it, and 2) care about people, but don't care about what they think of you.
I knew I wanted to start a company ten years before I actually did it. I wish I hadn't wasted that time out of fear. After all, I would have had so much more energy if I had started Farmgirl when I was 22 instead of 32! The second one is pretty self explanatory, but it's always a struggle to not care when people tear you down, and it happens so much more, and in a more impactful way, while running a company. I'd tell my younger self that no matter what you do, you're never going to make everyone happy, so just focus on doing what's right and don't worry what others think of you. I'd tell my younger self that, and I'll keep telling my present self that same thing.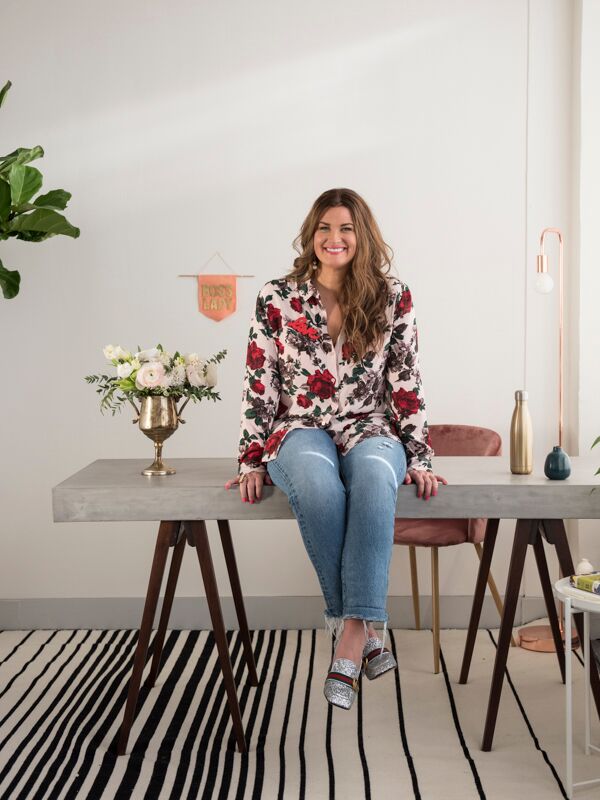 Christina Stembel is The Everygirl . . .  
Ideal Saturday?
At the beach in El Granada where I live with a good book and a thermos of strong tea.
Favorite flower?
It changes pretty often, but King Protea are a pretty consistent favorite.
Most recent splurge?
A pair of sparkly Gucci Marmont shoes.
My phone camera roll is full of… _____
Pictures of flowers of course!
Favorite way to caffeinate?
All the ways! I rely heavily on Guayaki Yerba Mate though to sustain my [lack of enough] sleep schedule.
If you could have lunch with any woman, who would it be and why?
Oprah, because I respect and admire her tenacity, wisdom, and grit more than words can say. What she has accomplished in her lifetime, especially considering where she came from,  is utterly amazing to me.