It's no easy feat to make your home gasp-worthy… but when we saw Courtney Shultz's home on Instagram, we did just that.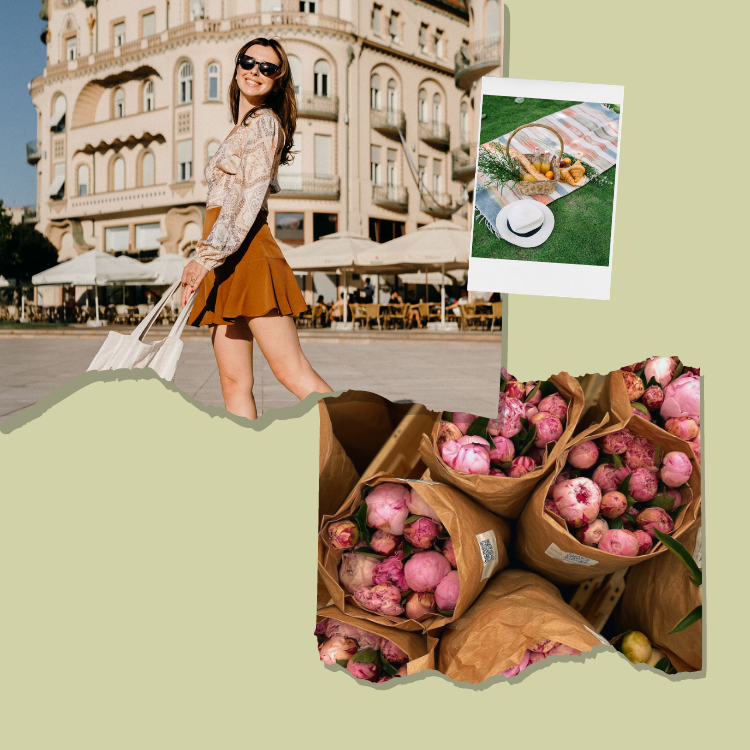 read this if you're in your saving era this summer
Her home is one that if we lived in, we'd never leave… it's bright, inviting, and her Christmas decor makes it nothing short of magical. There's a touch of Christmas everywhere you look without it being too overwhelming, and it's safe to say she's absolutely mastered decorating for the holidays. She explained how exactly she does it, her favorite places to shop for decor, and what her typical Christmas morning looks like.
Name: Courtney Schultz
Location: Niles, MI
When do you start decorating for the holidays?
Usually Thanksgiving weekend… but this year I got bit by the holiday bug a little earlier than usual!
Tell us about your holiday decorating process.
This year, I went with a "less is more" approach. I felt inspired by textures and neutrals to compliment our neutral palette at home, and I love how subtle it is and how it works into our regular decor.
How do you get the whole family involved in sprucing up your home for the holidays? Do you have any decorating traditions?
We have two trees! One "family tree" and one "fancy tree," which I keep by the front door as more of a decorative piece. This allows the kids to really get into decorating the main tree with me and feeling like they have an important role in bringing the cheer into our home! As much as I look forward to a day when I can have a big, fancy designer tree, these years of my kids wanting to decorate the tree with me are going to fly by, so I cherish their help and involvement (and all of the popsicle stick ornaments!).
How do you budget when it comes to decorating seasonally? (Things can get expensive for such a short time of the year!).
Repurposing items! I have accumulated lots of decor over the years and that has given me quite the selection to choose from. This year, I left all of my bolder stuff packed away and reached for the neutral-toned items. I think keeping stuff neatly packed away even if you don't think you want to use it THIS year helps you when you change your vision from year to year.
Where do you shop for holiday decor?
Homegoods, Restoration Hardware (stockings), Pottery Barn, Hobby Lobby, Target, and the local nursery.
Do you have any holiday traditions that are special to you and your family?
On Christmas Eve, we forego the traditional cookies and milk for Santa and instead, we leave him a glass bottle of Coca-Cola. I have shared the classic Coke ads featuring Santa enjoying a coca-cola with my kids and I love that they've adapted it to our tradition now (besides, he gets enough milk already!).
Do you have any tips for readers who may live in smaller apartments (and who are on a budget) who might not be able to decorate to their heart's desire?
Choose a few places that you want to focus on instead of succumbing to the pressure to decorate the whole house. A small vignette here and there or a festive candle where you previously had a non-holiday item can go a long way.
Have you slowly been collecting your holiday decor over the years, or did you purchase it all at once?
It's a gradual collection for me! Some years I go bold and other years (like this year) I go more neutral. Whenever I have a change of heart, I can dig around in my stash and reinvent the decor with just minimal additions as needed.
Do you have a favorite ornament on your tree?
Aw, this is a tricky one! I have so many, but I think the one our whole family gets the biggest kick out of it a framed basketball photo of my husband when he was seven years old that says "Hoopster."
What's your favorite piece of holiday decor that you own?
My very favorite item is my nativity. Second to that, my favorite holiday decor items are my Christmas stockings because they have everyone's names on them, and I just love that they make the holiday personal in our home.
Overall, what's your favorite thing about celebrating in your home?
The people — always the people, the gathering, and the community. Whether it's my kids and my husband sipping coffee and hot chocolate out of Christmas mugs on Christmas morning, or extended family and friends sharing wine and cheese around the kitchen island listening to Christmas music, it's always about the people gathering together for me.
What does your Christmas morning look like?
The kids wake up early (of course), and after we all get settled with our morning drinks, we turn on the Christmas tunes and start opening our stockings. This year, my husband and I are really emphasizing fewer gifts for our kids and each other so we can just spend time enjoying the few special things that we chose for one another, instead of getting caught up in quantity of the items — I am so looking forward to a slow and peaceful pace.
Do you have any holiday traditions you haven't started yet, but are planning to?
With my adult family members, we open our gifts one at a time in age order; my kids are a little too young to have this kind of patience, but I look forward to starting that with them so we can all ooh and aah over each other's special gifts for one another together. For now, it's still a race 🙂
What's the best part about being a parent during the holidays?
The magic. Definitely the magic.
Courtney Shultz is The Everygirl…
Hot chocolate or hot cider? Hot chocolate!
Favorite Christmas song? Breath of Heaven. Gets me every time.
Favorite Christmas movie? The Grinch! (Jim Carrey version!)
Favorite Starbucks holiday drink? White Mocha
The best gift you've ever given? My sisters and I gifted my parents with a gorgeous piece of art a few years ago and I think that takes the cake.
The great debate: when do you start listening to Christmas music? Thanskgiving (or maybe a litttttle earlier).