There's just something about a space with lots of windows that's light, bright, and airy. It feels like a retreat; a place to put aside all of the stress and anxiety of hectic errands, work woes, and relationship troubles, and just be. These spaces can bring peace and they can also seriously inspire. Toss in a gorgeous, tree-lined Seattle neighborhood and a home like that is even harder to beat.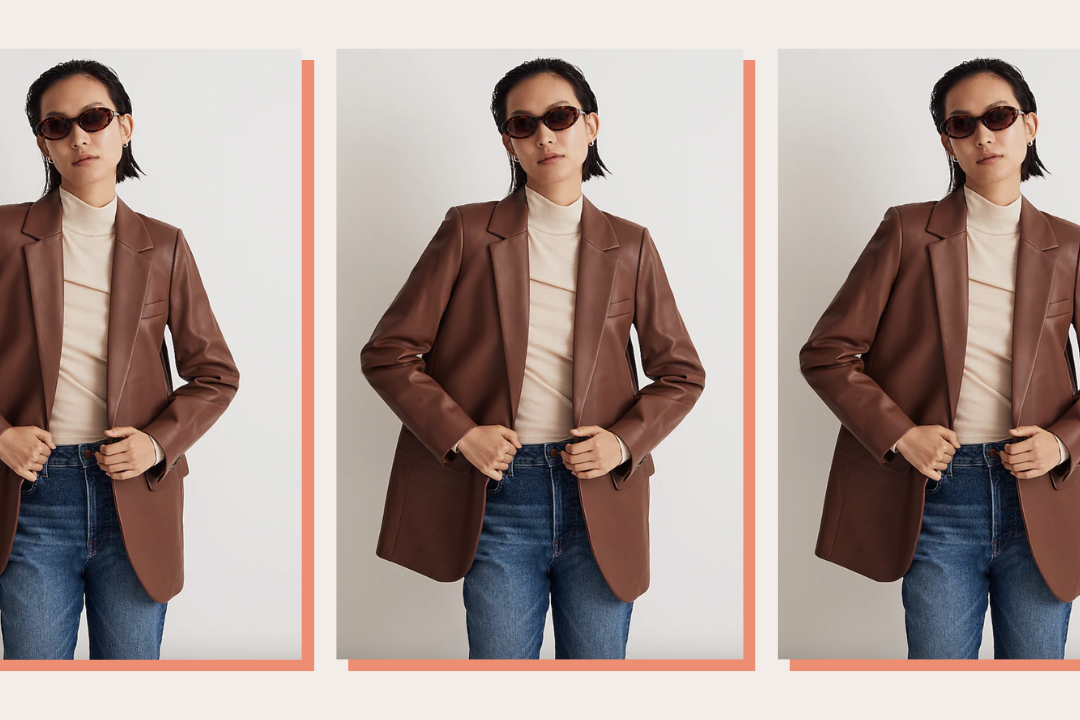 time for your fall wardrobe update!
But what makes Darlene Campos' home even dreamier is the way she's pulled the decor together—it's a grown-up space that's beautiful and doesn't take away from its surroundings, but still has the power to stand on its own. Better yet? Darlene gave us the inside scoop on how it came together, her best advice for house-hunting and decorating after a big move, and just how in the world she keeps that open shelving so clean. Trust us, you're going to want to see every corner of her home.
Name: Darlene Campos, Director of Marketing & Strategy
Location: Seattle, Washington
Square Footage: 800
Rent/Own: Rent
You made a (nearly) cross-country move to where you are now. What was that like?
I grew up in Alaska, so moving from Chicago to Seattle actually felt a little bit like coming home. The access to nature is incredible, so I was excited to make getting outside part of my routine again. I knew a handful of people moving to Seattle but not many, and honestly, it has taken a long time to really settle in. I made it a goal to see or do something new every week, and it really helped me get to know the area—I made some great friends along the way too!
How did you find your home and how did you know that it was the right one for you? What tips do you have for people who are looking to make a big move and have to navigate those kinds of logistical challenges?
I spent a couple of long weekends in Seattle prior to making the permanent move. I narrowed down the neighborhood I wanted to be in, but I didn't find my first place until a couple of months later. I had some flexibility with my moving timeline, so I took my time to find something I really liked—virtually at least. Having everything squared away prior to leaving Chicago was a huge sigh of relief. Once I moved, I learned pretty quickly that light really matters for me, especially on the very gray, rainy days.
As the end of my lease was coming up, I wanted to move to a place with larger windows and that was southern-facing, so I started the search again! I used every platform imaginable, but ended up finding this building while on a run. I fell in love with the quiet tree-lined street and the big windows in this building. The unit I wanted wasn't available when I needed to move, but I was able to move into a studio in the same building until this unit was available a few months later. I knew I wanted to live on this floor because of the bigger balconies, but I couldn't believe how bright it was when I walked in. The balcony and windows are at tree-line level, which also makes me feel like I live in a treehouse.
My tip for moving to a new city would be to focus on the neighborhood and the lifestyle you want—running trails, coffee shops, etc. Apartment hunting remotely is hard, and the apartment you chose may not be perfect the first round, but nothing is permanent and you'll figure out what else you need once you're in your new city.
How did you approach decorating your space? What advice would you have for someone decorating a space that might be a different size than their former space or when they're starting from scratch?
Starting from scratch was really exciting for me! I had a spreadsheet of things I wanted or needed, added cost estimates, and prioritized from there. It served as a roadmap for me and kept me from jumping the gun on art or accessories I wasn't ready for. I started with the big and non-negotiable things: bed frame, sofa, etc. Turns out you can really get by without a coffee table or bedside tables for a long time.
My biggest piece of advice would be to be patient and flexible. I found my rug, dining table, and marble nesting tables on sample sales I stumbled upon by accident over a year or so. I was OK with things looking a bit undone while I found the right pieces.
My other piece of advice would be to think about the visual weight of the furniture you want in your space. For example, a lot of the sofas I looked at seemed cozy, but were too bulky and heavy for a smaller space. I ended up ordering this custom sofa from Interior Define because I wanted something bold and cozy, but in a design that was a bit further off the ground and still looked light in the room.
We love your gallery wall above your media cabinet. Can you share a bit about how you chose the photos to use and how you decided on that unique shape?
It was a priority for me for the TV to not be the only focal point of the room. I think the chairs and the gallery wall help with that. Scale was a challenge because of the higher ceilings. Initially, I tried using all frames of the same size and shape, and it looked too much like it came out of a box—way too uniform for me. After a few configurations, I landed on a mix of gallery frames with larger mats to help with the scale, and I really like how it turned out. Eventually, I'd like to take it all the way up to the ceiling.
I like seeing personal photos in people's homes! I really enjoy photography and have a "For Print" album in Lightroom where I place 2-3 of my favorite photos from whatever set I'm editing. They add up over time! When it came time to select photos for the living room, I wanted them to reflect my life and family, but I didn't want them to be portraits. I went with more of an outdoor theme as the focal point. Once I decided on a theme, I edited about a dozen photos from the last years or so that had somewhat complementary colors. Laying all of the photos out together in Lightroom and Photoshop helped me see how they could look as a set prior to print. I also printed a few portraits that are placed sparingly in smaller frames throughout the apartment like the nightstands and open shelves.
Your couch makes a lovely statement in the room! How did you decide on sapphire blue?
Truth be told, I was torn between the sapphire blue and a very muted blush crushed velvet. I left the swatches out for a few days and loved how the blue velvet looked lighter or more saturated depending on how the light hit it throughout the day. My photos and art also tend to have a bit of blue, so I liked how the sapphire blue sofa helped pull it all together. I ended up getting throw pillows made in the blush velvet because I couldn't let it go and wanted to sprinkle in some of the same texture and a bit more color throughout the room.
The framed scarf over your couch is such a personal touch. Can you tell us a bit of the backstory to it and how it ended up on your wall?
I found this Hermés scarf when I was on a solo trip in Paris a couple of years ago. I think it's such a beautiful interpretation of a city that holds so many special memories for me. It's a birds-eye view of Paris, and if you look closely, all of the historic landmarks are there too, with a bit of an equestrian take. I tried wearing it a few times, but found myself staring at it, looking for more hidden details, so I ended up framing it and I love how it looks in this room.
You have books all over your home, so we have to ask: what are some of your favorites that you've read recently?
Such a Fun Age by Kiley Reid
Caste by Isabel Wilkerson
Educated by Tara Westover
HRH by Elizabeth Holmes (a very fun light read)
Vanishing Half by Brit Bennett
Maybe You Should Talk to Someone by Lori Gottlieb
Your open shelves are so well-styled, but it can be really difficult to get them there. What techniques so you have that anyone can implement in their own home?
Thank you! I remove, add, and change things a lot—some days they look better than others. Generally, I would say less is more, but I also think they should be functional. Books are a great foundation, dust covers can be removed or books can be turned around to display the pages rather than the bindings if you want a more neutral look. I've been accumulating small decorative objects over the past few years as well. I love picking them up when traveling and they're super easy to pack and display when I get home.
From there, I would think about the more functional elements: is there anything you need to store or want to display in the room? For example, I usually put my keys, wallet, and sunglasses on trays displayed on the shelf since I don't have a true entryway. I also have a couple of decorative boxes where I place remotes, matches, and other things I need in the room. I tend to have a lot of flowers throughout the apartment, but when not in use, I'll place a vase on a stack of books on the shelves. The functional aspect of open shelves impacts how I style them too.
We have to ask: how do you keep them clean?
I do a light dusting weekly, but about once a month I completely clear the shelves. It's kind of a pain, but I love how it forces me to re-style things and give it a fresh look. Especially now that I spend my work hours in this room as well, I like changing it up regularly.
How would you describe your design style?
Airy and warm. My previous homes have been fairly neutral, but I've loved incorporating more color into this space, like the sapphire blue couch. I like to use natural textures to help ground some of the more modern pieces, and I look for opportunities to incorporate plants and fresh flowers in each space.
What was the biggest challenge when it came to decorating and designing this space?
The hardest thing was the ceilings! I've never had ceilings this high—they're slopped at 14-16 feet—so when I moved in, some of my furniture suddenly felt miniature. I knew I wanted to make use of as much vertical space as possible—it was a real challenge! Larger art, nine-foot bookshelves, and taller plants helped. I wanted to find ways to draw the eye up. Since it is very open, I also wanted to create separate spaces like living and dining with complimentary vignettes.
Fiddle Leaf Figs are notoriously picky about where they need to live. You've obviously cracked the code since there are so many thriving in your home. Can you share any green thumb advice with us?
My fiddle leaf figs are a labor of love! Finding the right amount of light can be really tricky. They should be in direct light but can get sunburnt in the summer, so keep an eye on them when you're moving them somewhere new. Close to a southern-facing window is ideal. They should also be rotated from time to time. They will grow toward the light, so rotating helps to keep them straight. The leaves should also be cleaned fairly frequently since they take in a lot of light. I typically put the fiddles in the shower about once a month and gently wash off any dust that accumulates on the leaves.
Light is super super important, but I think the trickier part is actually figuring out how much water they need, but once you're in a routine it's super simple. Before watering them, the first couple of inches should feel dry. My two larger fiddle trees take about one bottle of wine worth of water per week (that's a unit of measurement, right?) and I try to be very consistent on what days I water them so they don't get overwatered.
What are some of your favorite places for home decor and inspiration?
I follow a lot of interior designers, and especially in COVID times we get more sneak peaks into people's homes (thanks Instagram). I love following Sarah Sherman Samuel and am obsessed with pretty much anything Vicky Charles does.
What is your favorite part of your home?
My bedroom. It's so tiny, but so peaceful to me. The photos above the bed are from two of my favorite trips: a really special hike on Mt. St. Helens and a solo trip to the Lofoten Islands in Norway. The nightstands are vintage and we refinished them this fall, and I kind of love that they don't match. I remember buying the hardware several years ago at Anthropologie and thinking, "someday I'll need these."
Nothing is really perfect in this room, it feels lived-in and warm to me.
How has the way you viewed home changed since the beginning of the pandemic?
Prior to the pandemic, I traveled a lot and I wanted my home to feel peaceful and warm during the short bits of time I was home; a place to recharge. Although I spend more time here now, this is how I want my home to feel now more than ever! The main thing that has changed this year is that I want every piece to feel special, have a story, or share a memory. For example, I've swapped most of the art to photos I've taken or art I've picked up during trips. I want the things that I look at each day to be reminders of happy moments.
Your bedding is so beautiful—it matches without feeling overly matchy matchy. Can you share some of your favorite bedding with us?
I try to keep all of my bedding *mostly* white, with a variety of textures, patterns and colors mixed in to add warmth (navy, blush, yellow). With white as the foundation, it's easy to mix and match from there.
What advice would you give your 22-year-old self?
Failure is really good! You're not your failures and you're not behind.
Coffee or tea? Coffee
Red wine or white? Red
Up late or early morning? Early morning—my favorite part of the day!
Old and charming home or brand-new and customizable? Old and charming. Give me all of the character, I'll add the modern and new.
The best book/movie/TV show you've experienced this year? The Undoing
If you could have lunch with anyone, who would it be and why? Reese Witherspoon. I find her approach to gender equity is so smart. The stories of women matter and I love the way she elevates female voices and experiences. Her leadership on pay equity has also impacted the industry and can serve as a catalyst for how we approach the gender pay gap across sectors.