Whether it was in movies or magazines of the early aughts, something made me think I would constantly be dolled up once I hit adulthood. I dreamed of fantastical collections of high heels, a red lip for every day of the week, and power suits I'd take from the boardroom to happy hour. I wasn't prepared for my evening routines to look like a 4 p.m. slump after sitting at a desk all day in my living room taking video calls until my friends all text in unison, "Does anyone want to grab a quick drink tonight?" and having to completely reignite my makeup.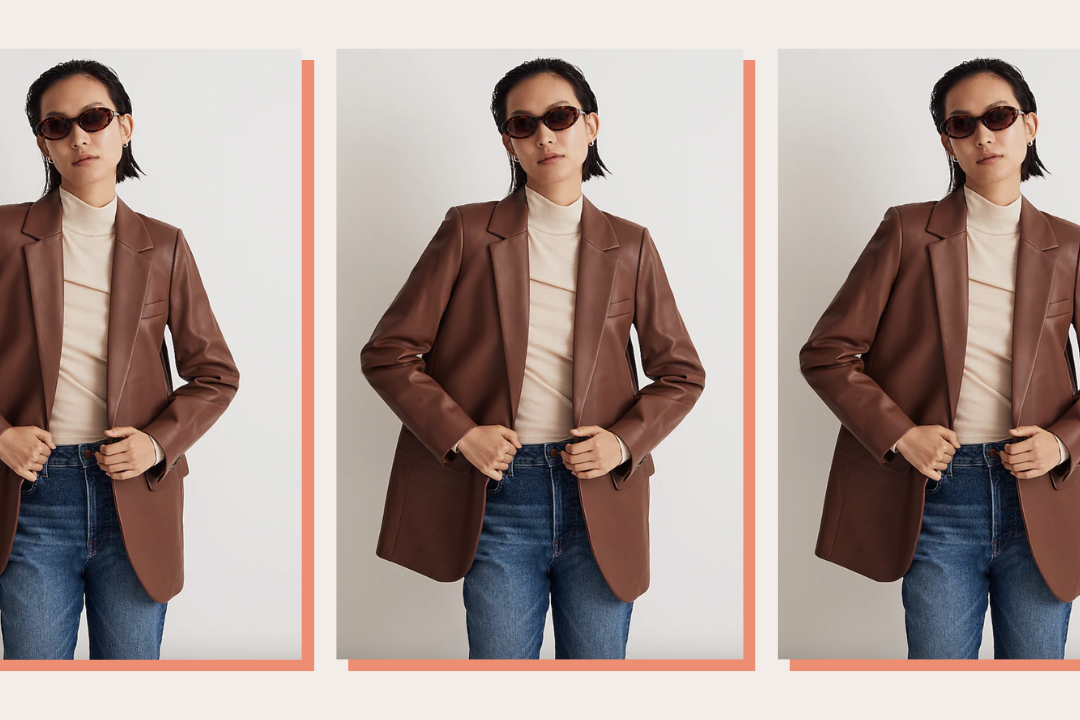 time for your fall wardrobe update!
As much as I love the spontaneous rush of knowing I get to drown the stresses of the day in a bucket of fries later, the stress of getting from meeting me to "might strike a convo with the pretty bartender" me sets in, and I end up late every single time. Instead, I tapped a few makeup artists for their take on the ever-questioned "day to night makeup" and how to actually achieve it—and make it last all day and night.
Daytime Routine
The key to a day-to-night look is a solid routine and base to start. If your makeup is set up to look good and last all day, it'll make your touch-up come nighttime easier. Your routine should look as follows:
1. Foundation
Il Makiage
A long-wear foundation will make touching up your makeup later a breeze because you'll only need to apply concealer where you need it. I love this one because it's a natural finish and blends seamlessly, even with your fingers.
2. Concealer under eyes and on any blemishes
Armani Beauty
You'll want to invest in a concealer that you can comfortably use all over your face for blemishes and under the eyes. This means it should be lightweight, not crease, and have a natural finish. You get all of that (and so much more) with Armani's Power Fabric—a satin, medium-coverage concealer that's so good, I've used it as foundation.
3. Light dusting of powder all over (or just where you need it, like under the eyes and the sides of the nose for dry skin)
Laura Mercier
This iconic powder makes makeup last all day long without looking dry or cakey—AKA it's basically magic. Apply it with a damp beauty sponge for a blurred look or with a small concealer brush just in the areas you need it for dry skin.
4. Shimmery eyeshadow all over the lid
Iconic London
These double-ended crayons were basically made for going from day to night. Use the crayon during the day as an eyeliner or light shadow all over the lid, and at night, use the shimmer all over your lid with a bit of the crayon on the lower lash line.
5. Curl lashes + apply mascara
Ulta
A good eyelash curler will take you far in your makeup routine, especially for refreshing your look at the end of a long day.
Maybelline
Opt for a lengthening mascara during the day to avoid clumpiness when you touch up later.
6. Brows
Iconic London
A liquid eyebrow product like this adheres to your skin better than a creamy or waxy pencil, and it actually looks more natural when you draw on little brush strokes.
REFY
Dare we say it, but this is the longest-wearing brow gel out there. It sets your brows down and in place all day—you won't even need to touch up.
7. Blush, Bronzer, and Highlighter
Em Cosmetics
A liquid highlighter like this will look more natural, and we love that this is dewy without adding texture or chunky glitter to the face.
Charlotte Tilbury
A powder bronzer will adhere to your skin and stay on much longer than cream, and this Charlotte Tilbury one will blend just as easily. Plus, it comes in a mini size that is perfect for on-the-go.
NARS
A shimmery powder blush blends seamlessly over anything you have underneath while having a lot of staying power throughout the day. And you can never go wrong with a classic like NARS' Orgasm.
8. Lip Balm
LYS Beauty
Not only does this provide a pretty gloss sheen to the lips, but it'll also make them eons softer as you wear it throughout the day.
How to Touch Up for Nighttime
1. Spritz with a setting spray
Use a setting spray before you start applying makeup to hydrate your skin and bring the makeup you already have on back to life. Plus, applying it before other makeup will give your products something to stick to, making them wear even longer.
MAC
The original setting spray, MAC Fix+ is the gold standard for bringing life back to your makeup after a long day. It adds glow while prolonging your makeup's weartime.
2. Conceal spots with concealer
Bring your concealer with you to touch up any spots. Because you used a long-wear foundation, you shouldn't need to reapply; just conceal any areas that are peeking through at the end of the day.
3. Re-apply blush
Adding some blush to your look will liven up your face and make you look alive—even if you don't feel it. You don't have to stick to the same shade you used before, especially if it's already worn off.
Makeup By Mario
A blush you can easily apply with your fingers is the way to go, but this is even better, thanks to a hidden brush at the bottom that actually blends as well as full-size, expensive brushes.
4, Add eyeliner
A little bit of smudged eyeliner in the outer corner of the eyes (or even better, a wing) is a classic nighttime look that never fails. And because eyeliners are so small, they're genius to keep in your bag to amp up your look whenever the moment strikes.
Makeup By Mario
The smudge brush on the end of the creamy, kohl liner makes it easy to smudge for an edgy nighttime look.
5. Re-curl lashes and add mascara
Curling your lashes again will reignite them and give them the extra oomph you needed. Then, a coat of a really good volumizing mascara will do the trick.
Milk Makeup
You can go big for nighttime, so a mascara with lots of volume and drama will amp up your look—just with one product.
Tip: Mini mascaras are easier to splurge on because they're at a lower price point, so don't feel like your touch-up needs to be with the same product.
6. Add lipstick
Putting on a statement lip is the easiest way to go from the office to happy hour. It's probably the oldest trick in the book, but it works.
Fenty Beauty
A liquid lipstick will stay on all night (even through drinking and eating), so you don't have to worry about reapplying once you get to your location. This one from Fenty comes in a ton of striking shades, so you can pick what looks best on you (or have a wardrobe of options—who doesn't love options?).