This year people have spent much more time at home than they may have in years past and that's likely to continue well into next year. If you've been tempted to mix up the decor in your house, repaint walls, or tackle a major home project, you're far from alone. But if you're looking for a little bit of a refresh for the new year (and what will hopefully be a bit of a fresh start as well), you may be wondering where to start. What colors are trending? Is rattan still in? To answer these questions—and many more—we turned to design and interiors experts for all of their best advice on how to give your home the 2021 upgrade it needs—no matter if you're moving furniture around or taking on a full-fledged renovation.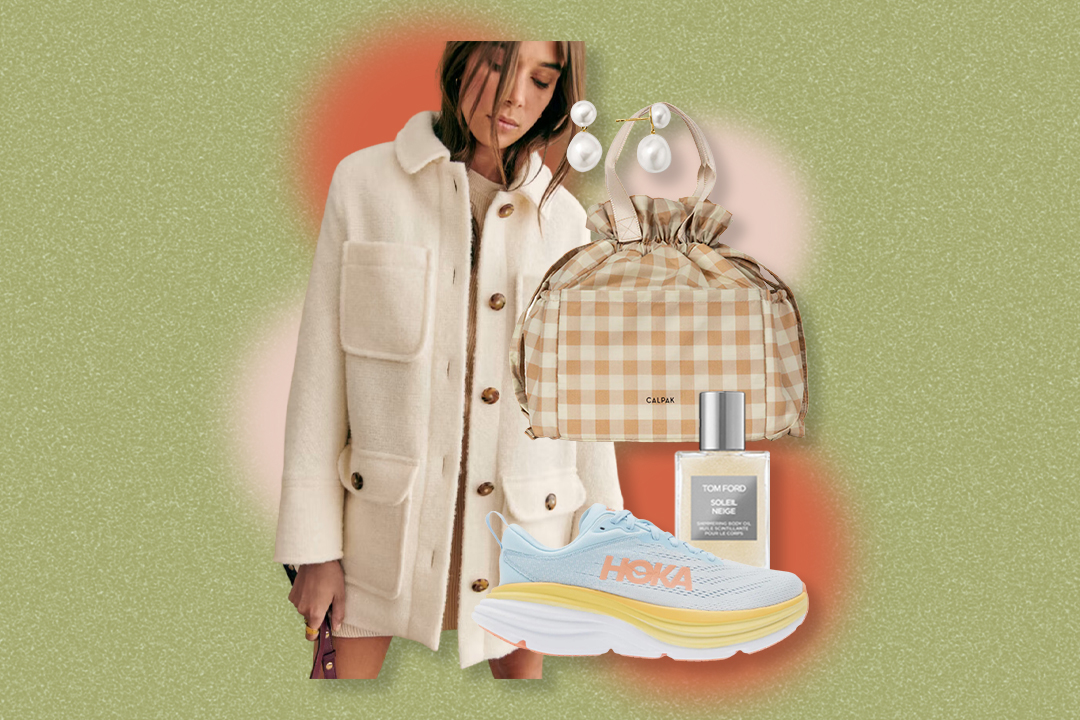 1. Moodier tones
Moody tones for a moody year, right? "A moody, dark home office with the cozy couch is the perfect addition to your home in 2021. It's all about the Zoom call background," Juaneice Munoz, principal designer at La Casa Azul Design, said.
Dark paint can make a big impact in spaces large or small. Munoz said that it's one of her favorite trends for that very reason: moody tones are bold. "It's that necessary risk that we designers encourage our clients to take for a huge payoff," Munoz said. "This style allows us to play with color, balance lights and darks, and it's a break from all of the white that we've been seeing for some time now."
If you're looking for a change, giving this trend a try will certainly bring one.
2. Gold and brass accents
If you love interiors, chances are good that you already know that gold and brass are back in. According to Inspire Me! Home Decor's Farah Merhi, that's not going to change anytime soon.
"I think some are still a little afraid to go over and ditch the silver and really dive into bringing gold into their home, but now, everywhere you look, brass and gold is so prominent in everywhere we look," Merhi, who also teamed up with Value City Furniture for its Design Looks Style Expert program, said. "Mirrors and hardware and accents, everywhere, and so I think next year we're gonna see it with a vengeance and I'm excited about it because gold can be such a beautiful color and not only is it beautiful, but it brings warmth and that kind of richness to a room that doesn't feel like it's too over the top, but gives that glam element to a space, warms it up, and makes a statement."
3. Cozy materials
Year-round, all I personally want is cozy things—and apparently, I'm not alone. Cozy materials will be trending in 2021, according to Amy Leferink, owner and principal designer at Interior Impressions.
"Ultra-plush faux furs, sherpa, and boucle fabrics are popping up everywhere," Leferink said. "It makes sense, as we are spending more time in our homes, we want to be comfortable and cozy as much as possible."
4. Multifunctional pieces and transitional spaces
Let's face it: it's likely that at least the first part of 2021 will look a lot like 2020. You might still be working from home, kids might still be learning from home (or learning from home again), and your home is going to have to be all of the things at once. And that means that pieces that make all of that easier and spaces that allow for a lot of flexibility are likely going to continue to be in demand.
"In the era of coronavirus, many of our at-home activities have altered, leading us to reimagine how we use certain spaces in our homes." Leferink explained. "Whether it's working from home or distance learning with our children, many homeowners are either giving new use to existing spaces, or creating spaces that are multifunctional to fit their needs."
Desks and tables that can double as each other, chairs and couches that serve more purposes than simply a landing place in front of the TV at night, all of this will continue to matter when it comes to home design, but they also need to stand up to all of that extra use.
"I think homeowners are more and more thinking about, 'OK, I want a statement piece, like a furniture piece, I want it to make a statement when I'm not using it," Merhi said. "'I want it to be pretty, but at the same time, when I'm using it, I don't want to have to think about quality and durability, that shouldn't be on the forefront of what I'm worried about. At the same time, I don't want it to cost an arm and a leg, because right now, more than ever, we want to save our money and we want to make sure that we're not spending it on extravagant things that might not even last.'"
5. "Granny chic" style
If more classic design is more your speed, it might be time to embrace "granny chic—if you haven't already. That's right, your grandma's traditional favorites are garnering more interest from the younger generations now too. "We've been loving traditional, classic patterns on furniture, window treatments, and rugs and we've been loving the vibe they offer," Julie Hawkins, founder of Hawkins Interiors, said. "It feels fresh after seeing more subdued trends in the past."
Add touches of granny chic style to any room in your house—you don't have to go all in. "Adding some granny-chic style your home can be easily achieved," Hawkins said. "We love incorporating antiques into our interiors and a fun way to keep them fresh is adding new hardware or even a fresh coat of paint. You could also add vintage pillows to your sofa, find bedding with classic prints, or upgrade a traditional lamp with a cute, modern shade."
6. Natural materials
Natural and woven materials have been trendy for awhile now, and that's not necessarily going anywhere anytime soon. Leferink said that the way materials like caning, rattan, and wicker are being used is changing a bit though—for furniture, window treatments, lighting, and more.
7. Neutrals
Yes, darker, moody tones seem to be trending for next year, but if moody tones aren't really your thing, you're in luck—warm-toned neutrals are also trending.
"In the world that we live in right now, our homes have become a sanctuary, a place that we just want to go to to relax, our own personal oasis," Merhi said. "And light and airy and just neutrals with warm undertones are coming back and they're coming back with a vengeance, so I think we're definitely going to be seeing a lot of that in 2021."
You don't have to completely abandon neutrals if you're not yet ready to do so.
8. Woodwork
Woodwork may be another big trend in 2021 and, again, it just might be because of all of the time people are spending at home.
"I anticipate it being extremely popular because of all the time we're spending in our homes now," Munoz said. "Walls with paint only are no longer doing the trick. Woodwork adds so much warmth to a home and clients know it! Offices that are stark white are no longer fun to be in when you have to spend a whole lot of time in your home office."
Consider adding moulding, wainscoting, or other wood touches to warm things up and make a change.
9. Colors of the year
"I think one of the things that we always see in the following year is just the trend of whatever the Pantone Color of the Year has been the year before," Merhi said. "So this year's Pantone Color of the Year was blue. Blue was already a trending color, and I think it's going to continue to trend in 2021 in different shades. So that's one that I expect to see a lot in decorative accents and furniture."
But Pantone's color isn't the only one that will likely be trending (or influencing trends) next year.
"Brown tones are making a comeback, especially as Sherwin Williams has named 'Urbane Bronze' their 2021 Color Of The Year," Leferink said. "These earthy color tones effortlessly change with the seasons and trend changes over longer periods of time, making them classic and timeless. Mixing warm colors with the popular grays that have been used over the past several years is a great way to balance the look and give it timeless appeal and versatility."
Swap in new accessories, bring these colors in through window treatments or floor coverings, or just go for it and add paint.
10. Trim painted to match the walls
Working on painting some rooms this year? Rather than going with trim that is stained or painted white, consider continuing the color from the walls or ceiling on the trim. It's a chic and updated look that will give your room the trendy, yet classic refresh it needs. Our cofounder Alaina said she's seeing it everywhere—and it's because it's just so good.
11. Curves
As Erica Ashe from @chitownhouse noted in her Instagram Stories, curves are another big trend she is seeing in 2021. No more (or, OK, more likely fewer) sharp edges and pointed corners. Soft curves on furniture, countertops, and more are in for 2021. Mix softer lines in with your harsher, more rectangular lines for a room that feels brand new.
12. Mixed metals
Just because gold will likely remain to be trendy next year doesn't mean that you have to abandon every other metallic finish in your home. Mixing metals is the transitional trend we all need. Add a little gold to your silver hues or bring in some copper.
"Now it's all about having fun with these mixed metals and mixing your gold and your silver together and it is actually OK to do that," Merhi said. "So I'm excited about it because we're seeing more and more decorative accents and furniture pieces that have the combination of the two metals, the two colors, and people are loving it and enjoying it."
Ultimately, like with mixing metals, no matter what happens to be trending, all that matters is that you like it.