"My penchant for interior design feels like an ode to my Nama," says Dominique Gebru, Washington D.C. resident and interior style extraordinaire. With one quick look, you can definitely tell how much love for family, culture, art, and nature have influenced her design style. From growing up in the Italian and French countryside-inspired Napa Valley to spending three years in tropical flora-enveloped Jamaica, Dominique has found inspiration to fill her home with vibrant, rustic, and welcoming touches that truly make it a setting that showcases her persona beautifully. Her apartment teems with earthy tones and organic materials that ground and provide a sense of calm for anyone that steps foot in this abode, while still being a space that can cultivate energy.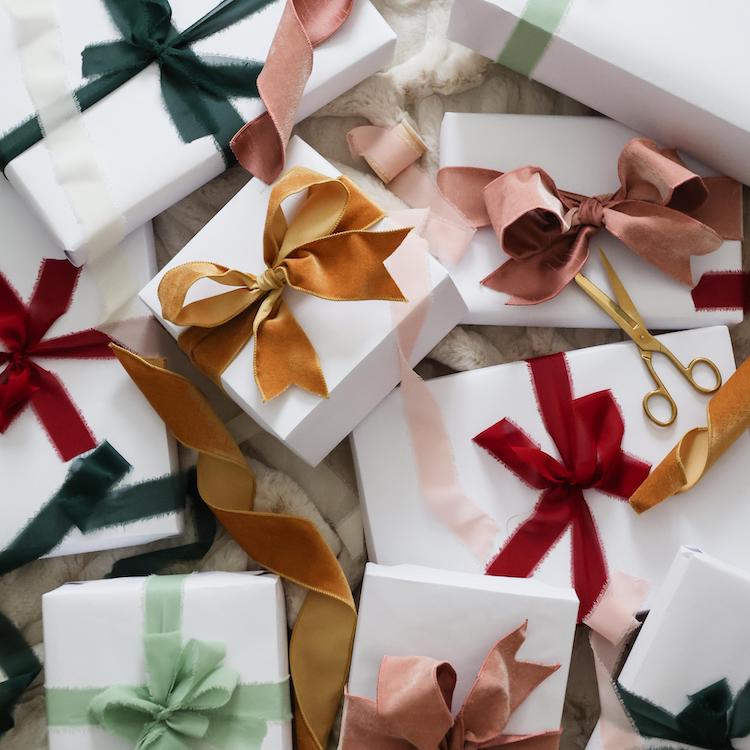 the perfect gifts for everyone—and we mean everyone—on your list
Keep reading to learn about Dominique's perfected design process, her advice on which pieces to invest in, and what she can't leave her house without lately!
Name: Dominique Gebru
Age: 30
Location: Washington, DC
Rent/Own: Rent (but we just bought a condo!)
Sq Footage: ~500 sq. ft.
To start, tell me more about a day in the life of Dominique? You and your partner live in the DC-area, what does your ideal weekend look like? What are your favorite and least favorite parts of living in DC?
My days have obviously looked a bit different since the start of the COVID-related stay-at-home orders. I work for the federal government, and like many white-collar workers I'm working from home full-time now. Being at home even more than usual has really forced me to examine the functionality of our space, and I redesigned most of the spaces in our home once lockdown began.
I love living in DC—it has all of my favorite parts of city living (it's walkable! There's great food! There's decent public transportation!) while also feeling like a small community. In my free time, I love exploring the city by foot or bike, usually with my partner Geoff and our senior Pomeranian, Olive. My ideal weekend includes a long walk (with lots of stops to admire old row homes) and a project—like painting an accent wall, writing, or learning a new craft. I'm also a host with The Lounge, a new community project from Girls' Night In, and have enjoyed getting to know fellow homebodies through that community's gatherings.
My least favorite part of living in DC is, honestly, that it's a site of extreme gentrification and displacement. The long-time, mostly Black residents who made this city what it is today have increasingly less input in the future of the city, and it's really frustrating to watch happen.
You mentioned that your dream is to become an urban planner in hopes of contributing to the preservation and building affordable housing within the DC area. What are your short-term and long-term goals within the next few years?
Yup! I didn't know that urban planning was a discipline that existed until quite recently, but now I've got my sights set on becoming a city planner. My partner reads a ton, especially about building more equitable economies, and he's introduced me to authors like Samuel Stein. Stein is a trained urban planner who wrote Capital City: Gentrification and the Real Estate State; it was a really eye-opening read that helped me give language to questions I'd long pondered. Short term, I'm focused on learning as much about the history of housing in DC as I possibly can, and long term I hope to contribute positively to the future of housing in this city. Urban planning is a blend of my interests in communication, community engagement, design, and placemaking, so in a way, it feels like my work now directly contributes to that future goal. Next stop: grad school night classes!
Where did your passion for interior design stem from? Was it a class? Watching HGTV? (Guilty) Pinterest?
I owe an immense debt of gratitude to my grandma—she helped foster my love for design, and I give her full credit! She raised six daughters and always had to decorate with a small budget in mind. She's told me stories of decorating her first home with temporary vinyl floors, which totally reminds me of the hacks I've tried in my own home. Talk about a trend setter. When I was young, we would build and decorate doll houses and doll house furniture together—I'm talking big, extravagant houses and custom-painted furniture—and in a way, I think that helped me feel emboldened to design on a larger scale. Now that she's passed, my penchant for interior design feels like an ode to my Nama. I'd be remiss if I didn't also share her favorite design tip: just paint it black.
Has growing up in Napa, CA to living in Jamaica for three years as a Peace Corps Volunteer to now living in DC changed or influenced your style when designing your home in any way?
Absolutely. California in general and Napa in particular is bursting with natural beauty. I grew up loving hikes, plants, and being outside, and that's definitely reflected in my style today. There, it's common to find spaces influenced by Italy and the French countryside. Think airy, rustic, and earthy—all attributes that I love today. Life in Jamaica… well, let's just say I give sweet Jamaica FULL credit for turning me into a plant lady. My host mom's yard was full of gorgeous orchids, birds of paradise, and other tropical foliage, and when I moved back to the U.S., I really missed living among all of that life. Jamaica shows up in my space through every plant I grow and every pop of color I incorporate. Living in DC has opened my eyes to the vast world of exterior architecture, and deepened my love for historic character.
On your Instagram bio, it mentions your name and then, "earthy modern home." Is that your goal/vision when designing your home? An earthy, modern, feel and look?
Yes! One of my Instagram friends described my home in this way once, and it felt like the perfect characterization of what I'm going for. Think rich earth tones, natural materials like wood and ceramics, and crisp whites. I want my home to be the kind of place that I feel relieved to return to, a place that gives me energy to take on the world.
How would you describe your personal design style?
Inspired by nature, rooted in earth tones.
What are the qualities that you look for when looking to purchase a home?
This is probably something that most people look for in a home, but natural light is really important to both of us. We actually almost backed out of our last rental because we weren't sure if it would be bright enough!
My partner and I just purchased our first home: a two-bedroom, two-bath condo in Northwest Washington, DC. We had a lot of desired attributes in mind, but in a city like DC, it all comes down to budget. We definitely had to make some compromises on location and amenities, but our new space is the perfect blank slate for me to personalize while still being close to our communities.
Take us through your process, where do you usually like to start when designing a home?
I always start with a plan or inspiration image. Sometimes my inspiration comes from landscape photos! I framed a picture I took at Bryce Canyon National Park, and can honestly say that those colors are my favorite jumping off point.
I also like finding ways to design around the items I already own and love. For example I designed my whole dining room around an oil painting with a deep green backdrop and a vintage Heriz rug that has lots of green and peachy tones. Take some time to collect your thoughts (I usually use Pinterest or just paste images into a Google slide) and it will pay off tenfold.
Are there any specific pieces of furniture or home accessory staples you believe are good to invest in?
I believe in investing in quality pieces all over your home, but that doesn't have to mean you're spending lots of money—most of my furniture is vintage or second-hand (including our leather sofa, which I found on Craigslist!). As a rule of thumb, I aim for solid wood pieces, like the hardwood vintage dresser set in our bedroom. It takes longer to find quality pieces without spending all of your money, but it's well worth it. If you're looking for your first investment piece, I suggest starting with high-quality bedding.
The art all around your home, from the art wall to pieces above the couch and around the home, just adds a personal touch and I love it. Do you have a favorite artist you like to purchase from?
The art in our home is a mix of collections. The epic portrait in our dining room is a vintage find from my favorite DC vintage shop, GoodWood, and the prints above the sofa are from Sara and Rich Coombs, the brilliant minds behind the Joshua Tree House. I haven't framed it yet, but I recently bought a print from DC-based artist Lindsay Adams (@lindsaybriadams on Instagram) and I'm obsessed. I try to support local artists when I can because, hi, support small businesses, and also because I don't want a home that looks like everyone else's.
Your blue wall is such a statement in your home. Was that wallpaper originally there or did you add it in? Where do you find design inspiration? Are there any magazines, blogs, or sites you look through often?
The wallpaper in the hallway is actually peel-and-stick from Target! It's definitely the most bold design choice I've made so far, and I chose it because I needed something to balance the neon colors in our "homes for people, not profit" print from @chichaads. I have a massive crush on Justina Blakenly and Dabito's homes (of The New Bohemians fame), and while they're both more brave with color than I am, following them on Instagram has helped me feel more emboldened.
You have a wall dedicated to books in your home. Are you and your partner big readers? Or is that strictly decor? What are your favorite books to read? And have you and your partner read them all?
Living in a small apartment, I don't believe in keeping things around strictly for decor. All but about 20 of those books belong to my partner, Geoff. He devours books about history, economics, and social movements, and he has read the vast majority of the books on our book wall. The others are in his queue! I rely more on e-books and library books, so I don't amass as many, but I tend to reach for novels written by women of color. Bonus points for books about family drama.
Your bedroom looks like it came out of my Pinterest dream board and I have three words, I.AM.OBSESSED. Where do you get your inspiration when looking to design your home?
Thank you!! I had the hardest time with my bedroom because it's a bit of an odd shape and doesn't get much light. The key there was painting the walls a warm white (my favorite is Clare Paint's Whipped) and focusing on natural textures, like linen bedding. Sometimes simple is better, and that was definitely the case for our bedroom.
What sorts of challenges did you face while working on home projects? Have you done any DIY projects during the stay-at-home order?
Space for storage—there's never enough! I've done more DIY projects than I can keep track of, but most notably, hanging the book wall and painting the bathroom ceiling pink.
How do you stick to a budget for furniture and decor? Do you have any tips?
Extremely careful planning. Try to source second-hand when you can, and set money aside for when you can't. Investment pieces are only worth it when you're not going into debt to buy them.
What do you believe makes a house a home?
Pieces that tell a story are what make a house into a home. In my opinion, it's better to build a space slowly with collected pieces than to strive for a finished look on day one. You're not a home stager, you actually live there.
What has been your proudest accomplishment yet?
In life? Definitely buying a home with my partner. I never thought homeownership was an option for me, and now that it's my reality, I want to pour energy into expanding that option to others who want it.
What advice would you give your 22-year-old self?
All of the choices you make will be the right choices for you—even if things don't turn out as you'd expected, your choices will still help you grow into the person you're meant to be.
Dominique is The Everygirl…
Ideal Friday Night? A post-dinner walk followed by watching a comedy on the sofa with Geoff and Olive.
Favorite Book? I can't choose! Right now I'm reading Brit Bennet's The Vanishing Half, and I can't put it down.
Favorite design trend? White plaster built-ins
Last home decor item you bought? A SNIDAD basket from IKEA for blankets
Item you can't leave the house without? Lately, my dog.
If you could have lunch with any woman, who would it be and why? Alexandria Ocasio-Cortez because I don't know where she finds the strength to carry on.