One of my goals for 2021 was to make myself more well-balanced and nutritious meals at home. I want to add more fruits and veggies to my everyday diet, rely less on processed and packaged foods, and make simple swaps for healthier versions of some of my favorites (such as pasta and tortillas).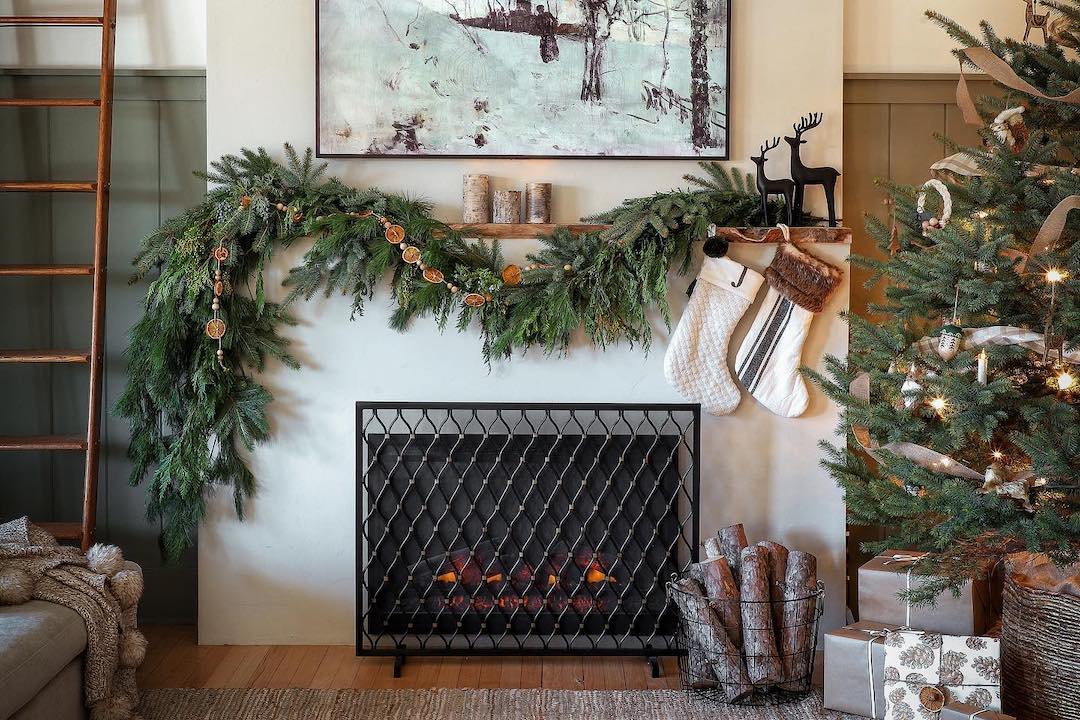 there's still time to deck your halls
Although I already enjoyed cooking for myself, I knew that I just did not do it enough. I also have been a vegetarian for over 10 years, so I wanted to challenge myself to try some new recipes. I am very proud to report that all 10 meals I'm about to talk about were made within a week—so far, so good on that goal!
I also want to take this time to thank the four most important things in my life right now, especially when it comes to achieving this goal: my air fryer, Trader Joe's carb-savvy tortillas, my new Always Pan, and chickpeas.
Whether you are a vegetarian yourself or just need some inspo for the new year, check out these 10 incredibly easy (and delicious, if I do say so myself) vegetarian meals that I rely on during the week:
1. Buffalo Chickpea Salad Wraps

This is a new favorite of mine! Chickpeas are a super easy way for vegetarians to include protein in their diet, and they are also incredibly versatile—making them a non-meat-eater's best friend.
To make these salad wraps, mash up clean and dried chickpeas in a bowl and mix in plant-based mayo, buffalo or hot sauce, salt, pepper, and garlic powder. Spread on the tortilla of your choice (I love the carb-savvy ones from Trader Joe's), and top with lettuce, avocado, onion, and feta cheese for the perfect WFH lunch.
2. Burrito Bowl

Looking at this photo makes my mouth water. Start by cooking onion, frozen corn, and peppers in a skillet with your favorite seasonings. When that's finished, add the mixture to a base of brown rice and black beans (if you're like me you'll just get the microwave options), then add the toppings of your choice. I usually go with avocado, plain greek yogurt (as a sour cream substitute), chihuahua cheese, and a couple crushed tortilla chips.
3. Oatmeal with Peanut Butter and Banana

This is a simple one! I make plain microwave old-fashioned oats with unsweetened vanilla almond milk, and then mix in agave syrup and cinnamon once they are cooked. I top it off with natural peanut butter and a banana for extra protein and deliciousness.
4. Cauliflower Gnocchi with Pesto, Goat Cheese, and Balsamic

A true classic and a lazy girl's best friend: Trader Joe's cauliflower gnocchi. I make mine in my air fryer (if you're not doing this yet, it will change your life) with a dash of olive oil, garlic powder, and Italian seasoning, and then simply mix it up with pesto, balsamic glaze, and goat cheese crumbles. YUM.
5. Tofu Lettuce Wraps

My mom and I have been making this recipe for years, and it just continues to evolve. I'm very excited to share that I recently cracked the code on how to get your tofu as crispy as possible, and the answer is two simple words: air. fryer. Seriously, this tiny little appliance made my life 1000x better, and if you don't have one yet, WYD?!
To make these lettuce wraps, air fry your drained and cubed tofu with your teriyaki sauce of choice and prepare some plain brown rice. You could also make some veggies to add if you'd like. Then add everything to a butter lettuce cup, and top with a bit of sriracha mayo and crispy chow mein noodles—or don't, if you're feeling extra healthy.
6. Spicy Potato Tacos

As if 2020 wasn't bad enough, it was also the year that Taco Bell decided to take potatoes off the menu and break my little vegetarian heart. So if you're in the same boat as me and still mourning that loss, this is a special treat for you: at-home spicy potato tacos.
I make these by air frying (yes, I'm using it again) cubed baby potatoes seasoned with salt, pepper, olive oil, garlic powder, chili powder, and red pepper flakes. The potatoes by themselves are delicious, but I like to put them on a low-carb tortilla and add a sprinkle of cheese, avocado, plain greek yogurt, and hot sauce to pretend I am at Taco Bell. I also like to tell myself these are a healthier version—so, you know, if they're not, please don't tell me that.
7. Lunch Snack Plate

This is what I like to call lazy lunch. Basically, it consists of anything in my fridge that needs to be eaten. For example: on the day I took this photo, I had some leftover buffalo chickpea salad mixture on a lettuce wrap as well as a side of veggies and crackers with plant-based cauliflower tzatziki dip.
8. Breakfast Tacos

I would seriously eat these tacos every day if I could. They are super simple: scrambled eggs, veggie sausage (I prefer MorningStar), goat cheese crumbles, cherry tomatoes, avocado, and hot sauce on low-carb tortillas.
9. Mediterranean Chickpea Salad

Ah, chickpeas, we meet again. This very easy mediterranean salad is just a mixture of washed and drained chickpeas, avocado, red onion, cherry tomatoes, and feta cheese. For dressing, I drizzle the mixture with olive oil and red wine vinegar and season with salt, pepper, and garlic powder. You could also add cucumber and kalamata olives—I was just out on this day!
10. Veggie Fried Brown Rice with Tofu

I'm a huge fan of using leftovers, and this dish is perfect for that. I had some leftover tofu and brown rice from my lettuce wraps, so I fried up some veggies—in this case, peppers, carrots, corn, and red onion—then added the rice, tofu, a fried egg, and some more teriyaki sauce all in the same pan.