We've said it once (or 1,000 times), and we'll say it again — there's just something about fall fashion. At this point, fall fashion is approaching winter fashion (a little too quickly, if you ask us), and we've been wearing our fall best for weeks on end. We've sifted through all of the trends and it-pieces of fall and have figured out what makes each of us feel our best — and what has officially become each of our official fall uniforms.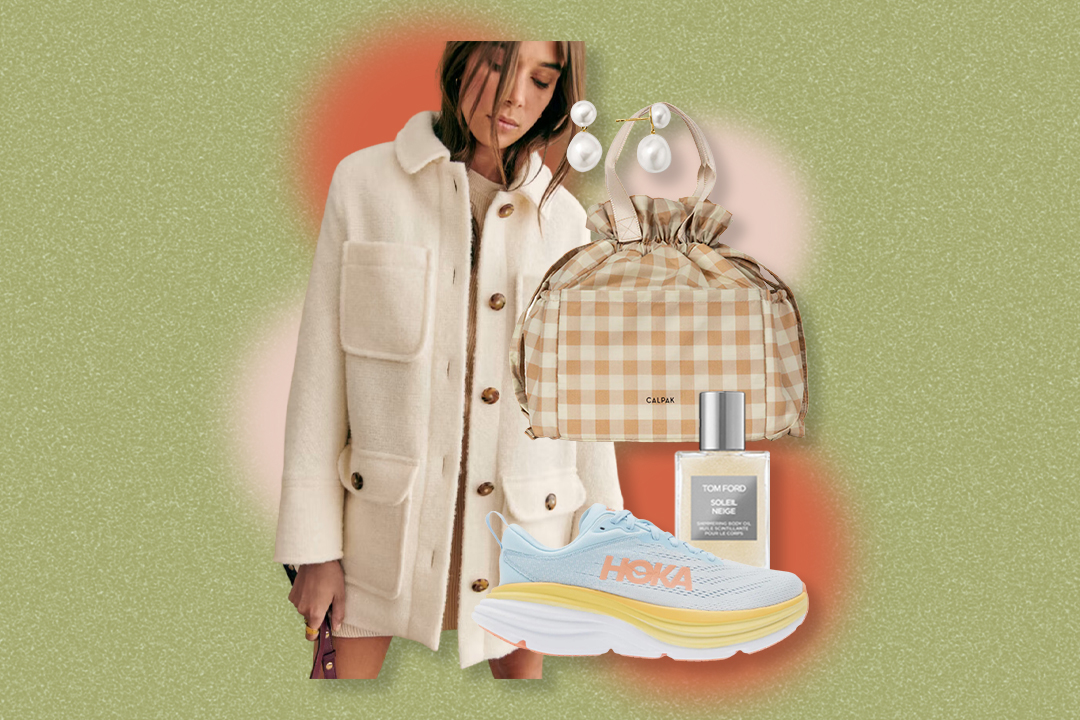 As a fashion lover, one of my favorite parts of our office is how different each of our editors' style is. Kelly rocks classic items and a bold lip like I could never dream of, and Beth rolls into the office in the season's trendiest items every day acting like it's no big deal. Sometimes, looking to my coworkers for how they style both their favorite trendy items and go-to basics can be just what the doctor ordered. These are our editors' most-worn and most-loved fall outfits — I have a feeling you'll love them as much as we do.
dress / sweater / belt / sneaker / sunglasses / lipstick
My style motto right now is "more is more." Something about fall dressing just makes me want to be more adventurous and have more fun in my styling, and I've found my greatest passion of the season in this midi dress. By wearing it solo or with a sweater over top, it gives me a uber-flattering dress and skirt in one, depending on how I style it. I love pairing it with these cat-eye sunglasses and white sneakers — it is the epitome of me and my style right now and makes me feel like a 10 every time I head out the door.
earrings / lip tint / loafer / turtleneck / jeans
I was getting dressed the other day and realized I was smiling because I AM JUST SO HAPPY IT IS FALL. I was made for cozy knitwear and the darkest rinse jeans and loafers with the tiniest sliver of a heel. Add in a swipe of lip color and some swingy hoops and all is well with the world. Honestly, if I could only wear turtlenecks forevermore, I would do it in a pumpkin spice scented heartbeat. Further proof I'm actually a sassy granny.
sweater / pants / booties / backpack
If I'm being honest, my fall uniform looks a bit more like "two pairs of joggers over the top of each other topped off with a too-big concert tee and a high school ex-boyfriend's old hoodie" — but if I must go out in public (not that I wouldn't ROCK that look in public), my fall go-to looks a bit more like this. I love a slouchy sweater paired with tailored-but-drapey pants. The best thing about fall is that sweaters are permissible for everything from work to a date to a night at home — which is why I stock up on the same classic styles (like this one) year after year.
skirt /sweater / boots / clips / lipstick / bag
I've been on the midi skirt bandwagon since this spring, and there are no signs of stopping on my end. I love updating this look for fall with a tight turtleneck (or a chunky knit sweater!) and booties to add some warmth and fall ~flair~. Bonus points for the days I'm on one and add an orangey-red lip, earrings, and some gold layering necklaces. This has been my go-to outfit for work, date night, GNOs, and more — ask me to hang out, and I'll wear this!
blazer / sweater / jeans / flats
Maybe it's because it feels so cozy, or maybe because it makes me feel like Blair Waldorf, but either way, I can't get enough of grandma-chic tweed jackets come fall. To ensure the jacket looks more of-the-moment than it looks like Emily Gilmore (even though she's another one of my style icons, if we're being honest), I pair it with light-wash boyfriend jeans to edge it up and a comfy pair of flats in a trendy print (plaid and cheetah print are one of my favorite combos – yes, you can mix prints!!). Add in a chunky knit, and you've got yourself the coziest, prettiest autumn #OOTD.
From October to March (sometimes a bit longer), I pretty much live in cozy-cute sweaters, jeans, and flats. I can dress that combo up a little bit for dinner out with friends or down for a trip to the pumpkin patch. It's versatile and requires little thinking on my part, which I really don't hate during some of the busiest months of the whole year. And if the pieces themselves are extra cozy, that's a definite bonus.