As a wellness editor and holistic health coach, I consider myself well-versed in many things: plant-based eating, ancient medicinal practices, and self-love. However, the topic I get asked about most often is wellness supplements–what to take, when to take them, and what's actually worth it. The interest in vitamins and supplements makes total sense to me: the supplement industry is confusing AF. We have countless brands, influencers, and experts telling us a magic pill is life-changing or a new powder on the market will have miraculous results. Identifying what we really need in a market filled with expensive miracle powders and magic pills is challenging.
So, I'm sharing my supplement routine to serve as inspiration. I thoroughly research every brand, ingredient, and trendy new product and have tried countless pills, powders, and potions. (I legit have an entire closet dedicated to supplements.) The list below contains my tried-and-true, carefully selected supplements from a confusing and oversaturated industry.
PSA: I'm not a doctor. My goal is to help you avoid spending more money on products that will collect dust on your shelves. I'm here to offer transparency on what works for me, and hopefully, you can use it as a starting point to find what works for you. Remember that every body is different. What works great for me might not work for you, and every supplement routine should be crafted with your doctor. I have my clients get lab work with their doctor to identify gaps in their nutrient and vitamin levels. From there, we add supplements based on health goals. So check with your doc, and use my go-to supplement arsenal as a starting point on your wellness journey.
To take every day
To improve digestion
To take when under the weather
To take while traveling
For stress relief
Equilibria
I've been using these CBD drops for a few years now and I think they will always be a part of my daily routine. While the Arrae Calm tablets are for occasional moments of stress, I use the Daily Drops every day for better response to stress and anxiety over time. High-quality CBD is extremely effective at helping to regulate mood and stress levels. Bonus: they can also increase focus and relieve tension.
Use code theeverygirl for 20% off your first order at Equilibria!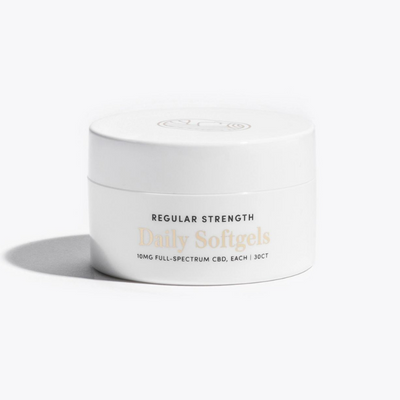 Equilibria
Important PSA: If you have not hopped on the CBD bandwagon to improve your focus, energy, stress relief, and even anxiousness, you are seriously missing out. CBD has made a huge difference in promoting a sense of calm and stress relief without making me sluggish so I love taking these Equilibria ones to start my mornings off on the right foot.
Use code theeverygirl for 20% off your first order at Equilibria!
Arrae
If you can't already tell, Arrae can do no wrong in my eyes–I am indeed a fan and daily user of every one of their products. I've struggled with anxiety for as long as I can remember, and—while there's no quick fix for mental health—this supplement is such an important part of my mental health toolbox. Regular therapy, daily meditation, etc. help keep my anxiety at bay, but taking a Calm Capsule (with ingredients like magnesium and passionflower) is one of the few things I've tried that actually works when a stressful meeting is coming up, I'm getting worried while traveling, or I'm feeling extra anxious one day.
Please consult a doctor or health professional before beginning any supplements or treatments. Always seek the advice of your physician or other qualified health provider with any questions you may have regarding a medical condition or health goal. Never disregard professional medical advice or delay in seeking it because of something you have read in this article.
This post is sponsored by Equilibria, but all of the opinions within are those of The Everygirl editorial board.