By now, you're probably familiar with our yearly gift guide—it's a labor of love that we release every November full of gift ideas for everyone from your mom to that friend that already has everything. But what you might not know is how that gift guide comes to be.
For weeks before it's put together, all of our editors join together to fill a massive doc full of everything we've seen throughout the year that we think is cool or unique or might just have an eye on ourselves. Every single one is considered, but of course, not everyone makes the cut—but that doesn't mean they aren't still on our lists (and let me assure you: when you look at products for your job all day, you know what the best of the best is for the year, and it leads you to a pretty bomb Christmas list).
These are the things our editors have on our Christmas lists this year—from cult-favorite turtlenecks to the coolest shoes we spotted this year to backups of our already-favorite products. Not sure what to ask for or gift this year? Start here.

Leatherology
My wardrobe/accessory choices have changed drastically since COVID. Since I have significantly less places to go, I have focused my wishlist this year on really versatile basics that will last me a long time and suit my more casual lifestyle. I love the camel leather of this backpack and the Trapunto monogram makes it extra special while remaining classic. I am also loving the matching train case from this line. It is so chic!
Circadian Optics
With the daylight hours shrinking and winter in New England approaching, I've added this light therapy lamp to my wishlist this year to help me fight off the winter blues. With so many amazing reviews, I am hopeful this will help me get through the long winter months in Boston.
Dudley Stephens
I had one of these turtlenecks on my Christmas list last year and was generously gifted it by my mom. I wore it all the time with jeans and leggings and I'd like to add a slightly longer cut in neutral black to my closet this year. With more time at home, this cozy fleece is a great way to feel put together but cozy!
Converse
I actually haven't worn converse since middle school and this past fall I bought these in a tan color and fell in love! These shoes made me want to turn all my sneakers into platforms ( gives me some height because I'm short). They are so so comfy so I want them in this bubblegum pink color!
Saje
This product has helped me destress so much! It's this all-natural peppermint oil that you can roll on your temples, neck, and forehead. It releases pressure and smells amazing. I went through my first bottle in a month, so this product is definitely on my holiday wishlist!
Abercrombie & Fitch
There is never a time when I'm not at least slightly chilly, so I like my winter wardrobe to consist of many layers of cozy goodness that can be donned or shed depending on the whims of my internal thermometer. I've been eyeing this jacket for an absolute age, but other essentials keep derailing my budget and so it's made its way on my holiday wish list. I can't wait to be ultra warm and snuggly but also cute and presentable enough to run to the post office box at the corner of my street without looking like a down comforter that sprouted legs.
Etsy | MIKUKUMI
I've been gravitating toward everyday jewelry lately—pieces that you can just throw on and go with everything. I love the ritual of putting on my gold necklaces in the morning, even if I'm only wearing loungewear or men's $7 Hanes sweatpants. I've been wanting to add a snake chain to my stack and this herringbone style feels so minimal yet luxe.
Etsy | SimplySUEL
I'm so into mini lamps right now and this rattan one is what my dreams are made of. The pleated shade?! Perfection. The tiny size?! Absolutely darling. I can already imagine the vignette I'll style with it in my kitchen (I need something semi tall and wide on my counter to hide an outlet) so HINT HINT to anyone who loves me that is reading this.
228 Grant Street Candle Co.
I'm obsessed with candles, and with the holiday season coming up, I can't wait to fill my new home with signature, festive smells. This Baltimore-based candle company has plenty of unique candle fragrances, from Ginger + Lime to Wild Blackberry + Absinthe (one that's already in my cart!). It's a great little holiday trinket that I'll use immediately!
Our Place
I received one of these pans as a housewarming gift, and I can't stop using it to cook everything on! This non-toxic ceramic pan is so durable and you can steam, sear, saute, and fry in it without any food sticking to the bottom. It has become a staple in my kitchen so much, that I'm definitely in need of two of them.
Bonavita
Now that I'm working from home indefinitely, it's time to get serious about my coffee-making. This eight-cup glass carafe coffee maker brews with one touch, making it simple and easy to brew my coffee while getting ready for work in the morning. The carafe and showerhead design of the water filter evenly distributes water over the coffee so there's no imbalance when brewing. I'm looking forward to saving time (and money!) on coffee this winter.
Delonghi
During quarantine, I've made my own coffee more than I ever have in my life, and it's actually become something that I really look forward to. To take it to the next level and be able to make the drinks I'd normally get at Starbucks, I've had my eye on an espresso machine for a while now, but haven't pulled the trigger. I've done a ton of research, and out of all the affordable options, this one came the most highly recommended.
Grande Cosmetics
This lash serum is, to put it lightly, a miracle. It has completely changed my eyelashes over the past few months of use and I truly couldn't recommend it highly enough. This set is a steal—it's the cost of what a regular tube of the lash serum costs, but includes a mini brow and lash serum with it. Since it's worked such wonders on my eyelashes, I want to have a backup, and can't wait to test the brow serum.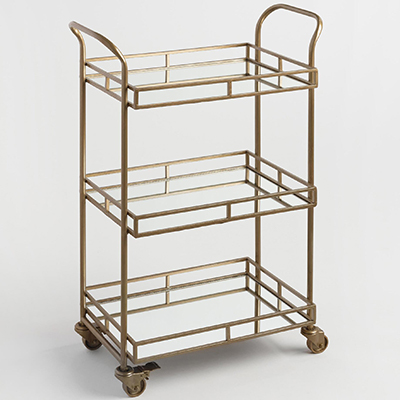 World Market
I have a vision of my 2021 kitchen, and it includes a little coffee station, complete with my espresso machine, regular coffee machined, and tea kettle all set up on a bar cart. I have scoured the depths of the internet for my favorite, and this one is both pretty and affordable, and I love that it's three tiers. After Christmas everyone is welcome at my apartment for fancy coffee drinks!
Mason Grey LA
I never thought I'd be lusting after a robe as much as I am, but alas, 2020 (and adulthood in general) is a pretty weird time. I think I have quite possibly found the most stylish robe that has ever existed and it also comes in the softest fabric that's luxe without feeling too hot (I hate wearing a too-fuzzy robe after a hot shower). It comes in so many gorgeous patterns and colors, but I feel like the oatmeal color is exactly what a Nancy Meyers heroine would wear before bed, so I'm going with that one. I'll also be telling my mom (I mean, Santa) to feel free to toss in some of the other cozy loungewear at Mason Grey because it's truly the softest fabric on the planet.
Nespresso
Putting a milk frother at the top of my wishlist–is that what being an adult means? Most people care about the quality of the coffee, but anything tastes good to me as long as there's frothed milk on top. I mean, a little frothed almond milk instead of just pouring in boring old creamer is a game-changer isn't it? I feel like Nespresso is the best of the best, and it's a good frother for non-dairy milks like I prefer. 2021 is about to get a lot more frothy!
MANGO
I am not over the leather-everything trend of 2020, and neither is my wishlist. I've been eyeing a lot of faux blazers since fall fashion started coming out in July, but none of them seemed like exactly what I wanted until I found this one. I love the rich chocolate color, the structured tailoring, and the big buttons *swoon*. The best part? It's a gift I can start wearing immediately (you bet I will be pairing with sweatpants), and will wear season after season, year after year (thank god blazers never go out of style).
Abercrombie & Fitch
In the past, I've had the habit of buying random coats whenever I liked one—which led to me having an unnecessarily large collection of coats that I hardly ever wear. One of my goals for winter 2021 is to donate those perfectly-good-but-barely-worn coats in my closet and instead keep the pieces I'll love and wear for years to come (and with every outfit I own). I've had my eye on this exact coat since last year, but haven't made the purchase due to its investment-level price. This year, I not-so-subtlely sent the link to my sister and brother-in-law in the hopes that they'll gift it to me for being such a good aunt to their son.
Amazon
While I love the feel of a physical book, practicality (and space in my apartment) has led me to the realization that it's time I hop on the e-reader train. I don't need fancy bells and whistles—but I knew I wanted more of a "reader" format than a "tablet" format so that I can read both in the dark AND out in the blinding sun (that's what separates this kind from an iPad, in my opinion). I've been hesitant for awhile, but I'm looking forward to continuing to support local bookstores through bookshop.org by purchasing from their e-book selection (I think that's a little-known fact about e-readers—you can still purchase independently!).
Timberland
My holiday gift list always consists of things that are very practical to use almost every day, but maybe just a little outside of my treat-myself price range—and these boots are exactly that. Good waterproof boots are absolutely essential in the midwestern winter, and I love that these combine the trend of a combat boot style while still looking classic (and warm!). I'll wear these on bundled-up walks with my nephew or just to trudge through the snow on the way to the grocery store.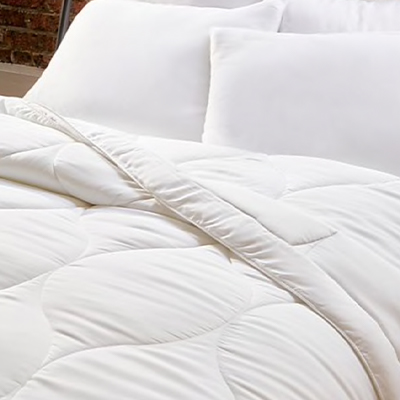 Buffy
I've officially reached the age in which my holiday wishlist entirely consists of items like "meat thermometer" and "griddle pan" and "new Swiffer," but after an unfortunate evening of spilling garlic sauce from a pizza box onto my bed at 3am, I am in desperate need of a new comforter that I don't have to strategically place on my bed so no one sees the giant yellow spot. And since it's a gift, I'm asking for one slightly out of my normal price range. I have researched the heck out of duvet inserts, and this one is right in the price range I want (my mom) to spend but still has incredible reviews. I want something fluffy and cozy without causing my already hot self (hehe) to burn up. Basically, I'm going full "hotel spa relaxation room" with my bed. (I also have this gorgeous duvet cover on my list!)
GreenLife
When I moved into my first apartment, I bought the absolute cheapest version of every single thing imaginable. If "splurge" was an option, I did not take it. This goes for my pots and pans, which I realized only recently are not nonstick, which apparently is… kinda weird. But I'd be lying if I said I put these on my wishlist for any reason other than that they are cute. However, my dad (the lovely person I'm asking to buy me these) will definitely be happy to hear this set has thousands of positive reviews and is such a great price for having 16 (!) pieces.
Sunbeam
Back to a cozy bed, my friend has been singing the praises of this heated mattress pad for almost two years now, and it wasn't until I sat on her bed a month ago that I finally understood what she was talking about. This is what warm, cozy, wintertime sleep magic is made of. It goes under your sheets like a typical mattress pad and plugs into the wall. There's a sleep timer and an on/off switch to make it extra easy and so you don't burn up in the middle of the night (my biggest pet peeve). This will be a staple in winter 2020 when I'm working from my bed on cold, snowy days, but it'll also be amazing when we're back to work (LOL, a thought) and I'm absolutely begging for an adult snow day because I wake up freezing cold.
AMARILO
Gold jewelry is at the top of the list this year, which would come as a surprise to those who typically are preparing to buy me something during the holidays, as I usually don't wear any jewelry. Not because I don't love it—because I can't keep up with it. I am finding necklaces easy to keep track of and fun to layer. I love everything from Amarilo, but my favorite at the moment is the Amarilo x Ashley Blaine Featherson collaboration. The dainty yet meaningful Nerfertit Necklace is an accessory I'll be dropping hinting for this holiday season.
BEYONCÉ
Beyoncé's Homecoming performance still gives me goosebumps. I grew up performing in a marching band just like the one depicted at Coachella, and listening to the new mixes of her songs with that familiar swag is nostalgic and makes me dance around my house as if no one is watching. Listening to this on vinyl, I imagine hits a little different, and the 52-page insert, I bet, is a visual wonder, which is why this is at the top of my wishlist.
Williams Sonoma
I am a sucker for a charcuterie board, and if someone sent me one from Williams Sonoma, they'd win the best holiday gifter award this year. I find the gift of food to be so thoughtful and useful. I also just really love cheese!
Converse
I am a strong believer that you can never have too many pairs of shoes, and my Christmas wish list always reflects that. This is just one of many pairs I've been dreaming about lately, and I'm seriously obsessed. White sneakers are timeless and match everything, but this fresh take on them is giving me some serious cool girl energy.
SKIMS
As we all know, loungewear is just about the only thing we're putting on in 2020. While browsing the Skims website (I want it all), I came across this super cute little pajama set and immediately added it to my list. As an avid fan and wearer of biker shorts, I love the boxer style of these shorts—and I'm picturing this set with an oversized hoodie and slippers for the perfect stay-at-home look.
Viviana D'Ontanon
Another thing I can't get enough of? Gold jewelry. In an effort to support more small businesses, I have discovered so many AMAZING jewelry brands in the past year. I want to buy everything from so many of them, and this one is no exception. I've been searching for an affordable chunky gold ring that won't tarnish, and I think this one is absolutely perfect.
PowerXL
I've been wanting an Air Fryer for a majority of this entire year but, at the end of the day, it wasn't a necessity for me to buy on my own. So when my mother asked me what I wanted for Christmas this year, I blurted out "Air Fryer" faster than I've ever made any other decision in my life. To be able to quickly whip up crispy veggies, cauliflower gnocchi, and salmon for one is my idea of a good time and I hope I'll be able to make my dreams a reality sooner than later!
Gisou
I have been eyeing this Gisou hair oil for years but I can't seem to pull the trigger on it myself. I've heard so many great things but, let's be real, the price is steeper than I'd like it to be! So, Santa, if you're listening and would like to help a girl achieve the silky, healthy locks of her dreams, I would most definitely accept this gift with open arms.
Barefoot Dreams
Barefoot Dreams, I love your work! I have seen these just about everywhere on the internet but it was only recently that I had the pleasure of trying one out myself. One cuddle session later and I'm absolutely hooked. I finally get the hype and having one for myself to weather the Chicago winter would be the best gift in the whole world.
Kiehl's
I received this as a gift several years ago, but didn't use it up right away. With my hands getting increasingly dry as the weather turns colder (and increased pandemic-induced hand-washing), I pulled it back out to see if it could help. Not only did it help, it worked wonders. It'll be on my list this year to keep my hands moisturized all winter long.
Target
There's just something about matching pajamas. I feel so much more put together when i pull on a pajama set than when i rummage through my pajama drawer and pull on mismatched sweats and an old T-shirt from college. This set is just what I'm looking for because (according to reviewers) the fabric is oh so soft and the pants have a narrower cut to them, which I much prefer when sleeping. Wide-legged pajama pants make me feel trapped and no one needs that—we get enough stress during waking hours.
DANSK
Everyone needs a small saucepan if you ask me, and this one is so pretty. It's perfect for heating up leftovers, making a quick sauce, and so much more. Plus, the lid brilliantly doubles as a trivet, so you can bring your pan right to the table.
Cygnet Living
If there's anything I can't get enough of, it's personalized gifts. Whether it be my name, initial, birth year, astrology sign—you get the picture, I love it all. I first noticed this sweater in our work group chat and as soon as I saw it, I knew I had to have it to my wardrobe. So if any of my family or friends are reading this, just know this is at the top of my list, wink wink.
Tatcha
I'm not getting any younger and neither is my skin, so this year, I made it a point to invest in my skincare and not just put anything on my face. I've heard such lovely things about this brand and I believe there is truly no better way to test out a brand or product than getting a set. I'm aiming for that effortlessly glowing look and I'm excited to see what the hype is all about.
Barefoot Dreams
This past year and a half, I've turned into such a homebody and I have absolutely no shame in that. When I hear the words "cozy" and "homebody," I instantly think of Barefoot Dreams. Not only are they oh so creamy and just an instant warm hug, but a necessary blanket you need in your life. I don't have the guts to buy this blanket as I've already done it once, but if there's any family members out there who are open to doing a combined gift, just know my heart will forever hold a special place for you for giving me the gift of my dreams this holiday season.
Bala
Maybe I've been watching too much Shark Tank, but I'd love to get these wearable weights to kick my at-home fitness game up a notch in 2021. One bright spot of the pandemic, if you can call it that, has been that now I exercise a lot more regularly than I was before, and I'm trying new fitness classes I probably never would have otherwise.
Calm
This apocalypse of a year has done a number on everyone's mental health. Some days are truly a rollercoaster, but I'm trying to think positively and stay as sane as I can. A meditation subscription would be an amazing gift and probably one that my roommates, AKA mom and dad, will benefit (by proxy) from while I'm staying with them for a bit longer.
Athleta
I already have a small but mighty mask collection going but it's better to be safe than sorry, right? My friends have told me Athleta masks are great for exercising with as well as for day-to-day use, and, aesthetically, I really like that these are simple, solid colors. In the colder months, a good mask will at least eliminate one excuse not to hit the pavement.