OK, confession time: The plot of Emily in Paris wasn't exactly my thing. I scoffed every time yet another perfect French man strolled into Emily's life and rolled my eyes at her rapid Instagram growth with little effort. So what made me finish all 10 episodes in a mere weekend? Her clothes.
Emily's wardrobe is, in a word, perfection. It's eclectic and fun and colorful and everything unexpected that we actually wanted this year. And my personal favorite part of all of it? Her coats and jackets. There is absolutely nothing that can steal the show like a fabulous jacket can, and Emily proved that in just about every scene in the show. I didn't know I needed a metallic green jacket, but hell, I guess she showed me that I do now.
Sit back, enjoy the show, and leave the frantic Googling to us—these are the closest dupes on the Internet to Emily Cooper's swoon-worthy coat collection (all at price's that are a lot less than her Chanel habits).
1.
Of course Emily was on the shacket trend before anyone else. This red, plaid one is perfect to cozy up in for the holiday season.
2.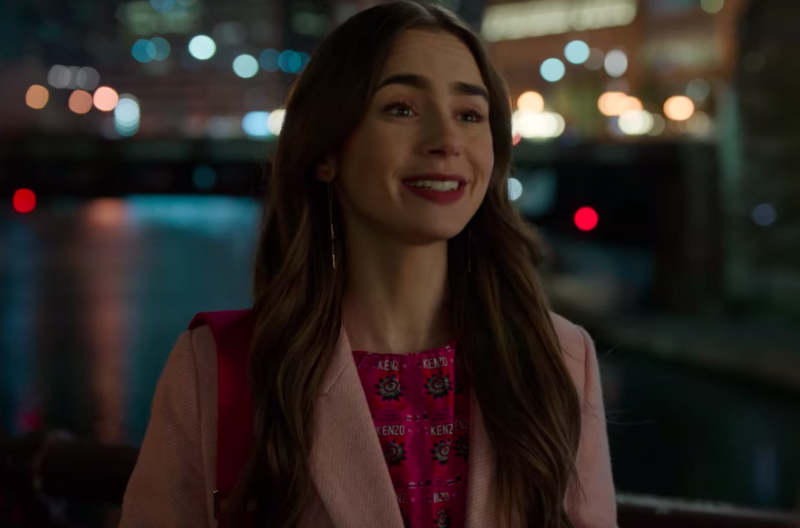 A classic blush coat is something you'll never regret having. For extra Emily points, pair it with something bright underneath.
3.
Never did I think I'd want something turquoise in my wardrobe in 2020 (the same exact color as my senior year homecoming dress), but leave it to Emily to show us how fun and different it can be.
4.
One of Emily's more classic looks, this plaid blazer pairs well with just about everything—and the beret to top it off is icing on the cake.
5.
This coat was, arguably, my favorite of the entire season and made me want to toss my black coats out the window immediately. If you ever needed inspiration to have fun with your outerwear, this is it.
6.
Mindy's chic python blazer dress steals the show here, but we also can't deny how fabulous this metallic, emerald look is either (again, who would've thought?). You can't go wrong with either of these for a go-to for a statement look.
7.
Can you imagine walking into a Christmas party in this? Enough said.
8.
When Emily walked on-screen in this coat, I stopped what I was doing and searched "green coat" on every site I could think of. While this Chanel one is a liiiiiittle out of budget, you can get a similar look with these:
9.
This slouchy, black denim number captures that effortless Parisian vibe with little-to-no effort.
10.
A leather blazer was already on our 2020 wish list, and this solidified it near the top of the spot. Mindy also looks incredible in this out-of-the-box number, proving how fabulous bright patterns can be.
11.
Of all the blazers I've seen frequently, a classic red one isn't on that last, and after seeing this one, I can't figure out why that is. Wear it for the holiday season and beyond by pairing it with all your neutral pieces (or if you want to channel Emily even more, with something bright).
12.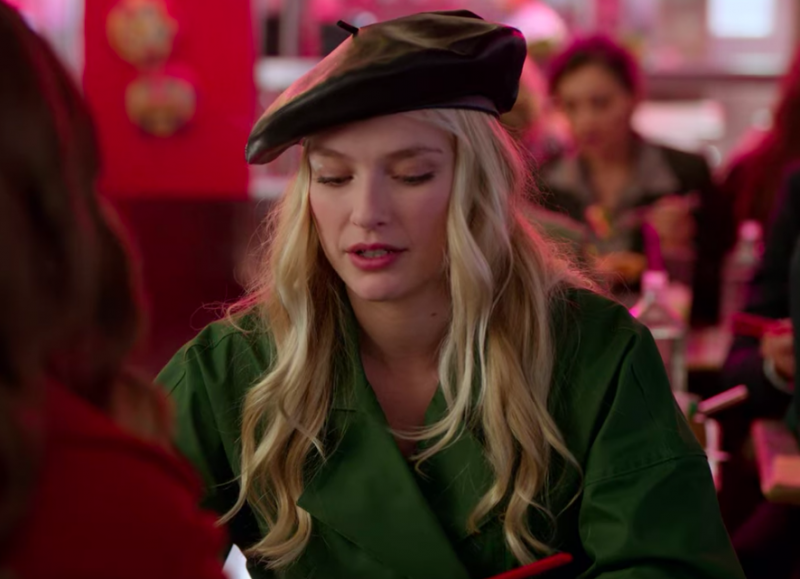 While the leather beret is an obvious talking point here, this mid-toned green jacket checks a box that few other things can: it somehow is both classic and fun.
13.
A red, plaid blazer is the investment piece that will have you patting yourself on the back again and again. Pair it with one of this season's out-of-the-box collared tops to capture this look seamlessly.
14.
When you're covering your entire outfit with a coat, the coat might as well do all the talking; and what talks more than this bad boy?
15.
This classic coat would look just as amazing with black or white underneath, but Emily shows how versatile it is with these fun, bubblegum pink pieces.