Erin Francois of Francois et Moi is no newcomer to interior design and decorating for the holidays. Growing up in Minnesota, her Christmases were always full of traditional and classic trimmings, but also festive aesthetic touches inspired by Scandinavian heritage pieces and elements of design. She has brought the rustic Nordic feel and concept known as "Hygge" to life in her charming and well-curated dwelling by incorporating cozy and chic, yet minimalistic textures and colors into the decor. It truly radiates warmth and contentment. Take a look through Erin's alluring and quaint Minnesotan home, and learn how she enjoys mixing nostalgia and Scandinavian traditions from holidays of the past with her developed sense and passion for modern interiors!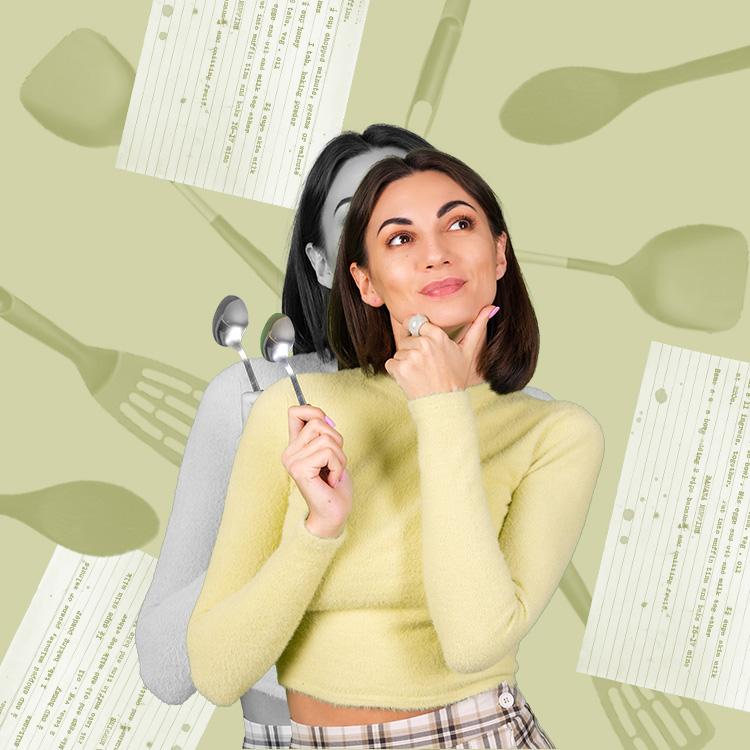 high in protein, good for gut health, and anti-inflammatory? yes, please!
Name: Erin Francois, Creative behind Francois et Moi
Location: Minneapolis, MN
Sq. Ft: 1,200
When do you start decorating for the holidays?
We usually put up our tree the weekend before Thanksgiving, and once the tree is up we decorate the rest of the house too!
Tell us about your holiday decorating process.
Hygge is a big part of our decorating process. With the weather turning colder and days getting shorter, I think it's important to surround ourselves with simple pleasures that bring us joy. For the most part, we keep our everyday decor and simplify and rearrange slightly, like move our big 'birds of paradise' plant into the office to make room for the Christmas tree.
My favorite elements to make our home feel festive are:
Natural elements, like evergreen garland, berry branches in a vase, amaryllis bulbs, spices, and fruit.

Extra candles to help light the long nights

Extra throws and blankets

Cozy textures like velvet and wool
To help keep decorating costs down, I make a lot of our decor using paper and other utilitarian materials we have around the house.
We decorate in stages throughout the season in an effort to be intentional about what we're bringing in.
How do you budget when it comes to decorating seasonally? (Things can get expensive for such a short time of the year!).
The cost of Christmas decor can really start to add up quickly! The two larger decor elements we budget for every year are a real Christmas tree and fresh greenery for garland and a wreath, but beyond those two big purchases, I make it a goal to find ways of making decorations from inexpensive materials like paper and materials I already have around the house. For example, these origami stars are crafted from folded cardstock, and the paper bag stars hanging in my living and dining rooms are made of paper lunch bags. (Tutorial can be found here.)
Where do you shop for holiday decor?
Local garden centers, like Tangletown Gardens and Bachman's, for fresh greenery and other natural elements

Michaels Craft Stores for faux evergreen sprigs

Thrift stores are a total goldmine for vintage decor. Shopgoodwill.com is a favorite for being able to thrift shop in other parts of the country

CB2 has especially lovely, minimal holiday decor
Do you have any holiday traditions that are special to you?
I have a few Scandinavian heritage decor pieces, like the wooden welcome star (hanging in the kitchen) and brass angel candle chime (not pictured), that I love decorating with because they remind me of childhood Christmases in Northern Minnesota.
As a family, Ken, Sylvia and I have a sweets baking day where Ken and I make everything from homemade caramels to spritz cookies, and Sylvie is our expert taste-testing toddler.
Do you have any tips for readers who may live in smaller apartments (and who are on a budget) who might not be able to decorate to their heart's desire?
I suggest keeping your decorating plan simple. Accentuate your everyday decor with festive touches of evergreen sprigs, and add red berries in vases, draped in bowls, and tucked into a tray or trio of candles. Fresh elements paired with candlelight work yuletide wonders!

Instead of a full-size Christmas tree, go with a small, potted evergreen. It has a smaller footprint, and you can enjoy it on your balcony come spring

Get creative by finding new ways to use what you already have on hand. Beyond paper crafts (mentioned above),

dried orange garland

is another inexpensive project you can make right in your own oven with a fresh orange and some twine.

Go vintage. Peruse thrift stores for inexpensive nostalgic tree ornaments, Santa mugs, etc.
What was your childhood home decorated like at the holidays, compared to your own as an adult? Did you take any influence from your childhood when putting your own together?
Growing up, our home was always really festive and kid-friendly, powered by snowman window clings and stuffed Santas from Current Catalog, but my parents were also very into celebrating our Swedish, Norwegian, and Finnish heritage with pieces like their lighted welcome star, angel candle chimes, straw tree ornaments, and so on.
Their appreciation of our heritage is what has stuck with me most as I decorate my own home for the holidays.
How has decorating for the holidays evolved over the years for you?
When I was first out on my own, I moved nearly every year, so I hardly decorated at all. Lack of budget and the limited amount of time I spent in my apartment are to blame, I suppose! One year in my early 20s, my only decoration was an ornament a friend gave me that I propped up on my kitchen backsplash. Over the years, I've started putting down roots and placing more emphasis on creating traditions and making memories with my husband, Ken, and later, Sylvia.
Have you slowly been collecting your holiday decor over the years, or did you purchase it all at once?
We slowly collect, though we limit ourselves to one Christmas tote of ornaments, special nostalgic pieces, stockings, etc. Most of our decor is made up of fresh natural elements.
Do you have a favorite ornament on your tree?
I have a handful of Nutcracker ornaments with happy memories of dancing in the Nutcracker ballet every year as a kid and teenager.
What's your favorite piece of holiday decor that you own?
I think my favorite piece is the handmade welcome star I mentioned above. My parents had one they hung in their dining room window every year. Incorporating the same star reminds me of Christmases in Duluth, MN and helps me feel connected to my Scandinavian roots.
Overall, what's your favorite thing about celebrating in your home?
My favorite thing is making memories as a family and watching Sylvia grow and change from year to year.
What does your Christmas morning look like?
Right now, we spend Christmas eve/morning at either my parent's home or my in-laws home in the Minneapolis area.
Do you have any holiday traditions you haven't started yet, but are planning to?
As Sylvie gets a little older, we hope to start the tradition of waking up and opening gifts in our own home on Christmas morning.
Erin Francois is The Everygirl…
Hot chocolate or hot cider? Hot Cider
Favorite Christmas song? I have SO many favorites! "Rocking Around the Christmas Tree" by Brenda Lee
Favorite Christmas movie? Love Actually
Favorite Starbucks holiday drink? Chai Latte with a shot of espresso
The best gift you've ever given? Several years ago Ken and I bought each other an espresso machine for Christmas. It's the gift that keeps on giving all year.
The great debate: when do you start listening to Christmas music? Mid-November (when we put up the tree!)
What's at the top of your Christmas list this year? A Roomba!