It is safe to say that if Erin Taylor is awake, she's running non-stop. Balancing multiple event projects, two young children, a husband, and all of the trappings of owning her own business—we wonder when she has time to sleep. But Erin does it all with an electric passion that can only be indicative of someone living out their dream. She may have started in real estate, but this self taught event designer took a leap of faith and hasn't stopped hustling since.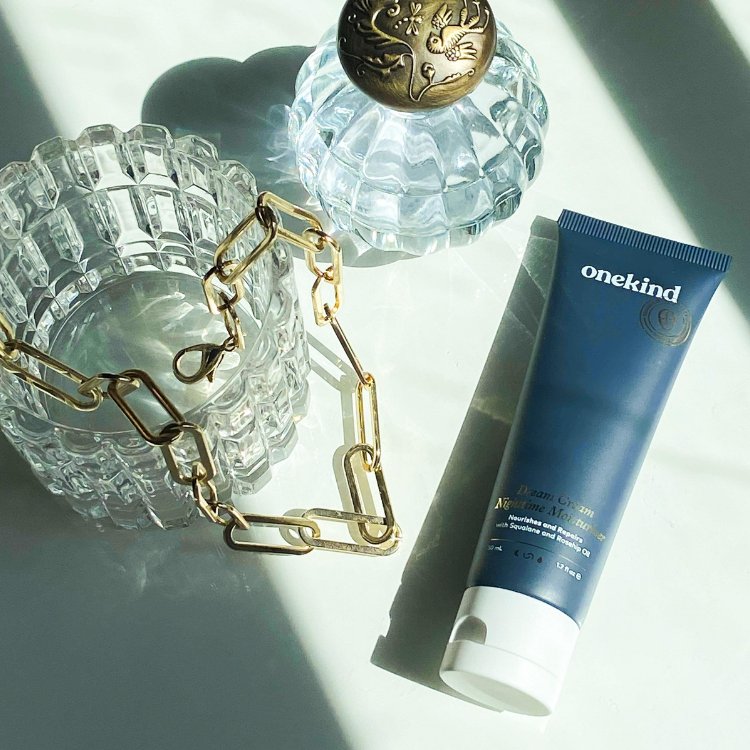 you just pay shipping—use code EVERYGIRL to get yours today!
Erin and her family currently reside in Benicia, California, a small town outside of San Francisco. They are renting while saving up to purchase a home of their own, but this has not stopped Erin from making the most of her budget and space. Her home is an effortless mix of investment pieces, Target finds, and garage sale steals, that truly prove style doesn't have to cost a fortune. We're so grateful that she is sharing all the details about her growing business while taking us on a tour inside her vibrant family home.
Full name: Erin Taylor
Age: 33
Current title/company: Owner and Creative Director at Bustle Events
Education: Bachelor's Degree in Communications
What was your first job out of college?
I actually got my real estate license shortly after college and worked in real estate for 2 years before switching to account management.
How did you transition from real estate into owning your own event planning business?
I wish I could say I just grew some balls and jumped out onto my own! Actually, I was doing event planning as a hobby/side business; when I went on maternity leave after having my daughter, I was laid off the day before I was supposed to go back to work. Illegal, I know! But I saw it as an opportunity to jump all in with the bonus of getting to be home with my new baby girl. Win, win.
How did you market yourself and your business once you got going?
I dove into networking. I am a people person and love meeting new people and building friendships. I also did shoots for magazines and blogs so my work could speak for itself.
What has been your favorite event to work on?
Oh man that is a tough one. I really have enjoyed so many and have really great ones coming up! If I have to say, two stand out in my mind. One was a 225 guest wedding on treasure island for a very fun couple. Despite such a large guest count, the event felt intimate and the love was palpable. The second is a wedding at The Parker in Palm Springs for a super hip couple. I loved working with them to create a totally unique look full of so many great details. Not to mention, their band was fantastic!
What has been your greatest challenge with starting Bustle?
I would say the juggling act of trying to keep a good work/home balance. No matter what it never feels balanced all at one time, but in the end it all balances out.
And the biggest reward?
Owning my own business is the greatest reward. I get to do what I am passionate about every day. I love bringing couples' dreams to life and loving what I do all at the same time. I also think showing my kids that you can have a job that you love.
Any advice for Everygirls who want to go into event planning?
Don't expect it to happen overnight. Do the work and be yourself.
What does the future look like for Bustle?
We just opened an office in southern California, so expanding is in our future. Bustle has already grown more than I ever imagined. Who knows what can happen in the future? One thing is for certain: We will always stay true to who we are and continue providing our clients with amazing service while making the planning process fun.
Let's talk about your fun and stylish home! Do you rent or own? How long have you been there?
We are currently renting and saving up to purchase a home. We love this house because it is close to our daughter's school; we walk her to and from every day. We also loved the floor plan which is especially important to us because you can't change that in a rental.
How would you describe your personal decorating style?
I would say I have a pretty eclectic style when it comes to decorating my home. I love the juxtaposition of new and old, trendy and traditional.
What was your strategy for decorating the space? Big pieces first? Room by room?
I start by determining the function of each room and then decorate accordingly. Our children are rarely in our living room, so I knew I could add in things that were more fragile or not especially kid friendly. However in the family room, where we spend a lot of time, I used our ultra resilient micro fiber couch. I chose the big pieces first and then added the little details once the space had a definite purpose.
What design challenges did you face in this space and what did you do about them?
The carpet in this house is everywhere, so I used rugs to give each room its own style. I also could not paint any of the rooms, so in the kids' rooms I had decals made and used them to add a fun touch.
Where did you shop for the items in your home?
I shop all over. Lately I have been loving West Elm, Lulu & Georgia, and Target.
What are some of your favorite pieces? 
I would say my favorite pieces are my Nate Burkus for Target Lamp, Lulu & Georgia Painted Desert Rug, and my vintage couch that I got off Craigslist and had reupholstered.
So many renters are hesitant to buy major pieces for fear that they won't transition to their next space. How do you deal with this?
I always choose pieces that can be repurposed at another space. For instance, our sectional black couch has been with us at four different homes. The chaise can be switched from one side to the other, so it can fit any space.
We have heard you are quite the DIY-er! Any DIY projects in your home?
Yes I did! I took some cafe chairs I got at a garage sale and recovered the seat with a cream linen and then painted the bottom three inches of each leg white. It was a fun project to jazz up old chairs. I also spray painted my Lulu and Georgia chairs white since the chrome it came in isn't really my style, but I loved the silhouettes.
What do you love about living in your city?
I love that our town has the "small town" feel and that it's near the water. When I had kids I knew I wanted them to grow up in a safe place with great schools. I loved where I grew up and all of our good friends live here as well. My parents also live near us and that is so important to us. We have great group of close friends that I couldn't imagine living life without.
What advice would you give your 23-year-old self?
Find where your passion is and what you love and try to do that for a living. You are so young. Don't give up until you are doing what you were meant to do. Because guess what? One day you will have your dream job.
Erin Taylor is The Everygirl…
If you could have lunch with any woman, who would it be?
I would love to have lunch with Tina Fey, because she is hilarious, confident, and super successful.
Favorite way to treat yourself?
Laying by the pool anywhere is so relaxing to me.
Dream vacation?
I have always wanted to go to the Greek Islands.
Best advice you've ever received?
When I was first starting my business I attended a conference and a speaker said "be totally transparent." I am not a fan of "fake it till you make it." I believe in being totally honest with people and letting them know exactly who we are and how Bustle got to where it is. I don't need to lie or stretch the truth about any aspect of our company.
Product Sources
Living Room
Couch and chairs, Vintage
Coffee table, Craigslist
White vase, Lulu & Georgia
Horse head sculpture, Lulu & Georgia
Candle, Lulu & Georgia
Gold frame chalkboards, DIY with framed mirrors from a garage sale
Side table, Urban Outfitters
Gold stripe pillow, Stay and Co
Mint pillows, Ikea
Gold X pillow, Target
Tree basket, Target
Gold pouf, Lulu & Georgia
Teal sideboard, vintage that was repainted
Decanter and glasses, vintage
Plant and basket, Ikea
Garden Stool, Lulu & Georgia
Dining Room
Table and chairs, Garage sale that I painted and recovered the seats
Indigo Runner, DIY
Owl salt and pepper shakers, West Elm
Painting, commissioned piece by Anna Korkobcova
Living Room
Black couch, Thrifted
Mint Pillow, Lulu & Georgia 
Gold Side Table, Target
Outdoor Area
Rug, Lulu & Georgia 
Table, West Elm
Chairs, Maude Chairs and Edith Dining Chairs from Lulu & Georgia
Pillows, Lulu & Georgia
Master Bedroom
Headboard, DIY
Gold and navy pillow, Lulu & Georgia
Nighstands, Target
Sette, Urban Outfitters
Rug, Lulu & Georgia
Mirror, Lulu & Georgia
Console table, Lulu & Georgia
Lamp, similar Target
Cohen's Room
Crib and changing table, old
Crib sheet, Etsy
Blanket, Target
Emma's Room
Quilt,Target
Bed, hand-me-down
Pink and gold pillow, similar Lulu & Georgia
Doll, Jellycat
Tassle garland, Everlylane
Office
Stripe bench, Marshalls
Desk, Ikea
Chair, Lulu & Georgia
Pillows, Lulu & Georgia
Rug, Estate Sale
Fashion drawings, Paper Fashion