You could say Alaina Kaczmarski is pretty busy — as the cofounder of The Everygirl, the voice behind her own personal blog, and an excited mom-to-be, you'd think she'd have little time or energy left over for extra festivities. The holidays, however, are her favorite time of year — no matter how busy her calendar is, she LOVES to make time to decorate and entertain.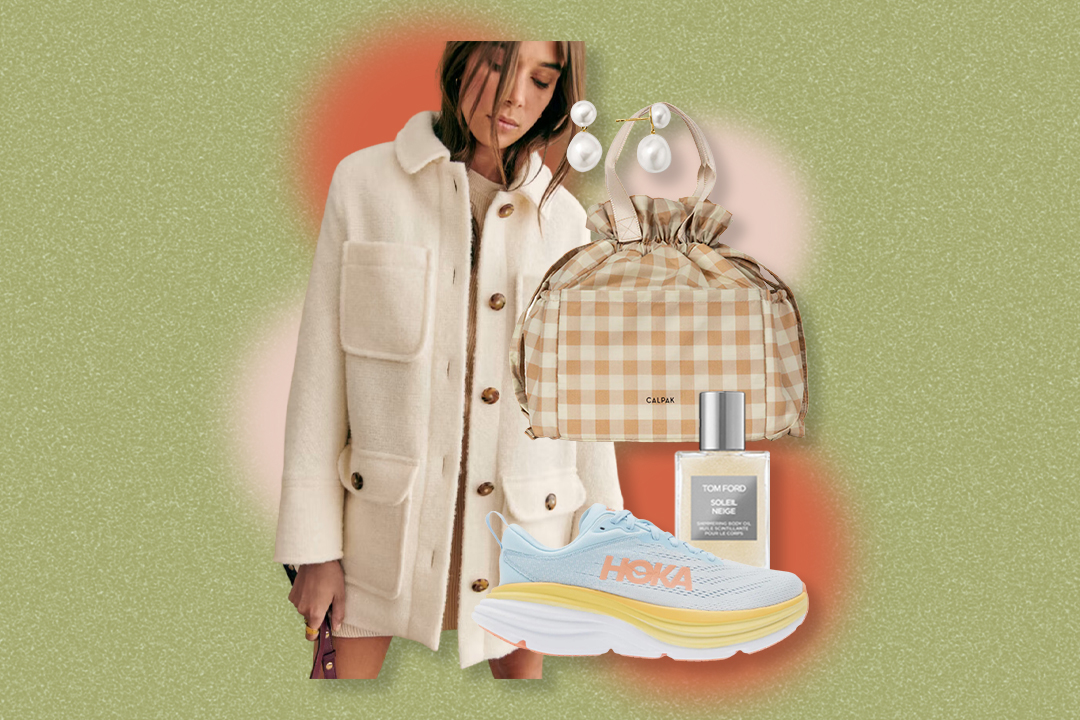 This year is Alaina and her husband's first year in a new home — and it is seriously something out of a holiday fairytale. Here, she invites you to join her on a tour of her Chicago greystone, all decked out in all its holiday glory!
Want to make your own home this festive? She can teach you how — from her two trees and real garland to her impressive ornament collection, she's an authority on all things holiday decor.
Name: Alaina Kaczmarski, Co-Founder & Editor of The Everygirl
Age: 32
Location: Chicago, IL
Years Lived In: 1
Rent or Own: Rent
Square Footage: 1,600
You just announced that you and your husband are expecting a baby! Congratulations! I loved your pregnancy announcement using Christmas stockings to reveal you're adding a new family member. Are there any holiday traditions you plan to implement once the little one arrives?
Oh my gosh, thank you so much! We are very excited and I couldn't believe the response to our announcement post! We are just so blown away and feel very grateful and lucky to have so much support.
Yes… so many things I'd love to start doing as a family with our kids. Well to start, they'll each get a monogrammed needlepoint stocking! Which is what I grew up with, as well. They are such nice quality and last forever.
I also want to gift my kids a new ornament each year so they have a nice collection ready to go once they move out and have their own place (and Christmas tree).
Of course I'd love the idea of finally going to a tree farm and cutting down a tree… making a whole day of it with festive cookies and cider and decorating while Christmas movies play in the background.
I also really want to put mini trees in their bedrooms… I always had one growing up and it was the most magical night light.


Your home is the epitome of holiday cheer. How do you prioritize budget-wise when it comes to decorating seasonally? It can be so hard to justify the money when it's so fleeting!
Can you put a price on cheer?!
Hah just kidding… I know it definitely can get expensive. But really I use the same stuff every year then just add to it a bit! This is why I advise people to "invest" in nice traditional pieces they won't grow tired of and won't wear out after a year or two. Our velvet tree skirt was a splurge for me a few years ago but I love it. Same with the needlepoint stockings. And of course twinkle lights!
Otherwise I need to purchase fresh greens each year — these are very inexpensive compared to the fake versions of wreaths and garland (which we don't have room to store anyway). Then I'll usually add a couple new ornaments and maybe one decorative item to my collection. Oh and of course a holiday scented candle. The tree is always the biggest expense, but it's a necessity!
The Living Room




What are your favorite sources for holiday decor?
Hmm I find a lot of great things from Crate and Barrel, Pottery Barn, and Anthropologie every year! Mini flocked trees in my bedroom, some light-up houses, twinkle lights, ornaments, faux branches, our tree topper, and more.
Trader Joe's and Home Depot are my go-to's for fresh greens, and they're very reasonably priced!
The Dining Room


Okay, pretty much obsessed with the fact that you have TWO Christmas trees. The one upstairs in your bedroom is faux and the downstairs one is live. Do you have a preference between the two?
Hah I love it too! The bedroom tree is my first fake Christmas tree — it came pre-lit and was easy as pie to put together. I did a very monotone look on it to coincide with the bedroom decor, using a lot of ball ornaments and matching sets.
The traditional tree in our living room is a ten-foot real Fraser fir with all of the colorful, eclectic ornaments I've collected over the years. Now that I have the two to compare, I realize I love it so much more. Don't get me wrong — the bedroom one is lovely. But it reminds me more of a tree you'd see in a store. Not because it's fake… I think it's more the perfect matching ornament look. The downstairs one is much more old school and a bit less contrived, if that makes sense.
The Bedroom


How would you recommend making the biggest impact in a smaller space to give a similar "wow factor?" You have so many grand features to decorate: wood-burning fireplace, high ceilings, and a staircase! Any tips on bringing that vibe into a space that isn't graced with amazing architecture?
It's really as simple as getting a tree! Even a mini one. And twinkle lights. Add twinkle lights everywhere.
Do you have a favorite Christmas movie? Why is it your favorite?
I actually just shared my Top Ten Favorite Christmas Movies in a We Need to Talk video where I reveal my most favorite holiday movie! Watch it and you'll find out!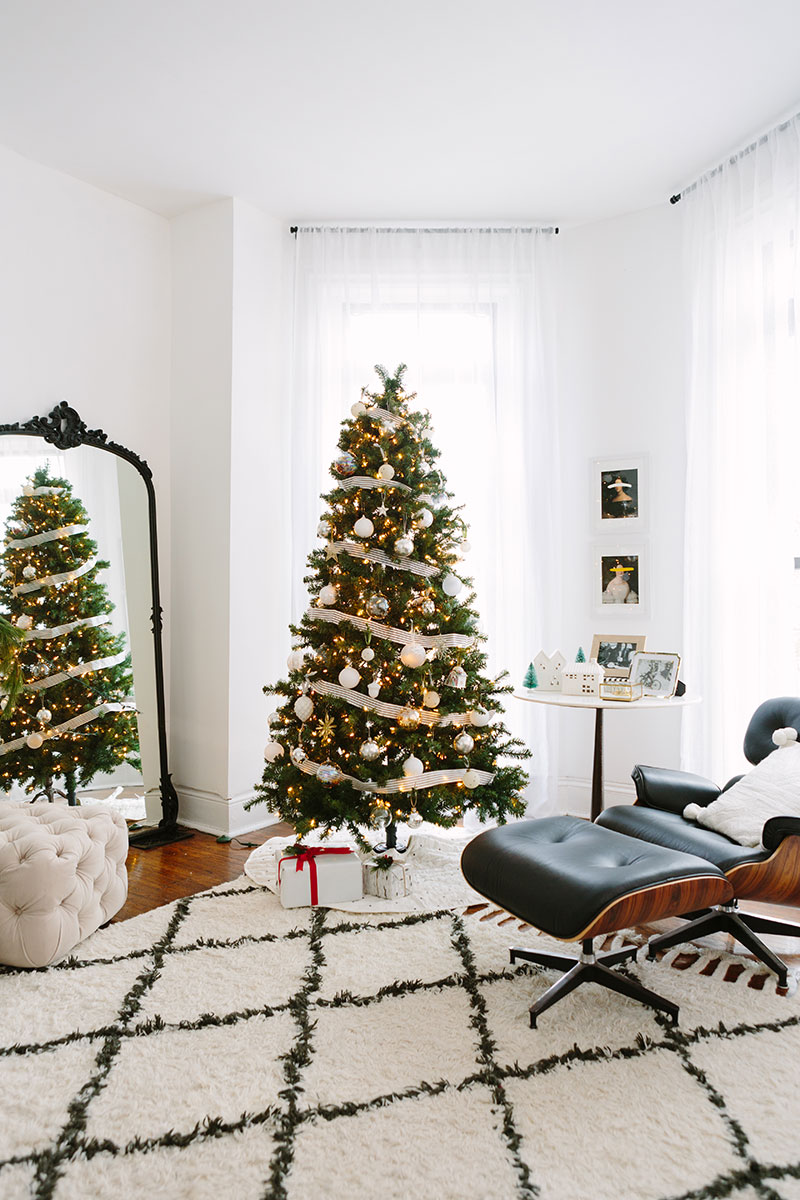 SHOP ALAINA'S HOME // PRODUCT SOURCE LIST
Paint Color
the entire home is Behr's Ultra Bright White in an eggshell finish
Entryway
vintage rug, New England Loom
umbrella holder, West Elm
pendant light, Rejuvenation
large mat frames, Framed and Matted
fresh wreaths and garland, Home Depot
Living Room
needlepoint stockings, Sferra
red and white check throw, Mark and Graham
Rose sofa in "Natural Heavy Cloth", The Everygirl for Interior Define
Caitlin chairs in "Quartz Velvet", The Everygirl for Interior Define
coffee table, Candelabra
patchwork hide rug, RugsUSA (similar)
Noble chandelier, Candelabra
gold mirror, Anthropologie (5′)
media stand (vintage buffet), MegMade
cloche, Crate and Barrel
Dining Room
black side chairs, Wayfair (similar)
white end chairs, Restoration Hardware
modern art above mantel (40×54 with black metal frame), Minted
linear pendant light, Rejuvenation
white shelves, CB2
bar cart, Society Social
art above bar, the "Alaina" by Josh Young
plaid napkins, Mark and Graham
gold candlesticks, CB2
fresh garland, Home Depot
Master Bedroom
linen headboard, Kathy Kuo Home
twill bedding, Brooklinen
stripe throw pillows, The Maryn Shop
knit tassel throw, West Elm
nightstands, Anthropologie
brass sconces, Lamps Plus
shag rug, RugsUSA
floor mirror, RHteen
tufted square ottoman, coming soon from The Everygirl x The Inside
sheer curtains, West Elm
frosted old school twinkle lights, Crate and Barrel
faux pre-lit Christmas tree, Home Depot
mini flocked trees, Crate and Barrel
white berry wreath, Crate and Barrel
striped ribbon, MJ Trimming