As a beauty writer by trade, I try a lot of skincare. My bathroom is stocked with too many cleansers to count, enough masks to last me a lifetime, and creams that would entice even the strictest of skincare followers. The last thing I need to add to my routine is more of the same-old, same-old; I want products that are nothing like what I'm already using. All this to say, something has to be really innovative and unique to catch my attention right now.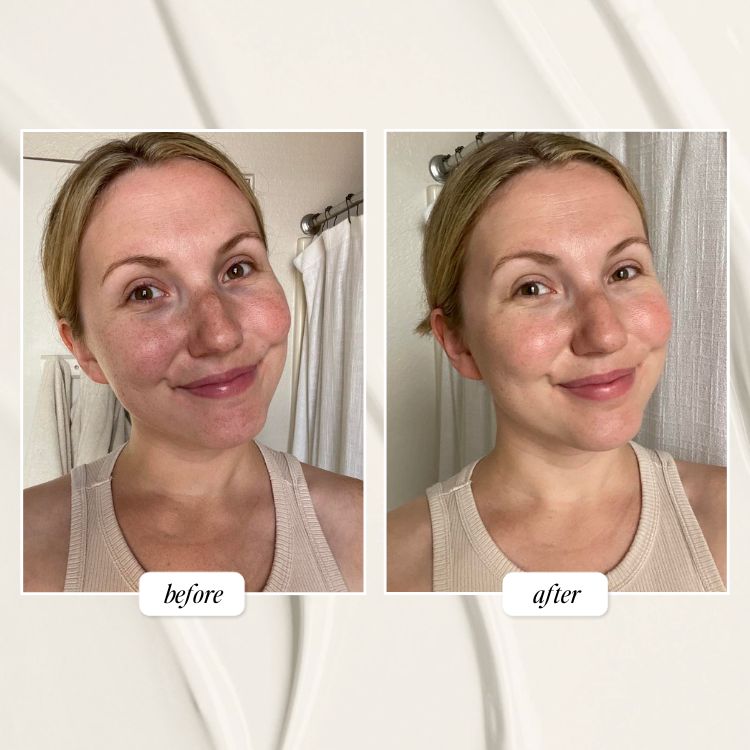 Enter: Exuviance. I've seen this brand roaming Ulta for years, but their recent rebrand (so shelfie-worthy) and a whole host of intriguing products drew me to them as of late. And after hopping on a call to receive a customized skincare routine from one of their in-house experts, I'm reporting back on why the experience was so formative, their most enticing products, and how they've made their way into my (quite extensive, TBH) routine.
A personalized skincare consultation was the step I never knew I needed.
Hopping on a call to go over my skincare routine and what I want to change about my skin was beyond exciting. I could talk about my flaws for hours, and lately, clogged pores on my nose and chin have been the #1 problem in my life. After finally listening to my dermatologist for a full eight months, my cystic acne is basically at bay (other than some serious maskne). But my pores are as clogged as ever, to the point that getting a facial a month ago, the esthetician literally said, "Is your nose always like this?" I shuddered in shame and am terrified to return.
I relayed this information to David, the amazing Exuviance Product Expert that I worked with on my routine, and right then and there, he came up with an ideal routine tailored to me, including my beloved tretinoin gel that helps me keep my acne in control. He created a full morning and night routine, complete with once and twice-a-week chemical exfoliation to even out my skin tone, unclog pores, and keep my skin bright and clear. Exuviance focuses on a routine that includes products that rejuvenate the skin (such as their peels that I was so excited to try), followed by preventative anti-aging steps, namely sunscreen. These two components are essential for healthy, glowy skin.
Then, David went in-depth on each of the products, the best tips and tricks to using them, and the order in which I should apply them every day. He gave me different tricks to getting the most out of the products, like using their famous Radiance Serum as a spot treatment, which felt so tailored to my skincare needs and the products I was using. I basically had a skincare expert at the ready to answer any questions and give me recommendations based on what I needed, which even as a beauty writer, I've never done before! He even referred to himself as my "beauty lifeline," which is all I could ever ask for.
Whether beauty products are your hobby or you just don't want to invest in a whole routine from one brand, it might not always be feasible to entirely morph your regimen to be one brand only. Most of us like variety and giving new products a try here and there. So one of the best parts of my experience talking to David was that he said that once I'd tried the products he suggested, we could come back together and develop a long-time routine based on what I liked and the rest of the products in my routine from other brands. I'm always going to try new things, and he sensed that was the case, which made the experience even better.
Once this was over, David and I said our goodbyes, and he wrote up everything I'd need to know and sent it to my email so I wouldn't forget any steps or tips he gave (but of course, I took extensive notes on our call). The products arrived a few days later, and I got started testing.
code expires 1/31/21
Want to win your own Exuviance consultation and skincare regimen? Leave a comment below sharing your favorite way to practice self-care and you'll be entered to win.
Trying the Routine
Before:
I obviously started this out with a full skincare routine in motion, but David recommended I pause all of my other products to see how my skin responded to this new routine. I started right after Thanksgiving, so I was dealing with some pretty tough breakouts, especially along my jawline from stress, hormones, and wearing my mask. Basically, these products had a pretty tough job to start with!
The two products I focused on the most were their most innovative products: the Performance Peel AP25 and the Pure Retinol Correcting Peel. I've tried skincare peels before, but nothing like these. The Performance Peel AP25 is one of the hero products in the line and contains a 25% blend of Alpha Hydroxy Acids (AHAs) and Polyhydroxy Acid (PHA) and comes in a two-step form. I used this product on Sunday and Thursday nights, and I woke up with the glowiest skin I've had in a long time. I immediately noticed that my acne scars looked better than the night before, and I had much less redness than I do with other peels I've tried. The neutralizer really helps to calm the skin and keep it hydrated and soft even after you've used such a high concentration of acid.
The Pure Retinol Correcting Peel is one of the most genius products I've tried, maybe ever.
It is so unique, and I've never seen something like it on the market. We all know the magic of retinol—it's amazing for anti-aging, skin resurfacing, and reducing acne. This product, however, offers it in the form of a weekly peel pad, which I used on Wednesdays (David recommended focusing on my peels on Self-Care Sunday and Wine Wednesday, which I loved but was also easy to remember!). It's formulated with a high-strength level of 0.3% pure retinol, the highest concentration retinol you can find without seeing a dermatologist, which is why it's best used only once a week. Because it's such a high amount, I did notice my skin peeling a bit the next day, but it was nothing a nice face wash and my daily exfoliating SkinRise Morning Glow pad couldn't fix. I already use a medium-dose Retin-A a few times a week for my acne, so this was a great addition to my routine to bump it up once a week.
Because I was using so many acids, I also really focused on moisturizing and protecting my skin. The Daily Corrector SPF 30 is my ideal daily sunscreen: it's moisturizing enough for my combo skin that I didn't need to use a moisturizer before, it sunk in easily without a white cast, and it kept my skin feeling moisturized all day long. SPF is essential for protecting against early signs of aging caused by the sun as well, so I love how easy this product is to add to my daily routine. Exuviance's line is full of active ingredients that really make an impact on your skin, but that means you have to be extra diligent about preventing sun damage during the day, and this makes remembering to apply every day super easy.
The Glow After My Night Routine 😍
After trying the routine, my skin looks significantly glowier, and I feel so much more confident in the texture of my skin. I notice a huge change in how my skin feels to the touch; it feels soft and supple, and I definitely have these products to thank for that. However, like I said, I love trying beauty products, so my next plan of action is working with David to come up with a way to incorporate the products I loved into my routine while adding back in some of my other favorites.
The Products I Loved and Will Buy Over and Over Again
For all the reasons I mentioned above, this is a new must-have. It's the first peel I've ever tried that seems to do something without seriously irritating my skin and causing redness. I'll never go back to those now that I've tried this! After only a few weeks, my skin feels the softest and looks the clearest it has in a loooong time.
This was the product I was most excited to try, and it didn't disappoint. I like that you only use it once a week at night, but I noticed a difference just after using it twice. This comes with enough for six weeks, so I can't wait to see how my skin texture and tone improves.
Obviously, I am wearing makeup in this picture, but I was shook at how good my skin looked. I'm wearing quite a matte foundation with a lot of powder, but you can't see any dry patches or bumps on my face really at all, except for a few acne spots that were going away. My skin looks and feels so smooth, and I'm thanking the two peels for this!
code expires 1/31/21
Want to win your own Exuviance consultation and skincare regimen? Leave a comment below sharing your favorite way to practice self-care and you'll be entered to win.
Two winners will be chosen. Giveaway ends January 3, 2021 at 11:59 PM ET. Click here for the complete list of rules.
This post is sponsored by Exuviance, but all of the opinions within are those of The Everygirl editorial board.