There are outfits, and then there are outfits you Instagram—ones so good, they simply have to be documented for all the world to see.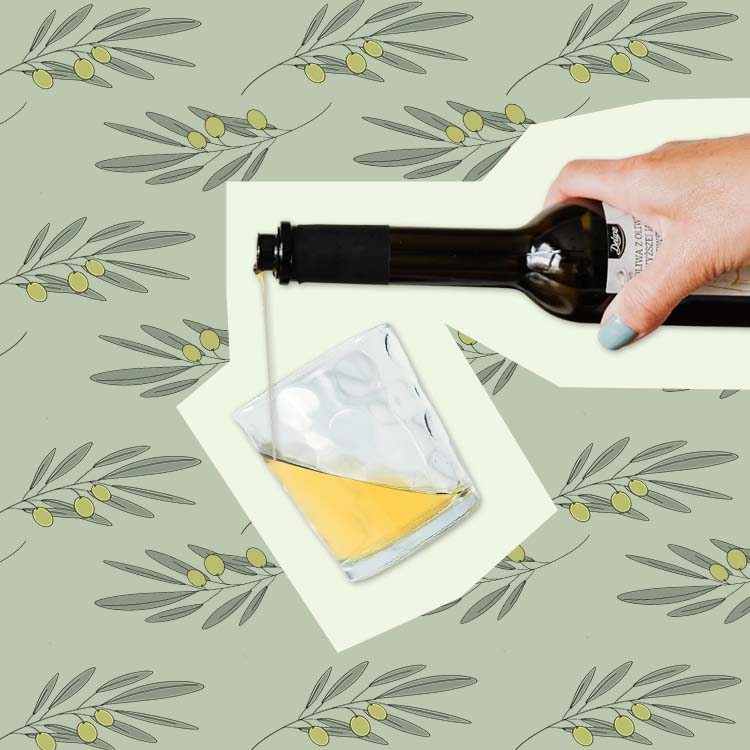 we love olive oil, but this seems a bit too far... or is it?
It's never just any old outfit. Your jeans and a T-shirt probably don't make the cut, nor does the dress you wear to work when everything else is in the laundry. An Instagram-worthy outfit is one that you leave the house in hoping you run into your ex.
They don't come easily, and there's no shame in needing a little inspiration for the next fit that makes your grid. These seven outfits are so good, you'll be documenting them to live on the internet forevermore.
1. A white tee, leather jacket, and knit pants
Cozy clothes and athleisure made their way into our hearts and closets during all of the time we spent at home last year, but that doesn't mean they need to stay at home. Knitted everything is on-trend this fall, which includes knit pants. Take advantage of them and pair them with a white tee and leather jacket for a look that looks far from couch-wear but feels just as comfortable.
ELOQUII
2 colors available
2. A mini skirt, leather shacket, and knee-high boots
While mini skirts are in, styling them is a whole different story. It's hard to put them on and not feel transported back to middle school, but this is giving us all the inspiration we need to pick one up this fall. With a tee, leather shacket (or any jacket that's a bit oversized), and knee-high boots, it won't feel like you're a 14-year-old trying to show as much skin as your mom will let you. It's cool and effortless—everything an Insta-worthy outfit should be.
Abercrombie & Fitch
3 colors available
BB Dakota By Steve Madden
ELOQUII
2 colors available
3. A matching suit and white sneakers
Trendy, matching suit sets can feel intimidating for wearability reasons. It can be hard to make them look like they're meant for living regular life and not just for wearing to the office. But with a tee underneath and sneakers as your shoe of choice, you'll have a streetwear-appropriate look that's anything but stuffy.
4. A blazer, white sneakers, and baseball hat
There's just something about a baseball hat that cools up any outfit, especially when it creates a juxtaposition, like it does here against a blazer. A blazer, white tee, and straight jeans are probably already one of your go-to uniforms, but switch it up by adding a hat and sneakers for that model-off-duty vibe. Sure, you tried, but nobody's going to know that.
Madewell
3 colors available
5. A knit midi dress and denim jacket
One of the most glorious things about fall is the gorgeous dresses that come with it—particularly anything that's knit. This basic black knit midi is styled up with a belt at the waist to give it some shape, a black denim jacket, and some sneakers—but there are a thousand ways to style the outfit. Any jacket will do over this (hello, cropped blazer), and no matter how you change it up, it'll feel elevated because of the dress that's doing most of the talking.
French Connection
2 colors available
ELOQUII
2 colors available
6. A tan blazer and all black
We're always fans of neutrals but even more so when fall hits. All black is always chic, but when you feel like you just need something extra with it, a tan jacket will make it pop while keeping the neutral effect you're looking for. With chunky boots and gold jewelry to finish it off, the outfit will strike a balance of feeling trendy but will really just consist of basics.
ELOQUII
2 colors available
7. A matching sweat set and a teddy coat
This is another form of athleisure-turned-streetwear. We're not ones to argue with wearing a matching sweatsuit outside the house, especially when it's styled like this. The teddy coat elevates the sweats enough that they feel like an intentional, put-together outfit—but without the work or fuss. The key to nailing it? Making sure your sweatsuit is matching (or in similar shades) to feel like a cohesive look, not like you just threw a coat over your sweats to run out of the house.