"French girl style" is a universal term; everyone knows what it is, and yet you cannot totally define it. This is the magic of French girl style — you know it's classic and simple and chic, but there's an element of je ne sais quoi that makes getting dressed more of an art form than a routine. However, there are key pieces that will help you achieve that undeniably chic French-girl style, no matter where you are in the world.
These pieces must be comfortable enough for leisurely strolls, layered properly for whatever weather changes might happen in the afternoon (nothing is less chic than shivering from the cold or sweating from the heat), stylish enough for the best possible occasion (you never know who is going to take your picture or where you're going to end up), and classic enough to be in style from Coco Chanel's first runway show to Choupette's last Instagram—those are some big ballet flats to fill! Here are the pieces for fall that will help you achieve that classic, comfortable, effortlessly chic style that the French are so famous for. Now all you need is a spritz of Chanel No. 5 and your own je ne sais quoi.
Outerwear
Leather Jacket
When thinking outerwear, you want timeless pieces that will work over any outfit combo your closet can throw at them. A leather jacket is the perfect everyday layer over casual jeans and a tee but also adds a little pizazz to more feminine dresses or silhouettes.
Classic Trench
There is nothing better than a really good trench — instant class.
Wool Coat
When I ascend to heaven it will be on the wings of all my wool coats—they may be my most favorite thing (after Peter Kavinsky, of course). While they can get pricier, a well-cut and classic wool coat is an investment piece in your future chicness.
Boyfriend Blazer
The perfect way to wear a blazer? Slightly oversized, thrown oh-so-casually over a tee and jeans. Add red lip as necessary.
Tops & Dresses
Striped Top
Is there anything more perfectly French than a really good striped top? I rest my case.
Silk Button-Down
Elevate your everyday button-down in luscious silk; you can take it from the office to after work drinks in a flash. Bonus: silk has this subtle luster that makes you glow while wearing it. This is not scientifically proven but you can trust me, cool?
Cashmere Sweater
There is no better basic for fall than a cashmere sweater. It can be remixed endlessly—on its own, over button-downs, over dresses, under blazers, tucked into skirts… it's the wardrobe workhorse that also feels hella nice on.
Basic Tee
Speaking of wardrobe backbones, you don't need me to tell you how essential a basic tee is to any capsule. Choose your own adventure with your tee depending on style/use: slightly oversized, boxy, tight and just-the-right-amount-of-thermal, etc.
Easy Dress
Choose a dress that you can easily take to the 9-5 or on a first date or to a wedding. This is your all-occasions dress that you actually want to wear. A unicorn dress, if you will.
Bottoms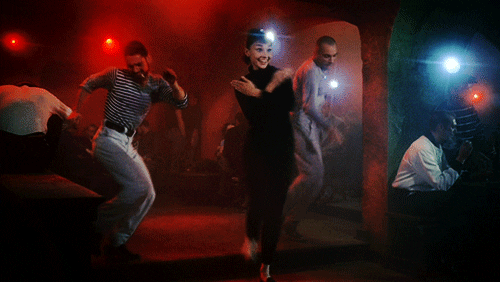 Black Ponte Pants
Think Audrey Hepburn in Funny Face. Pair with a black mock-neck, loafers, and tons of attitude.
Ankle Crop Skinny Jeans
Specifying an ankle crop style because they'll be the perfect backdrop for your ankle boots, loafers, and ballet flats.
Leather Leggings / Pants
If you think you "can't wear" leather pants, you are SO wrong. You can wear them, you fierce and fabulous lady, you. If you're nervous, start with a legging style or "leatherette" jean that will feel a little more comfortable/normal and be a little easier on your wallet.
Miniskirt
To pair with black tights and a liberal dose of je ne sais quoi.
Shoes
Ballet Flats
Ballet flats date back to the 16th century—they are the epitome of classic. Go for the OG style, tiny bow and all.
Ankle Boots
Fall isn't fall without a really good ankle boot. That is all. Or, more accurately, that is fall.
Heels
To pair with everything from jeans to formal wear. A good pair of heels is an investment—go for neutral colors in luxe fabrics and make sure the heel height is walkable while still giving you that extra lil oomph.
Loafers
How does one function without a pair of loafers in their wardrobe? We aren't sure.
Accessories
Sunnies
Think classic Céline—oversize, slightly squared off, head-turning.
Silk Scarf
Très chic, mais non?
Tote Bag
Go for a size large enough to fit your laptop, yet sleek enough to bring along to drinks after work if necessary. If you're going to invest somewhere, we recommend starting with a great work tote.
Watch
Keep time without endlessly checking your phone. Plus, it'll look great on the 'gram (okay so the checking the phone thing needs some work).
Minimal Gold Jewelry
Understated jewelry lends a touch of polish and sheen—the perfect complement to everything from a finely tailored blazer to your knockabout jeans and tee.