Two of life's greatest stressors include career change and moving, so imagine moving across the world and starting an entirely new career all before the age of thirty. It sounds terrifying, but that's exactly what Noura Sakkijha did. She traded the warm temperatures of Jordan for a parka in Canada to pursue her MBA in industrial engineering. Noura started her career as a process analyst for a major financial institution, but began to see inspiration and opportunity in her family's trade roots: the jewelry industry.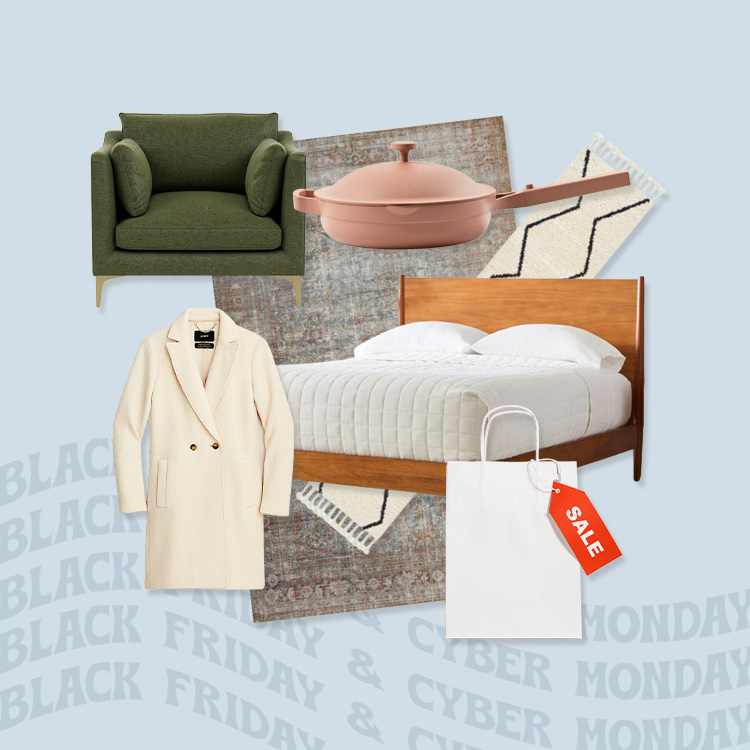 we combed the internet for the best OMG-CANNOT-MISS deals
With an incomparable drive and work ethic, Noura left engineering and started her own jewelry company. In the early days, Mejuri garnered attention for bringing tech into the accessories sphere by allowing consumers to choose and vote on upcoming designers and designs. While she may have left the technical side, Noura is constantly using that background as inspiration and fuel for her decisions—and people can't help but take notice.
Now, having streamlined the design process, Mejuri is known for their timeless look, ethical process, and quality pieces at affordable prices. It's up to Noura to navigate the challenging world of e-commerce and manage a budding startup, but we think it's safe to say that this is only the beginning of her successful career.
Name: Noura Sakkijha
Age: 30
Location: Toronto / San Francisco
Current title: Co-founder of Mejuri
Education: Industrial Engineering, MBA
You studied industrial engineering at the University of Jordan and then moved to Canada for your MBA. Tell us more about this drastic move.
I think it is part of our generation's DNA to explore the world.
I am a big believer in taking chances—I always wanted to experience a different region/market especially while doing my MBA. I think it is part of our generation's DNA to explore the world.
What was your first job out of college and how did you land it?
My first job was in consulting. I studied industrial engineering and wanted to work in that field. I was a process analyst for one of the main financial institutions in Canada. I spent a lot of time with numbers, statistics, and process design. I call it "my geeky stage."
Did your "geeky stage" ever really come to an end? Or is it still helping fuel decisions?
My geeky stage is always going to be part of me. Engineering shaped my way of thinking on how to approach challenges and solve problems. It is something I apply on a daily basis from designing processes in the supply chain or internal processes, to analyzing data and making decisions based off this information.
When did you create Mejuri?
I started Mejuri at the end of 2013. As a third generation jeweler, I have always wanted to work in fine jewelry—but had my own ideas about how to implement a modern twist on how things are typically done in the fine jewelry industry.
Did your familial experience help or hinder you in starting your own company?
Being born into an entrepreneurial family made it natural for me to seek this path, but it also made me quite aware of how bumpy the road may be at some points. So it definitely helped me adjust my expectations and realize that I have to be resilient.
E-commerce and building a successful website is a world of its own. How did you navigate this?
I definitely did not have experience in the e-commerce world when I first started, so it was a challenge, especially because when you start you do not have the resources to hire a big team to fill in the gaps—we had to learn as we go. We definitely made a lot of mistakes and now we make sure to identify what we do not know and then seek help from experts/mentors in the field or hire talented people who will fill the gaps.
Being born into an entrepreneurial family made it natural for me to seek this path, but it also made me quite aware of how bumpy the road may be
Mejuri started with an innovative and interactive crowdsourcing method for designs. This was huge in the tech space because customers could vote on designs by artists all over the world. Tell us more! Do you still use this technique?
When we started Mejuri, an important component to us was innovation, especially on product design. To us luxury is design, exclusivity, and comfort. So we were adamant about introducing designs that are different and we thought the best way to do this was to collaborate with international designers through our tech platform.
The idea is still the same, but it's more refined. We now work very closely with a few award-winning designers who we've identified as on brand with Mejuri. We create design guidelines with them and go back and forth until the perfect product is born.
You have three co-founders. Can you tell us about your working relationships?
My co-founders are part of my family so I have known them for a long time and have always wanted to build a business with them. Outside of the circle of founders, I met my partner Justine when she had just moved from Paris to Montreal. We immediately clicked, shared the same vision, and the rest is history.
What advice do you have for individuals looking to build a business together?
Spend a lot of time together before committing to starting a business. Discuss what each person would do in different scenarios of the business—positive and negative. Starting a business is a long-term commitment and it is very important to have aligned values. Definitely follow your instincts.
How did you get funding for Mejuri?
We found amazing people who supported us along the way.
As a start up entrepreneur it is always tempting to want to try different things, so it takes power and perseverance to discipline yourself to narrow down your focus.
What was one of the most difficult obstacles when you first started out?
I think having the ability to block the noise and prioritize a few projects to focus on at a time. As a startup entrepreneur, it is always tempting to want to try different things so it takes power and perseverance to discipline yourself to narrow your focus.
What is one thing you know now that you wish you had known when first starting this business?
The importance of an amazing team. I think it took us a bit longer than we should have to bring the right people on board.
What do you look for when hiring employees? When you find the right people how do you keep them on board?
I love my team and I am a huge advocate for each one of them. I think one thing that keeps us close is respect, trust, and open communication. Each person of the team is encouraged to share thoughts, feedback, take on new initiatives, and be creative. It's a unique environment that I want to keep as we grow. It is crucial for me to ensure my team is happy and feels appreciated.
In an incredibly saturated jewelry market, how do you set Mejuri apart from the crowd?
The jewelry market on the outside looks like a saturated market, but when you take a deeper look you will realize that it is mainly broken down to high end, classic fine jewelry that is expensive or cheap costume jewelry that is disposable. This is what pushed us to create a new tradition of accessible luxury. We are focused on creating a brand that gives a great experience to our customers, be it aesthetics, exclusive jewelry design, customer service, and accessible pricing.
This is our formula: We work directly with expert manufacturers we've known for decades. So, by cutting the middlemen we're able to pass on the savings to our customers. We dismissed everything we knew about the old tradition of seasonal releases and small design teams, and we opened our design process to international designers and style icons. We work closely with them from idea conceptualization to finalization in order to introduce unique, exclusive pieces that fulfill the Mejuri brand and the designers' skills.
So every month there is something new on Mejuri that you cannot get elsewhere. How do you keep the designs fresh and new? Where do you find inspiration?
Our jewelry is designed to fit women's everyday style, so our inspiration comes from our everyday life, women we admire, women we see on the streets, travels, and culture. This is the common root of our jewelry. We are progressive with the way we think about design and believe that creativity should not be restricted. We open the design process to select designers and trendsetters to work closely with as we introduce fresh and new collections.
What has been the most rewarding part of owning your own business?
Freedom to make choices and decisions with my team to shape Mejuri as the company we all love and want to be part of. We wanted to introduce changes to the jewelry industry and we are doing that one step at a time, which is very rewarding.
How has social media affected the growth of Mejuri? What tactics or special techniques have you seen work best to gain customers?
Social media has been very important for us. We definitely use it in different avenues: trends research, to communicate with customers, and of course, to announce new product.
We focus on creating a lifestyle that our customers can identify with and make part of their lives.
For us, we definitely like to focus on social media platforms that are highly visual such as Instagram. We put a lot of attention and work into the pictures we produce to provide a great experience for customers.
We are also always looking for ways to engage our customers with giveaways or product design questions. We work with select style-setters on social media to showcase our jewelry to their audience. Basically, we focus on creating a lifestyle that our customers/followers can identify with and make part of their lives.
Creating ethical jewelry is a core value at Mejuri. Can you tell us more about this and why it is so important to you?
I am very cautious about the items I buy and always like to know where they were made and how they were made. When I reminisce about my father's way of conducting business, he was always careful about working and buying from companies that supplied conflict-free diamonds. When we created Mejuri, we wanted to make sure that this was one of our core values and we definitely did not want to compromise on it. Thus, every manufacturer we work with we know personally—we know their practices, their team, and the work conditions. We are human as much as we are a company.
What advice would you give someone who wants to start her own jewelry line?
Definitely spend time on product design and identify your style. Spend time testing different manufacturers and get to know them before introducing your collection. Also, finding your individual "seal" sets the feeling of the brand and also helps the audience you want to reach identify themselves with it.
What jewelry essentials do you feel every woman should have?
I think a nice pair of everyday earrings and dainty rings are definitely my go-to on a daily basis. You can wear them day or night and they make you feel beautiful, effortlessly.
What are some of your favorite pieces?
It is very hard to narrow them down to a few. One of my favorite pieces is our evil eye chain ring. It is a classic and yet modern piece. I have had mine on for the past 3 months and have never taken it off. The happiness collection is another one of my favorites; the Gratitude Pendant is very dear to my heart. I love jewelry that has a meaning and gives a positive feel.
I love jewelry that has a meaning and gives a positive feel. I also absolutely love Amelia Rachim's designs. The dainty claw ring and the spikes necklace are two of the most unique. And our Mejuri x Jen Chae collection definitely speaks to my style!
What advice would you give your 23-year-old self?
Take it easy.
Noura Sakkijha is The Everygirl…
Guilty pleasure?
Watching TV!
If you could meet any woman for lunch, who would it be and what would you order?
My mother (she lives in another country) and I would definitely order ice cream.
If you could travel anywhere in the world, where would you go?
I would love to visit Bali or Costa Rica.
Best advice you've ever received?
Do not be scared to make mistakes.
Favorite spot in Toronto?
Le Neuf Patisserie—I love going there on Saturday morning to have a croissant and coffee.