I have never been able to find a good pair of jeans. Even when I wasn't plus-size, I could never find jeans that fit my butt, thighs, and waist all at the same time.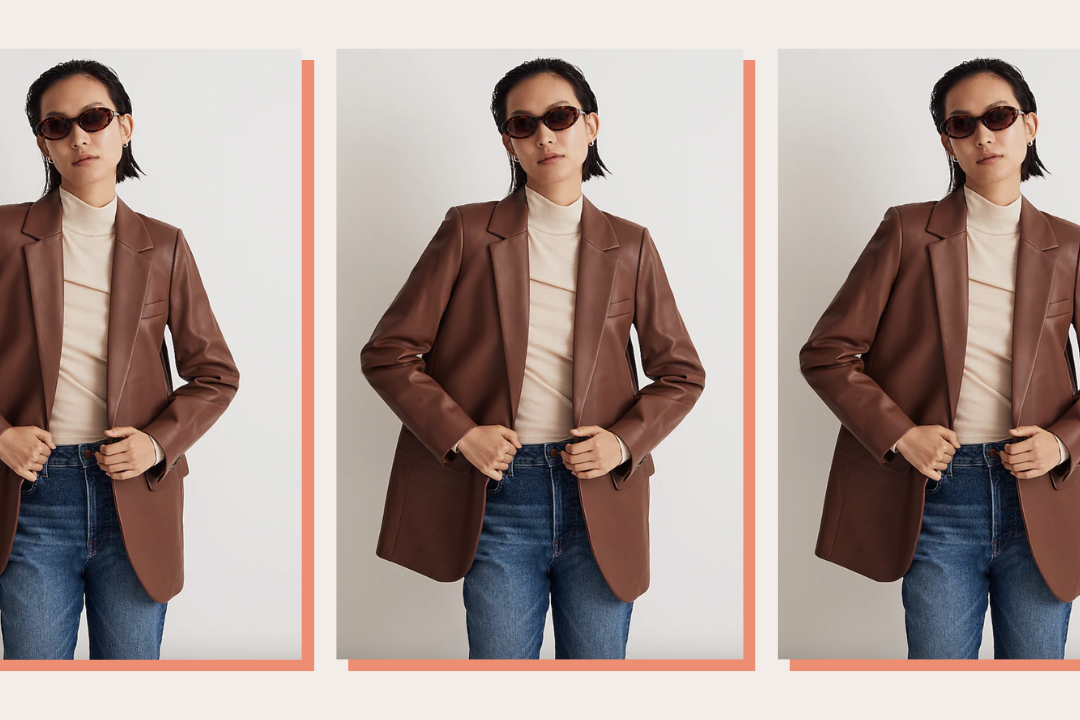 time for your fall wardrobe update!
Jeans have a pretty tough job to uphold. We need them to go with every top we own and be stretchy enough for when we eat too much Shake Shack, but also fit tightly into the tops of your boots and be comfy enough to both sit and stand in (aka not too tight!). It's not easy being denim these days!
After going through inexpensive jean after inexpensive jean, I finally decided to give a higher quality denim brand a try. Plus-size women have a wide array of options to pick from now, so I had a few different brands picked out before I decided. However, I knew if I was on the hunt for a good jean, I had to try Good American.
I remember watching the first episodes of Keeping Up With The Kardashians when Khloe discusses Good American and the process it took to develop her brand. Then, once she stated they would offer up to a size 24, I became obsessed. I stalked the website for months waiting for it to come into my Nordstrom, and begged my mom for a pair for Christmas (to which she replied, "$170 jeans? Not happening").
I let the hype pass me by, pretty much forgot about Good American, and continued buying my favorite inexpensive jeans for a while. So, on my journey to quality denim, I set my sights for Nordstrom!
A few quick facts about Good American: GA is owned and founded by Khloe Kardashian and Emma Grede. The two set out to make a size inclusive range of denim that fit all body types with ease when they launched in 2017. Since then, they've released activewear, a full range of clothes (including apparently the best bodysuits ever!), and maternity options. They believe in having a full range of sizes rather than having a separate plus-size section (amazing!).
First to note, my experience at Nordstrom (the Michigan Ave location in Chicago!) was amazing. The associate noticed I was hovering in the GA section for quite some time, and she helped me pick options that would look good on me based on my preferences. She also just happened to be wearing her own Good Americans, and they looked AMAZING, so I was assured my time in the fitting room would be magical.
What I Tried:
The Good Legs High Waist Skinny Jeans in Blue 224
Everyone needs a good pair of dark wash skinny jeans. The first thing I noticed about these was how stretchy they are. They didn't seem too stretchy to the point that they'd fall off your body by the end of the day, but they for sure passed the squat test.
Instantly I noticed they were too long. I exclaimed to the associate, "does Khloe only make these for tall people?!" She assured me right away that I could hem the jeans to be the perfect length for me. (I later learned that all of the GA styles are made extra long, so you can hem them to the right length for your body! Love that!).
Khloe made these jeans to hug your butt in all the right places, and yes, I can confirm, they look great. I wouldn't mind strutting my stuff in these babies.
I chose a size 16 in these, and the fit was great!
Good Legs High Rise Skinny Jeans in Black
I wear black jeans pretty much every day and with every single thing I own. I wear them to work, to run errands, dressed up, and out for dinner or drinks. I put my black jeans through the wringer, so the most important part is that they don't fade and stay tight.
These were definitely a winner. The high rise is the perfect height, and the length was long, but I know I could get them hemmed and they would be perfect. The ankles of jeans are always a struggle for me because I have pretty big thighs in comparison to my ankles and calves. Aside from the length, the ankles of these jeans fit perfectly. Little details like that show the jeans were designed with the plus-size body in mind.
I bit the bullet and picked these up! I've only worn them a few times, but I haven't noticed any stretching or pulling on the denim, and they're still as black as can be.
I went for the size 18 in these (something about black jeans runs a little smaller!), and they fit perfectly throughout the stomach, thighs, and butt. UGH I LOVE THEM SO MUCH.
Good Waist Ankle Skinny Jeans in Cheetah
I'm obsessed with the leopard trend this year, so I knew I had to try these on as soon as I saw them. I thought they'd just be a fun thing I'd try on and never think about again, but I. am. obsessed. These are the highest quality patterned denim I've ever tried, and they don't look cheap either (I feel like patterned denim can sometimes look and feel that way based on the dye!). These hugged all my curves in the same way that the regular denim did, but the look is obviously so fun!
Since trying these on, I have not stopped dreaming about them. I mean, look! They're amazing! You can dress them up or down, and they're so comfortable. The sales associate saw me try them on and immediately noted that she was buying them later because they looked so great. I might just be placing the order on Nordstrom as we speak!
The Wilder One Bodysuit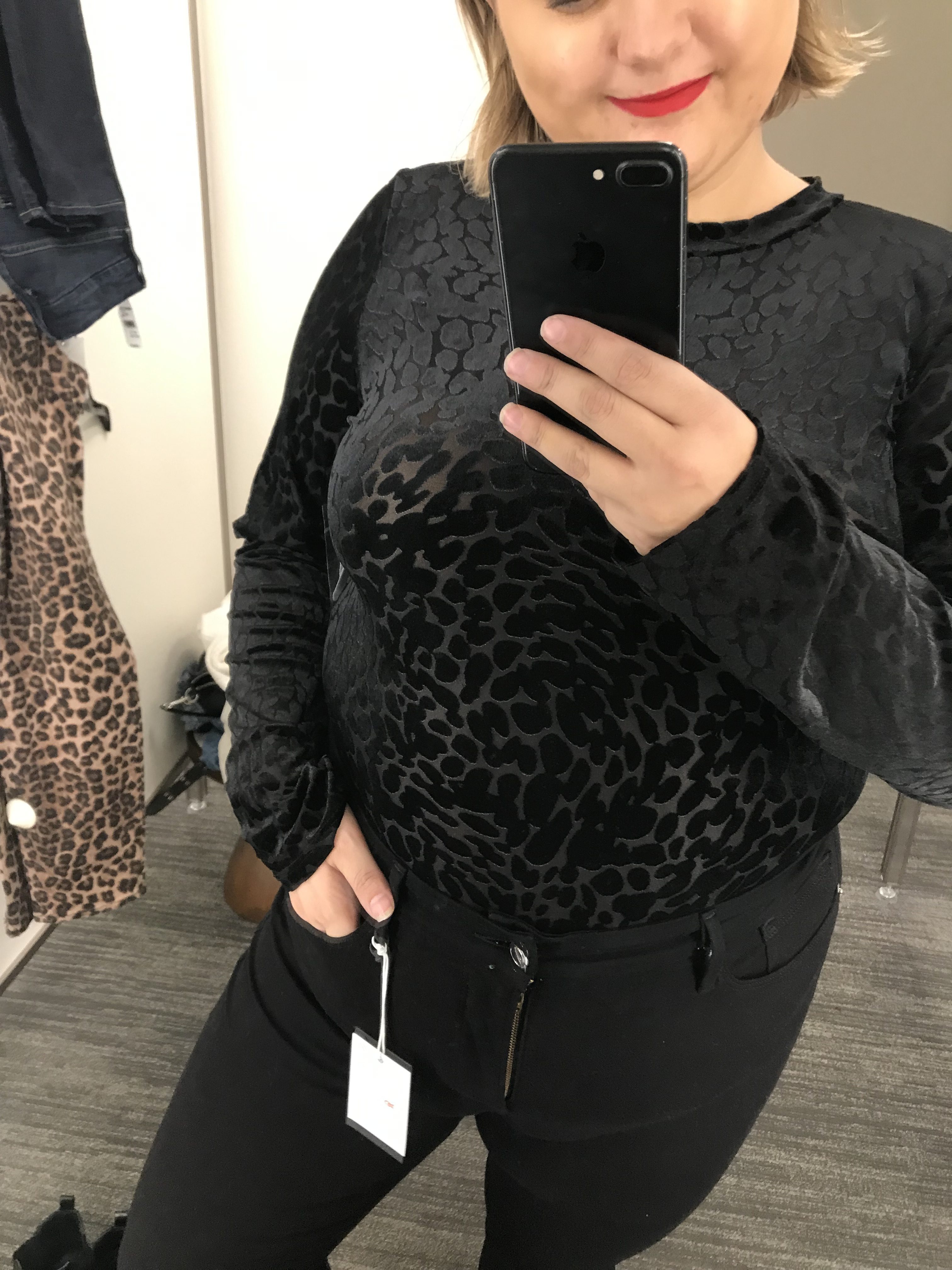 Aside from the jeans, I was most excited to try the GA bodysuits. They're a little pricey, but everything I've read is that they're totally worth it. The shapewear bodysuits really caught my eye, but once I saw this gorgeous leopard number, I picked it up and had to try it on immediately.
This bodysuit ran pretty small. I have a very long torso and pretty short legs, and the size 5 (for a size 18-20) just barely buttoned on the bottom. I generally wear a size 16/18 in tops, so if you're a usual 18 or 20, I'd definitely try this on before picking one up.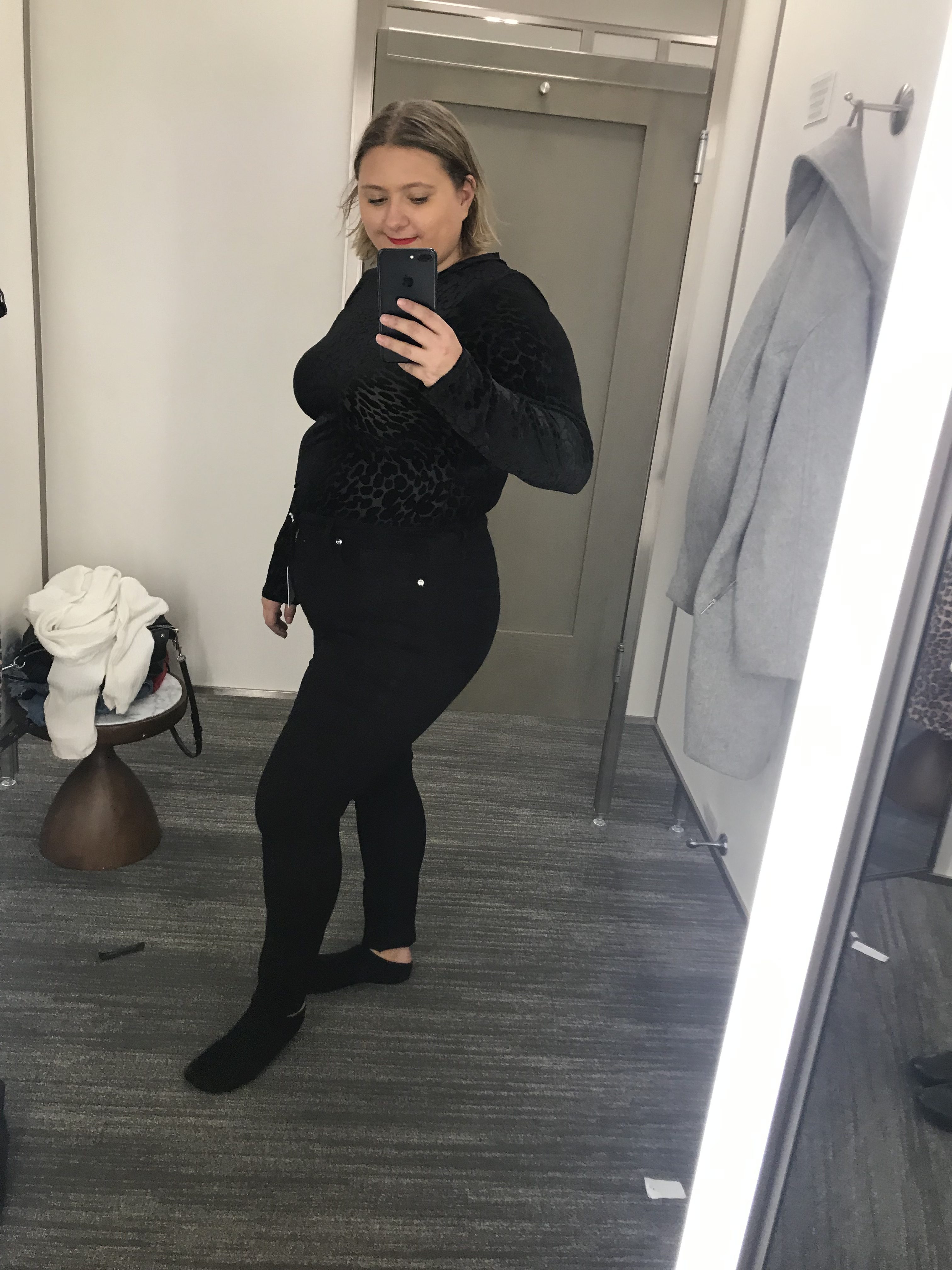 Aside from the size, the fit was great. I could see myself rocking this with my favorite black skinny jeans, red booties, and a low bun for a night on the town. It was tight fitting, but not in a way that it looked too small on my body. I am pretty self-conscious about the way my back looks in tight tops (I can't be the most confident all the time!), so I was nervous this would accentuate it. While it didn't necessarily smooth it out, it was still really flattering, and I felt comfortable.
Overall, I could tell Good American designs their clothing with all body types in mind. The jeans fit great on my curvy, somewhat hourglass shape, but I've also seen women of other body types rock these jeans no problem. I love supporting brands who choose to make their products for plus-size bodies rather than just offering their regular items with more cloth or more stretch.
On the topic of price, yeah, I'm not going to lie, my wallet cried for like two days — it's hard to spend that much money on a pair of jeans! However, I justified my purchase because I wear jeans practically every day. I knew that I'd get wear out of them, and if they last me at least 170 wears, they're worth it (in my opinion).
So, would I recommend Good American to plus-size women? Yes! Truth be told, I fully expected to say the opposite when I first decided to write this article (lol) because I couldn't imagine how any jeans could be worth the price. Once I tried them on, I understood the hype. Now I can't wait to try all everything else! 😍
Have you ever tried Good American jeans? Let us know in the comments below!