When you spend a lot of time working from home, the design and intention of the space can take on an even greater importance than if you head out to an office each day. You don't want your space to just be a relaxing place to ground you at the end of the day. You also need it to help you focus and Get. Things. Done. This was the situation Grace Atwood, the blogger behind The Stripe and co-host of the Bad on Paper podcast, was facing when it came to designing her Brooklyn apartment. Luckily, when your sister is interior designer Rebecca Atwood, you get some extra advice along the way. Step inside Grace's light, bright, and beautiful apartment — we got the scoop on how it all came together.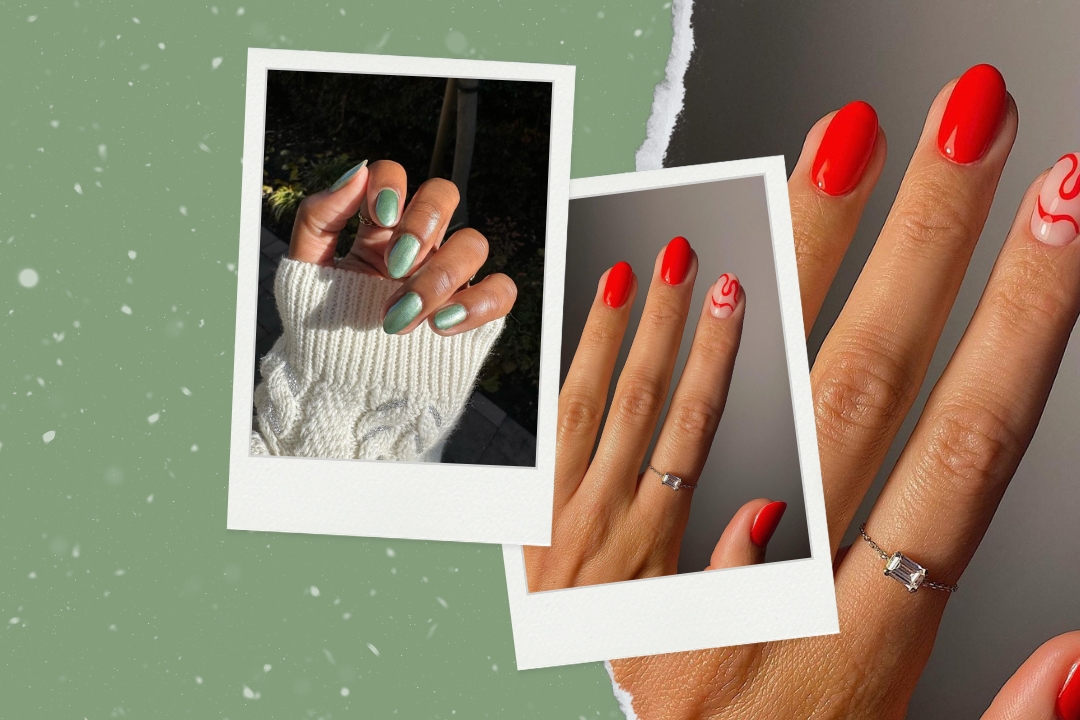 every one of them is a certified sleigh
Name: Grace Atwood, blogger at The Stripe and co-host of Bad on Paper
Age: 38
City/State: Brooklyn, NY
Sq Ft: 1,200
Rent or own: Rent
What was your first job and how did you land it?
I was an assistant buyer for a department store, working in Boston. I worked in women's fragrances — I still say that this was the job that made me fall in love with the beauty industry!
How did you know that it was time to take the blog full-time?
I was earning more money from my blog than I was from my full-time job, and I was really stressed out as it got to the point where both roles were all-consuming — I had to pick!
You work from home. How important was it to you that your home be both relaxing and productive? How did you work to accomplish that?
It's incredibly important! I keep my place very clean, as I can't focus in a messy work environment. My last apartment was a studio apartment. Now that I have some separation, I keep the living space very energizing with bright colors and artwork that inspires me. I keep the bedroom serene and soothing. I never bring work in — I won't even bring my laptop in there!
How would you describe your design aesthetic?
It's a mix of bright and fun (I love color!) and mid-century modern.
How did you find your current home? What was most important to you when you were looking?
We jokingly call it the sorority house. One of my best friends lived upstairs, and when the downstairs unit opened up she texted me. I ended up breaking my lease, but it was worth it in that situation; it's my dream apartment!
How did you know that your apartment was "the one?"
My other friend actually used to live in it; I was always so jealous of the space. I never thought I'd live here!
How long did it take for you to feel as though your apartment was "finished?" (Do you feel that way?) What kind of advice do you have for someone that feels overwhelmed at the prospect of pulling together a space that really feels like them?
I don't know that I'll ever think it's fully finished! I love changing things up and moving things around. I am not the type to buy all new furniture, but I like swapping out art and changing things up. The best advice came from my sister, who told me to make a pinboard! It really helped seeing everything (art, furniture items, wallpaper samples) next to each other. It helped me visualize how certain things look together.
Your bedroom just looks so serene and breezy. Was it intentional to create that kind of space in your bedroom? How did you do it?
Yes, this was 100 percent intentional and very important to me! I wanted a place that would be really calming and relaxing to end my day; a place to sleep and read. I stuck to a light and airy color palette — lots of whites, greys, and pale blues. My sister's bedding is perfect here. Plants are key too. I keep the space deliberately very clutter free — even though it makes me compulsively cleaning, my bedroom feels like a sacred, calming space.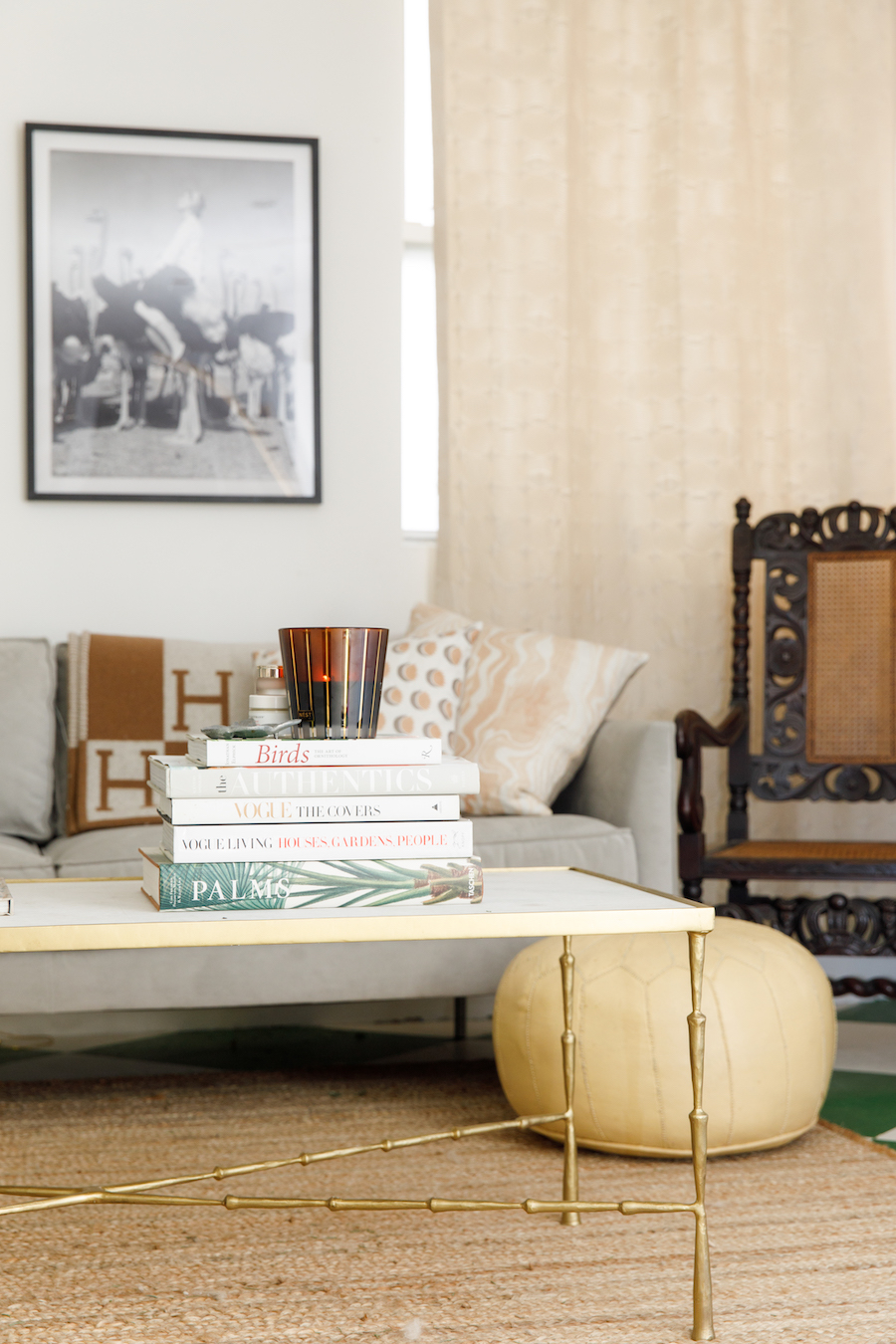 You have a lot of patterns in your space, from the wallpaper in your bedroom and bathroom to the show-stopping statement that is your living room floor. What's your best advice for embracing pattern in your home?
This is something my sister really encouraged me to think about! (I always tell everyone who is afraid of color and pattern to read her books, Living with Pattern and Living with Color.) I think it's a lot of trial and error and seeing what looks good next together. Again, having that pinboard will help you see pretty immediately. I would say it's best to pick one or two patterns and stick to it. In the bedroom, I have the subtle palm wallpaper that my sister designed; and the artwork in there (vintage WWII prints) complements that. In the (very small) bathroom, I have her pink marble wallpaper and that's the only pattern, as the space is so small. I had a little more fun in the living room; the checkerboard floor and the palm leaf fabrics — but even there, I stuck to the same color family (emerald green).
Speaking of that gorgeous floor, you DIY-ed that yourself. How would you recommend renters approach their landlords about a project like that? And now that you have some experience, would you do something that ambitious again?
Oh my gosh, it was an undertaking — my back was a mess for weeks afterward! I think it depends on your landlord. Mine is very lax; we live in this old factory building, and when I moved in, the floors were this terrible grey plywood! (You can see photos in my tutorial post.) They were atrocious. I really didn't have a choice; I actually considered paying to have some sort of laminate or inexpensive wood flooring put down. It was a ton of work, but I would definitely do it again — it was inexpensive and made such a big difference in your space.
What's your favorite space in the apartment and why?
That is so hard; I love each space for different reasons. I think the living area, maybe — it's open and fun for entertaining but also the perfect introverting space, because it's all really comfortable! My Room & Board couches are so comfy, but you wouldn't automatically assume that as they still have that sleek, mid-century vibe.
You have a lot of art and unique pieces of furniture in your apartment. Where are your favorite places to find home decor that injects real personality into your space?
Aside from stealing antiques from my parents (kidding — they recently moved and downsized so they gave me quite a few things), I absolutely love Chairish and eBay. You can find so many incredible treasures, and when I can, I prefer vintage items to modern items — the quality is usually a lot better, and they're more unique and special. Art is really important too. I have a few original pieces and a Slim Aarons photo that I really love. And if you can't afford an original, get scrappy! I framed some Hunt Slonem wallpaper and love how that looks. I talked a lot about finding art in this blog post — I think there are a lot of really good helpful tips in there.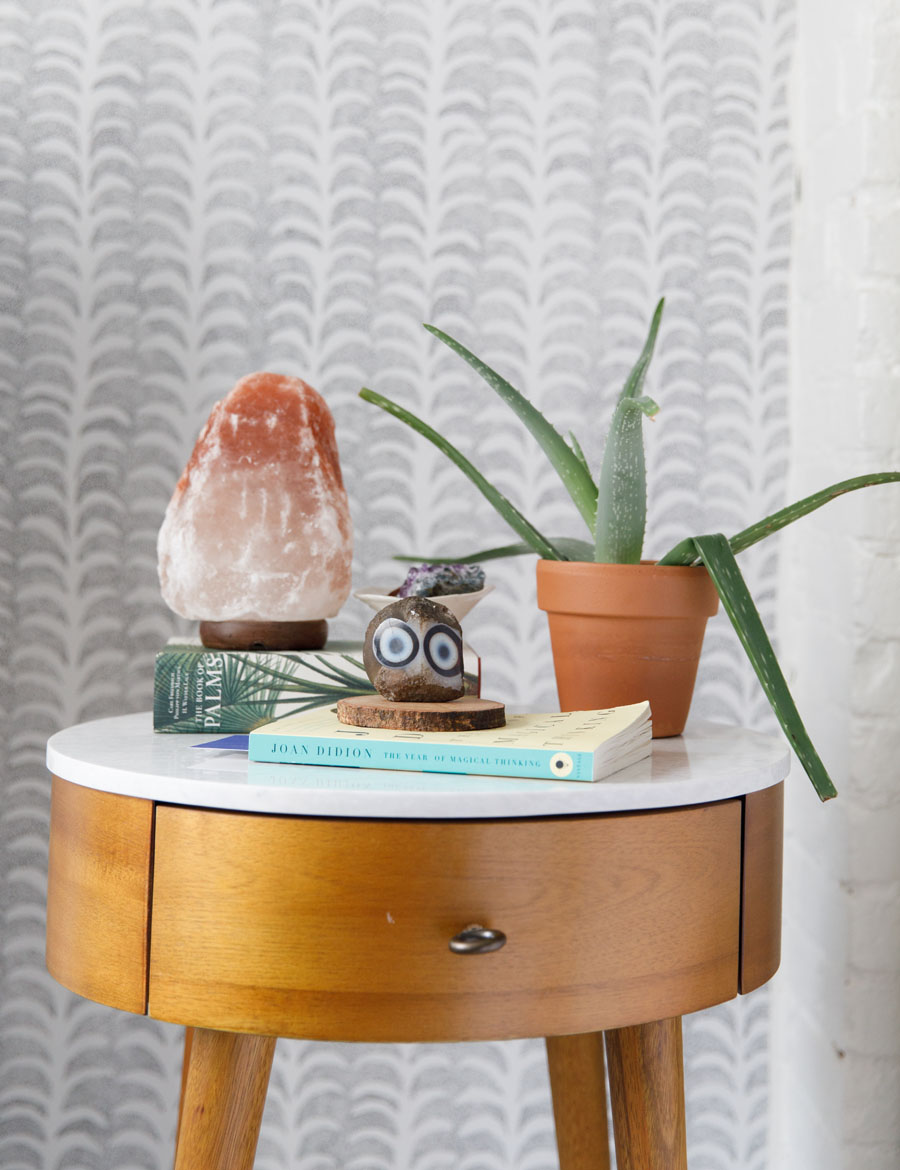 Of course, as one of the co-hosts of the Bad on Paper podcast, you have a lot of books in your home as well. What are your best tips for incorporating books into the overall design of your space (especially if you start to outgrow your bookshelves)?
My books are a serious problem! I have so many and piles of books can take over if I'm not really careful (again, I hate clutter!). I have to constantly go through and give books away (I mail boxes of books to friends and family and donate to a used book store down the street) because otherwise they take over. I do really love my floating shelves though; they look like tall piles. I try to keep them color coded!
You grew up on Cape Cod, but now live in New York City. What's your favorite part about living in the city? What advice would you have for someone who wants to make that kind of move?
I love the access we have. Growing up on Cape Cod was absolutely amazing (and I didn't know anything else so I never felt deprived), but I love that in New York there is just so much culture. The museums, the theatre, all of it! And the restaurants are amazing. I would say that it's good to have a stopover city between a small town and New York. I went to college in Boston and lived there for a little more than three years before moving here. I think I would have been really really overwhelmed if I had just moved straight to New York!
What advice would you give to your younger self?
Work hard and calm down. When I was younger I was so focused on being successful and being taken seriously. Put in the work and the success and respect will come!
Favorite Instagram follow:
@katiesturino
The skincare product you recommend to everyone:
Dr. Bader, The Rich Cream
Favorite way to spend a free Friday night:
Reading on the couch and eating something delicious!
The best book you've read lately:
A Keeper by Graham Norton
The fashion trend you're loving right now:
Power suits! I just wish I had more reasons to wear them.
If you could have lunch with any woman, who would it be and why:
Chelsea Handler. I just love her!